Inspired by the beautiful mystic rose of Our Lady — Notre Dame — the iconic design perfectly reflects our rich history and tradition with a contemporary interpretation.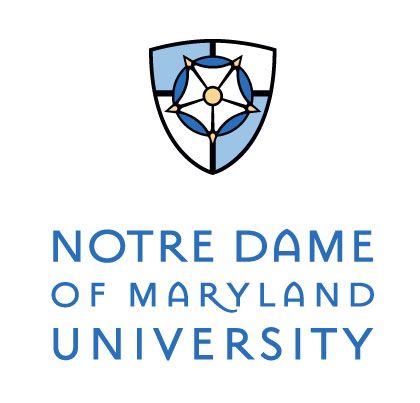 At the heart of Notre Dame of Maryland University's identity is a blue and white rose with pale yellow accents, framed by a cross and shield, along with the university name presented in elegant type.
The Notre Dame of Maryland University identity was informed and influenced by relevant, iconic images found throughout the school's campus:
The rose at the center is a traditional symbol of Mary (the school's patron) and dates back to the Middle Ages.
The shield and the bottony cross relate to the Maryland State seal and have appeared in Notre Dame's identity throughout its history. The cross is present in the vivid black lines of the shield behind the rose.
The strong black lines also evoke the lead separating panes of colorful stained glass. These same lines create arrows pointing star-like in different directions, as seen on the Marian rose.
Notre Dame's historic blue and white colors are central to the new design: White signifies truth, while blue represents beauty and is associated with Mary.
The typography is a customized typeface, evoking a subtle femininity, strength and character. Its contemporary look complements the clean lines of the symbol. Particularly distinctive is the "A," reminiscent of the College's iconic Gibbons Hall tower, as well as the arches and vaulted ceilings of Marikle Chapel of the Annunciation, and the swash "R," which adds an elegant touch.
Learn more about the history and traditions celebrated in Notre Dame's logo.