Meaning Making Through Art Making Panel Discussion
Wednesday, March 7, 2018
Fourier 103
Meaning Making Through Art Making: From the Holocaust to Contemporary Art Therapy Practices
Panel Discussion Wednesday, March 7, 2018 at 6 pm | Fourier Hall 103
Panelists
Elizabeth Hlavek, Doctoral Candidate, ATR-BC, LCPAT
Kyra Schuster, Curator, United States Holocaust Memorial Museum
Claudia Cameron, LCSW, Art Therapist, Artist
Consisting of experts in the fields of Holocaust studies, art therapy, and Holocaust artwork, the panel will discuss the logistics of art making within the Holocaust, along with the driving need to create art, and how this body of art can inform contemporary art therapy and behavioral health practices.
The exhibit coincides with the launch of Notre Dame's new undergraduate and graduate degree in art therapy and offers an opportunity for viewers to see the healing power of the creative process.
A reception will follow the panel in Gormley Gallery on the 2nd floor of Fourier.
Contact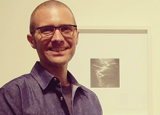 Geoff Delanoy
Professor/Chair