Psychologist CE Seminar: Toward A Brain-Based Psychotherapy
Friday, November 10, 2017
NDMU, Knott Auditorium
4701 North Charles Street, Baltimore, MD 21210
$89.00
The APA approved continuing education seminars are relevant for all mental health disciplines including psychology, professional counseling, social work, and psychiatry.
In recent years, literature in the fields of psychology, psychiatry, and neurology has increasingly come to focus on the role of the brain in psychotherapy. Various theorists and researchers propose mechanisms to explain how emotional disturbances reflect brain function and dysfunction, as well as how psychological treatments modify brain activity to reduce symptoms and improve quality of life.
In this program, Dr. Windisch will focus on the ways effective psychotherapy relates to brain circuitry and function. He will discuss a number of models of mind-brain-behavior integration, as well as the findings of new neuroimaging techniques that reveal specific brain changes associated with change in psychotherapy. He will present a general model of the psychotherapy process that is based in and seeks to modify brain functioning to achieve results. This seminar will have theoretical, research, and practice-oriented components
APA Approved
Notre Dame of Maryland University is approved by the American Psychological Association to sponsor continuing education for psychologists. Notre Dame of Maryland University maintains responsibility for this program and its content.
Contact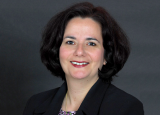 Maria Mouratidis
Professor/Chair