Spring Open House
Saturday, May 2, 2020
4701 N Charles St, Baltimore, MD 21210
Interested in applying for admission to Notre Dame of Maryland University?
Join us for a campus-wide Spring Open House on Saturday, May 2!
We will have representatives for students interested in:
Undergraduate Women's College
College of Adult Undergraduate Studies
Graduate Studies
School of Pharmacy
You will get to learn about Notre Dame of Maryland University as a whole while also getting the opportunity to ask faculty, staff, and current students specific questions about what interests you.
The day will conclude with an optional tour of campus.
Register Now!
Undergraduate Women's College
College of Adult Undergraduate Studies
Graduate Studies
School of Pharmacy
Contact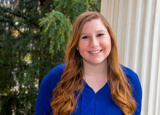 Anna Gibney
Admissions Visit & Event Coordinator