July 17, 2017
Hands-On, On the Chesapeake Bay
The Chesapeake Bay is the heart of Maryland's seafood industry and it's just a few miles from NDMU's campus. For our students, the Bay has become a valuable hands-on learning experience, where you set sail, collect water samples, test pH levels and if you're lucky, you'll hold a famed Maryland Blue Crab.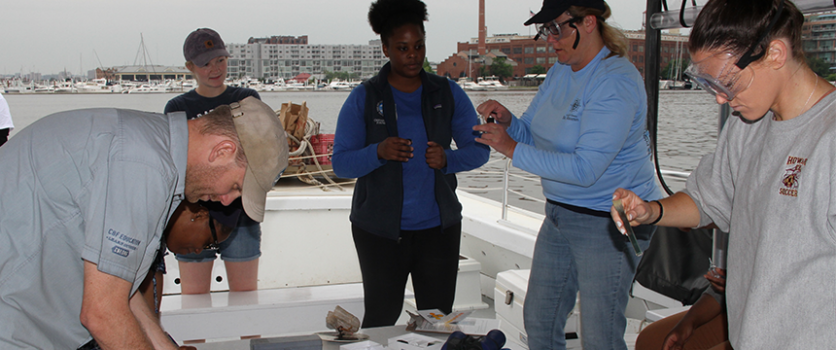 Measuring sediment, collecting water samples, testing pH levels and meeting the water's wildlife is all in a day's work when NDMU students are studying the nation's largest estuary—The Chesapeake Bay.
The Chesapeake Bay is located primarily in Maryland and Virginia and gains its water supply from six states and our nation's capital. It is home to more than 3,600 wildlife species, drains into the Atlantic Ocean, connects international commerce with its shipping ports and is a short drive from the NDMU campus.
For many, the Chesapeake is known for crabbing, fishing, and recreation. For others, they think of calm waters, a sunny day, dropping anchor and taking in the soothing sound of water splashing against the boat. But, for a group of Notre Dame of Maryland University students, a day on the Bay means setting sail for a day of hands-on learning.
For years, watermen have been trolling the Bay, sustaining Maryland and much of the Mid-Atlantic's seafood industry - something that's become synonymous with the area. It proves to be one of the most valuable natural resources and is often, according to environmental researchers, taken for granted. People forget that the Bay is one of our most valuable resources.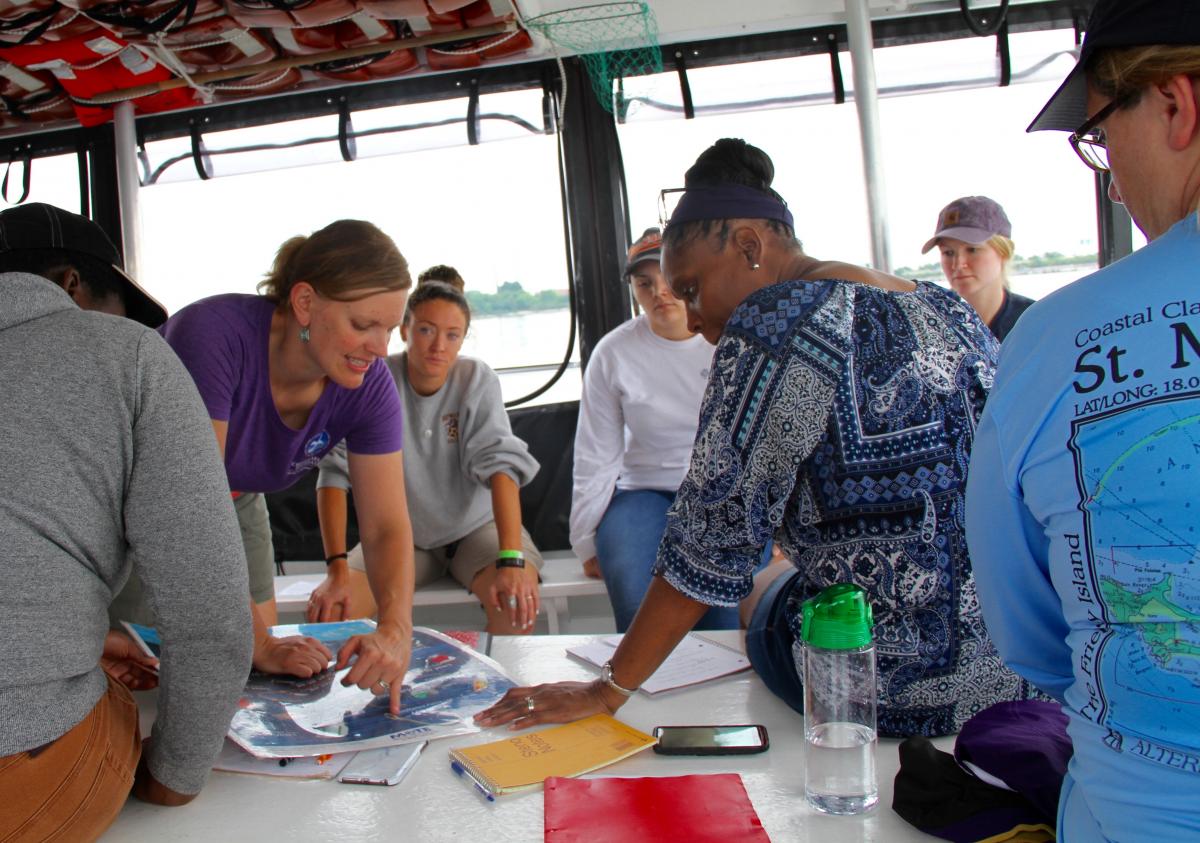 Maryland alone is the nation's largest supplier of soft clams and blue crabs, providing 50% of the total blue crab harvest in the United States. However, over the years over-fishing and pollution have led to a decrease in the Chesapeake's seafood production. Today, thanks to education and restoration efforts, we are beginning to see an upswing in harvests of both oysters and crabs.
Part of that education begins with NDMU's partnership with the Chesapeake Bay Foundation (CBF). Working alongside the CBF, NDMU students enthusiastically board the educational workboat Snow Goose to head out on the Bay for hands-on learning. Our students spend their time on the water collecting data and conducting research on water quality as part of Bio 104 – Life of the Chesapeake Bay. Classes like this one, are giving our students a unique on-location approach to learning.
"Getting to practice the same skills scientists use to measure water quality and biotic presence (and ultimately the overall health of the Bay itself) played a huge role in understanding concepts learned in the classroom," says biology major Rebecca Malone '19. "The field trips allowed me to move beyond just the study of information being presented in the classroom…to actually taking the information and applying it hands-on was vital for a deeper, true understanding that cannot be taught - it must be experienced."
Malone is one of a half-dozen NDMU students that had the opportunity to experience The Chesapeake Bay and all its treasures up close. "I liked testing the pH of the water," said Brittany Smith '17, an Environmental Sustainability major. "I loved being hands-on and comparing the filters of the [Oregon Ridge] stream we looked at, to the water in the Harbor."
The findings from the water samples were very telling. The Oregon Ridge samples, which had been collected just days prior, showed minimal levels of pollution, and fairly clean waters, while the Inner Harbor samples showed pollution far greater than most expected. In fact, it turned the test marker from white to brown. In addition, one of the experiences aboard the Snow Goose included using a special tool to retrieve aquatic sediment from the Harbor's floor – the results showed a lack of oxygen on the seabed. There were no sea grasses, fish or crabs; there were no signs of life. Students were not overly surprised by the findings because of the two water quality tests. They concluded that Baltimore's lack of massive green space and the Inner Harbor being surrounded by a "concrete jungle" lead to increased run-off of trash, dirt, chemicals, etc. into the water and ultimately resulted in increased levels of pollution.
Interestingly enough, days after NDMU's students conducted their research, the National Oceanic and Atmospheric Administration (NOAA) released findings from a recent study that supported our students' research. A NOAA-funded team found that "The Bay's hypoxic (low-oxygen) and anoxic zones are caused by excess nutrient pollution, primarily from agriculture and wastewater. The excess nutrients stimulate an overgrowth of algae, which then sinks and decomposes in the water. The resulting low oxygen levels are insufficient to support most marine life and habitats in near-bottom waters..."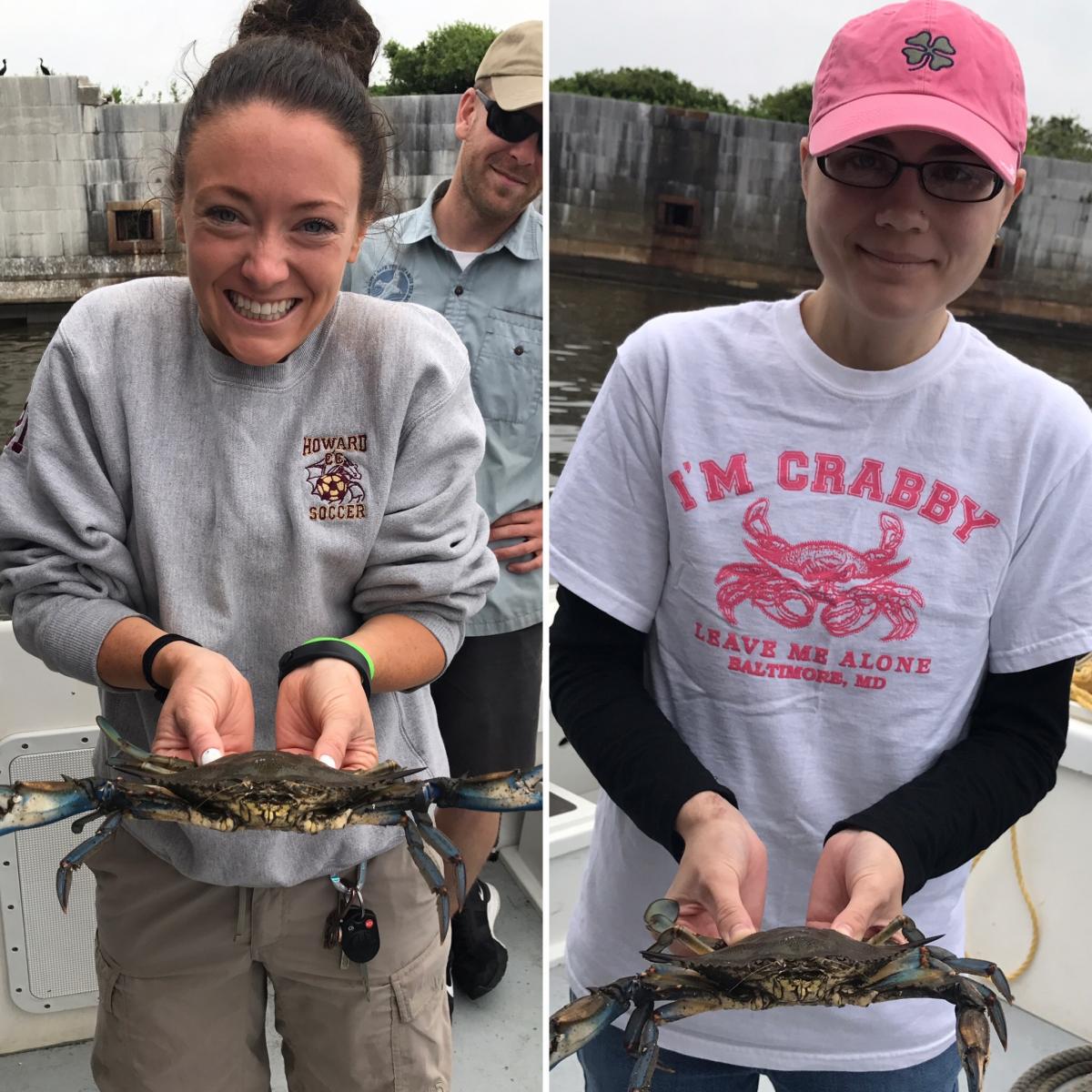 "We tend to recognize that having access to certain things is a privilege only when we no longer have them," says Malone. "With privilege comes responsibility, and it is time for us (as a whole) to step up to the plate and ensure [the Bay's] survival."
The Inner Harbor was just the beginning of the journey for students. Shortly after collecting data from the Harbor, the Snow Goose headed to Fort Carroll, a never completed, abandoned Fort just past the Francis Scott Key Bridge.
After circling Fort Carroll, students had the opportunity to go oyster dredging, something that is reserved in this part of the Bay for education purposes only. This particular day, students managed to not only "dredge" up oysters, but also a famed Maryland Blue Crab. Students held the crab, learned about its eating and breathing habits. Did you know blue crabs shed their shells? This was something the majority of students were learning for the first time. In addition to the crab, students examined the oysters up close looking for native species that like to hide in oyster reefs. "I wasn't expecting to find that much life here in comparison to the stream [we studied days prior] but if you look really hard you find it. A lot of it I didn't even know until I shifted something and it moved. Then I had to look a little harder and then I'd see it, and be able to get it out," said Malone.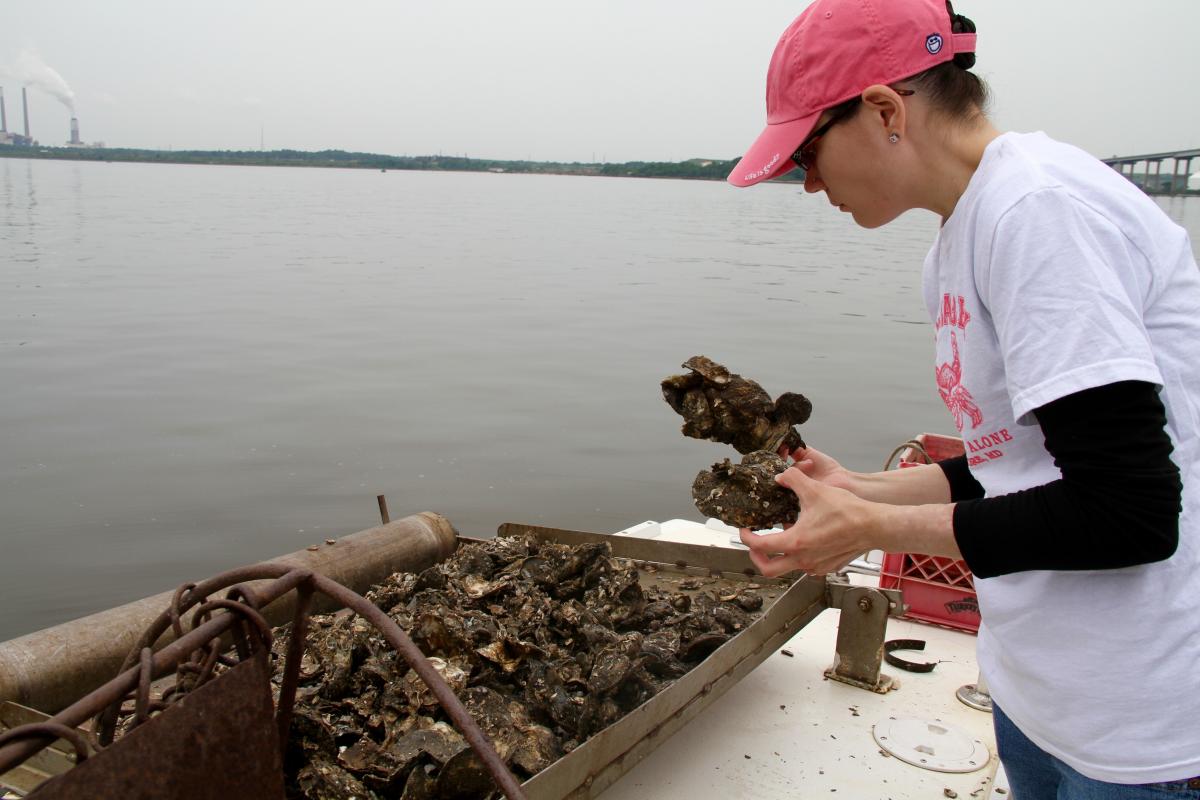 Among the oysters, students discovered white-fingered mud crabs, a naked goby fish, and barnacles. It was a true get your hands dirty learning experience, and everyone agreed that it brought the classroom to life and had them rethinking things they never noticed.
"You're not only looking at a PowerPoint presentation but you're actually interacting with the environment as well" says Stephanie Ehrlich '18 a CAUS student. "I liked seeing the naked goby, after doing the report and learning about them. It was really cool to be able to look a little closer because I didn't identify it immediately but then was able to."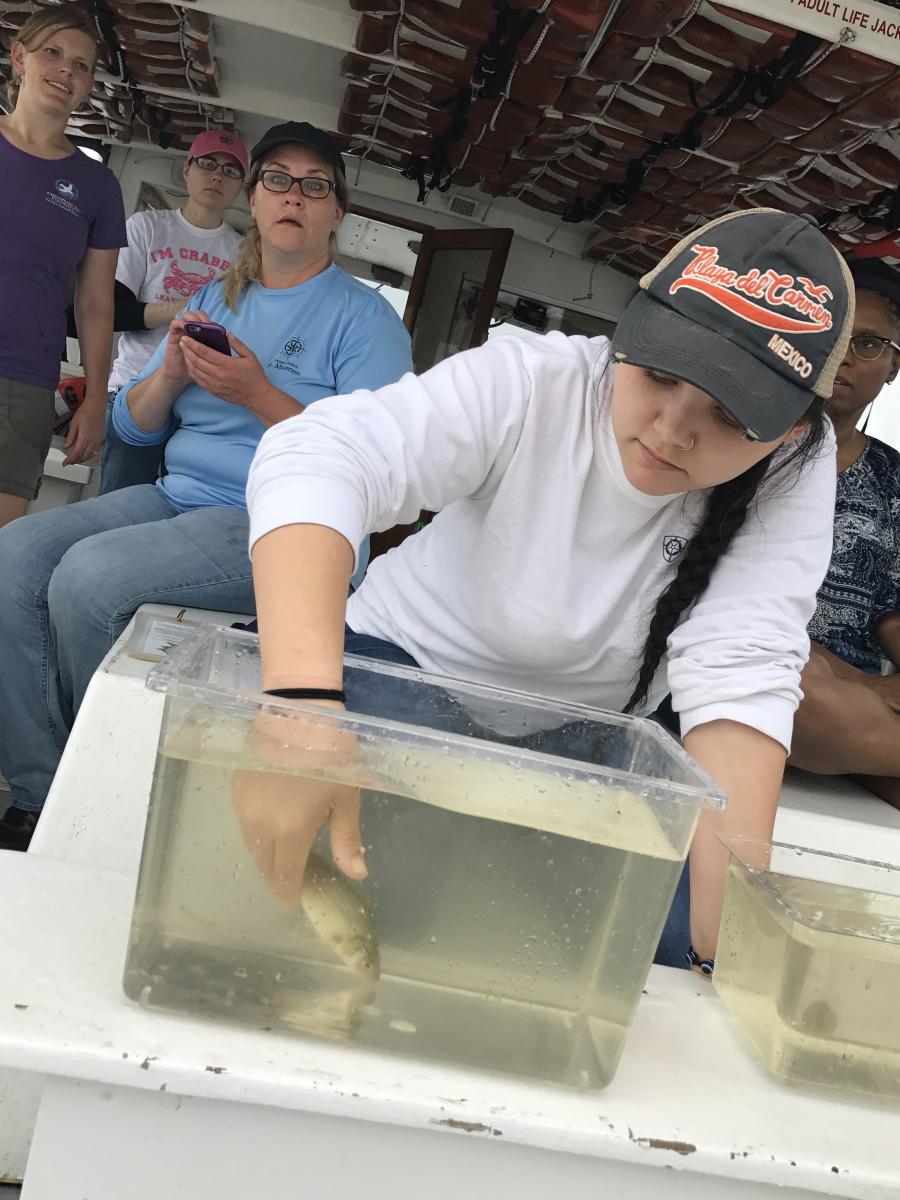 Everything discovered during the dredging was eventually thrown back to be caught and taught about on another day. Nets for fishing were then placed in the water and when the crew neared Ft. McHenry, students helped reel them in. This was another opportunity to learn about the aquatic life in the Chesapeake. Students caught a handful of species including a jellyfish and perch. Using both photo identifiers and questions to rule out certain species, students were able to identify everything they discovered.
Overall Malone felt the experience was uplifting, "It was so much fun but also incredible to see how life can not only survive but thrive, even in cases in which a habitat has been adversely affected by human influence."
Jocelyn Tuttle with the CBF agrees with Malone, "there is a lot a life in the Harbor, and it is worth saving and there are certain things we can do to help make it a better and healthier environment and save our Bay and the Patapsco River."
Overall, the biggest take away for students was to appreciate what we have in our area and to never take the Chesapeake Bay for granted because it is a valuable resource that can teach us many things.
With a few simple changes in your everyday life, you can help create a healthier environment. Among the things, the CBF recommends, turn off the lights when you leave a room, turn the sink off while you brush your teeth, and unplug appliances when you're not using them – this includes your phone charger, as well as your toaster or coffee pot – each thing can make a difference, and can also save you money.
You can find more information on this year's summer sessions through our website - including financial aid, when the sessions are taking place and tuition costs.