October 16, 2017
Lights, Camera, Upload
Notre Dame of Maryland's Communication Arts students are getting to experience the latest technology and cutting edge equipment in the new learning and production spaces in Gibbons Hall.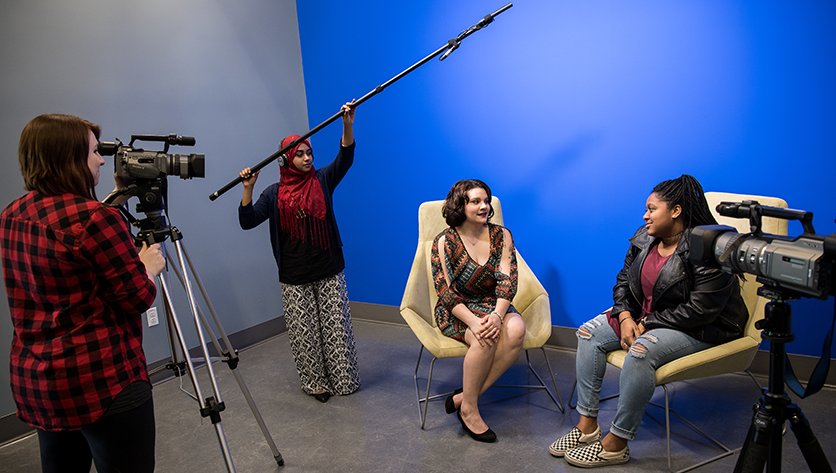 Notre Dame of Maryland's Communication Arts students are steeped in the latest technology and cutting edge equipment in the new learning and production spaces in Gibbons Hall. As part of the $6.3 million renovation of the historic building, the Communications Arts department underwent an overhaul that included new equipment, classrooms and offices.​
So how have these spaces been enhanced? The new and improved facility is all digital in radio, TV-video and field production. Notre Dame will be switching to streaming of its programs on backbone radio. This means NDMU's radio station will be able to be heard all over the world through any smartphone, tablet or computer. As for the TV studio and field, a new wireless system has been put in place to use traditional digital video cameras or tablets and smartphones. This will allow for multi-camera production (complete with graphics etc.) that can be recorded and streamed from anywhere that is able to connect to the internet, including personal hotspots.​
In addition to classroom projects, many students are finding time to use the technology outside of the classroom. Dr. Pamela O'Brien, Chair of the Communication Arts Department says some students have begun creating programming for the radio station, while others have begun the preproduction phase of a documentary in partnership with the criminology department.​
Projects like these, are what Dr. O'Brien says will help students advance in the profession. We have a strong base of alums that have worked in radio, film, TV news, graphic design and digital media, and Dr. O'Brien says this equipment will keep that legacy alive. She is already looking to the future, "I would like the students in all of our student media (radio, TV, graphic design, and newspaper) to use the new equipment and spaces in Gibbons to continue to grow their professional skills, and showcase those skills not only on campus but also by submitting their work to various student competitions."​
Dr. O'Brien, who has taught production for more than 20 years, played a key role in developing the space and knows it can only help the department as a whole, "new equipment is always important in recruiting students as they want to know that they will be learning what is current for the industry."​
So, what does Dr. O'Brien hope to achieve with the new space? "[I want students to] use the equipment to share their voice and vision with the larger community." Communications is a profession that is constantly evolving and technology changes quickly, our program makes sure students know that despite equipment changes, the skills and critical thinking you learn will always apply. We show students how what they are learning in history, English, philosophy, ethics, etc. plays a key role in what they are studying in communication/mass media. Students graduate from our program as well-rounded consumers and practitioners of the media.​
For more information please visit NDMU's Communication Arts department.