October 12, 2017
When Diversity is Foundational
The LND Library presents a transformational exhibit featuring Notre Dame's history of diversity.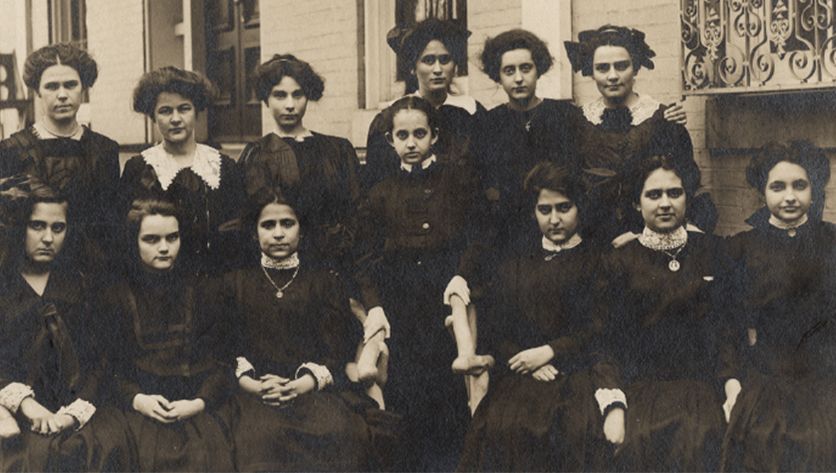 Amidst the open spaces of Loyola-Notre Dame Library's lobby stands four glass cases, holding artifacts from various periods of Notre Dame's history. From diary pages to vintage photographs, each artifact represents the rich and diverse stories of the Notre Dame community.
The artifacts currently belong to the library's current exhibit, "Snapshots of Diversity at Notre Dame of Maryland," which is running until December 6, 2017. Even the title of the exhibit rings true to how it was created.
When Anna Clarkson, the Head of the Archives and Special Collections at LNDL, started organizing Notre Dame's archives three years ago, she was amazed at how extensive—and jumbled—the collection was. Since then, she's been pulling out certain artifacts that caught her eye, the "snapshots" in time that she describes, and recently found a pattern—a narrative of diversity from the late 1800s to the present day.
However, the collection Clarkson designed is not only a record of the university's history. "It extends to everything underneath the Notre Dame umbrella," she explains. This includes Notre Dame as a collegiate institute and preparatory school, as well as the School Sisters of Notre Dame's order and the programs and organizations that were of great importance and close relation to the Notre Dame community.
The documents displayed demonstrate that diversity has been at the root of Notre Dame since it was established. For instance, there is a catalog of pupils from 1874 where seven of the students listed were from Cuba. One of these students, Julia Martinez, became a leader of the Cuban Women's Suffrage Movement and the 1914 Cuban Delegate to the feminist convention in Chicago.
The Notre Dame community also worked actively with other people of color. In the 1880s, there are journal entries and memos that detail Notre Dame's financial and educational support for the Oblate Sisters of Providence, the first successful Roman Catholic order in the world established by women of African descent. Meanwhile, there are copies of Columns, Notre Dame's student-run newspaper since 1935, following material that addressed the topics of desegregation and racial integration in the mid-1900s. This included university talks, such as the one by Civil Rights Movement leader Julian Bond, and courses like "The Sociology of Black Power."
To complete the exhibition, there is memorabilia from the last 32 years, including brochures advertising the English Language Institute and flyers promoting the Muslim Student Association's cultural events, proving Notre Dame's timeless mission of building inclusive communities.
While this exhibition is not scholarly or exhaustive, it is an opportunity for further research and investigation of Notre Dame's vibrant history. For Clarkson, inspiring curiosity towards the subject is the main goal. "I want to try and spark some interest for faculty, students, and researchers to come in, dig deeper, and tell these stories," Clarkson states. "This is just the tip of the iceberg."