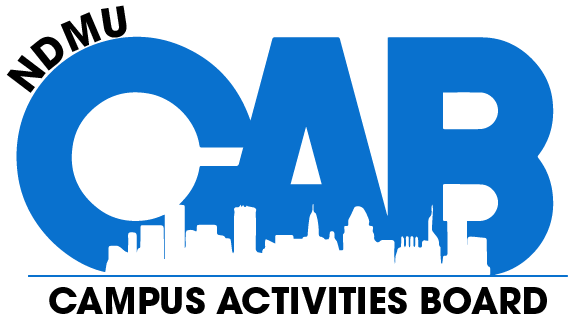 About CAB
The Campus Activities Board (CAB) is a student-run organization that strives to enhance the NDMU student experience through quality entertainment, creative programming, and community involvement. Our goal is to strengthen the missions of the Office of Student Engagement & Community Programs, Division of Student Life and NDMU by providing a variety of social, recreational, cultural, and educational programs.
Become a CABBIE!
cabbie (n.):
Qualifications: All full-time degree seeking students of Notre Dame of Maryland University are eligible to be members of this organization. All general members, who will be referred to as "CABBIES", may vote.
"Cabbies" are defined as those who:
Acquire at least 5 event points throughout the semester.
Participate in the planning and facilitation of CAB-sponsored events.
Why Get Involved with CAB!
Enhance your college experience through professional development and relationship building opportunities
Receive incentives

Premier access to novelties and events
Special member exclusive events
Experience in leadership and event planning
Not interested in becoming a Cabbie just yet? That's okay! Please join us at any of the events you can make even if you cannot stay for the entire meeting/event. ALL NDMU STUDENTS ARE WELCOME!
Meet Your 2019-20 Executive Board!
| | |
| --- | --- |
| Title | Name |
| President | Karin Jones |
| Vice President | Leslie Hernández |
| Chief Financial Coordinator | Blanca Valasque |
| Secretary | Nahla Morgan |
| Publicity Chair | Troi Beckett |
Cabbie requirements are, they have to participate in one event a month. They will have the chance to take over the CAB Instagram. Finally, they have to repost our flyers.
Contact Us
CAB@ndm.edu
Office Location: MBK Sports Complex, Room 220
(above the gym, between student life and athletics suites)
Stay Connected!
Instagram https://instagram.com/cabndmu?igshid+1i1o2r3zhp5vu
Twitter twitter.com/CabNdmu
Interested in CAB Apparel and Gear? Stop by during designated CAB office hours or email CAB@ndm.edu
Please email CAB@ndm.edu with any questions!