The SSNDs Today
With two provinces in North America, the office of the Atlantic-Midwest Province is located on North Charles Street in Baltimore, north of the University. Approximately 700 sisters are members of this Province. Other local institutions sponsored by the School Sisters of Notre Dame include the Institute of Notre Dame (IND), Notre Dame Preparatory School (NDP), and Caroline Center.
An international congregation, the School Sisters of Notre Dame have their central office in Rome, Italy. SSNDs are the world's second largest missionary group of women religious, with 3,600 sisters working on five continents. Ministries include education, social service, health care, and direct service to those in need. As a Non-Governmental Organization (NGO) operating under the United Nations Department of Public Information, the sisters are strong advocates for education for all, human rights, care of the earth, and world peace.
The congregation as a whole and individual SSNDs have voluntarily participated in "The Nun Study," a landmark research project examining Alzheimer's disease. A book titled "Aging With Grace" chronicles the study and the SSNDs' unselfish dedication to further the understanding of the human brain.
Where the SSNDs Minister Today - 10 Provinces in 34 Countries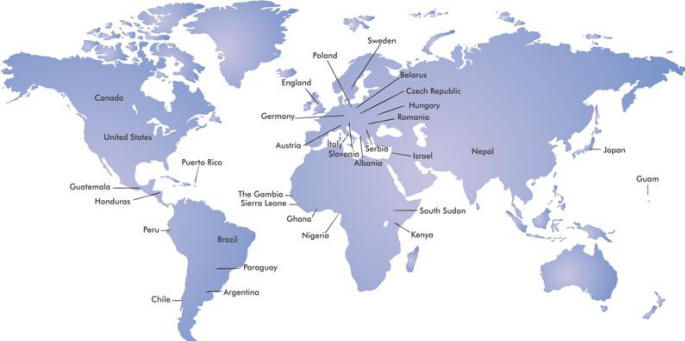 SSND Voices
School Sisters of Notre Dame—Africa: a blog of daily life among the School Sisters of Notre Dame of the Province of Africa. They minister in five countries on the continent of Africa. They are in The Gambia, Sierra Leone, Ghana, Nigeria and Kenya.
On the Border, Baltimore Catholic Review. Sister Linda Stilling SSND, recalls her experience on the U.S.-Mexico border ministering at the Migrant Resource Center in Agua Prieta, Mexico, with a delegation of students and staff from Notre Dame of Maryland University. 
Sr. Cathy Arata SSND '70 is a truly fearless Notre Dame woman. Learn more about her humanitarian work in conflict-ravaged South Sudan.