The Morrissy Honors Program seeks to foster a broader worldview and develop a community of independent thinkers. Our program promotes serious inquiry and discussion by considering issues from a variety of viewpoints. The result is a greater ability to intelligently express your opinion through respectful dialogue.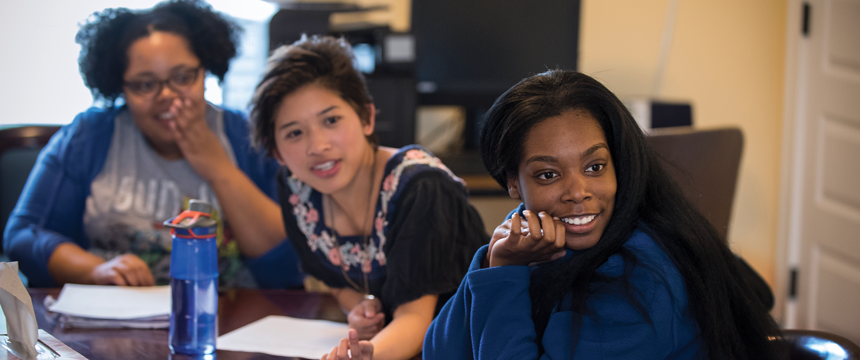 The Honors Program brings together the best and brightest minds representing different majors at NDMU. They form a tight-knit community of active learners and global citizens who take part in unique experiential learning opportunities including study abroad, directed research, service learning, and conference presentations.
Named in honor of Elizabeth Morrissy, Ph.D., a distinguished professor of history, political science and economics at Notre Dame for 40 years, the Honors Program provides opportunities for students to experience the kind of excitement in learning that Dr. Morrissy inspired.
Program Benefits
Morrissy Scholars embrace many exclusive opportunities—from studying and gathering in the charming, cozy Otenasek House to visiting Aoyama Gakuin Junior College, our sister college in Tokyo.
Leadership Opportunities
Participate in national, regional and state honors conferences
Serve on the Morrissy Honors Student Executive Board, an elected group that helps plan activities and events
Guide first-year students through the Morrissy Mentorship Program
Cultural Experiences & Study Abroad
Scholarship opportunities for two-week study tours abroad
Short-term exchange program with Aoyama Gakuin Women's College in Tokyo
Dinners and other social activities in the Otenasek House
Baltimore outings including Center Stage, Baltimore Symphony Orchestra, Baltimore Opera and The Walters Art Museum​
Otenasek House
The Otenasek House of the Morrissy Honors Program provides welcoming study areas, a seminar room for classes as well as individual and group activities, and a comfortable lounge where students interact with other honors students and faculty.
Recognition
Incoming students accepted to the Honors program receive Notre Dame's largest and most prestigious merit scholarships
Honors courses are designated on student transcripts.
"Morrissy Scholar" is noted on transcripts (if required 18 credits of honors courses are completed).
Scholars are recognized publicly at Notre Dame's annual fall Honors Convocation.
Student Achievements
1. The Morrissy Honors Program has won the Maryland Collegiate Honors Council (MCHC) Portz award for the past three years. This award is given to an outstanding student in a four-year honors program. Winners include Micah Castelo '18 (2017), Lauren Romagnano '17 and Samantha Dameron '15.
2. Morrissy student Micah Castelo '18 is the first to receive the inaugural Northeast Regional Honors Council (NRHC) Student of the Year Award from a four-year institution.
3. Lillian Doyle '17 received the 2017 MCHC Conference Outstanding Student Abstract for Presentation award.
4. Several Morrissy students have won awards at Nancy Kreiter Student Research Day, Notre Dame's annual research symposium. Past recipients for grand prize presentations include Marion Smedberg '21 (Art Exhibit and Performance) and Micah Castelo '18 (Literary Research). Past poster presentation winners include Chinwendu Nwokeabia '19 (Social Science) and Christa Riffle '17 (Nursing). Past paper presentation winners include: Katherine Martinez '20 (Women as Monsters) Madeline Mask '17 (Gender Perspectives), Alexandra Filsinger '17 (Art & Literature), and Rebecca Corun '17 (Values and Ethics).
5. Morrissy students have also received the Davis Projects for Peace grant, a $10,000 grant that allows students to design and work on a grassroots project to initiate peace in the community of their choosing. In 2017, Micah Castelo '18 and Lorelie Soriano '19 established a public library in the Caibiran, Biliran, Philippines. In 2016, Marguerite Linz '16 worked with SSNDs and renovated a community center in Canto Grande, Lima, Peru. In 2015, Amal Malik '15 provided clean drinking water and spread awareness about the importance of handwashing in Lahore, Pakistan.
6. Morrissy scholars continually receive departmental awards at Honors Convocation and Notre Dame Day. Also, many Morrissy students are members of honors societies including Sigma Tau Delta (English); Tri Beta (Biology); Kappa Mu Epsilon (Mathematics); and Delta Epsilon Sigma.
Morrissy Requirements
Students must maintain a 3.3 overall average and a B average in honors courses.
Honors courses cannot be taken on a pass/fail basis.
Students must register for at least one honors course per year.
Scholars must take six honors courses (18 credits) to complete the program.
The director reviews the records of Morrissy scholars at the end of each spring semester.
Those who are enrolled in "3/2" programs with other institutions must complete a minimum of 15 honors credits.
Three credits of honors work may be taken as an independent study with the approval of the faculty member concerned and the Morrissy director.
A semester or year of study abroad satisfies 3 credits (one course) of honors work.
Morrissy scholars are expected to participate in at least six Morrissy-sponsored events annually.
Past Honors Courses
Past courses include:
HIS-402 Women, War and Peace
IDS-373 Cosmos and Creation: Religion and Science
BIO-239 Genetics; ENG 440 Women and/as Monsters in Literature and Culture
PSY-371 Women and her Symbols
SOC-271 Psychology and Sociology of Gender Roles
Honors Councils
The University maintains membership in the National Collegiate Honors Council (NCHC), the Northeast Regional Honors Conference (NE-NCHC) and the Maryland Collegiate Honors Council (MCHC).
Morrissy Honors Program
Contact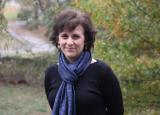 Evelyn Spratt
Director of the Morrissy Honors Program, Associate Professor