Criminology
Major/Minor
The bachelor's degree in Criminology at NDMU draws on the theories and science of criminology and sociology to analyze criminal behavior with a focus on social justice. The program takes a holistic approach to understanding the cause of criminal behavior by examining the evolution of criminological theory as well as societal factors at the micro and macro levels. It also explores the complex dynamics of the criminal justice system with an emphasis on how race, class, culture, and gender impact criminal justice and social systems. Our criminology majors develop professional skills that prepare for careers in law, corrections, victim advocacy, and child welfare.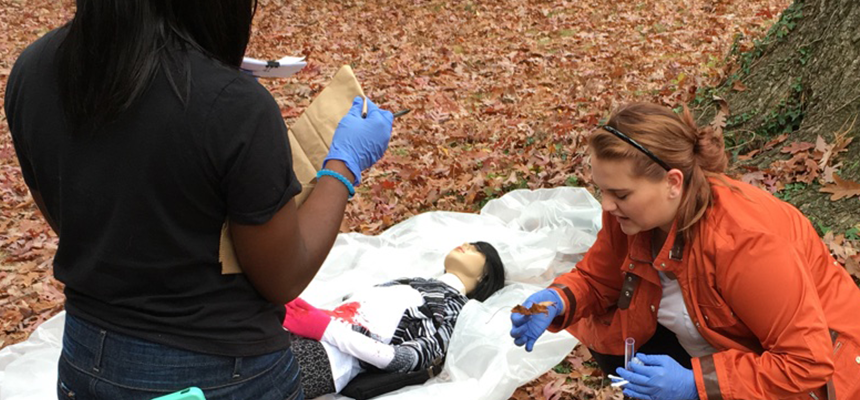 Program Locations
Criminology vs. Criminal Justice
A major in criminology is distinct from criminal justice because its focus is on uncovering the root causes and consequences of crime, while degrees in criminal justice study the three main elements of the justice system: policing, courts, and corrections. With its theoretical focus, criminology examines patterns related to deviant and criminal behavior, offenders, and victims. Criminology students also learn about the justice system, but from a sociological perspective with a critical eye on the issues of how justice is carried out and how the system can be improved.
Features of the Criminology Program
Research – opportunities to actively design and implement research projects
Applied Field Experience – field placement provides real, on-the-job experience
Professional Development – emphasis on leadership, communication, and interpersonal valued by employers
Social Responsibility – special focus on women and trauma with opportunities to work directly with those populations
The Clothesline Project
The clothesline project gives criminology majors an opportunity to visit a correctional facility on several occasions to work with residents and listen to their experiences of survivorship and victimization. The stories are then shared by creating t-shirts which are displayed on a clothesline on the NDMU campus.
Faculty
Four-Year Plan
Sample program of study for full-time criminology majors. Students should consult with the program coordinator for their academic plans as many courses are offered on alternating years.
Fall
Spring

First Year

ENG 101 College Writing
4
SOC-101 Introduction to Sociology
3
CRM-101 Introduction to Criminology
3
MAT-215 Basic Statistics
3
NDMU-100 Perspectives in Education
4
General Education/Electives
9
General Education/Electives
6
[15 credits]
[16 credits]

Second Year

CRM-203 Theories of Crime
3
CRM-360 Research Methods
4
SOC-209 Race, Class, Gender
3
Criminology Elective
3
PSY-210 Research Methods
4
General Education/Electives
9
General Education/Electives
6
[16 credits]
[15 credits]

Third Year

Criminology electives
6
Criminology electives
6
General Education/Electives
9
General Education/Electives
9
[15 credits]
[15 credits]

Fourth Year

CRM-461 Practicum
4
Departmental Senior Elective
3
General Education/Electives
6
General Education/Electives
9
Criminology elective
3
[12 credits]
[13 credits]
Professional Program Advising
If you are interested in pursuing a professional program after graduation, NDMU offers specialized advising to help you prepare.
Types of Professional Programs
Pre-professional coordinators can help you:
Choose a profession that aligns with your interests and goals
Select a bachelor's degree program that will meet required prerequisites to apply to a professional school
Monitor your academic progress through in-depth, one-on-one advising sessions
Explore experiential learning opportunities and secure internships
Connect with alumni who currently work in the field
Prepare for the application process
Criminology Minors
At NDMU, our strength is our ability to weave your unique interests into your individual education. Adding a minor to your degree is a great way to craft an experience that aligns to your aspirations.
Criminology
The Minor in Criminology provides a basic understanding of criminal behavior and the criminal justice system today. It prepares for careers that include policymaking, community action, social research, criminal justice careers, federal service careers, and social services.
Majors that often add a criminology minor include Political Science, Chemistry, Computer Information Systems, and Psychology.
Sociology
The Minor in Sociology examines the inner workings of social institutions, patterns of social relationships, and the collective behavior of organized groups to better understand society and the roles we play. Courses explore social issues including crime, education, poverty, immigration, institutional discrimination, and prejudice.
Sociology is a versatile minor that could be applied to any number of majors. Popular majors that often add a sociology minor include Art, Business, Education, Communication Arts, Criminology, Philosophy, Religious Studies, Psychology, and Political Science.
Research
One of the hallmarks of the rich educational environment at NDMU is the opportunity to participate in research in your field of interest. Our annual Nancy Kreiter Student Research Day provides the perfect forum to showcase your hard work with a formal research presentation to the NDMU community.
Practicum Experience
Criminology majors complete a supervised field experience in their fourth year. More than an internship, the practicum experience integrates theory, science, and practice.
Practicum placements are selected based on learning objectives to prepare you for graduate school or entry level employment.
Examples of Field Placements
Criminology Careers
The criminology major prepares graduates to pursue a wide variety of career paths in law, corrections, law enforcement, victim advocacy, child welfare, and juvenile justice.
Employment Opportunities
Nonprofit Agencies – Social Worker, Policy Advocate, Research Analyst
State & Federal Courts – Victim Advocate, Lawyer, Judiciary Clerk, Court Bailiff
Corrections Departments – Correctional, Probation, or Parole Officer
Law Enforcement Agencies – State or Local Police, Sheriff's Deputy, School Resource Officer, Detective
Juvenile Justice Agencies – Caseworker, Juvenile Probation, Parole or Corrections Officer