Psychology
Major/Minor
The Psychology program explores the social and biological bases of behavior and the normal and abnormal functioning of personality with an emphasis on cultural sensitivity and gender. The curriculum incorporates industry tools such as the Statistical Package for the Social Sciences (SPSS) and requires the use of APA Style. It is designed to develop critical thinkers skilled in communicating orally and in writing.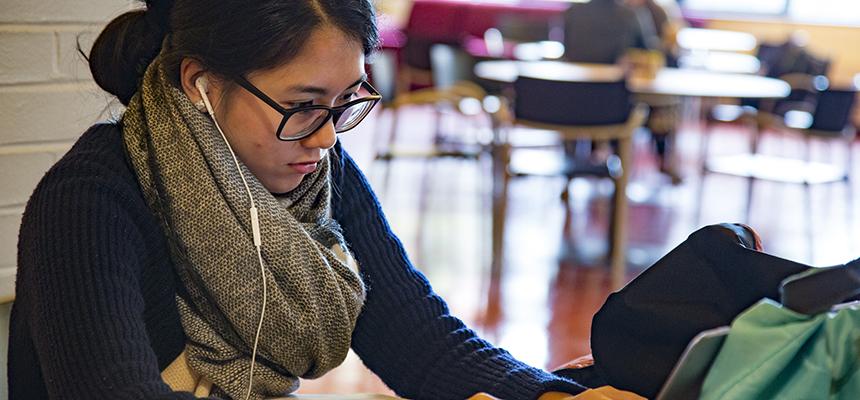 Program Locations
Available Majors
Available Minors
Psychology
Forensic Psychology
Additional Study Options
Faculty
Four-Year Plan
Sample program of study for the psychology major. Students should select courses with the assistance of a faculty advisor. It is recommended that students complete MAT- 215 and PSY-210 by their sophomore year.
Fall

Spring

First Year

PSY-101 Introduction to Psychology

4

100/200-level Psychology

3

NDMU-100 Perspectives in Education

4

MAT-215 Basic Statistics

3

General Education

9

General Education/Electives

9

[16 credits]

[15 credits]

Second Year

PSY-205

3-4

200-level PSY course

3-4

PSY-210 Research Methods I

4

Upper Level Research Course

4

General Education/Electives

9

General Education/Electives

6

[16-17 credits]

[13-14 credits]

Third Year

PSY courses

6-7

300-level PSY course

3-4

PSY-463 or PSY-464

3

300-level PSY course

3-4

General Education/Electives

6

General Education/Electives

9

[15-16 credits]

[15-17 credits]

Fourth Year

PSY-420 History and Systems

3

PSY-406 or PSY-411 or PSY-464

3

400-level PSY course

3-4

PSY-406 or PSY-411 or PSY-464

3

General Elective

6-7

PSY-461/PSY-462 Practicum

4

[13-14 credits]

General Education/Electives

6

[16 credits]
What to Expect Studying at Notre Dame of Maryland University
A rigorous and rewarding curriculum includes extensive opportunities for individualized learning through laboratory courses, original research projects, service-learning, and a practicum. Clinical courses taught by licensed psychologists with small class sizes ensure personal attention and a high quality education.
Program Goals
The APA psychology curriculum goals are to:
Develop a strong knowledge base in the discipline;
Develop discipline specific professional skills including writing, oral presentation, critical thinking, research design and statistics;
Know and apply a professional ethical code by articulating and applying the relevant ethical principles;
Prepare for entry-level career placement or graduate school; and
Contribute to the well-being of self and others (generativity).
Research Opportunities
One of the hallmarks of our rich educational environment is the opportunity to participate in research in your field of interest.
Nancy Kreiter Student Research Day provides the perfect forum to showcase your hard work with a formal research presentation to the Notre Dame community.
Capstone Experience
As a capstone experience, you will have an opportunity to apply all of the knowledge and skills you have gained, integrating theory, science, and practice, in a supervised, individual practicum.
Examples of Practicum Opportunities
Psychology Careers
Understanding human behavior and scientific processes of measurement and analysis provides a portable skill set that opens up a wide range of career opportunities.
While many graduates go on to attend graduate or medical school, you can use the principles of psychology in clinical or research settings, or in the fields of education and training.
Potential Graduate Programs
Psychology (Psy.D.)
Clinical, Counseling, Cognitive, Developmental, Educational, Experimental, Social, School, Forensic, or Industrial/Organizational Psychology (Masters or Ph.D.)
Human Resource Management (MBA)
Public Health
Social Work
Higher Education Student Affairs
Nursing
Business Leadership & Management at NDMU (Masters)
Examples of Clinical/Counseling Jobs
Applied Behavior Analyst
Alcohol and Drug Counselor
Career Counselor
Child Development Worker
Clinical Psychologist
Employee Training Instructor
Health Psychologist
High School Guidance Counselor
Mental Health Counselor
Occupational Therapist
Vocational Rehabilitation Counselor
Examples of Corporate Jobs
Human Resources Manager
Industrial Relations Specialist
Business Consultant
Industrial Relations Specialist
Business Analyst
Market Researcher
Examples of Government Jobs
Social Worker
Counselor
Forensic Psychologist
Probation Officer
Program Coordinator/Manager
Intelligence Analyst
Examples of Research Jobs
Research Associate
Data Analyst
Clinical Writer
Social Scientist