Psychology
Major/Minor
The bachelor's degree in psychology at NDMU explores mental processes and behavior through objective methods of data collection, critical thinking, and analysis with the goal of advancing science and improving the quality of human life. Our psychology majors learn by doing—lab courses, original research projects, service-learning, and a final practicum develop professional skills that prepare for graduate or medical school, as well as positions in clinical, research, and educational settings.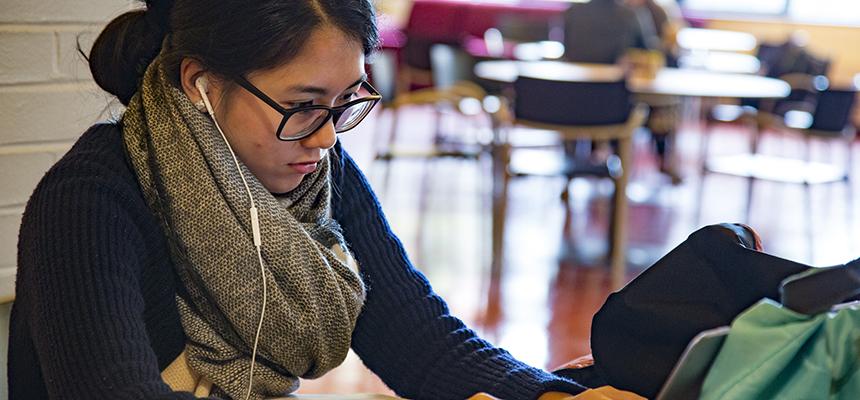 Program Locations
Features of the Psychology Program
Research – opportunities to actively design and implement research projects
Applied Learning – clinical courses feature a skills component to apply concepts learned
Partnerships for Experiential Learning – nonprofit and school partnerships provide opportunities to practice skills while also helping the community
Professional Development – emphasis on leadership, communication, and soft skills valued by employers
Social Responsibility – current topics explored through the lens of psychology as a discipline (advancement of women, addiction, climate change, etc.)
Customize Your Education
At NDMU, our strength is our ability to weave your unique interests into your individual education. Adding a minor to your degree is a great way to create a custom experience that aligns with your aspirations.
Psychology Minor
The Minor in Psychology introduces concepts of behavior, personality, development, and biological and social factors. It offers a deeper understanding of behavior and motivations which can be a huge asset for management, criminal justice, marketing, or working with children.
Majors that often add a psychology minor include Business, Criminology, Education, and Marketing Communications.
Forensic Psychology Minor
The Minor in Forensic Psychology develops skills in counseling and communication with diverse populations, including victims and offenders. It is especially advantageous for careers that involve policymaking, community action, social research, or social services.
Majors that often add a psychology minor include Biology, Computer Information Systems, Criminology, Nursing, and Political Science.
Faculty
Four-Year Plan
Sample program of study for the psychology major. Students should select courses with the assistance of a faculty advisor. It is recommended that students complete MAT- 215 and PSY-210 by their sophomore year.
Fall

Spring

First Year

PSY-101 Introduction to Psychology

4

100/200-level Psychology

3

NDMU-100 Perspectives in Education

4

MAT-215 Basic Statistics

3

General Education

9

General Education/Electives

9

[16 credits]

[15 credits]

Second Year

PSY-205

3-4

200-level PSY course

3-4

PSY-210 Research Methods I

4

Upper Level Research Course

4

General Education/Electives

9

General Education/Electives

6

[16-17 credits]

[13-14 credits]

Third Year

PSY courses

6-7

300-level PSY course

3-4

PSY-463 or PSY-464

3

300-level PSY course

3-4

General Education/Electives

6

General Education/Electives

9

[15-16 credits]

[15-17 credits]

Fourth Year

PSY-420 History and Systems

3

PSY-406 or PSY-411 or PSY-464

3

400-level PSY course

3-4

PSY-406 or PSY-411 or PSY-464

3

General Elective

6-7

PSY-461/PSY-462 Practicum

4

[13-14 credits]

General Education/Electives

6

[16 credits]
Professional Program Advising
If you are interested in pursuing a professional program after graduation, NDMU offers specialized advising to help you prepare.
Types of Professional Programs
Health Professions (Medical, Dental, Veterinary & More)
Law School
Pharmacy School
Veterinary School
Pre-professional coordinators can help you:
Choose a profession that aligns with your interests and goals
Select a bachelor's degree program that will meet required prerequisites to apply to a professional school
Monitor your academic progress through in-depth, one-on-one advising sessions
Explore experiential learning opportunities and secure internships
Connect with alumni who currently work in the field
Prepare for the application process
Research
One of the hallmarks of the rich educational environment at NDMU is the opportunity to participate in research in your field of interest. Our annual Nancy Kreiter Student Research Day provides the perfect forum to showcase your hard work with a formal research presentation to the NDMU community.
Practicum Experience
In the fourth year, psychology majors take everything learned and apply it through a supervised field placement. More than an internship, the practicum experience integrates theory, science, and practice. It is an opportunity to see where science falls short and where it needs to go within a real-world setting, which is explored through a final research project.
Practicum placements can include working with diverse patient populations and across all age groups.
Examples of Practicum Placements
Psychology Careers
Understanding human behavior and scientific processes of measurement and analysis provides a skill set that opens up a wide range of career opportunities.
While many graduates go on to attend graduate or medical school, you can use the principles of psychology in clinical or research settings, or in the fields of education and training.
To explore more careers in psychology, visit the American Psychological Association.
Graduate Programs
Psychology (Psy.D.)
Clinical, Counseling, Cognitive, Developmental, Educational, Experimental, Social, School, Forensic, or Industrial/Organizational Psychology (Masters or Ph.D.)
Public Health
Social Work
Clinical/Counseling Jobs
Applied Behavior Analyst
Counselor (Addiction, Career, Mental Health, Vocational Rehabilitation)
Child Development Worker
Clinical Psychologist
Corporate Jobs
Human Resources Manager
Business Analyst
Market Researcher
Government Jobs
Social Worker
Forensic Psychologist
Probation Officer
Intelligence Analyst
Research Jobs
Data Analyst
Clinical Writer
Social Scientist