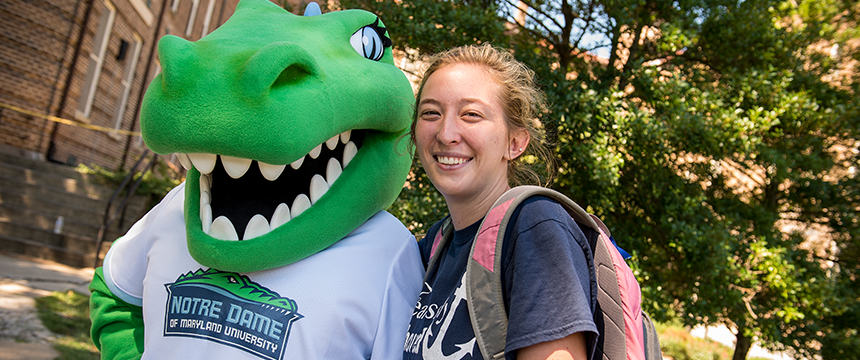 Move-In Days and Welcome Week
Unfamiliar faces, unusual places ... everything's bound to look new and different during your first few days of college. That's why Move-in Days and Welcome Week are designed with you in mind. You'll meet new students, discover new sights in the city and meet your academic advisors. Check out more details and information about these great traditions!
Reunion Weekend
Each September, alumnae and alumni return to campus to reconnect with fellow alums and faculty members and celebrate with friends and family, with special attention given to the class celebrating its 50th Reunion. Among the highlights of the weekend are the Crab Feast, the Reunion Luncheon and Awards Ceremony and dinner and dancing at Saturday's Evening Celebration. Additional information about Reunion Weekend!

Gator Fest
After the whirlwind of adjusting to new people and places, Gator Fest is a time for you and your family to catch up and enjoy each other. Check out this year's event!

Honors Convocation
This special ceremony formally welcomes new students into the Notre Dame academic community. You'll recite the honor pledge with your classmates.

Holiday Celebrations
To ring in the holiday season, students, faculty and staff join together in Gibbons Hall to decorate a tree to signify the community and unity during the holiday seasons. During the Annual Tree Trim, each student organization and university departments and offices place a decoration on the tree, which is followed by a candlelit service in Marikle Chapel. The Annual Holiday Dinner follows to those whom have signed up to participate and is served to students by faculty and staff. After dinner, attendees sing well-known carols in unison for a joyous time. You'll get to contribute your own versions of the season's songs with the highlight of the celebration being our unique take on The 12 Days of Christmas! and the tower lighting.
100 Nights
Every year, the graduating Women's College students gather for a reception and festivities, marking 100 nights until Commencement.
This special day brings students, faculty and staff together to honor those who made the Dean's List during first semester and to present awards to students for leadership, service and academic achievement.

Senior Luncheon
A long-standing tradition, graduating Women's College students have a final lunch with select faculty and staff. Awards are given out along with special speakers and additional traditions, such as the SSND blessing and the graduating class time capsule.