April 2018 Contents
NDMU News​​
Celebrating NDMU Students at Nancy Kreiter Research Day
From original art, to scientific research, to concert performances and poetry, NDMU's annual Nancy Kreiter Student Research Day has arrived. Students will have the opportunity to show off their work in Fourier Hall, and then be recognized for their accomplishments. Festivities begin at 2 p.m. in Fourier Library.
The forum honors the late Dr. Nancy Kreiter, an associate professor of biology who was a strong advocate for undergraduate research.

---
WOW Baltimore Around the Corner
There are just a few days left until the WOW Festival comes to NDMU's campus. You may have seen the big banner across Charles Street announcing the April 28th event, or if you have been following the WOW Facebook and Instagram feeds, you saw that NDMU and WOW were on TV. The program and timing for speakers can be found on the WOW website.
Among the featured speakers are #MeToo founder, Tarana Burke, critically acclaimed Bad Feminist author, Roxane Gay, whose new book Not That Bad will be available to attendees before its May 1 release date, and New York Times best-selling author, Scary Mommy founder, and Baltimore blogger, Jill Smokler.
Tickets are on sale now. Students qualify for a discounted rate of $8.​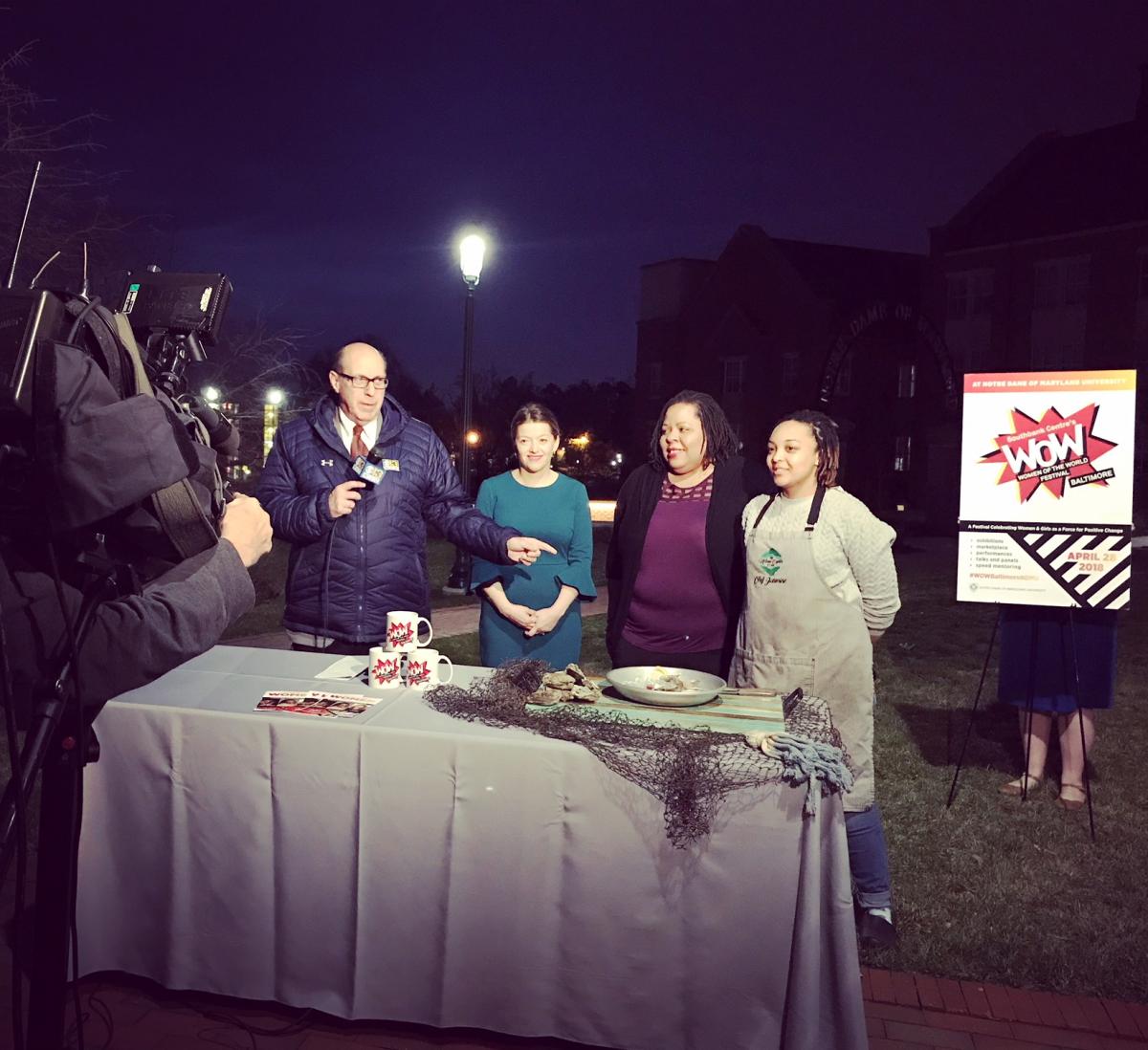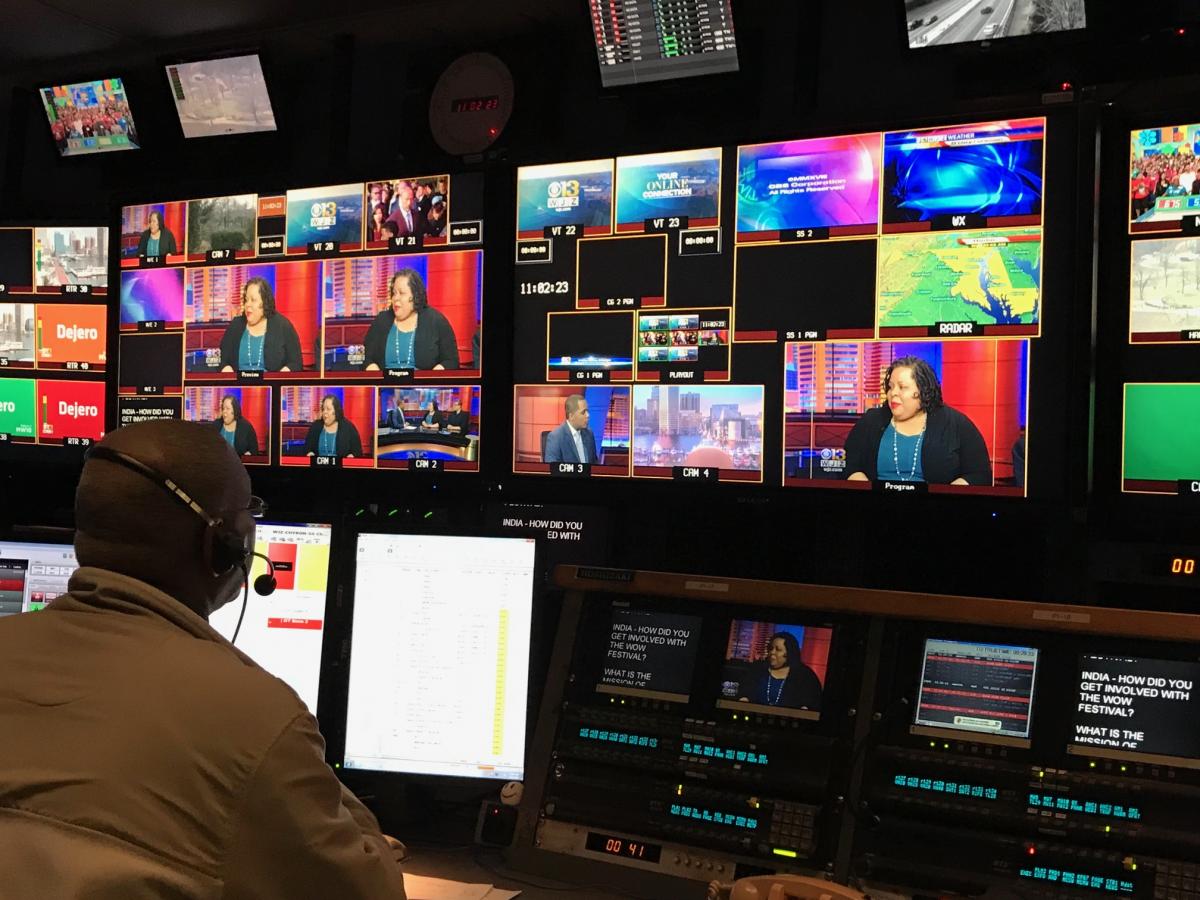 ---
NDMU Alumna Named Baltimore County Superintendent
After nearly a year of serving as the Interim Superintendent of Baltimore County Public Schools, the Baltimore County school board has made it official, naming Verletta White M'99 as superintendent.​ White received her Master of Arts degree in leadership in teaching​ from NDMU in 1999.
White's four-year contract must still be approved by the board and that is set to occur before the contract start date of July 1. Congratulations Verletta!​
---
Northeast Regional Honors Council (NRHC)​
From April 13-15, nine Notre Dame women, led by Dr. Jeana DelRosso, Morrissy Director and English Professor, represented the Elizabeth Morrissy Honors Program at the Northeast Regional Honors Council (NRHC) in Providence, Rhode Island. Participating in research panels, round table discussions, and poster presentations, the women were successful in showcasing their academic work.
Congratulations to Gerriza Balmes, '19, Micah Castelo, '18, Ciarese De Torres, '21, Keira Mull, '20. Chinwendu Nwokeabia, '19, Uloaku Onwumelu, '20, Courtney Strength, '18, Sarah Urie, '21, Jessie Willinghan, '20, for their exemplary academic research this past weekend.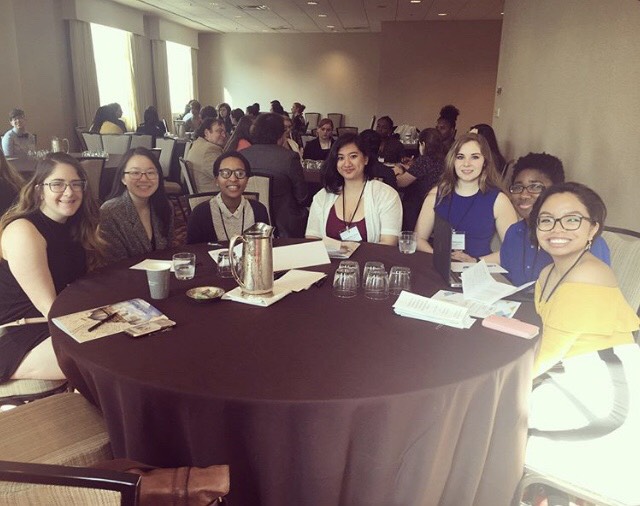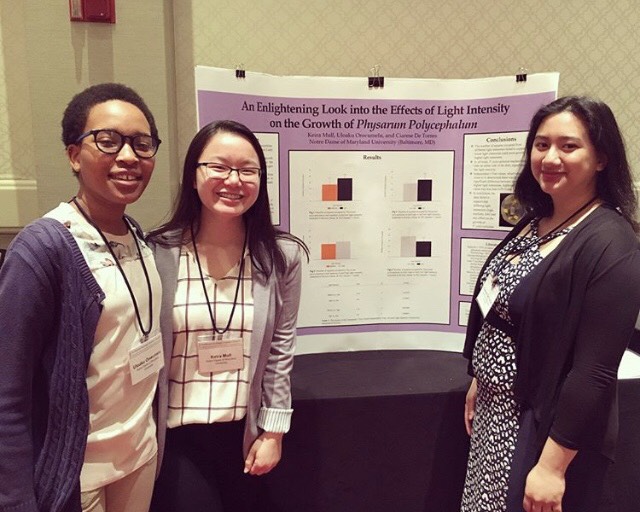 ---
Visiting Ambassador Program
On April 10, the University welcomed Ambassador Extraordinary and Plenipotentiary of the Hashemite Kingdom of Jordan to the United States of America, Dina Kawar for the 4th Annual Visiting Ambassador Program!
Ambassador Kawar spoke about everything from her undergraduate experience at a women's college to her time in graduate school to becoming an ambassador and the struggles she has faced throughout her career. She connected with students, giving a lively speech and was candid during the open discussion.
As part of the Joan Develin Coley Visiting Ambassador Program, the University invites a speaker to campus each year for discussions on politics, ethics, international affairs, women's rights, service abroad, and other topics related to global issues.
---
Maryland's Top 100 Women
Eight members of NDMU's community have been named to The Daily Record's, 2018 Maryland's Top 100 Women list. They include:
Sabita Devi Persaud
Associate Dean and Associate Professor, School of Nursing
Notre Dame of Maryland University
Oana Brooks
Advisory Board Chair, NDMU's WOW Baltimore
Carolyn Evans '89
Attorney, Sengstacke & Evans, LLC
Pat Bonner McElroy '82
President, Tim's Automotive and Towing
Tenyo Pearl, M'02
Campus Director of the Non-Profit Leadership Alliance at
Coppin State University
In addition, Christine Aspell - KPMG LLP and member, NDMU's WOW Baltimore Advisory Board, Mary Beth Lennon '89 - President, Mercy High School and Leslie Simmons '94 - President, Carroll Hospital, Executive Vice President, LifeBridge Health and NDMU Board of Trustees will receive the Circle of Excellence, an honor bestowed upon those who have been on the Top 100 list three times.
Recipients will receive their award on April 23, at the Meyerhoff Symphony Hall.​
---
Commencement Speakers
Notre Dame of Maryland University will welcome Dr. Susan Love as this year's 2018 Commencement speaker.
Dr. Love is a world-renowned breast cancer surgeon and best-selling author. Her book, Dr. Susan Love's Breast Book, was termed as the "bible for women with breast cancer" by The New York Times. She is also the chief visionary officer of the Dr. Susan Love Research Foundation (DSLRF), an active research program focused on studying breast cancer cause and prevention.
Dr. Love is no stranger to NDMU. Prior to her success, she was a student here in the 1970s and is excited to return to campus. "[NDMU is] a place that's very important to my life and that I truly support."
In addition to Dr. Love, NDMU's very own Mayrim Millan (PharmD) will serve as this year's student speaker.
Commencement is scheduled for May 20, at 11 a.m. at Baltimore's Royal Farms Arena.
---
Loyola Notre Dame Library News​​
Where to study?
As finals approach, you may be looking for a quiet place to study and get away from everything. If that is the case, the LND Library wants you to remember it has spaces available. In addition to individual study locations throughout the building, there are several rooms that are available when not reserved for classes or events. For the complete list see the website.
---
News by School
School of Arts, Sciences, and Business
Faculty Accomplishments
Congratulations to Biology Chair, Dr. Paul Weldon. He recently served a judge at the 2018 Baltimore Science Fair held at Towson University.
---
On Friday, March 9, Dr. Sean P. Coyne took his students: Monae Brayboy, Isabella Carunungan, and Alexis Morgan to present their project "The Effects of Community Service Participation on
Self-Esteem" at the Mid-Atlantic Undergraduate Psychology Conference at Towson University.

The results of this submission may be viewed here.
---
Congratulations to Associate Professor of Philosophy, Dr. Desiree Melton. On March 22, she served as the keynote speaker for a Women's History Month event at Missouri State University. Dr. Melton's talk, Intersectional Persistence, at MSU was inspired by this year's National Women's History Month theme: Nevertheless She Persisted: Honoring Women who Fight all Forms of Discrimination against Women.
School of Education
Accomplishments
NDMU alums and students are making a huge impact on Baltimore County Public Schools. Among the county's nominees for Teacher of the Year 2018 are 22 teachers that have either graduated from our School of Education or are currently enrolled in a program. Congrats to the following nominees:
Jessica Nanney, Baltimore Highlands Elementary
Jacqueline Osborne, Battle Grove Elementary
Laura Allison '16, Bear Creek Elementary
James Matamoros '13, Berkshire Elementary
Brooke Carey, Cedarmere Elementary
Dawn Bronushas, ACT '04, Deep Creek Elementary
Jennifer Battista '17, Deer Park Middle School
Meghan Beam, Edgemere Elementary
Kelly Boyd, MA '17, Franklin High School
Jessica Weiderhold, MA '09 Fullerton Elementary
Sonya Swift '15, Harford Hills Elementary
Erica Sorg, Logan Elementary
Kerri Magee, Pleasant Plains Elementary
Brent Dawson, MA '16, Randallstown High School
Alyssa Michael, Mars Estates Elementary
Jaclyn Tamburo, Oakleigh Elementary
Katie Schmidt, Rodgers Forge Elementary
Talven Pearsell, Southwest Academy
Sharon Engle, BA '04, GF '14, Stoneleigh Elementary
Diane Tedesco, Timber Grove Elementary
Denise Weeks, ACT '13, Woodlawn High School
Lisa Musacchio, Westowne Elementary
---
Faculty Accomplishments
Megan Bowen has agreed to work with the Maryland State Department of Education to develop effective strategies for students seeking certification to succeed in passing the Core Praxis.​
---
NDMU to Take a Bite out of The Big Apple
Several NDMU SOE faculty and graduate students presented at the American Educational Research Association (AERA) 2018 conference in New York, earlier this month. Among those who gave presentations: Drs. Dupuis, Sattler, Fenster, Savick, Dwyer, and Sr. Mahoney, as well as students: Simon Briggs, Sonya Hamilton, Jason Bowman, Elizabeth Fair, Dionna Lattimore-Hearn, and Maria Jasmeen Finger-Elam.
School of Nursing
Faculty News
Dr. Sabita Persaud, Associate Dean, Graduate Programs has been named to the list of 2018 Maryland's Top 100 Women. For more on this honor see the top of Bulletin for the news story.
School of Pharmacy
Student Accomplishments
Congratulations to Dr. Lindsey Crist for being awarded Teacher of the Year honors at the School of Pharmacy's Annual Scholarship and Teacher of the Year Awards Ceremony. In addition to Dr. Crist, these pharmacy students were awarded scholarships.
CVS Health Foundation - Tiffany Crawford '20 , Darshita Amin '20

CVS Health Foundation- Bilingual Award - Zeinab Koosej '20

CVS Health Foundation- Spanish Proficiency Awards - Arlene Velez Bartolomei '19, Lisamarie Tubens Diaz '21

Foundation Scholarship - My Nguyen '19

Alumni Chapter Scholarship - Robert Gootz '19

NACDS Scholarship - Rachana Mehta '20, Aiman Shaikh '21

Rosskopf Family Scholarship - Tyffani Howard '19

Super VALU Scholarship - Umar Qazi '19, Rachana Mehta '20

Walgreens Diversity & Inclusion Excellence Award - Umar Qazi '19
10. Walgreens Multilingual Scholarship - Jenny Yom '21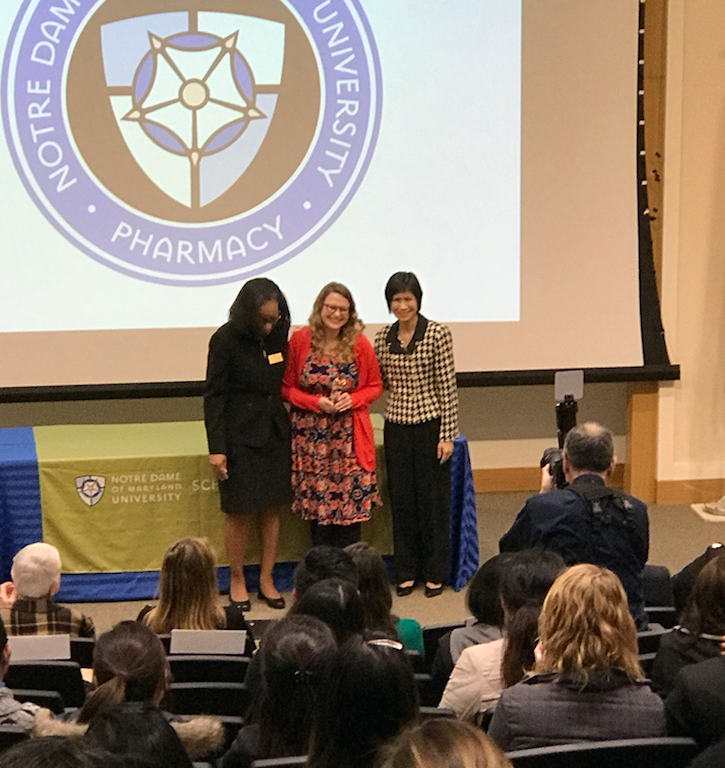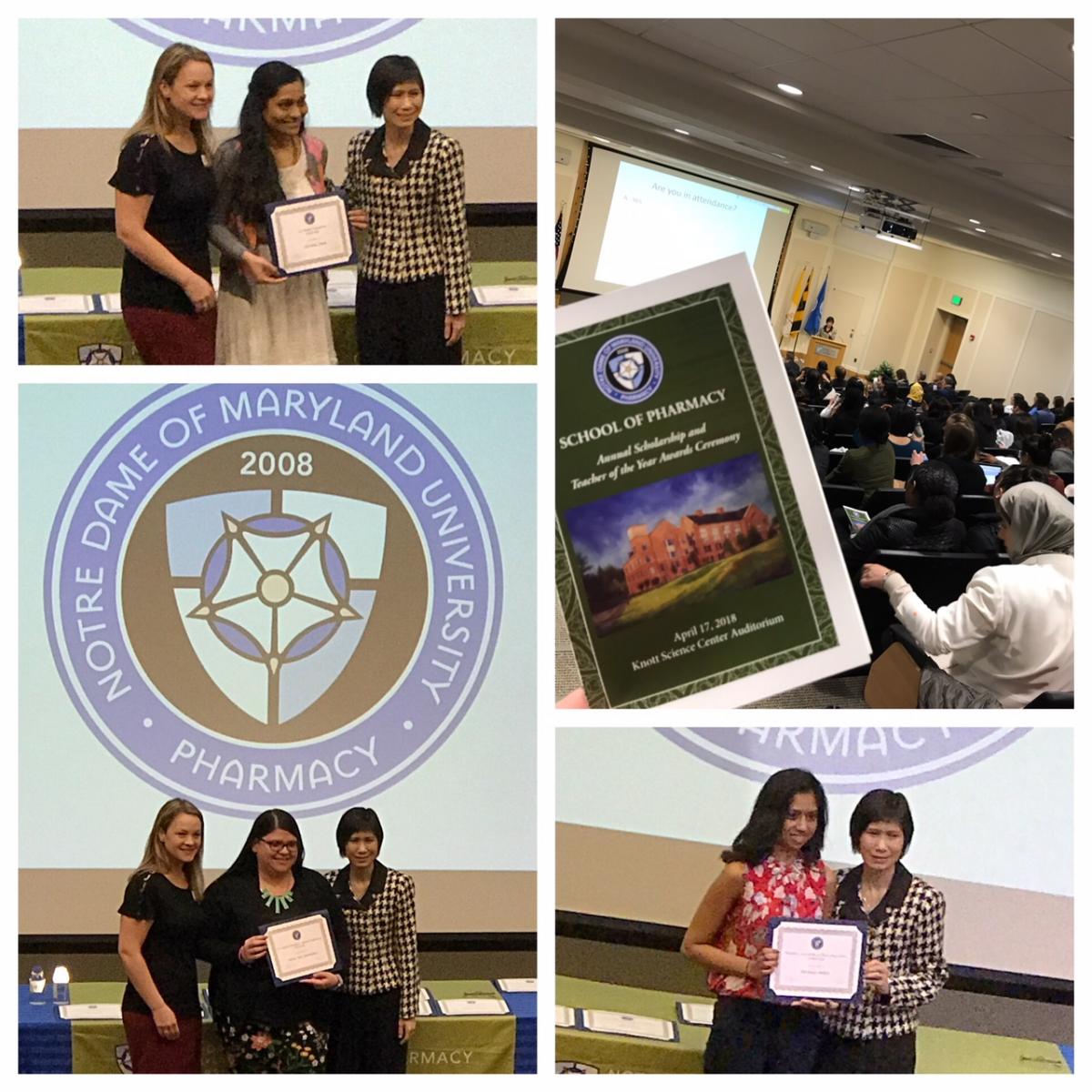 ---
Alum Accomplishments​
The following Class 2017 Alumni matched to the following PGY-2 residencies after completing a PGY-1 residency:​
Vala Behbahani '17 – Mount Sinai Hospital - New York, NY (Solid Organ Transplant)
Rachel Dewberry '17 – MedStar Health – Columbia, MD (Health System Pharmacy Administration)
Shayne Wharton '17 - Pittsburgh Veterans Administration Medical Center – Pittsburgh, PA (psychiatry)
Upcoming Events
STEM Camp
Registration for the 2018 STEM Summer Camp, is now open. The camp will run from July 16-20. For more information go to the STEM website.
---
April 20
Nancy Kreiter Research Day
Fourier Hall, 2 - 5:30 p.m.
---
April 21
Maryland Student Forensic Conference
Knott Science Center, 9:00 a.m. to Noon
Meet forensic professionals, watch demonstrations, and participate in hands- on activities offering forensic degrees.
Commencement Fair 2018
Doyle Formal, 11:00 a.m. To 3:00 p.m.
Collect your name card for graduation ceremony (require for ceremony participation) Purchase academic regalia (cap, gown, tassel, and hood) FREE professional photographer on site.
Gator Rally for NDMU Lacrosse
NDMU Alumnae Field, 11:00 a.m. To 1:00p.m.
Come out and cheer your Gators on as the Lacrosse team host's opponent Cedar Crest College for senior day. The game will begin at 1:00 p.m. Brunch will be served.
SGA Spring Formal
Doyle Hall, Doyle Formal 9:00 p.m. To 12:00 a.m. ​
---
April 25​
Denim Day
Main Campus (ALL DAY)
Denim Day is tied to NDMU STANDS, which is an annual event on campus since 2016. It encourages all Notre Dame community members, friends, and families to join together to stand up against sexual violence, relationship abuse, and dating violence.
NDMU Stands
Gym/ Gator Alley, 5-10 p.m.
---
April 26
Employer Meet and Greet – Upper Chesapeake Health
Doyle Dining Hall, 11:30 a.m. to 1:30 p.m.
---
April 28
WOW Baltimore
NDMU's campus, 9 a.m. - 6 p.m.​
For more on festival and the schedule of speakers check out the WOW website, WOW Facebook and Instagram feeds.