The Bulletin is published every month for faculty, staff, and students.
---
December 2019 Contents
NDMU News
NDMU Ranks High Locally and Nationally in New Study Focusing on 4,500 Colleges and Their Return on Investment (ROI)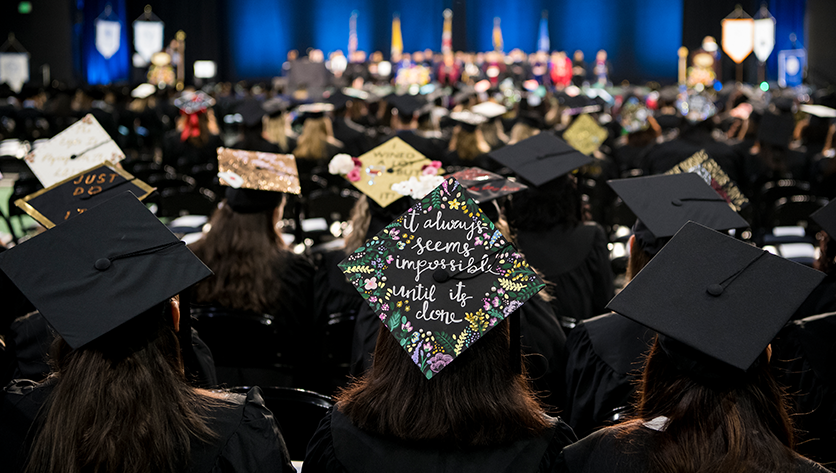 Released by Georgetown University's Center on Education and Workforce (CEW), the study ranks NDMU high in Maryland and high nationally for having degree programs that pay-off well when looking at 10 and 40-year ROI.
For 10-year return on investment among four-year, bachelor's, private non-profit colleges and universities in Maryland, NDMU ranks #2 behind Johns Hopkins University (#1). Additionally, NDMU ranks #2 behind Wellesley College (#1) in 10-year return on investment among four-year, bachelor's, private non-profit, women-only colleges and universities nationally.
Read more on the Value of a Degree from NDMU
Holiday Traditions at NDMU Always Bring Out the Spirit!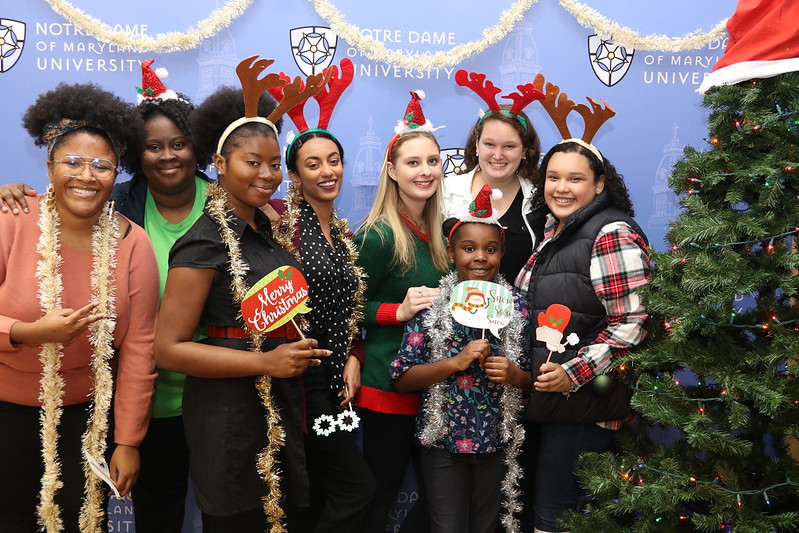 NDMU students, faculty and staff were all in the holiday spirit this year.
Check out the photos from our recent celebrations:
#NDMUProud
Keira Mull '20 tied for the top prize in the poster contest for the Environmental Sciences category at the National Collegiate Honors Conference this year held in New Orleans.
The title of her poster was "Can Environmental DNA (eDNA) be used for the detection of endangered species in freshwater? Developing species–specific primers for Hanging Bitterling (Rohdeus Pseudosericeus: Family Cyprinidae)." Mull's poster covered the research she conducted as part of a student scholar exchange program she participated in South Korea.
Other NDMU students who participated in the conference include, Jessie Willinghan, Diana Liz Cabrera, Myra Beyene, Kristina Pickering, Chinwendu Nwokeabia and Gerriza Balmes.
NDMU expert faculty Dr. Evelyn Spratt, Dr. Rachel Burk, Dr. Ken Sossa, Dr. Andrew Moore led the panel discussion Unexpected Discoveries: Disrupting Education through the Humanities.
Volleyball: Champions Again!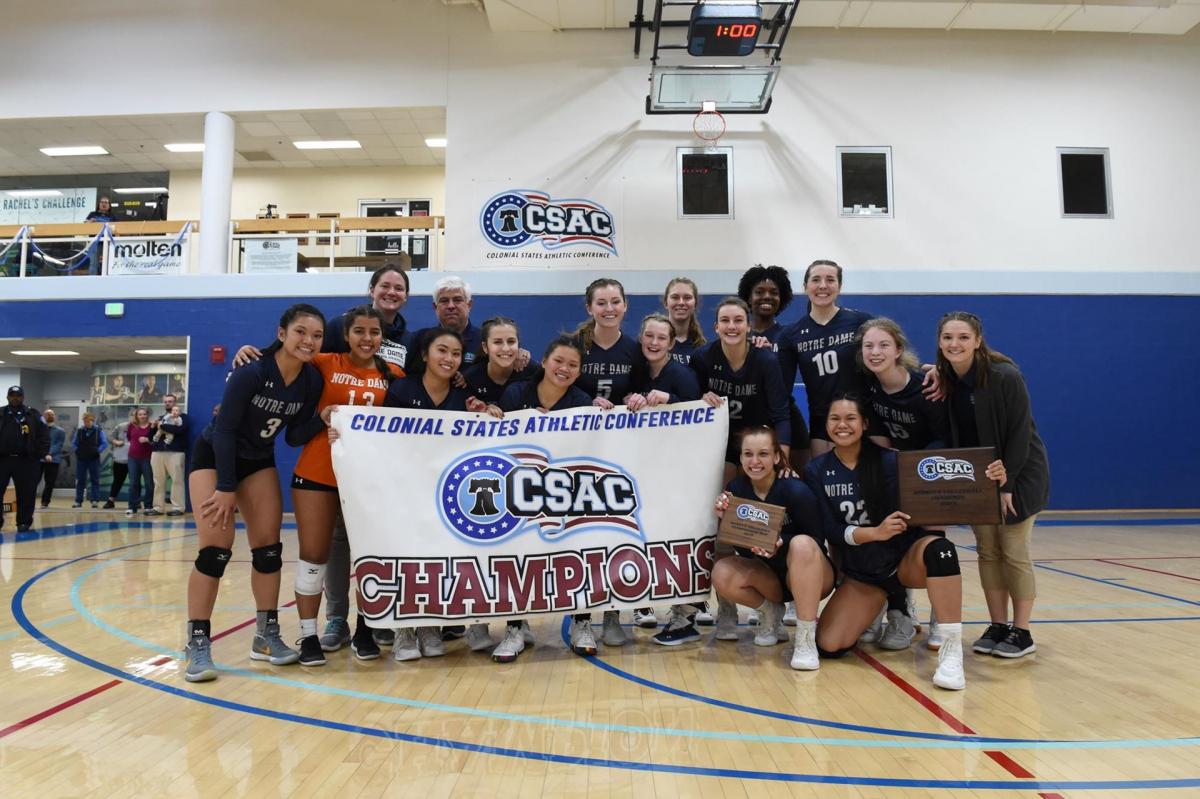 Gators' Volleyball going back-to-back secured their title as 2019 Colonial States Athletic Conference Champions in November. The Gators scored the 3-1 victory on campus and earned a slot in the 2019 NCAA Tournament. The Gators battled the Falcons throughout the final match, with long rallies and several runs. Sophomore Alyssa Kerns led the pack with 19 kills, followed by junior Michaila Sheedy with 13.
The Gators went to the NCAA tournament and were defeated by #1 seed Emory in the first round. Congratulations on an impressive season Gators!
National Social Justice Advocate to Speak at WOW
Cyntoia Brown-Long will be part of the speaker lineup for WOW-Baltimore on Saturday, March 7. At 16-years of age, Brown-Long was sentenced to 51 years for the murder of Johnny Allen. Brown was forced into prostitution at an early age and killed Allen in self-defense.
In 2011, a popular documentary brought light to her sentence and she was released in 2019. Watch this CBS interview: Cyntoia Brown-Long on redemption and life after prison.
Puppies Headed to Campus to Help Student Relieve Some Stress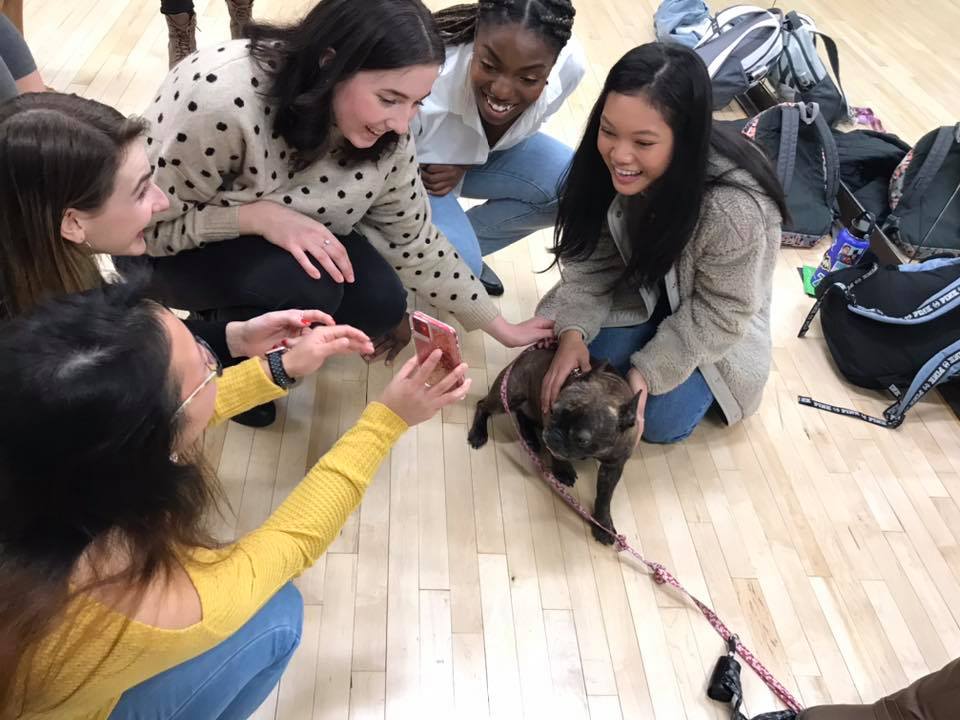 Thanks to Pets on Wheels, our NDMU students had some friendly visitors to help them take a break while studying for finals.
Environmental Efforts Keep Plastic Out of the Natural Environment
NDMU's student-driven Water Accessible to All (WATA) Committee, with the help of members of the NDMU community, collected plastic bottles as well as a few plastic containers, for a total of 600 items. This is an impressive accomplishment with the goal of keeping as many plastic items from making their way into our watershed areas.
Special thanks are offered to Chasidy Hart who spearheaded this effort and did most of the work. Special thanks are also sent to the management of the NDMU Bookstore for their generous offer to sell reusable water bottles at a 25% price reduction.
Student Suit Closet Set to Open
The NDMU Suit Closet is a new space, opening early Spring Semester in the Career Center (TH 120), where Women's College students may borrow newly purchased professional clothing to attend interviews or conferences. They will check out professional attire, much like they would a book from the library.
This new resource will enhance our students' employability by ensuring they have access to professional attire any time they step into a networking opportunity, interview or conference. Through fundraising appeals from administrators to alumnae, alumni and friends of the University, all of the $5,000 needed to fund the project has been successfully raised.
An official opening with a ribbon cutting will take place on Wednesday, February 19 at 12:30 p.m. in Theresa Hall.
Spotlight on Student Success: NDMU Student Publishes a Book on PR and Social Media
Talisha Dunn-Square, a NDMU doctoral student studying Higher Education Leadership for Changing Populations published a new textbook titled, "A (PR)actical Guide to Social Media" through Kendall Hunt Publishing Company.
The book is designed to be a one-stop resource on how to integrate social media and public relations successfully. It features 10 chapters packed with easy-to-read information and a range of suggested social media resources. Talisha is a public relations lecturer at Bowie State University.
The Document Center Expands its Services
The University Mailroom and Document Center continues to expand its variety of products it can produce. Please inquire and let them know what you are interested in printing!
---
Library
Winter Break Hours
The Library will close for winter break on Friday, December 20 at 5 p.m. and re-open on Thursday, January 2 at 9 a.m. for January term hours.
LNDL Space Changes
A temporary Help Desk will be set up on the main level through January as we begin construction on a brand new Help Desk.
---
Athletics
Gator Basketball Season
The Gators are back in action this week after a two-week hiatus for finals and the start of winter break. On Saturday, December 21, NDMU is hosting the final game of 2019. They play host to Penn State York at 1:00 p.m.
If you can't make it to campus to cheer on the Gators – watch from anywhere with Gators Live.
So far this season, NDMU is 5-3 overall and 3-0 in the Colonial States Athletic Conference. They come into Saturday's game with a three-game winning streak. On December 7, they narrowly defeated Clarks Summit University in the final seconds, 71-70.
---
English Language Institute (ELI)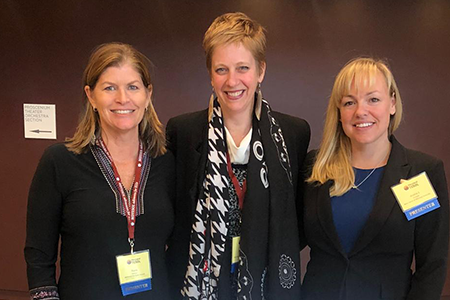 ELI staff presented at the 2019 Maryland TESOL Conference in November. Paula Harmon, MB Harmon and Jessica Hurtado presented a session titled "Building Student Engagement via Teacher Training in Zambia" in which they shared their model of a remote needs assessment, materials development and delivery of teacher training workshops in the Western Province of Zambia in July.
---
News by School
School of Arts, Sciences, and Business
Biology Students Receive National Award at Research Conference
Sarah Sweet '21, received the John Pless Best Student Presentation at the recent National Association of Medical Examiner's Annual Meeting in Kansas City, MO. Sarah is studying biology and has been working on research this semester with Dr. Russell Alexander, a forensic pathologist at the Office of the Chief Medical Examiner for Maryland. They are focusing on the effects the death of Freddie Gray had on homicides and drug-related deaths in Maryland. She uses a geographic information system to map and interpret deaths in the context of Freddie Gray and the associated uprisings. The research includes collaboration with the Baltimore City Police Department and agents at the Drug Enforcement Administration.
Keira Mull '20 won the first prize in the Biological Sciences category at the Undergraduate Student Research Symposium held at UMBC this fall. Keira is studying biology. Uloaku Onwumelu '20 also presented her research. Both students studied abroad for biological research at Yeungnam University in South Korea last summer.
Art Therapy Celebrates
The American Art Therapy Association (AATA) is celebrating their 50th Anniversary this year! Art Therapy Program Director, Cathy Goucher, and NDMU Graduate Art Therapy Associate Faculty, Julia Andersen, will be representing the Program within the Coalition of Art Therapy Educators. NDMU Art Therapy Graduate Program Associate Faculty, Elizabeth Hlavek, Peggy Kolodny, and Amanda Bechtel will be presenting a paper, workshop, and advanced practice course respectively at this year's conference in Kansas City, October 30 through November 2. AATA Board Member, Professor Hlavek will also preside as Speaker of the Assembly of Chapters meeting at the conference
The Art Therapy Program is growing! We are thrilled to be educating 13 art therapy graduate students now and to have 11 in the Women's College major! We are also pleased to continue building a robust network of practicum/internship sites across the region, including special education sites, medical and mental health facilities, hospice and elder care facilities, and community-based organizations meeting the needs of individuals experiencing homelessness, addiction, and trauma.
Faculty Accomplishments Make Us #NDMUProud
Dr. Charles Yoe, Department of Business and Economics, SOASB was placed on the Fulbright Specialist Roster for a tenure of three years by the U.S. Department of State's Bureau of Educational and Cultural Affairs (ECA) and World Learning, effective October 11, 2019.
Dr. Charles Buehrle, associate professor of mathematics has two research articles accepted for publication. They include, "Cycles in the burnt pancake graph" in Discrete Applied Mathematics (with Saúl Blanco and Akshay Patidar) and "On the number of pancake stacks requiring four flips to be sorted" in Discrete Mathematics & Theoretical Computer Science (with Saúl Blanco and Akshay Patidar).
Dr. Jennifer Wester, assistant professor of art history presented at the Southeastern College Art Conference in Chattanooga, TN, on October 18. Her paper, "Yves Klein's (Im)materiality," is part of the session Material Obsessions in Postwar Art, chaired by Roja Najafi, Curator of the Oklahoma City Museum of Art.
School of Education
School News
Dr. Stephanie Savick received her certificate of completion from the 2019 Maryland Equity & Inclusion Leadership Program. She provided a poster presentation on "Inclusive Excellence in the Higher Education Classroom."
Dr. Kristine Larson had her work published last week in the Journal of School Psychology: https://www.sciencedirect.com/science/article/pii/S0022440519300731. A multilevel analysis of racial discipline disproportionality: A focus on student perceptions of academic engagement and disciplinary environment investigates racial discipline disproportionality and classroom-level positive behavior supports with indicators of school climate.
Jean Marie Hofstetter and Kathy Sipes organized a series of topical seminars and interview opportunities for our interns with seven school districts.
Dr. Molly Dunn's topic, "Accountability for Acceptance: Examining Relational Trust between School Districts and the Communities They Serve," has been accepted for presentation at the most prestigious research-based conference, the AERA annual meeting in San Francisco this April 2020.
Melissa Falen's topic titled "Fighting Back: the Significance of Stonewall in the History of "Gay Rights" and the LBGTQ Movement " has been approved for inclusion in the **Gay, Lesbian, and Queer Studies** Area of the 2020 Popular Culture Association Conference.
School of Nursing
At the Maryland Nurse Association 116th Annual Convention Awards Banquet, Jen Reilly, MSN student and Mary Peck, ABSN student received scholarships from the Nursing Foundation of Maryland. The scholarship recipients were selected based on their demonstration of scholarship, commitment, and potential for leadership in the practice of nursing.
At the same Awards Banquet, Marleen Thornton, PhD, RN, Associate Professor in the School of Nursing received the Faculty Excellence Award given by the Maryland Nursing Programs Deans and Directors Council.
The awards are new to this organization. Deans and Directors wanted to acknowledge nurse educators in academic settings who consistently demonstrate excellence in the nurse educator role.
Marleen came to NDMU with recognized talents in caring science, nursing education, community health, and healthy aging. She models excellence in all areas of the academic educator role—teaching, service, scholarship. She is one of the few faculty members who successfully coordinates and teaches courses in all three nursing programs each semester, engaging with students in entry-level, RN to BSN, and graduate studies. Wisely transitioning from the novice nursing student to the graduate learner in the same day is no effortless task.
School of Pharmacy
Student Accomplishments
Adam Diallo '21 was named recipient of the Pharmacy Quality Alliance - CVS Health Foundation Scholars for 2019-2020. This is the 4th year of this program which supports a Doctor of Pharmacy student to complete a quality improvement project with a faculty mentor during the academic year. Adam is one of only nine recipients nationally.
Kofi Andoh '21 was invited to the prestigious Accreditation Council for Graduate Medical Education (ACGME) headquarters in Chicago for a spring 2020 storytelling forum sponsored by the National Academy of Medicine (NAM). He was 1 of 5 selected participants and the only pharmacy student in the nation who was invited.
Faculty Accomplishments
Dr. Christine Skibinski, a faculty member in the Department of Pharmaceutical Sciences received a patent based on work from her post-doctoral fellowship, "Acid Stable Liposomal Compositions and Methods of Producing the Same."
Events
December 21
NDMU Basketball vs. PSU York
1:00 p.m., MBK Gymnasium
---
December 24
Christmas Eve Mass
4:00 – 5:30 p.m., Marikle Chapel of the Annunciation
---
January 7
NDMU Basketball vs. Rosemont
7:00 p.m., MBK Gymnasium
---
January 9
Networking Feedback Session
5:30 – 7:00 p.m., Noyes Alumnae House
Join us for a casual evening of brainstorming as we discuss ways to improve the Networking Committee's engagement with the community and to gather ideas and interest for future events.
NDMU Basketball vs. College of Saint Elizabeth
7:00 p.m., MBK Gymnasium
---
January 21
Spring 2020 Semester Begins
---
March 7, 2020
WOW – Women of the World Festival Baltimore
NDMU will once again present WOW – Women of the World Festival Baltimore. The festival celebrating women will take place at Baltimore's Columbus Center and feature workshops, panel discussions, interactive learning opportunities, entertainment and more.