The Bulletin is published every month for faculty, staff, and students.
---
February 2018 Contents
NDMU News​​
Notre Dame Day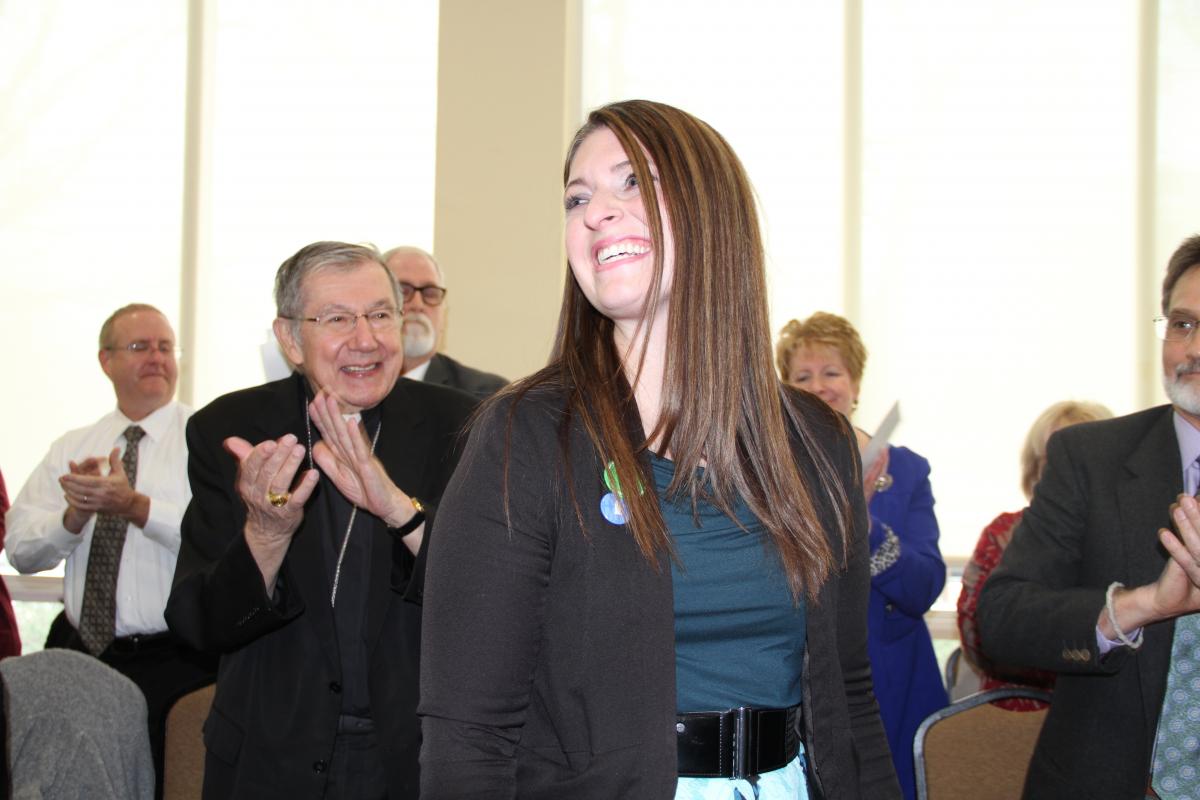 The campus came together on February 6 to celebrate Notre Dame Day! The day recognizes the accomplishments of our students and our rich history.
This year's award recipients included:
Distinguished Staff Award – Michelle Evans, Director of Student Engagement and Community Programs
SSND Mission and Ministry Award – Dr. Marylou Yam, NDMU President
Service-Learning Faculty Award -Stephanie Savick, Professor, School of Education
Mary Ann O'Donnell Team Academic Achievement Award – 2016-2017 Soccer Team with cumulative team GPA of 3.547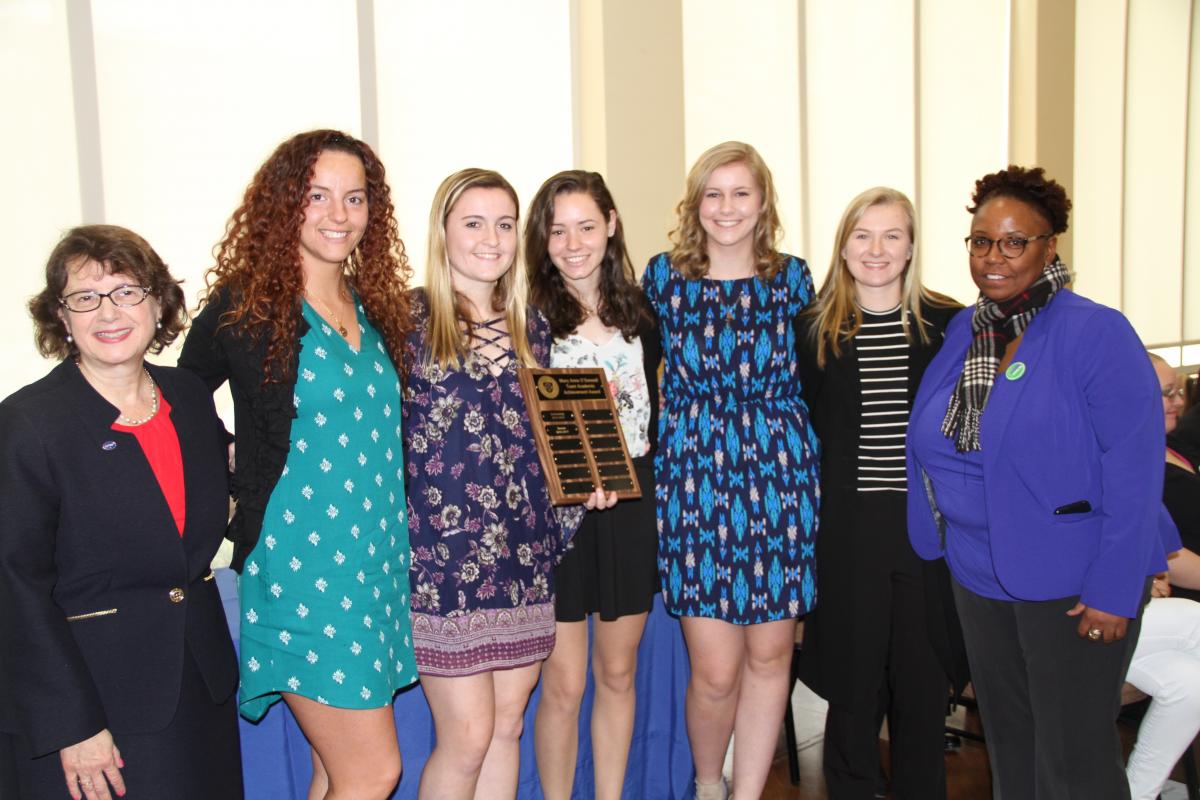 Departmental Awards:
Art- Sabine Hern-Nagle
Biology- Bhavya Bhardwaj
Business & Economics- Serena Soutar
Chemistry- Victoria Oji
Communication Arts- Molly Wolanski
Criminology- Victoria Cox
Education- Madison Mildenberger
English- Courtney Strength
History/Political Science- Shannon Edwards
Mathematics- Chinwendu Nwokeabia
Modern Foreign Language- Gerriza Balmes
Nursing- Brenda Diazdelvalle
Philosophy- Robyn Githui
Physics- Sarah Hasnain
Psychology- Abigail Gaver​
Originally on March 25, Notre Dame Day was created to celebrate the two cores of our school: Mary, and our state of Maryland. Time has augmented several elements of this as well as its date. However, the sentiment of the day still stands.
To see pictures of the event, go to NDMU's Flickr Page.​
---
NDMU Honors Bishop Madden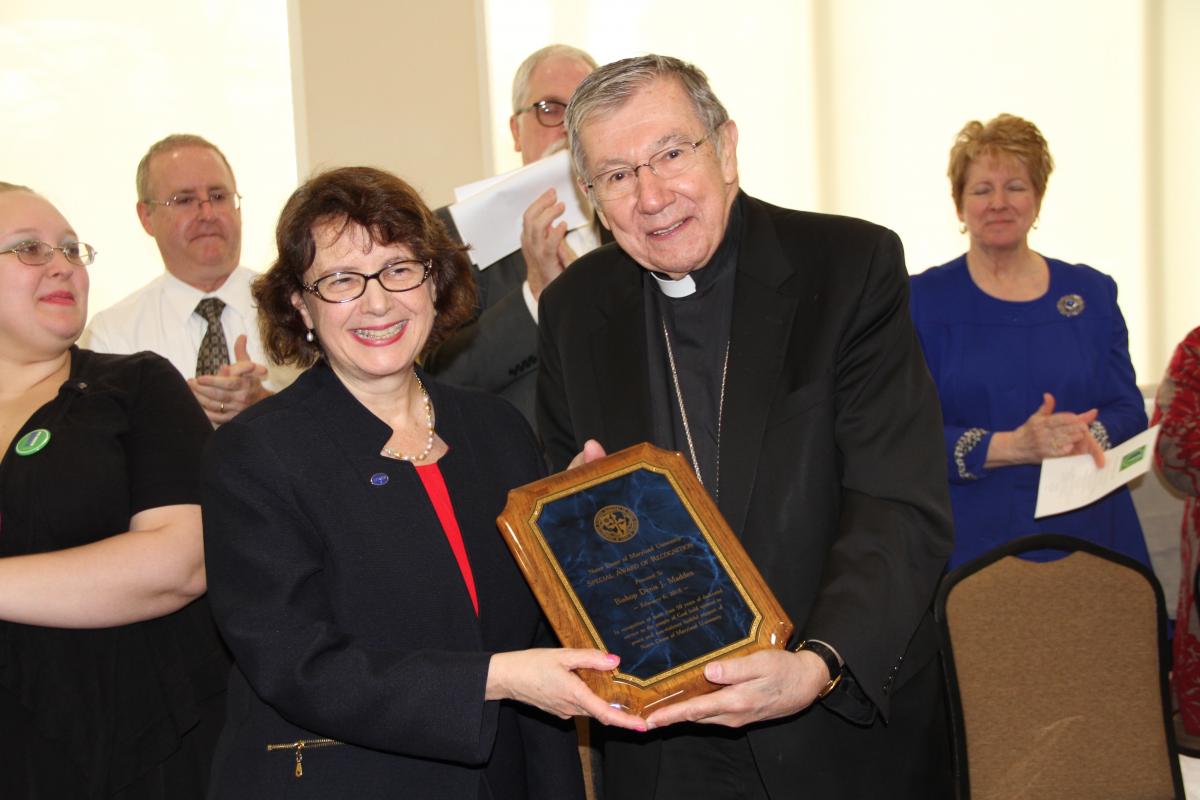 The Catholic Archdiocese of Baltimore's Bishop Denis Madden was presented with the Distinguished Community Service Award at this year's annual Notre Dame Day celebration.
"Bishop Madden is a forever friend and supporter of not only Notre Dame but all of Baltimore. We couldn't think of a better person to recognize and honor for his years of service to our community," says Marylou Yam, president of Notre Dame. "His life-long dedication to his faith, education and community-building serves as a strong example to our NDMU students that one person does have the ability to make a difference and transform the world."​
Now named Urban Vicar and Auxiliary Bishop Emeritus, Bishop Madden was ordained an Auxiliary Bishop in 2005. He oversees approximately 97 parishes and 49 schools in Baltimore City, Baltimore County and Harford County.
---
Café Grand Opening
This semester, things are really perking up in Gator Alley. The new café, The Gator Grind, which proudly serves Starbucks officially opened on January 30.​ Dozens turned out for the grand opening celebration that featured a live performance by singer-songwriter QueenEarth, followed by karaoke.
From lattes, to Frappuccino's, to muffins and just a regular cup of joe, the new café is serving up all sorts of goodies. The café is open from 7:30 a.m. to 7:30 p.m.​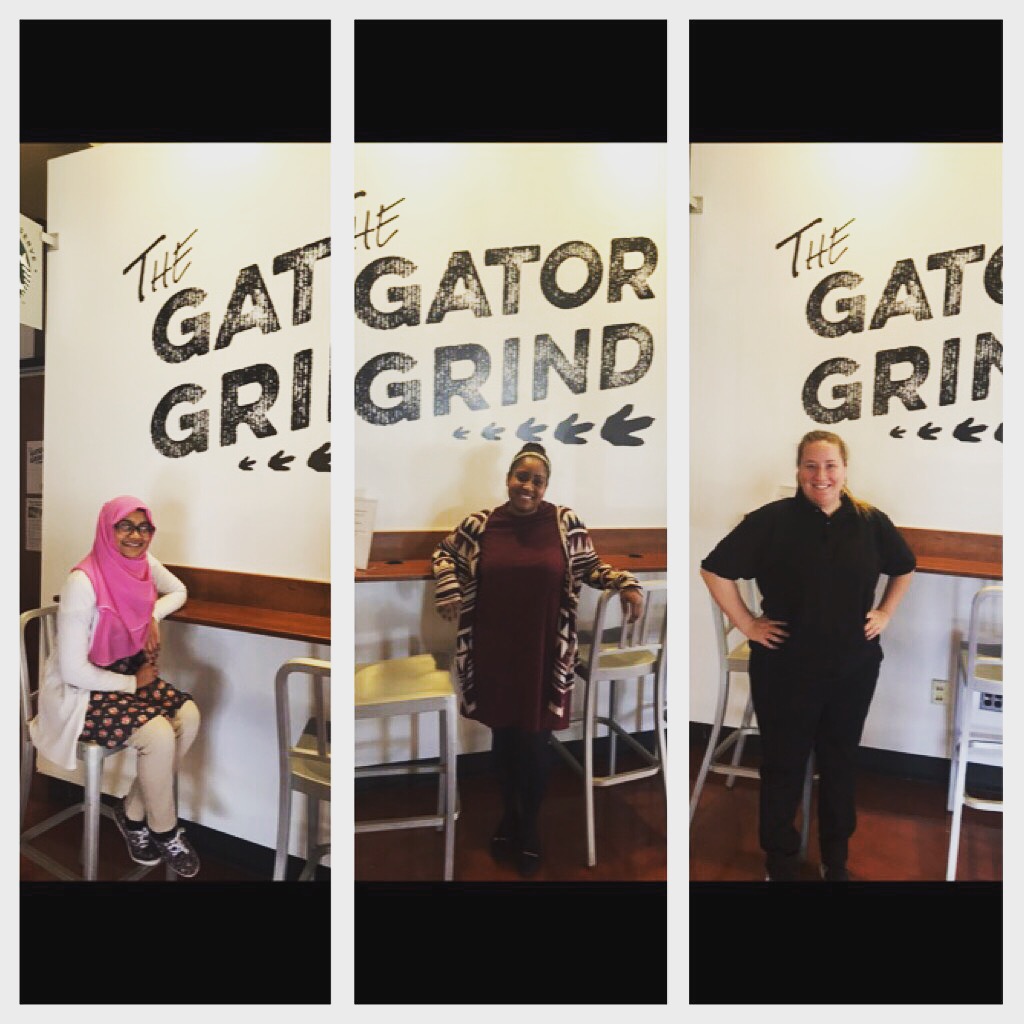 We also want to send big congratulations to Fathima Rimzan, Erinn Gales and Elizabeth Balog for naming The Gator Grind. Their submission was chosen by you as the winning name. As a result, each won a week's worth of free coffee.

---
NDMU Says Goodbye to Longtime Colleague and Loyal Friend
The life and lasting impact of Sister Frederick Mary Maisel, Director of Special Archives and Research in the Office of Institutional Advancement, who passed away on January 22, 2018, was celebrated by family, friends, fellow SSNDs, NDMU faculty and staff, and former colleagues on January 30th, which would have been her 83rd birthday. On a day of both bittersweet mourning and heartening remembrance, those gathered together in celebration of Sr. Fred's life filled dozens of pews in the chapel at Villa Assumpta. ​
A faithful and devout School Sister of Notre Dame, Sr. Fred dedicated her life to the success and growth of Catholic, SSND educational institutions in Baltimore. In particular, Sr. Fred's tenure at both Mount De Sales Academy and Notre Dame of Maryland University evidence decades of committed service and selfless hard work on behalf of Catholic education. Having arrived at Notre Dame in 1986, Sr. Fred dedicated more than thirty years to Notre Dame students through her tireless work in fundraising and research, particularly in the area of endowed scholarships. In honor of this passionate commitment and in the name of her parents, in 2010 Sr. Fred endowed the Helen K. and Frederick Maisel III Scholarship so that generations of future students would benefit from a Notre Dame education.​
Sr. Fred's lasting legacy and impact on the lives of the students, faculty, staff, donors, alumni, and friends of NDMU is immeasurable. NDMU is blessed and honored to have had the opportunity to enjoy the sharp intellect, easy laughter, and inner light of Sr. Frederick Mary.
---
Giving Day
Our inaugural Giving Day was a phenomenal success! We are overwhelmed by the response from the Notre Dame community. We had a lot of fun and hope you did too.
The day was a chance for alumnae, alumni, parents, students, faculty, staff and friends to make a huge difference in a short period of time – and envision a brighter future for Notre Dame of Maryland University and its students. It was a day to join together to make an extraordinary impact, and what an impact you made.​
The University exceeded its goal of 100 donations by 31%, and raised a total of $10,503, thanks to a very generous matching gift from Dr. Yam!​
If you missed this year's Giving Day, you can still support all of NDMUs incredible students, programs and initiatives by making a gift today or any day at ndm.edu/giving.​
---
Sister Sharon Named Interim Provost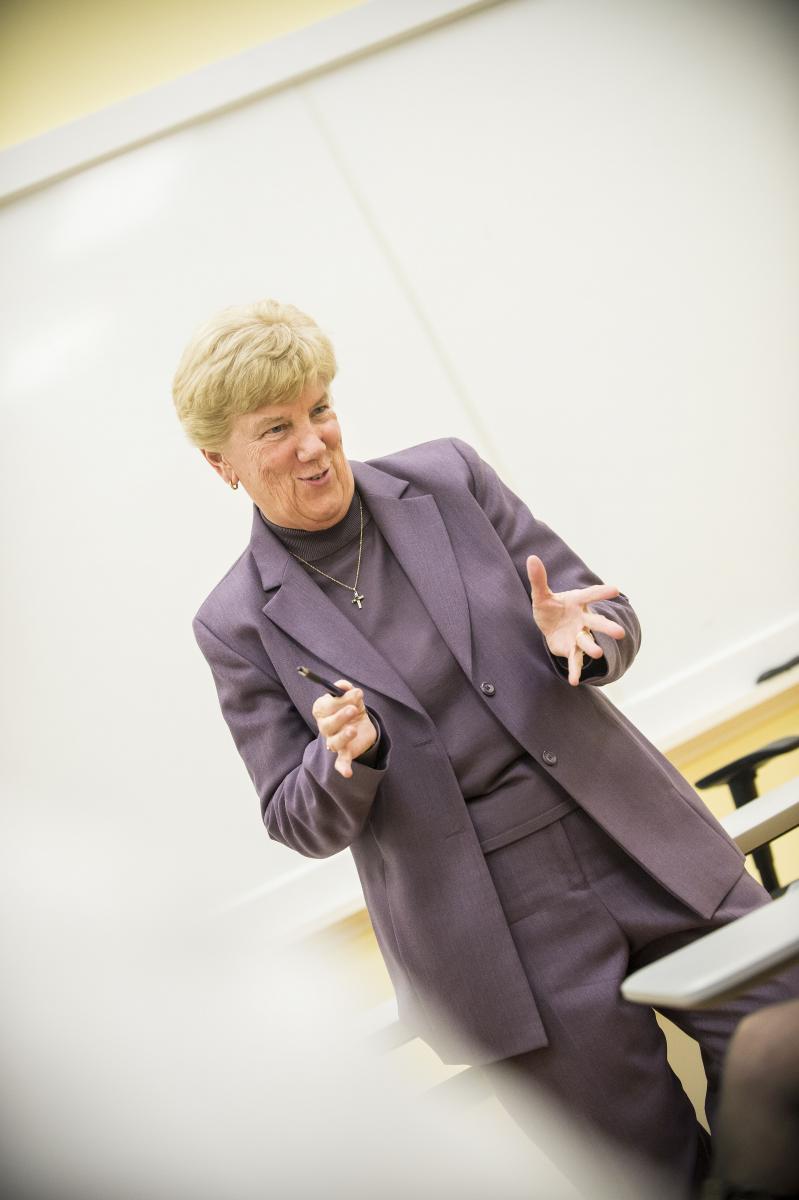 Sharon Slear, SSND, Ph.D. '66 has been named Interim Provost/Vice President of Academic Affairs (VPAA). Sister Sharon is a long-time serving NDMU faculty member and community member. Prior to taking over as Interim Provost, Sister Sharon served as the Dean for the School of Education.
In her role as Dean, she helped shape the School of Education and its programs to be the #1 private college or university in Maryland in graduating certified teachers. Sister Sharon is credited with developing NDMU's graduate programs in education and she spearheaded the University's first doctoral program, the Ph.D. in Instructional Leadership for Changing Populations.​
As the interim provost and VPAA, Sister Sharon will oversee academic affairs, student life and athletics, something that she is very familiar with - in the 1990s Sister Sharon served as Notre Dame's tennis coach. Today though, she prefers to hit the links on the golf course.​
She says she is looking forward to making each student's experience a positive one. "I am excited about this opportunity and getting to know more of our students," says Sister Sharon.
Sister Sharon was voted one of Maryland's Top 100 Women three times and became a member of the Maryland Circle of Excellence in recognition of her professional contributions and achievements. She has also received the NCEA Educator of the Year award and in 2012, she was the recipient of NDMU's President's Medal.​​
---
New Art Exhibit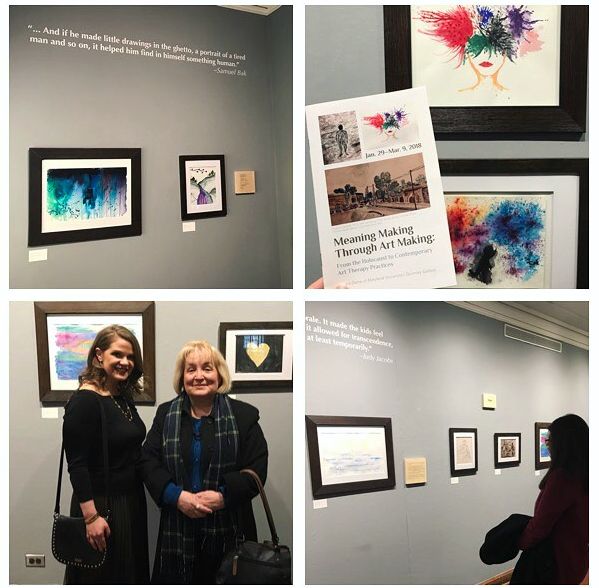 Gormley Gallery recently unveiled its newest exhibit, Meaning Making Through Art Making: From the Holocaust to Contemporary Art Therapy Practices. The first weekend in February a reception was held to kick off the launch. Among those in attendance, the exhibit's curator, Elizabeth Hlavek.
The exhibit is about the depth of the human spirit, "Art work created by victims during the Holocaust highlights the human capacity for resilience," says Hlavak. "This work allows viewers a personalized sense of the victims' experience. When viewing artwork created by Holocaust victims, we are forced to acknowledge the individual lives that were taken."​
The exhibit coincides with the launch of Notre Dame's new undergraduate and graduate degree in art therapy and offers an opportunity for viewers to see the healing power of the creative process. It will be on display through March 9.​
---
New Director of Risk Management & Public Safety
You've probably seen a new face patrolling around campus. His name is Gene Taylor, and he has been names the new Director of Risk Management and Public Safety. He will oversee the NDMU Office of Public Safety, coordinate university-wide environmental health and safety, and overall security and emergency responsiveness. Gene brings with him more than 30 years of public safety experience. He most recently served as the chief security and safety/risk management officer at the National Aquarium in Baltimore and in operations management for the security firm S.A.F.E.
---
A Child's Place Registration
A Child's Place is now accepting applications for Fall 2018, as well as for Summer Camp 2018!
A Child's Place promotes each child's emotional, social, cognitive and physical development through a holistic approach. Preschool programs for 3, 4, and 5 year olds, including a State-approved kindergarten program and early kindergarten for children with fall birthdays, offer small classes in a nurturing environment where young children play, learn, and grow.​
Preschool runs from September to June; monthly tuition for SY 2018-2019 will be $1175.
Summer camp session start on June 11th and end on august 17th; the fee for each two-week session is $560.​
A reminder, all NDMU faculty, staff, and students are eligible for a 25% discount on tuition. If you're an alum, you qualify for a 10% discount.
*EARLY BIRD SPECIALS!!!
ACP Preschool - Register by March 31, and your monthly tuition rate will be $1100!!!
ACP Summer Camp – Register by March 31, and the camp fee for each session will be $540!!!
For more information check out NDMU's website or call us at 410-532-5399.
---
Sports
Seniors Zaria Comer and Dania Taylor were named to the Colonial States Athletic Conference (CSAC) weekly honors on January 22, 2018.
Comer earned CSAC Player of the Week for her standout performance in both Notre Dame's conference victories in the week prior. This is her first CSAC Player of the Week honor in her four-year career. Earlier this season, she was named the Defensive Player of the Week and was named to the Weekly Honor Roll.
Taylor earned CSAC Defensive Player of the Week for her first conference recognition in her two seasons with the team. Against Immaculata, Taylor had a break out game, tying a season-high, 16 points, with her best shooting percentage of the season at 54.5%. She finished the week with 12 rebounds, 10 on the defensive end and three steals.
---
Loyola Notre Dame Library News​​
On February 14, Frederick Douglass would have turned 200. What will you do to celebrate this milestone birthday? If you haven't made your plans yet, come join us! ​
The library is hosting a Douglass Day Transcribe-a-thon of Douglass' works. The library is one of many sites around the country participating and will join forces with the Colored Conventions Project (CCP), the National Museum of African American History and Culture, and the Smithsonian to host a "transcribe-a-thon" with the goal of transcribing records from the Freedmen's Bureau to make them accessible to students and scholars around the world. Documents are the source of history, and this event will help literally make African American history.
Documents from the Freedmen's Bureau have helped many African Americans trace their family & community histories. They can also help us better understand the crucial role the Freedmen's Bureau played in establishing black citizenship in the United States.
Here are some questions you may have regarding the event:
What is a transcribe-a-thon?
Basically, we will be typing copies of documents that currently only exist in manuscript or printed form. These will eventually be included in the Smithsonian's online archive.
Do I need to know how to transcribe?
No. We'll show you how (it only takes a minute!). All you need to know is how to read and how to type.
How do I join in?
Contact Jean Lee Cole at jlcole@loyola.edu, and she will send you instructions about how to get an account at the Smithsonian Transcription Center.
Sign up for an account on or before Feb. 14.
Spread the word! Tell your friends and forward this email to other student groups or organizations in the Baltimore area that might be interested in participating.
On Feb. 14, come to the Library at 12 -- or whenever you can! -- and bring a laptop if you have one.
Questions? Contact Jean Lee Cole at jlcole@loyola.edu
---
Final Reminder to Update Library Links Prior to March 1, 2018
As you know the Library transitioned to a new log in system over the summer in order to allow you to use your university login to access library resources from off-campus. As a result of this change links to most library resources (ebooks, databases, articles, streaming media) were updated to point to the new login system.
The old login system has been left running to allow faculty time to update any of the old links (links that begin http://ezp.lndlibrary.org) they may have posted inside of Moodle/Joule, course assignments, or syllabi. As of March 1, 2018 the old login system will no longer be available, and any links that haven't been updated will no longer work.
The library has created the following guide to walk you through updating your existing links.
As we recognize this change may cause a significant impact for some faculty, the library is also offering assistance in updating links. To request assistance updating your links please fill out this form and a librarian will be assigned to help you.
---
Spring 2018 Pop-Up Class Series
Join faculty, staff and students to explore new technologies in a fun and relaxed setting! Available to all Loyola and Notre Dame.
Following is a preliminary list of this semester's pop-up classes, open to the Loyola and Notre Dame communities. More information, dates, times and registration links will be posted as soon as they are available. If you have any questions, ideas for potential pop-up classes or would like to teach a future class, contact Matthew Treskon.
Adobe Lightroom
Monday, February 12, 2018, 5 - 7 pm
LNDL Lab B
Instructor: Jay Dunmore
Adobe Lightroom is a powerful software tool that enables effective photo and video file management and photo manipulation. Herbert Jay Dunmore, TV Studio Manager and Adobe Education Leader, will explain key concepts and strategies in a way that allows you to grasp ideas and process them into valuable best practices. At the end of this class, participants will be able to identify file types, develop a photo catalog and process images for online cloud storage.
Using Microsoft Apps to Increase Productivity and Collaboration
Thursday, March 1, 2018, 2 - 4 pm
LNDL Lab B
Instructor: Ryan Burton
In this class, Ryan Burton will introduce several Microsoft Web Apps, which are available to all Microsoft Office365 users. This demonstration will teach you how to use Sway, Teams, OneNote and more. Ryan will also discuss how users can get the most from the Lynda.com website, a training resource available to entire Loyola/Notre Dame community.​
ArcGIS
Thursday, March 1, 2018, 5 - 7 pm
LNDL Lab A
Instructor: Robert Neff
Geographic Information Systems (GIS) are the dominant tools for spatial analysis in all sectors of the economy, including sociodemographic analysis used to determine optimal locations for retail establishments, managing utilities and other public infrastructure, analysis human-environmental systems and processes, and military applications, to name a few. In this pop-up course, students will be exposed to the analytical power of GIS through a hands-on exercise that highlights some of the more basic and accessible analysis tools. Students will perform a real-world analysis problem using publicly available data. Students also will learn about the broad analytical power of GIS through a brief introductory lecture (~20 minutes) at the start of the session. Students will leave this pop-up course having completed a spatial analysis and created their own maps to display the results. These activities are designed to give students a greater appreciation for the analytical power of GIS and the potential to develop valuable and marketable skills through future course work.​
---
News by School
School of Arts, Sciences, and Business
Faculty News
Dr. Maria Mouratidis, professor and chair of psychology, and her Yale University School of Medicine colleagues published the results of their clinical trial entitled "Drug Stroop: Mechanisms of response to computerized cognitive behavioral therapy for cocaine dependence in a randomized clinical trial" in the journal Drug and Alcohol Dependence.
---
Heather Carpenter was recently accepted into Business Volunteers of Maryland's 2018 GIVE fellowship program, a 9-month volunteer program that prepares rising leaders in Baltimore for civic engagement and community leadership.
---
Student News
Congratulations to graduate student Carissa Smith. The Corporate Communications student will serve as a panelist for the Alliance of Women in Media discussion taking place in Washington, D.C. on February 22.
School of Education
Faculty Accomplishments
Sr. Mary Fitzgerald recently presented at the Fall NCEA Catholic Leadership Summit and Academy in Phoenix, AZ. Her topic, Lay Ecclesial Ministry Formation for Administrators of Catholic Schools, investigated the call of Baptism to ecclesial ministry for both cleric and lay persons. She utilized Thomas Groome'sShared Christian Praxis five step/movement approach to help participants self-assess their needs for professional development in faith and spirituality.
Sr. Mary was also asked to write the response to Lay Catholics in Schools: Witnesses to Faith, a blog written by Tom McDonald.
---
Ryan L. Schaaf, Assistant Professor of Educational Technology in the School of Education recently presented at the 38th Annual Future of Education Technology Conference in Orlando, FL. His presentation, Game On: Using Digital Games to Transform Teaching, Learning, and Assessment, explored the potential for educators to use interactive tools such as digital games with modern-day learners. The presentation was standing room only with well over 125 participants.​
---
Dr. Joan Sattler, Co-Counselor for the Phi Xi Chapter of Kappa Delta Pi at Notre Dame of Maryland University was honored at this Fall's Convocation for 20 years of service.
---
Student Accomplishments
Congratulations to our fall 2017 recipients of the Hattie Strong Scholarship. Each teacher intern will receive $5000 to help defray the cost of their college expenses. The award winners are:
Ariel Palmisano - Women's College student seeking certification in special education;
Megan Sheppard - Graduate Education Intern who hopes to be dual certified in special education and secondary social studies; and
Gustavo Coronado - College of Adult Undergraduate Studies program, seeking to be an early childhood education and special education certified teacher.
---
The Phi Xi Chapter of Kappa Delta Pi was honored for reaching the 2017 KDP Chapter Challenge for donations to the National KDP Organization​
School of Nursing
School News
Big news for the School of Nursing! It has been awarded the 2018 Maryland Clinical Simulation Resource Consortium (MCSRC) Equipment & Materials Award. The MCSRC is a statewide funding organization operating under the advisement of the Nurse Support Program II (NSP II) and Health Services Cost Review Commission.​
The grant worth $101,275.82, will allow the department to pay for the necessary supplies for their simulation labs, including a high-tech simulation baby (SimBaby). The grant should arrive sometime in the next two and a half months and the labs will be fully equipped for the Summer-Fall 2018 semesters.
---
Faculty News
Associate Professor of Nursing, Mary O'Connor, Ph.D., RN has been designated once again as fellow in the American College of Healthcare Executives.
---
Congratulations to Sherry Thorpe, MSN, RN Nurse Manager. She recently published an article in the Journal of Neuroscience Nursing titled Streamlining the Process for Intravenous Tissue Plasminogen Activator with Erin Lawrence, MSN RN Stroke Coordinator at Johns Hopkins Bayview Medical Center.
---
School of Pharmacy
Faculty Accomplishments
Publications
Dr. Jennifer Bailey, Assistant Professor, Clinical & Administrative Sciences. A review of HIV pre-exposure prophylaxis: the female perspective. Infect Dis Ther. 2017; 10.1007/s40121-017-0159.
Dr. Jennifer Bailey, Assistant Professor, Clinical & Administrative Sciences. . Chronic kidney disease: Overview. PharmacotherapyFirst: A Multimedia Learning Resource. May 2017.
Dr. Jennifer Bailey, Assistant Professor, Clinical & Administrative Sciences. Exploring the Threat of MDR-TB in the United States. Contagion Live. 2017 Nov; 2(4).
Dr. Regine Beliard, Assistant Professor, Clinical & Administrative Sciences. Evaluation of interventions in clinical pharmacist-led annual medicare wellness visits compared with usual care. Consult Pharm. 2017;32:687-99.
Dr. Heather Folz, Assistant Professor, Clinical & Administrative Sciences. Factors associated with mentor satisfaction among teaching and learning curriculum program participants. Currents in Pharmacy Teaching & Learning.
Dr. Monique Mounce, Assistant Professor, Clinical & Administrative Sciences. A Single-Center Retrospective Cohort Analysis of Maternal and Infant Outcomes in HIV-Infected Mothers Treated with Integrase Inhibitors During Pregnancy. Infect Dis Ther. 2017 http://www.medengine.com/Redeem/57FBF06046C64311
Dr. Sharon Park, Associate Professor, Clinical & Administrative Sciences. Drug Information: A guide for pharmacists, 6th edition available via AccessPharmacy (McGraw-Hill), Amazon, and Barnes and Noble.
Dr. Ray Weber, Associate Professor, Clinical & Administrative Sciences. Oncology I: Overview & Side Effect Management & Oncology II:Common Cancer Types & Treatment In: RxPrep 2018 edition.​
---
Presentations
Dr. Regine Beliard, Assistant Professor, Clinical & Administrative Sciences. "New Drug Presentation: August 2016 through September 2017." Continuing Medical Education presented at Johns Hopkins Community Physicians Annual Retreat. November 2017.
Dr. Anne Lin, Dean. "The Path Forward". Society of Hong Kong Hospital Pharmacists, 30th Anniversary Gala. Keynote Speaker November 2017.
Dr. Anne Lin, Dean. "Highlights of Pharmacy Education in the United States". China Medical University, Taiwan. November 2017.​
---
Appointments
Dr. Sharon Park is serving on the American Association of Colleges of Pharmacy Professional Affairs Committee for 2017-2018​
---
Awards
Dr. Jennifer Bailey, Preceptor of the Year Award, University of Maryland Residency and Fellowship Program, University of Maryland Health System, June 2017.​​
---
Student Accomplishments
The following students presented poster presentations at the American Society of Health System Pharmacists Midyear Clinical Meeting in December 2017.​
Janet Akinduro '18 "Evaluation of rivaroxaban prescribing patterns and patient education in an obese veteran population"​
Cesar Bejarano-Garcia '18 "Effects of vitamin D supplementation on skin cancer: A systematic review"​
Abidemi Dada '18 "Evaluation and use of docusate sodium in a community hospital"​
Alyssia Dyett '18 "Student experiences during an international service learning initiative in Puerto Penasco, Sonora, Mexico"​
Quynh Nhu Ha '18 "Utilization of Idarucizumab in a Community Hospital"​
Shannon Haar '18 "Pharmacist management of pregnancy category X medication risks in a female patient of childbearing age"​
Miaka Huynh '18 "Effects of Magnesium Supplementation on Cardiovascular Outcomes: A Systematic Review"​
Farah Louzon '18 "Assessment of time allocation in pharmacy leadership at an academic medical center"
Mayrim Millan-Barea '18 "Level of knowledge and awareness of sexually transmitted diseases among college students"
Fortunate Mwanaka '18 "Does the use of intravenous acetaminophen in orthopedic surgery patients decrease overall opiate use?"​
Chibuike Nduanya '18 "Baltimore hospitals with suboptimal ratings on the performance measures by the Center for Medicare and Medicaid Services"​
Alexander Olumese '18 "Appropriateness of initial antibiotic therapy for chronic obstructive pulmonary disease (COPD) based on GOLD 2017 guidelines"
Sonya Park '18 "Verification of renal dosing service medication in hospitalized patients"
Jieying Qiu '18 "Incidence of neutropenia despite use of colony stimulating factors"
Zainab Raza '18 "Outpatient treatment of pediatric asthma prior to hospitalization for asthma exacerbation"
Tiffany Sherod-Harris '18 "Chronic obstructive pulmonary disease incidence and reasons for hospital readmission: A chart review"
Alexander Wong '18 "Extent and role of pharmacists in expedited partner therapy in the United States"
Melody Yun '18 "Hospitalization for influenza like illness and rate of influenza vaccination"
Upcoming Events
STEM Camp
Registration for the 2018 STEM Summer Camp, is now open. The camp will run from July 16-20. For more information go to the STEM website.
---
February 7
SquashWide Information Session
Doyle Dining Hall, 11:00 a.m. – 1:30 p.m.
Baltimore Squash Wise is looking for student, faculty, and staff volunteers to tutor on Mondays at Loyola.
Resume Writing Workshop
Fourier Library, 4 – 5:00 p.m.
Gator Rally: Basketball vs. Cabrini
MBK Sports Complex, 7:00 p.m.
Doyle Dining Hall will be closed for dinner, with the only meal service being provided in MBK Sports Complex.
---
February 8
Employer Meet & Greet
Doyle Dining Hall, 11:30 a.m. – 1:30 p.m.
Psych Club Meeting
Knott 225, 12:30 p.m.
Jumpstart Your Second Semester – Strategies for Success: an Academic Affair Workshop
Gibbons 225, 12:30 p.m. – 1:30 p.m.
---
February 9
Psychologist CE Seminar: Managing Risk in Everyday Practice: The Ethics of Being a Mental Health Clinician in the Real World
Knott Auditorium, 9 a.m. – Noon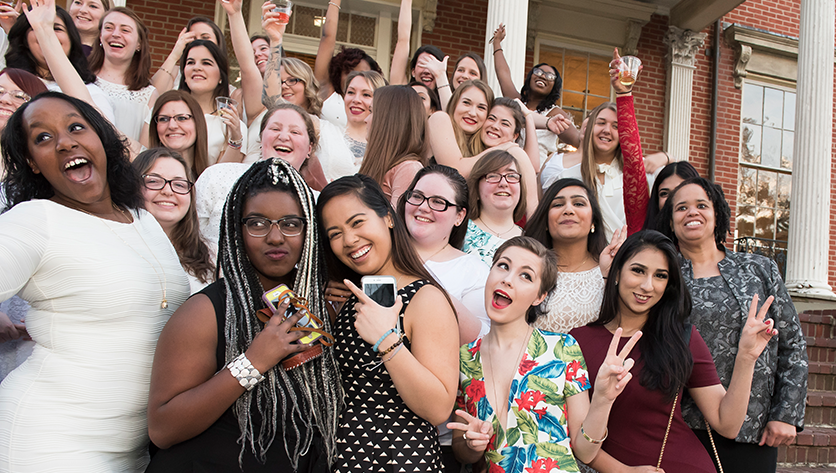 100 Nights
Seniors come together to celebrate 100 nights until graduation​.​​
---
February 13
Charles J. Busta III Lecture in Business
LeClerc Auditorium, 7 p.m.
---
February 14
Ash Wednesday
Marikle Chapel, 12:05 p.m. & 4:30 p.m.
Job Search Strategies & Interview Skills Workshop
Fourier Hall, Library, 4 – 5 p.m.
---
February 15
Class of 2020 Presents DIY Galentine's Day
Gator Alley, 3:30 – 5:00 p.m.
---
February 16
Campus Ministry's Stone Soup
Doyle Formal
Join Campus Ministry and the Office of Diversity and Inclusion in making casseroles for those in need. Please sign up with Anna Gibney by February 9.
Asian American Student Association Presents Anime Night
Feeley International Center, 7 – 10 p.m.​
---
February 19
Community Service Day
10:00 a.m. – 2:30 p.m.
Learn More and RSVP to Anna Gibney.
---
February 21
Interview Skills Workshop
Fourier Library, 4:00 – 5:00 p.m.
Wellness Garden Meeting
Theresa Hall Conference Room (in HR Department), 9:00 a.m.
Meeting open to entire campus community.
---
February 22
Spread Happiness with the Kindness Rock Campaign
Gator Alley, 2:30 p.m.
---
February 23
Asian American Student Association Presents Anime Night
Feeley International Center, 7 – 10 p.m.
---
February 26
Spread Happiness with the Kindness Rock Campaign
Gator Alley, 2:30 p.m.
---
February 28
Pure Barre Fitness Class
MBK, Dance Studio, Noon - 1 p.m.
Your Major, Your Future: an Academic Affair Workshop
Gibbons 225, 3:00 – 4:00 p.m.
Resume Writing Workshop
Fourier Library, 4 – 5:00 p.m.
---
March 11 – 15
Busy Person's Retreat
Please RSVP by February 19​
---