The Bulletin is published every month for faculty, staff, and students.
---
February 2019 Contents
NDMU News
Notre Dame Day 2019
The campus will come together next week, on February 12 to celebrate Notre Dame Day! The day recognizes the accomplishments of our students and our rich history.
Originally on March 25, Notre Dame Day was created to celebrate the two cores of our school: Mary, and our state of Maryland. This year's ceremony will take place in Doyle Formal beginning at 2 p.m.
In addition to several departmental awards, the Distinguished Staff Award, the SSND Mission and Ministry Award, the Service-Learning Faculty Award and the Mary Ann O'Donnell Team Academic Achievement Award will be handed out.
---
Getting Hands-On With Bacteria in the Lab
Many of our first-year nursing students began the semester with an eye-opening hands-on learning experiment in their Microbiology lab. The students learned that disinfecting something, doesn't mean it's free of germs.
As part of the students study of "microbial ubiquity," which is the concept that bacteria, whether good or bad, is everywhere, our students conducted several experiments, swabbing different areas of their lab in order to see how bacteria can grow once it is incubated at varying temperatures. The samples were stored at both room and body temperature to stimulate ideal growing conditions. With the help of Dr. Medghalchi, students created sample slides to be viewed under a microscope.
They found that it didn't matter whether something was disinfected or not, there was still plenty of bacteria that grew on the specimen. That amazed and appalled a number of students, but all agreed it made for an exciting lab.
---
11 NDMU Morrissy Students to be Recognized
Congratulations go out to 11 Notre Dame Morrissy students. All have had proposals accepted to be presented at the Maryland Collegiate Honors Conference (MCHC) next month at Morgan State University.
The students being recognized include Ashley Anderson, Myra Beyene, Ciarese Detorres, Diana Liz-Cavrera, Jessie Willinnghan, Katherine Martínez, Keira Mull, Uloaku Onwumelu, Kristina Pickering, Christine Roa and Lorelie Soriano. Good luck to all!
---
Handshake Internships and Jobs
NDMU's Career Center is offering Handshake – an innovative career development platform - to replace the current GatorWorks system.
Handshake personalizes job recommendations based on interests.
It's an easy way to register for opportunities, submit applications, find out career fairs, and set up appointments at the Career Center. You can expect to see a large increase in relevant job opportunities, tailored specifically to your interests. Handshake is free for employers to post and used by over 20 colleges and universities in Maryland and Washington DC. This makes for a large marketplace for jobs, internships, and volunteer opportunities.
Here is a quick set of slides and a video to explain more information.
---
FAFSA FRIDAYS
FAFSA have you confused? Not sure whether you qualify or what to write? No worries, this month, Financial Aid is hosting FAFSA Fridays to answer all your questions.
Every Friday, for the remainder of the month, NDMU students can get their questions about the 2019-2020 FASFA answered from the Financial Aid department.
Meeting sessions will take place from 1-3 p.m. in Fourier Hall, Room 001. Students should register to meet with Financial Aid and bring their 2017 W-2, federal tax returns, FSA ID and password with them to the meeting. For more on dates and times scroll down to the event section.
---
Spring Production
Planning is underway for the spring production of Jen Silverman's The Moors.
The story is about two sisters and a dog who live out their lives on the bleak English moors, dreaming of love and power. The arrival of a hapless governess and a moor-hen set all three on a strange and dangerous path. THE MOORS is a dark comedy about love, desperation, and visibility.
Auditions we held the first week of the month. Show dates are set for April 11, 12, 13 and 14 in Copeland Theater.
---
100 Nights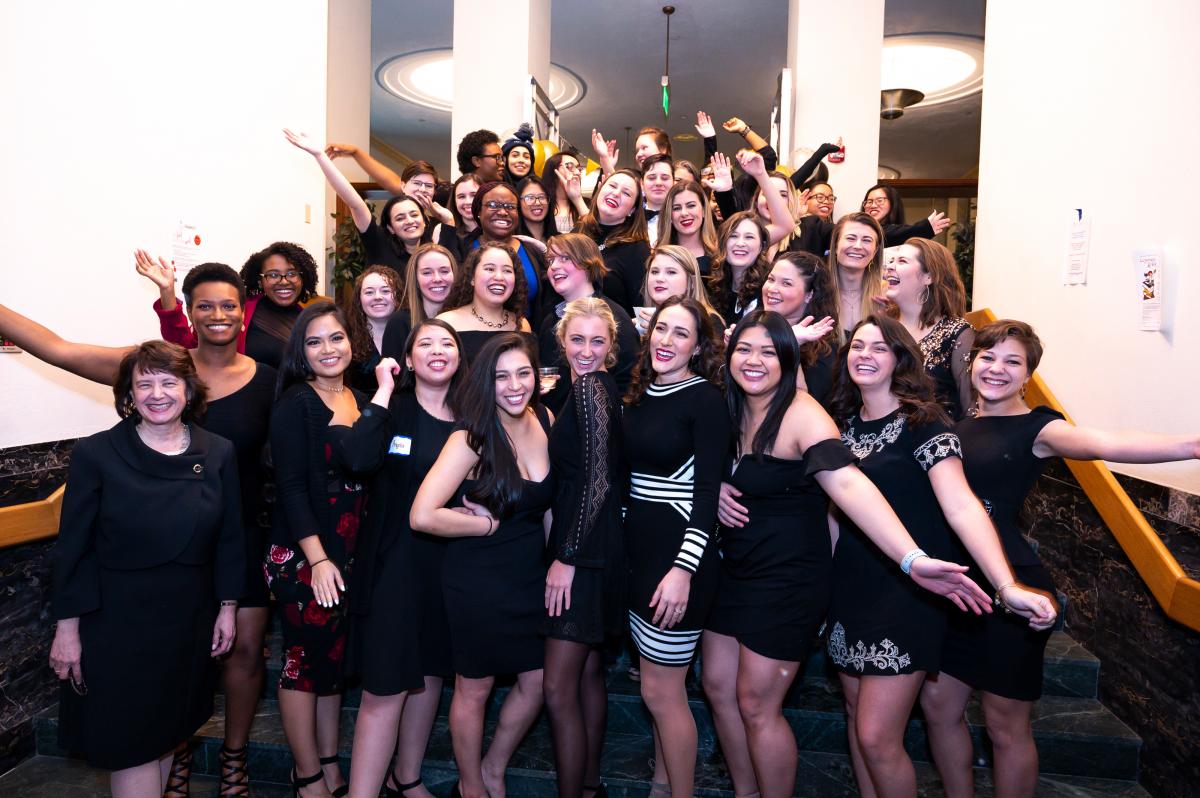 The Class of 2019 gathers to celebrate 100 Nights. Every year, the graduating Women's College students come together for a reception marking the 100 nights until Commencement. This year's event was held in Fourier Hall and despite some snowy and icy weather, students turned out to celebrate and have fun.
The occasion included a cocktail hour, followed by dinner and an exciting night out downtown.
The tradition of 100 nights was established around the 1980s, and has become a time for graduating seniors to reflect on their experiences as undergraduates at Notre Dame.​ To see pictures from this year's event check out the University's Flickr page.
---
Hands On Art
The start of the semester marked the start of a new exhibit in Gormley Gallery.
The installation titled David Modler & Samuel Peck, tet[R]ad: Draw and Play Here Session #10 is designed to be collaborative and will grow and develop as students work with the artists to complete it. No matter the level of your art ability, you can take part in creating this display. The first student participation will happen on February 11, from 10 a.m. - 4 p.m.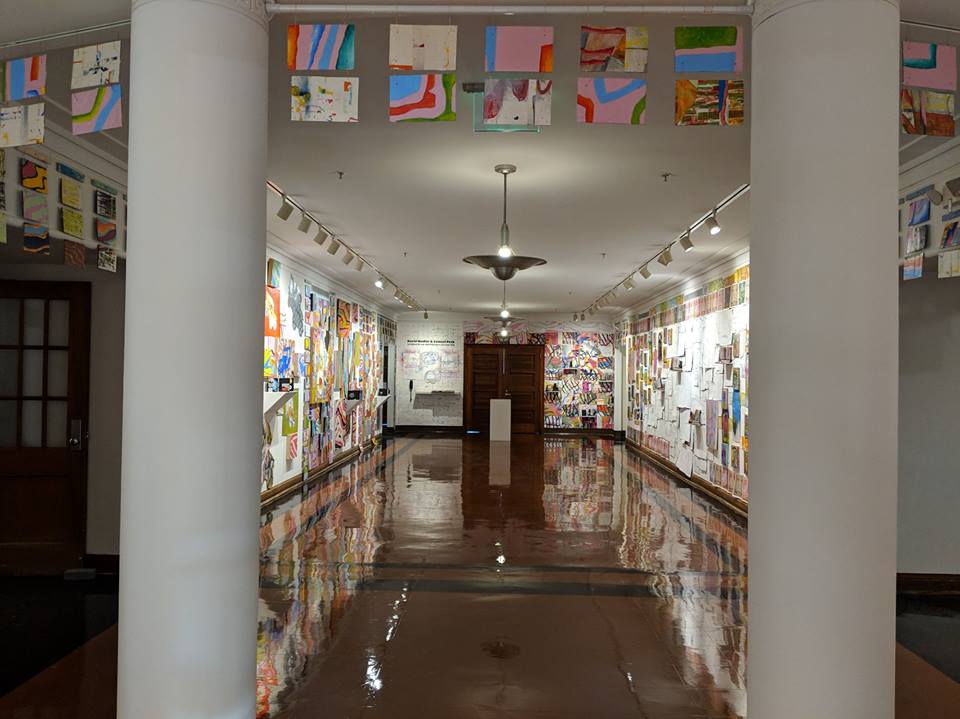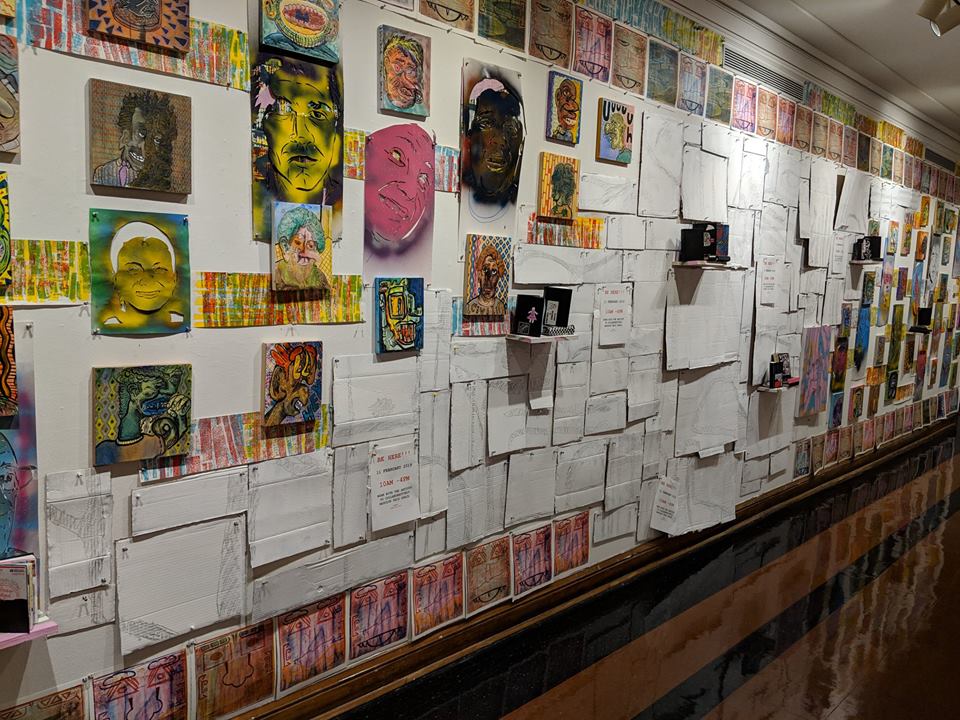 ---
Art Therapy Presentation
Julia Andersen, MA, LCPAT, ATCS, a faculty member in NDMU's Art Therapy program, recently teamed up with an art therapy graduate student to take part in a workshop for 70 licensed mental health providers. The workshop took place at Spring Grove in Baltimore County and focused on "Art-based Techniques as a Clinical Intervention for Suicidal Clients." It was sponsored by the Maryland Behavioral Health Administration's Office of Workforce Development and Training and Maryland's Suicide Prevention and Early Intervention Network, highlighting creativity as a protective factor to suicidality.
---
Sports
Basketball
Notre Dame basketball continues to vie for a CSAC Playoff spot. They will host Bryn Athyn College on Saturday in their first of their final three games. On Saturday, February 16, the Gators host Clarks Summit University in their last regular season game. NDMU will honor seniors Justine Mudiay and Justice Walrath prior to the start. A Gator Rally will also be held in the Racquetball courts during the game. Follow Notre Dame Athletics social media for all playoff information.
Spring Sports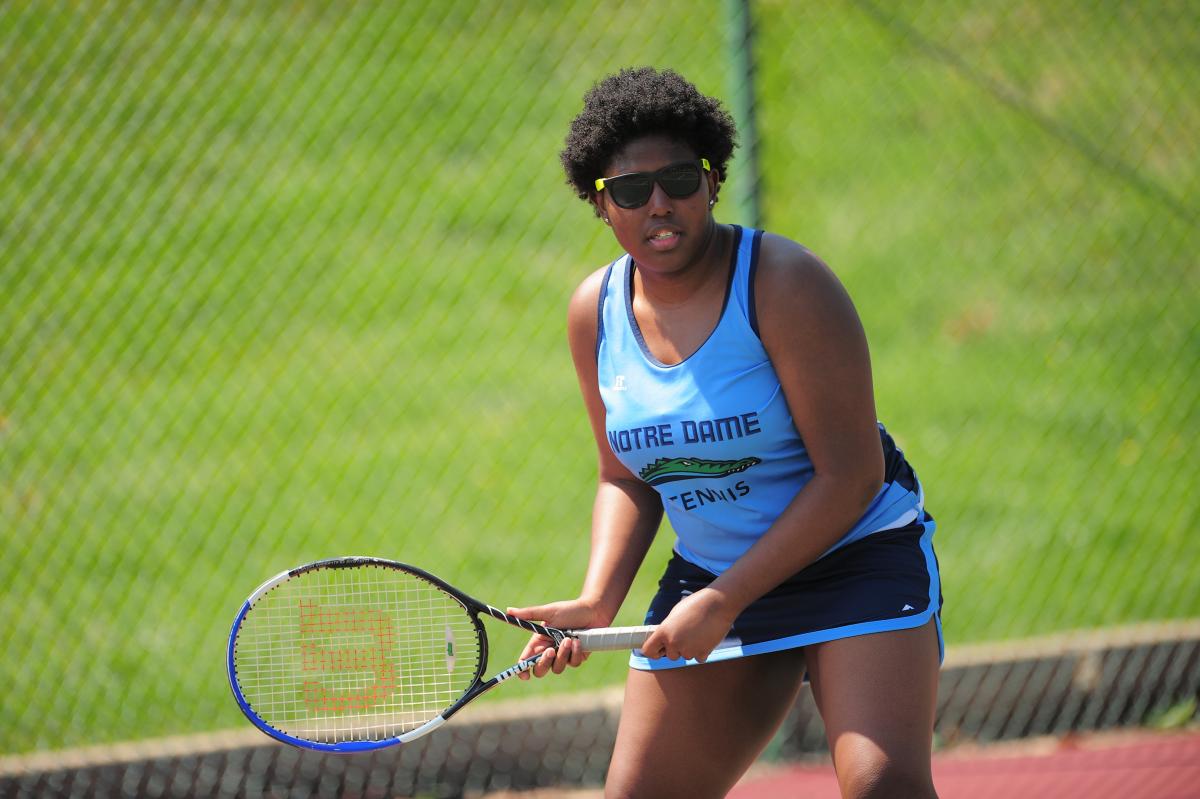 Spring is coming despite the cold weather! Notre Dame's four spring sports will open their seasons in March. Tennis will host their first home game on March 12 versus McDaniel College on the NDMU Tennis Courts. The next day, Lacrosse will get their home schedule started against Chatham University. On March 15, softball will open their home schedule against University of Valley Forge. Outdoor Track will be racing off campus all season with their closest meet being at Goucher College on March 23rd. Come out and support all your #FEARLESSGATORS!
Kastner Named to NCAA Management Council
In November 2018, senior Samantha Kastner was nominated to represent student-athletes as a member of the National Collegiate Athletic Association (NCAA) Division III Management Council. This past month at the NCAA Convention in Orlando, Florida Kastner proudly represented Notre Dame of Maryland University, the Colonial States Athletic Conference (CSAC), the National Student-Athlete Advisory Committee (SAAC), and Division III student-athletes across the nation.
Her active participation on NCAA committees helped prepare her for the fast-paced agenda of the NCAA Management Council. The Management Council's general duties include: review NCAA DIII policies, resolve DIII issues, make recommendations to the presidents council, make rule interpretations, and much more.
In speaking of her future, Kastner expressed her desire for continued education in athletics. "I am pursuing graduate school in the fall for sports management/sports administration and am looking forward to a lifetime of working in collegiate athletics, all thanks to SAAC for developing my passion," says Kastner.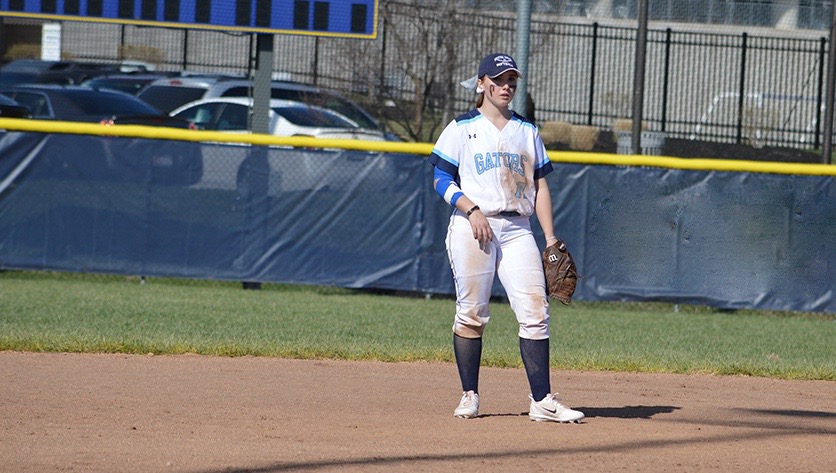 ---
Loyola Notre Dame Library News
Spring 2019 Hands-On Technology Pop-Up Series
Learn about technology experientially! The library is offering 12 Pop-Up Classes this semester. Classes range from bread-making to virtual reality. Click here to see the full schedule. Hope to see you there!
Upcoming Library Copyright Workshops
February 13: Copyright Crash Course (3-4:15)
February 25: Fair Use In-Depth (3-4:15)
March 13: Copyright or Copyleft? Making Sense of Creative Commons (3:00-4:00)
March 20: Author's Rights and Publication Contracts: What to Know Before You Sign (3-4:15)
Register via the LNDL website or email Danielle Whren with any questions.
Library Roadshows
Faculty are invited to join librarians to experience active learning technologies and spaces, learn about consults on copyright and to hear faculty-librarian partnership success stories. RSVP or drop-by on February 21, March 12, or March 26. All Roadshows begin at 4 p.m. in the Library Collaboratory and end at 4:45 p.m. If you'd like to host a Roadshow for your department at a different time, please email Cat Staley.
---
News by School
School of Arts, Sciences, and Business
Faculty Accomplishments
Dr. Jeana DelRosso, Department of English, gave a reading from her latest book, Unruly Catholic Nuns: Sisters' Stories (SUNY Press, 2017) at The Ivy Book Shop in Baltimore in October. Other readers included her two co-editors as well as four contributors, including Dr. Patricia Dwyer (School of Education).
School of Education
Faculty Accomplishments
Ryan Schaaf recently had, A New Kind of Student: Learning Attributes of the Digital Generations published. Congrats Ryan!
Dr. Angelo Letizia was invited to give a professional talk on his research pertaining to servant leadership at Broadmead retirement community located in Hunt Valley. Letizia spoke to the executive leadership team at Broadmead on January 15th. His talk covered various aspects of servant leadership, organizational culture and the notions of accountability. Dr. Letizia was able to represent NDMU to outside stakeholders as well as present ideas to those in related service professions. The talk went very well and was engaging, and more similar talks are in the works.
School of Nursing
Faculty Accomplishments
Dr. Sabita Persaud presented at the 2018 Sigma Leadership Conference in Indianapolis, IN. The presentation titled Project PLAN: Preparing Leaders to Advance Nursing, showcased School of Nursing activities supported by a 2018 Nurse Support Program II Grant from the Maryland Higher Education Commission.
---
Drs. Marleen Thornton and Sabita Persaud recently published "Preparing Today's Nurses: Social Determinants of Health and Nursing Education" in The Online Journal of Issues in Nursing.
---
Student Accomplishments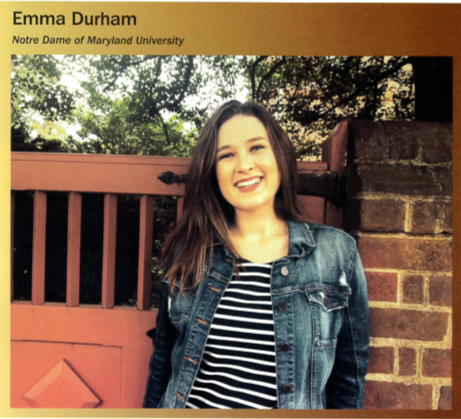 Senior nursing student, Emma Durham of Millville, NJ was the recipient of the Daily Record 2018 Leading Woman scholarship award. The Daily Record has partnered with Keswick Multi-Care Center to create a Leading Woman scholarship to honor a student who is majoring in/pursuing a degree in public health, nursing, geriatrics or a health-related major/degree. On behalf of the University, the School of Nursing nominated Emma for demonstrating academic success as a student, consistently participating in University and School of Nursing activities and exhibiting a commitment to inspiring change in nursing, specifically gerontological nursing.
You can read more about Emma in The Daily Record's program. The Leading Women of Maryland's Future awards were created in 2010 to celebrate successful women who are 40 years of age or younger. The Leading Woman scholarship in partnership with Keswick, was established two years ago.
---
Three students in the Master of Science in Nursing Program were supported by the School of Nursing to present their work as posters at the 2018 Sigma Leadership Conference in Indianapolis, IN.
Michelle Atherton presented Pursuing Pathway to Excellence and Approaches to Nursing Education
Natasha Maith presented Competence in Caring for Patients with Opioid Addiction: A Phenomenological Approach
Carrie Ann Roberts presented compassion Fatigue in the Presence of Employee Engagement
---
On November 18th, 2018, the Mu Eta Chapter of Sigma inducted 36 new members. Sigma is the international honor society of nursing and the Mu Eta Chapter is located here at NDMU. Inductees included 18 BSN students, 16 MSN students and 1 Nurse Leader.
School of Pharmacy
Faculty News
Dr. Jennifer Bailey, Assistant Professor, Clinical & Administrative Sciences - appointed to the Bylaws and Policy Committee, American Association of Colleges of Pharmacy
Dr. Asish Dutta, Associate Professor, Pharmaceutical Sciences – elected Chair-Elect, Section of Pharmaceutics, American Association of Colleges of Pharmacy
Dr. Asish Dutta, Ellison Park '20 – "Development of an Improved Reversed-Phase HPLC Stability Indicating Method and Forced Degradation Studies of Curcuminoids" –poster presentation at the American Association of Pharmaceutical Sciences
Chinyere Onyirimba '20 , Anjali Patel '19 , Zoya Ramzan '19, Dr. Payal Agarwal (Associate Professor, Pharmaceutical Sciences) "Self-Emulsifying Drug Delivery System (SNEDDS): An Attempt to Develop an Incomplete SNEDDS Formulation for Oral Delivery of Exendin-4 for Treatment of Type-2 Diabetes – poster presentation at the American Association of Pharmaceutical Sciences
Dr. Prashant Mandela, Assistant Professor, Pharmaceutical Sciences presented a poster presentation at the KGI Symposium 'Use of Rituximab Biosimilars in the Treatment of Chronic Lymphocytic Leukemia' along with colleagues from Marshall B. Ketchum College of Pharmacy.
Dr. Jonathan Thigpen, appointed Dawson Award Committee, American Association of Colleges of Pharmacy
Student News
The following students presented poster presentations at the American Society of Health System Pharmacists Midyear Clinical Meeting in December 2018.
Olivia Akah '19 "Incidence of antibacterial prescribing for upper respiratory tract infections and bronchitis in a rural outpatient setting"
Cynthia Clark '20 "Characterization of clinical metrics associated with a medication history program at The Johns Hopkins Hospital"
Patricia Dieso '19 "Effects of probiotic supplementation on inflammatory bowel disease: a systematic review"
Danielle DiFalco '19 "Medication use evaluation of prothrombin complex concentration in a small community hospital"
Labasse Doumbia '20 "Evaluation of pharmacy technician workload in an inpatient satellite pharmacy at a large academic medical center"
Aara Hall '19 "Evaluation of delay in the second dose of antibiotics in patients admitted to The Johns Hopkins Hospital from the emergency department"
Samantha Hartig '19 "Incidence of recidivism for opiate overdose in the absence of naloxone discharge prescription in a rural hospital setting"
Tyffani Howard '19 "Identifying potential cost savings with industry sponsored patient assistant programs for patients receiving immunotherapy agents in an outpatient oncology clinic"
Daniel Lee '19 "Patients' acceptance of influence vaccination during influenza season of low vaccine match"
Rachel Marrone '19 "Use of acupuncture in the prevention and treatment of dementia"
Ayesha Nasir '19 "Effects of probiotic supplementation on hyperlipidemia: a systematic review"
My Nguyen '19 "Time to attaining therapeutic vancomycin trough in pharmacist pharmacokinetic service"
Amura Ama Oduro '19 "Liraglutide as an adjuvant therapy to regular U-500 insulin in a morbidly obese patient with type-2 diabetes mellitus"
Richie Onwuchekwa Uba '19 "Assessing risk of medication errors due to non-standardized investigational drug labels in two large academic hospitals"
Anjali Patel '19 "Association between prenatal acetaminophen exposure and attention deficit hyperactivity disorder in children: A systematic review"
Mateo Pelja '20 "To Ignore or Not to Ignore: An Analysis of Drug Utilization Review in an Outpatient Pharmacy Setting"
Zoya Razman '19 "Evaluating the most common initial empiric therapy for skin and soft tissue infections"
Sulaiman Sesay '19 "Cost-avoidance through redistribution of short-dated emergency drug box medications"
Christiana Showunmi '19 "Probiotic effects in incidence reduction in clostridium difficile infection"
Arlene Velez-Bartolomei '19 "Evaluation of the appropriate use of antibiotics in patients with chronic obstructive pulmonary disease (COPD) exacerbations"
Kelly Ward '19 "Incidence of continued tobacco abuse in patients with chronic obstructive pulmonary disease after smoking cessation education"
Upcoming Events
Now through March 8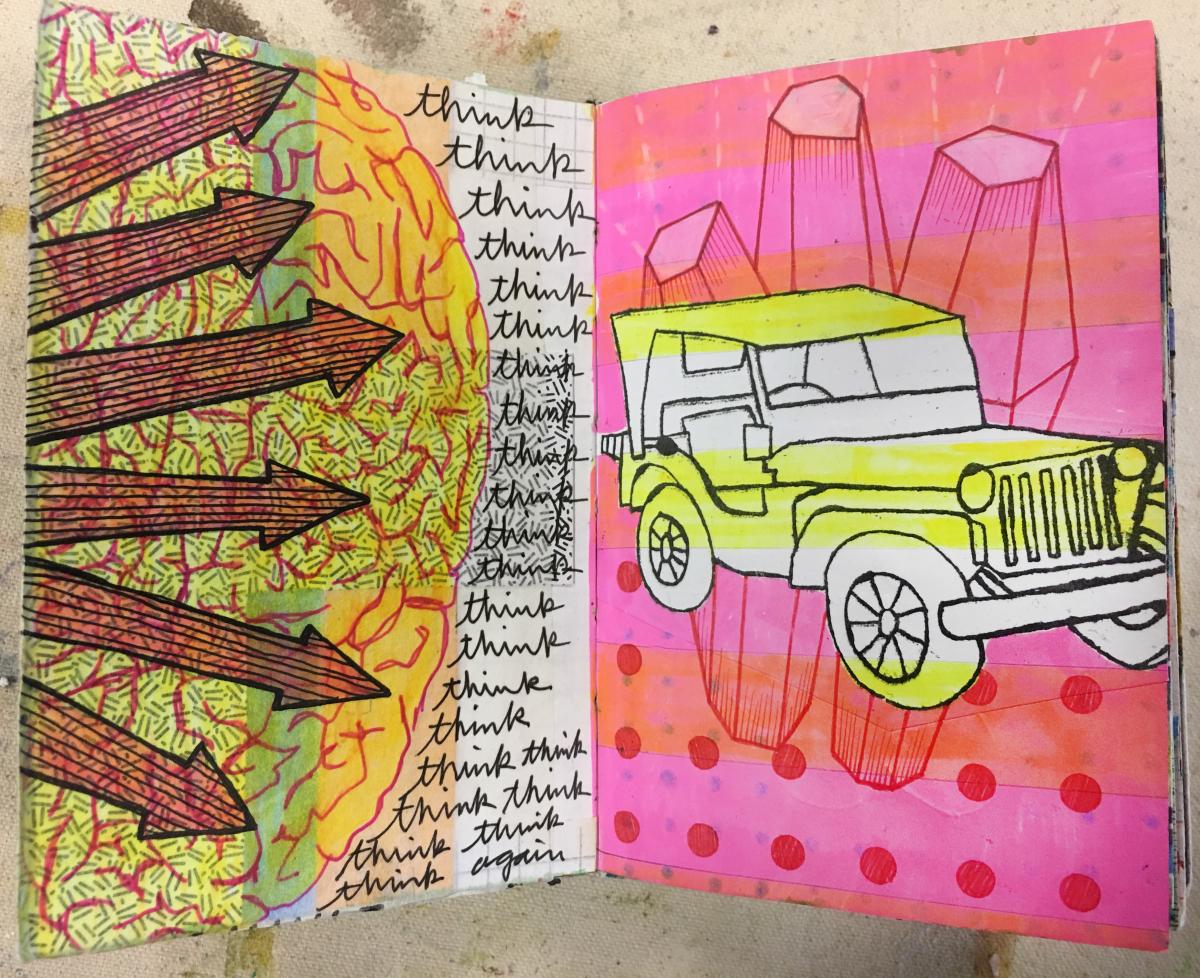 David Modler & Samuel Peck, tet[R]ad: Draw and Play Here Session #10
Gormley Gallery, Fourier Hall 2nd Floor, 8:30 a.m. – 5 p.m.
This installation is designed to be collaborative and will grow and develop as students work with the artists to complete it.
Artists' Reception
Gormley Gallery, February 16, 4-6 p.m.
---
February 7
National Black HIV/AIDS Awareness
Doyle Lobby, 10 a.m. – 2 p.m.
Pitch Fit Auditions
LeClerc, Room 315, 12:15-1 p.m.
Contact Kayla Becker at kbecker3@live.ndm.edufor more information.
Valentine's Sip and Paint
Fourier Hall, Room 103, 6-8 p.m.
Hosted by Student Engagement and Community Programs.
RSVP to Student Engagement by February 5.
---
February 8
FAFSA Fridays
Fourier Hall, Room 001, 1-3 p.m.
---
February 9
WWB Gators VS Bryn Athyn
MBK Sports Complex, 1 p.m.
---
February 11
Draw & Play in Gormley Gallery
Fourier Hall, Gormley Gallery, 2nd Floor, 10 a.m. - 4 p.m.
Take part in completing the interactive installation that's on display in Gormley Gallery. All are invited to work onsite with the artists to complete the exhibition. Participants will be given art materials and guidance to draw, paint and stencil on white panels. No art experience necessary.
Campus Activities Board (CAB) Gator Live!
Doyle Hall, Lower Level, Gator Alley, 7:30-9:30 p.m.
---
February 12
Notre Dame Day​
LeClerc Auditorium, 2 p.m.
Adult Undergraduate & Graduate Info Session
Notre Dame of Maryland University, 5:30-7 p.m.
---
February 14
Valentine's Day Candy Gram
Gator Alley, Noon-1:30 p.m.
Sponsored by Rae of Sunshine. Contact Jazmin White at jwhite12@live.ndm.edufor more information.
Legacy Leaders Information Session
Gator Alley, 4:30 p.m.
Black Love Cinema
Fourier Library, 8 p.m. - Midnight
---
February 15
FAFSA Fridays
Fourier Hall, Room 001, 1-3 p.m.
---
February 16
WWB Gators VS Clarks Summit University
MBK Sports Complex, 1 p.m.
David Modler and Samuel Peck Artist Reception
Gormley Gallery, 4-6 p.m.
---
February 18
Final Legacy Leaders Information Session
Gator Alley, 5:30 p.m.
---
February 19
Damozel Deadline
NDMU's creative literary magazine is currently acceting poems, stories, essays, plays, original artwork and photography from undergrads, graduate students and alums. Email all submissions as a word or PDF document by February 19. Please include a cover letter with your full name, email address, maor and class year.
---
February 20
African-Caribbean Student Association's Movie Night
Knott Auditorium, 5-7 p.m.
---
February 22
FAFSA Fridays
Fourier Hall, Room 001, 1-3 p.m.
---
February 23
A Retreat on Anxiety and Spirituality
Fourier Library, Noon-5 p.m.
Hosted by Campus Ministry
---
February 25
Campus Activities Board (CAB) Gator Live!
Doyle Hall, Lower Level, Gator Alley, 7:30-9:30 p.m.
---
February 27
Pharmacy Virtual Open House
Online, 3-5 p.m.
---
February 28
Women Health Workshop
Gator Alley, 12:15-1:30 p.m.
Sponsored by Road Scholars
Oh, the Places You'll Go with STEM: From Aeronautics to Technology & Beyond
LeClerc Auditorium, 7-9:30 p.m.
It's Not "Taken": Child Sex Trafficking in Maryland
Fourier Hall, Riley Room 015, 7-8:30 p.m.
A lecture by Dr. Nadine Finigan-Carr hosted by the NDMU Art Therapy Program.
---
March 1
Get Certified CPR/BLS by the American Heart Association
Theresa Hall, Room 009, 1:30 p.m.
Contactlhernandez2@live.ndm.edufor more information.
---
March 5
SGA Senate Meeting
Bunting Hall, Room 220, 12:15-1:30 p.m.
Charles J. Busta III Business Forum
LeClerc Auditorium, 8-9 p.m.