Each year, Notre Dame brings women leaders to campus to share their inspiring journeys. Our speakers represent a broad range of professional fields and personal experiences.
Announcing the 16th Annual Busta Forum: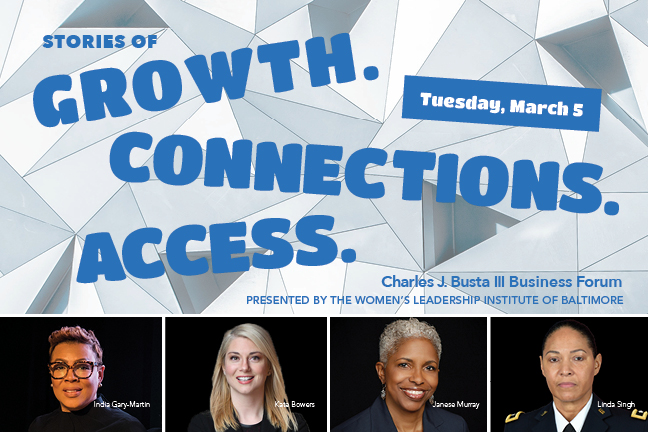 Stories of Growth. Connections. Access. To succeed personally and professionally today, you need well-rounded skills. But how do you develop those skills? And what are they? Find out through discussions and shared stories with four outstanding women. The journey is just beginning.
Panelists
India Gary-Martin, CEO of Leadership for Life
Kate Bowers, Vice President of Public Relations Client Services at Weinberg Harris & Associates
Janese Murray, Vice President of Diversity and Inclusion, Exelon Corporation (Ret.)
Linda Singh, Major General of the Maryland Army National Guard
The 16th Busta Forum will be held on Tuesday, March 5 at 6 p.m. in Knott Auditorium. The Busta Forum is free and open to the public. A light reception will follow.
Registration is appreciated as guests will be emailed parking information before the event. Questions? Contact the Office of Alumnae and Alumni Relations at 410-532-5201.
---
Register Now
---
Previous Event
The February 2018 forum was a great success!
About the Forum
The Charles J. Busta III Business Forum is designed to showcase the thoughts and experiences of business leaders, especially women leaders, in order to encourage creativity and personal growth in women. The series was created in memory of Charles J. "CB" Busta, a Notre Dame trustee and marketing executive who died in 1999.

All individuals invited to speak are recognized in their chosen fields. We seek inspirational professionals of integrity who have made a real difference, overcome significant obstacles, or delivered dramatic success. We especially seek women professionals with these credentials in order to present strong role models who can set a standard of achievement for Notre Dame students.
Our invited speakers are chosen based on a strong set of credentials including:
Leadership
Creativity
Innovation
Humor
Competitive Spirit Balancing Business, Personal and Spiritual Life
Past Speakers
2018: Mayor Catherine E. Pugh, Baltimore City
2017: Donna Orender, Founder and CEO of Orender Unlimited, and former WNBA President and PGA Tour Vice President
2016: Shira Shafir, Director of Social Innovation and Impact at TOMS
2015: Insights from Women Leaders in STEM: Inspiring the Next Generation
Judith Britz, Ph.D., Former Executive Director of BioMaryland Center
​Alison Brown, Senior Vice President & Chief Strategy Officer of University of Maryland Medical System
Gloria Flach, Corporate Vice President and President of Northrop Grumman Electronic Systems
Kathryn Freeland, President/Chief Executive Officer of A-TEK, Inc.
Moderated by LaVida Cooper '03, Telecommunications and Technology Branch Head, NASA Goddard Space Flight Center
2014: The Arts Transforming Communities
Marin Alsop, Music Director of the Baltimore Symphony Orchestra
Doreen Bolger, Director of the Baltimore Museum of Art
Rebecca Hoffberger, Director of the American Visionary Art Museum
Julia Marciari-Alexander, Executive Director of the Walters Art Museum
View the Lecture
2013: Cindy Wolf, Executive Chef of Charleston restaurant and a partner in Foreman Wolf
2012: Patricia M.C. Brown, Esq., President of Johns Hopkins HealthCare LLC and Notre Dame trustee
View the Lecture