The Bulletin is published every month for faculty, staff, and students.
---
June 2017 Contents
NDMU News
Commencement 2017
The Class of 2017 has officially joined the ranks of alumnae/alumni. The 2017 Commencement was held at Royal Farm Arena on May 20 and Dr. Nancy Birdsall, a senior fellow and president emeritus of the Center for Global Development was welcomed as the Commencement Speaker. In addition to Birdsall, fellow graduate Naomi Cross BSN '15, MSN '17 offered the Student Response.
The day began at Notre Dame in the Marikle Chapel with the Commencement Liturgy. Graduates then made their way to the arena for the Commencement Ceremony. To relive the ceremony and hear Birdsall's words of wisdom for the Class of 2017, check out the online video. And, to see pictures from the event, go to the University's Flickr page.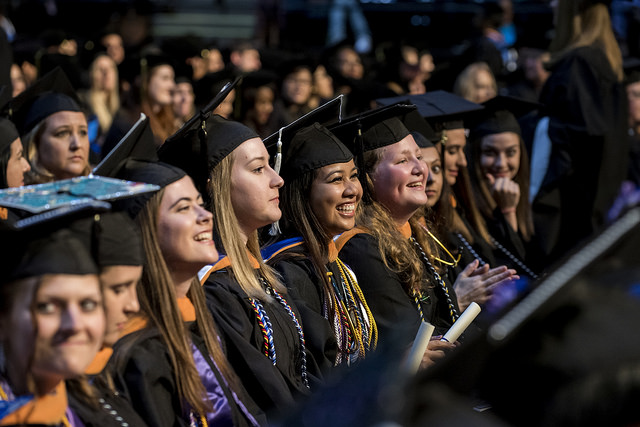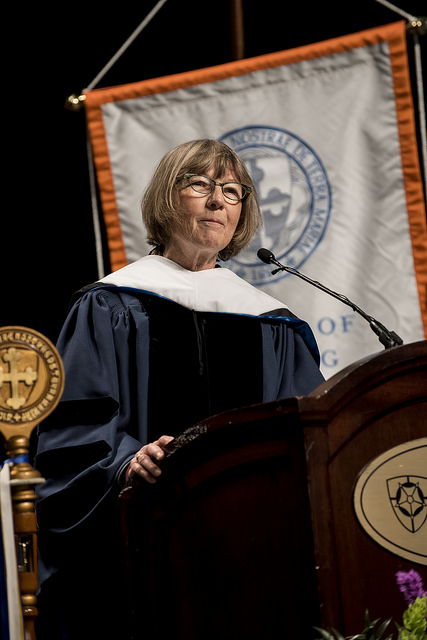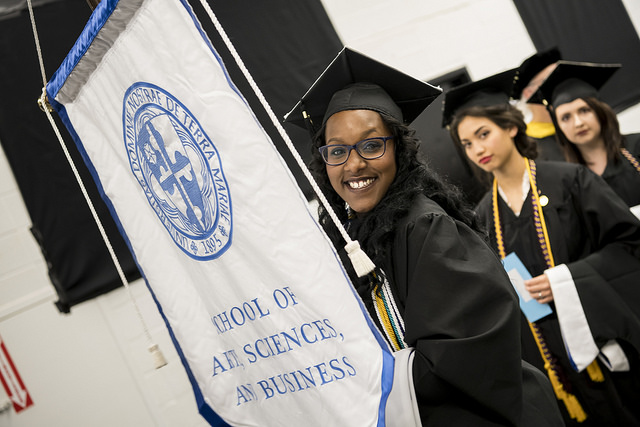 ---
Senior Celebrations
Commencement season is also a time to honor graduates. From lunches to awards celebrations, the two weeks leading up to Commencement were jam packed with activities. One of the first events included the School of Nursing's Pinning and Lighting of the Lamp ceremony. This event is something that has been practiced in the nursing profession for centuries. From there NDMU's School of Pharmacy held its Pinning Ceremony to mark third-year Pharmacy students becoming P4s. The School of Education took its graduates off campus for an awards celebration, while the School of Arts, Sciences, and Business held its awards celebration the night before graduation.
The 24-hours leading up to Commencement may have been the busiest time for graduates. The morning began with the Morrissy Honors Brunch, followed by the Trailblazers Celebration, and then graduates came together one last time in the dining hall for the Women's College Senior Luncheon. Following lunch, some seniors were invited to take part in Tower Climb 2017. The day concluded with the School of Nursing's Blessing of the Hands Ceremony and the School of Pharmacy's Graduation Banquet.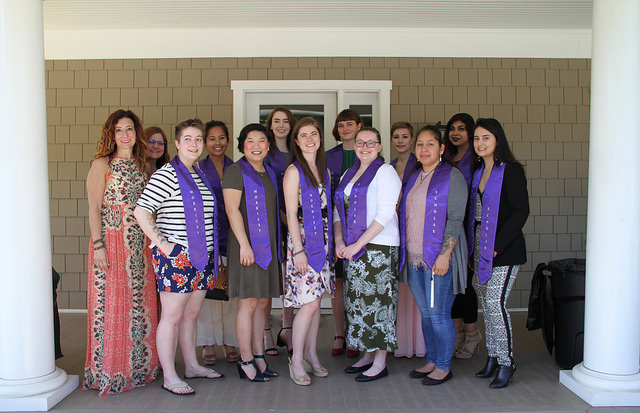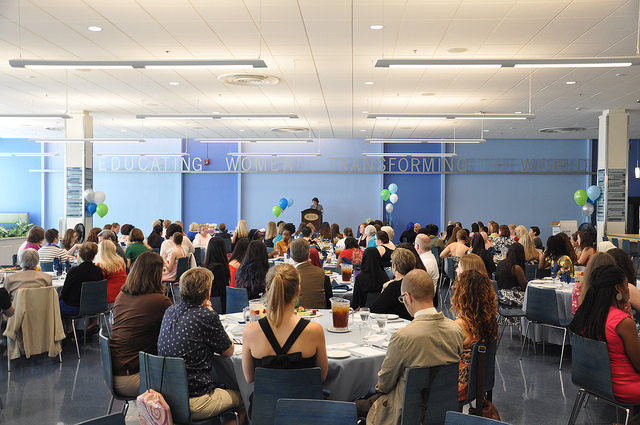 ---
Universitas
Hot off the presses is the latest issue of Universitas. Read about NDMU's focus on the future, including the historic renovations in Gibbons Hall, how our students, faculty, and alumnae are making a strong positive impact locally and around the globe, a look at the NDMU Honor Pledge as it celebrates 80 years and Sr. Kathleen Feeley's reflections on one of our Notre Dame pioneers - Sr. Mary Meletia.
Haven't received your copy yet? No worries. You can view the digital version.
---
Sr. Eileen O'Dea Honored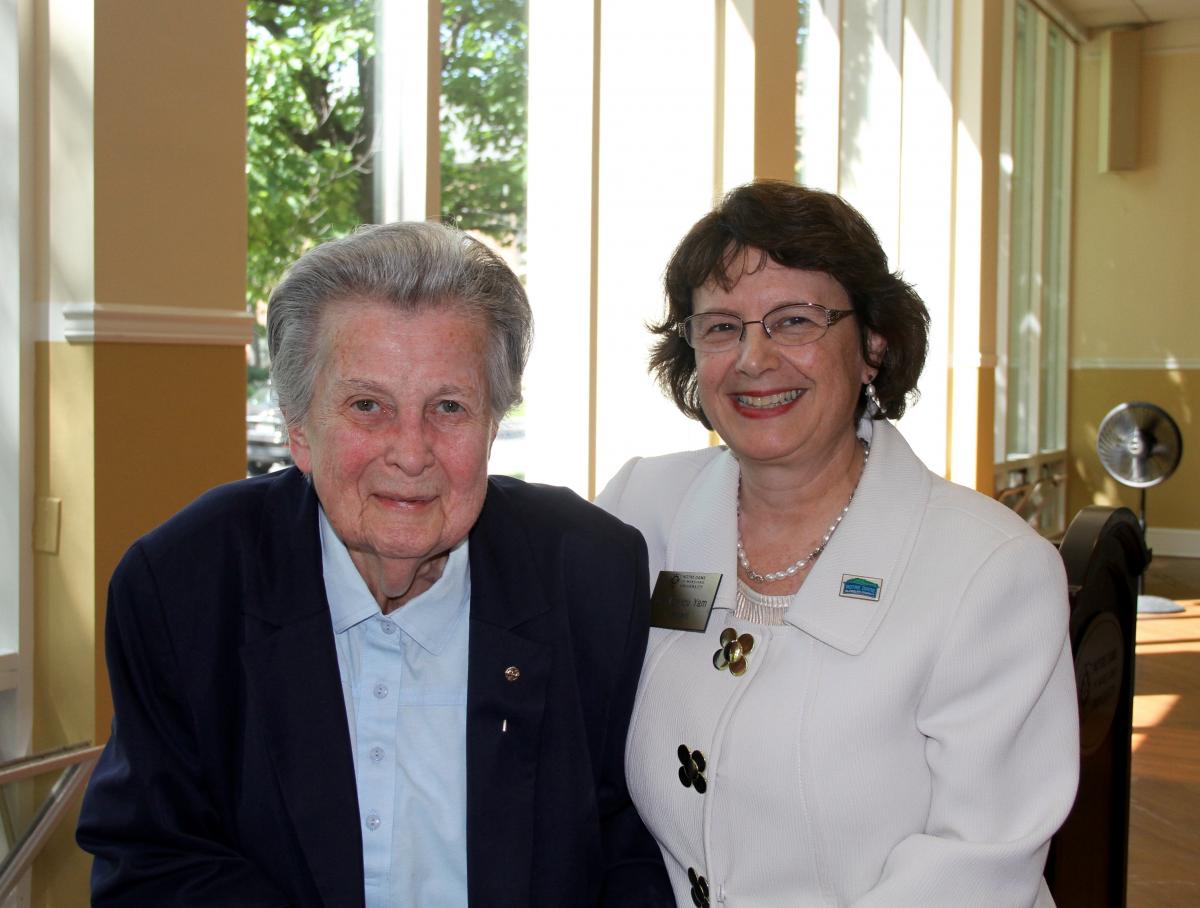 On May 16, the campus community came together to honor Sister Eileen O'Dea for her years of service and dedication to Notre Dame, its mission and its faculty, students and staff.
"Sister Eileen has long served as Notre Dame's "North Star" providing clarity and focus and ensuring fidelity to our mission and core values," said President Marylou Yam.
Sister Eileen joined Notre Dame in August of 1985 and has taken on numerous roles throughout the years. From Vice President for Mission, to Vice President for Planning, and Director of Enrollment Management, Institutional Research and Planning, and Institutional Advancement, Sister Eileen knows Notre Dame inside and out.
Sister Eileen will continue in an advisory role for the University.
---
Morrissy Wins Regional Student of the Year Award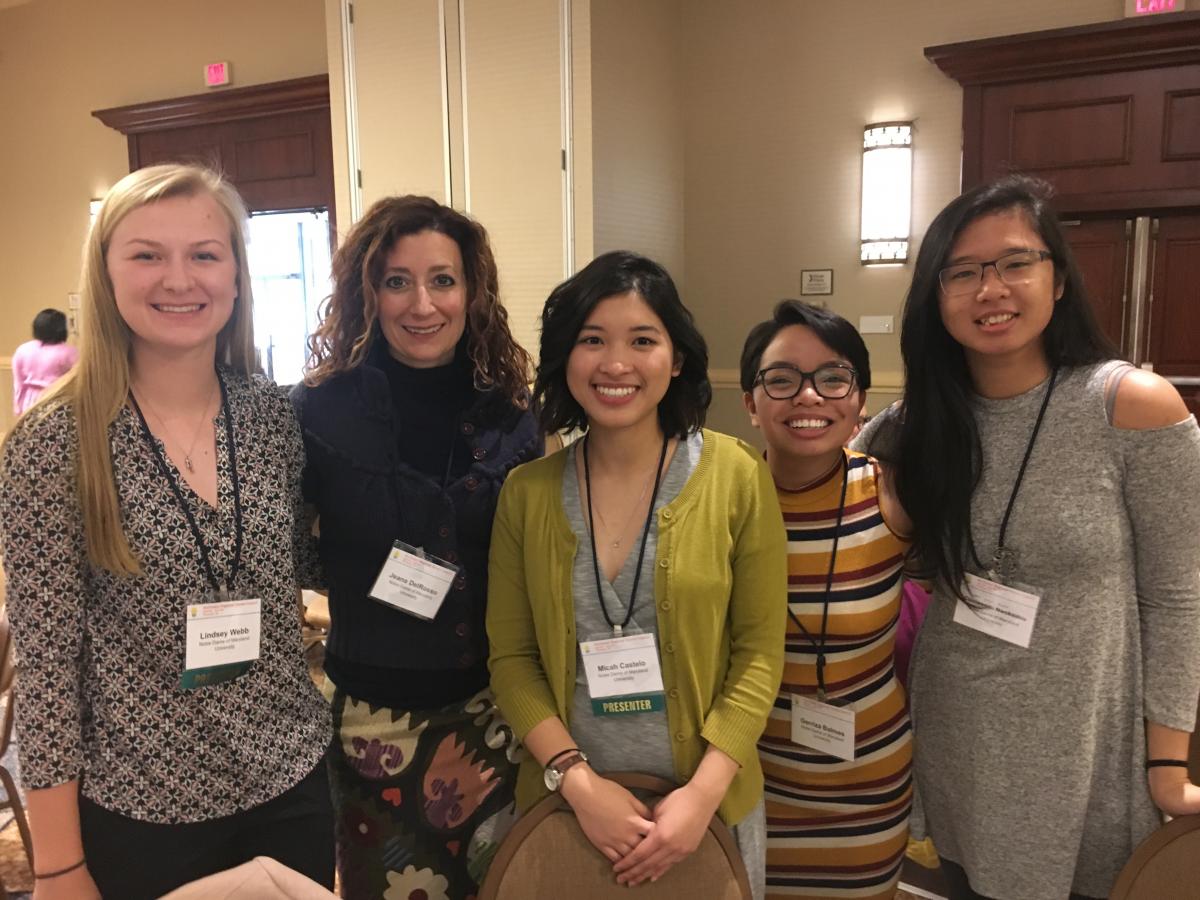 Morrissy scholar Micah Castelo, '18 was awarded the Northeast Regional Honors Council Student of the Year Award. She was presented with this prestigious award at the NRHC Annual Conference in April 2017. The award is based upon the student's service to the honors program, University, and community, as well as a director's letter of recommendation. This is the first year that NRHC has presented this award, making Micah the inaugural winner.
Four students and Morrissy Director Dr. Jeana DelRosso traveled to Pittsburgh for NRHC. Micah presented original research, as did Lindsey Webb, '18.
Nearly 200 colleges and universities are members of NRHC, which is comprised of students, faculty, and administrators dedicated to the encouragement and support of undergraduate honors learning. NRHC includes 11 states, plus Washington D.C., along with Puerto Rico, Quebec, Ontario, and the Maritime Provinces of Nova Scotia, New Brunswick, and Prince Edward Island. Currently, nearly 200 different colleges and universities are members of NRHC.
---
Cleaning Up and Cleaning Out
This is the time of year when many of you may be cleaning up and cleaning out your offices or homes, and Student Life wants you to remind you, that "one man's trash, could be another's treasure." Student Life would welcome your donations of board games, puzzles, and Legos. If you have any of these types of things please drop them off to the Division of Student Life in MBK 220!
---
Athletics Banquet
NDMU's 2016-17 athletic season came to a close with the annual student-athlete banquet. The night celebrated the accomplishments of all Notre Dame student-athletes both on and off the field/court.
Senior Cleaya Antes earned the Sister Bernice Feilinger Award for Outstanding Senior Student-Athlete. Cleaya was a dominate force for the Gators throughout her four seasons on the volleyball team, earning Notre Dame's first CSAC Rookie of the Year honor. She has been named to a CSAC All-Conference team all four years, and has also held several top 25 national statistical rankings for digs and aces. This year she earned the inaugural CSAC Defensive Player of the Year honor. Cleaya is a two-time winner of the Sister Patricia McLaughlin award, and has left her mark in the Notre Dame record books.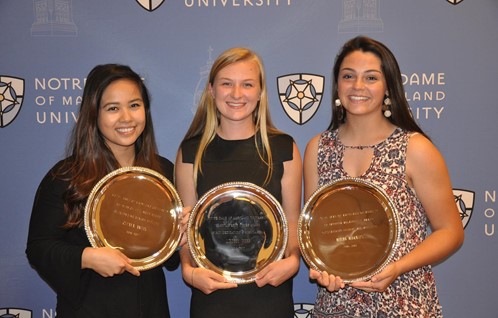 The Mary Laverty Funke Award for Spirit, Dedication, and Scholarship was awarded to junior Lindsey Webb, a three-sport athlete this year. Lindsey joined the basketball team, mid-season to help out after injuries plagued the team. She is a Business Major with a 3.5+ GPA and she was honored with three fall CSAC All-Academic recognitions. This season she was named to CSAC all-sportsmanship team for soccer and voted Most Improved Player for her role as defensive end on the lacrosse team.

For the second straight year, Megan Morales was awarded the Sister Patricia McLaughlin Award for Outstanding Underclass Athlete. This year the sophomore was a two-sport standout earning CSAC honors in both Field Hockey and Lacrosse. As a member of the field hockey team, she led the team in goals, points, and shots, earning CSAC Weekly Honors the first week of play. On the lacrosse field, she finished the season with two top-25 NCAA statistical rankings, while leading the conference in goals, points, and draw controls per game. In addition, Megan earned her First Team All-CSAC honors to close out the year.
---
Loyola Notre Dame Library News
New (Easier!) Library System Log-in Procedures
On May 25, the Library began transitioning our log-in procedures for accessing library databases, items in the library catalog, and your library account. Upon completion of the transfer, you will be able to log into library resources with your Notre Dame credentials rather than your library barcode number.
While the Library is in the process of updating, you may still encounter some databases that require a barcode log-in. We anticipate that all databases should be updated by the beginning of July, at which time you should be able to log into all databases and the catalog with your campus credentials.
The update is going to result in changes for most of the links for articles, e-books, and streaming media in our databases. If you are using links to any of this content in your Joule or Moodle courses or syllabi, you will need to update these links after our transition is complete in July. Your current links will remain active through February 2018 when the license on our current server lapses, but will continue to require a barcode log-in.
The Library will be providing more information on how it can assist you in updating the links in your courses closer to July.
Please email Danielle Whren Johnson or call her, 410-617-6872 with any questions. You can also visit LNDL, for more information.
---
News by School
School of Arts, Sciences, and Business
Business Program Accredited
Great news for the undergraduate and graduate business programs - both have been accredited by the Accreditation Council for Business Schools and Programs (ACBSP). This is the first time our business programs have been accredited by the ACBSP.
The ACBSP accreditation is globally recognized and highly respected, it focuses on recognizing teaching excellence, determining student learning outcomes and a continuous improvement model. The six standards in ACBSP's accreditation are rooted in the Malcom Baldridge National Quality Award Performance Excellence in Education Criteria.
Congratulations to Dr. Clarenda Phillips, Dean Debbie Franklin, Dr. Debbie Calhoun, Dr. Beth Jones and the entire faculty and staff of the Department of Business and Economics.
Faculty Accomplishments
Congratulations to Classical/Modern Languages Assistant Professor Rachel Burk for a recent publication.
"Iberian Blood Purities," The Routledge Companion to Iberian Studies, eds. Javier Muñoz-Bassols, Laura Lonsdale and Manuel Delgado, London: Routledge, 2017.
Congratulations to Assistant Professor of Business and Nonprofit Management, Heather Carpenter on several recent publications.
Carpenter, H. (May 2017). Curriculum Mapping Models and other Processes that Might Work for Nonprofit and Philanthropy Accreditation. Journal of Nonprofit Education and Leadership. Pp. 111-117. http://js.sagamorepub.com/jnelsi/article/view/8246
Carpenter, H. (April 2017). Teaching and Training in Nonprofit Organizations. Ed. Ali Farazmand. Global Encyclopedia of Public Administration, Public Policy, and Governance. Springer.
Carpenter, H. (August 2016). Perceptions for a Professional Doctorate in Philanthropy Program. Journal of Nonprofit Education and Leadership. 6(3). 224-242
---
Student Accomplishments
Congratulations to several members of the Class of 2017. They are already putting their degrees to use. From graduate school to becoming an Audit Associate, check out Graduate Outcomes to read what's next for these Notre Dame women.
School of Education
Faculty Accomplishments
Ryan Schaaf, Assistant Professor of Technology lead a panel at the annual Content in Context conference hosted by the Association of American Publishers on Friday, May 26, 2017, at the Loews Hotel in Philadelphia, PA. His panel, How to Make a Winning Play with Games, explored how educational games are becoming a standard component of a well-rounded curriculum.
"Take me out to the ballgame." BIG honors for The School of Education's Christopher Rhodovi. He had the honor of singing the national anthem at a recent Orioles game. We heard he hit a home run with his rendition!
---
Student News
Congratulations to several members of the Class of 2017. They are already putting their degrees to use. From graduate school overseas to teaching elementary school students, check out Graduate Outcomes to read what's next for these Notre Dame women.​
School of Nursing
Student Accomplishments
Congratulations to several members of the Class of 2017. They are already putting their degrees to use. From Johns Hopkins Hospital to University of Maryland – St. Joseph Medical Center, to Mercy Medical Center, check out Graduate Outcomes to read what's next for these Notre Dame women.​​
School of Pharmacy
Faculty News
Publications
Dr. Sharon K. Park, Assistant Professor, Clinical & Administrative Sciences published "Pharmacotherapy Casebook: Patient Focused Approach" 10th ed.
Dr. Sharon Park, Assistant Professor, Clinical & Administrative Sciences, published "Priming the Preceptor Pipeline: Collaboration, Resources, and Recognition. The Report of the 2015-2016 Professional Affairs Standing Committee" AJPE 2016; 80(9):Article:S19
Dr. Jonathan Thigpen, Assistant Professor, Clinical & Administrative Sciences published "Influence of statin therapy at time of stroke onset on functional outcome among patients with atrial fibrillation" in his research in International Journal of Cardiology. 2017;227:808-12.
Presentations
Drs. Regine Beliard, Andrea Gauld, Min Kwon, Ashley Moody, Mamta Parikh, Assistant Professors, Clinical & Administrative Sciences conducted the "Overdose Response Program and Certification" on April 14, 2017, during the Maryland Society of Health-Systems Spring Seminar
Dr. Nicole Culhane, Assistant Professor & Ms. Sherry Moore, Instructor, Clinical & Administrative Sciences presented two workshops Adopting the Pharmacists' Patient Care Process(PPCP) to optimize Patient Care Outcomes "Cares Pharmacy Annual Meeting on Feb 4th and 5th 2017.
Dr. Min Kwon will present "Incorporation of the Pharmacist Patient Care Process into the Pharmacy Lab" – an American Association of Colleges of Pharmacy Webinar on March 30, 2017.
Dr. Anne Lin Dean, School of Pharmacy presented "Accelerating Change in Pharmacist Patient Care Process: Change Champion Workshop" during the AACP Interim Meeting on February 27, 2017.
Dr. Monique Mounce, Assistant Professor, Clinical & Administrative Sciences presented" Pharmacotherapy for the Treatment of Nicotine Dependence" a part of the Tobacco Treatment Specialist Certification at Anne Arundel Medical Center on March 2, 2017.
Dr. Jonathan Thigpen, Assistant Professor, Clinical & Administrative Sciences presented "Public Health and the Pharmacy Curriculum" an American Association of Colleges of Pharmacy webinar on March 9, 2017.
---
Student News
The following students from the Class of 2017 matched to PGY-1 residencies:
Vala Behbahani – University of California San Francisco, CA
Jason Choe – Thomas Jefferson Medical Center, PA
Rachel Dewberry – Medstar Union Memorial Medical Center, MD
Courtney Ensor – Coatsville Veterans Administration Medical Center – PA
Rhiannon Marselli – Meritus Medical Center – MD
Tejas Patel – MedStar Union Memorial Medical Center, MD
Alexandra Phan – Medical Center Health System, Odessa, TX
The following Class of 2017 student was accepted into a 2-year Pharmacotherapy Residency:
Brittany LaViola – University of Incarnate Word
The following alumni were matched to PGY1 and PGY2 residencies
Hannah Noh '16 – PGY2 ambulatory care – Kaiser Foundation Health Plan, CO
Sharanjeet Kaur '14 – PGY1 – Ingalis Memorial Hospital, IL
Upcoming Events
Hire Maryland Alumni Only Career Fair
June 8, 11 a.m. – 2:30 p.m., MBK Gymnasium
---
Welcome Weekend
August 25-27
---
Commencement 2018
May 20, Royal Farms Arena
---
Camp Notre Dame Registration
We have just a few weeks before you start seeing a flurry of children on campus. They will be here for a variety of camps, including Camp Notre Dame. Speaking of Camp Notre Dame, we still have some vacancies and registration is ongoing. Don't forget employees receive a 25% discount on camp tuition.
In an effort to teach our campers the importance of recycling, we are asking for donations of recyclable items that will be repurposed to enhance our daily activities and closing celebrations.
Among the items needed:
Egg cartons (paper pulp or foam, not plastic)
Tissue boxes
Cardboard boxes/sheets
Empty paper towel/toilet paper rolls
Milk/juice cartons (cleaned/washed)
Clean, empty plastic bottles (various sizes) and their lids
Plastic or paper grocery bags
Donations may be placed in the Camp Notre Dame donation bin located outside the Division of Student Life and Camp Office in MBK 220. We will be collecting items throughout the summer.
---
A Child's Place at NDMU: A Happy Place to Learn, Play, and Grow!
Looking for a nurturing preschool environment for your child? A Child's Place has openings for our Fall 2017 preschool, pre-kindergarten, early kindergarten, and kindergarten programs. Preschool runs from September 5, 2017 – June 6, 2018.
Come join the fun at A Child's Place Summer Camp 2017! We offer five two-week theme oriented sessions from June 12 – August 18, for children ages 3 to 6 years old. Check us out online for more information.
And don't forget to ask about the 25% discount for NDMU faculty, staff, students, and 10% discount for alums!