The Bulletin is published every month for faculty, staff, and students.
---
Contents
NDMU News
Students, Faculty, and Staff Honored at Notre Dame Day
The campus came together to celebrate Notre Dame Day on February 7. The day recognized the accomplishments of our students, faculty/staff and our rich history.
This year's recipients included:
Distinguished Staff Award - Mary Burch Harmon '93, Acting Director of the English Language Institute
SSND Mission and Ministry Award - Brian Berry, Ph.D., Religious Studies
Service-Learning Faculty Award - Maria Mouratidis, Psy.D.
Mary Ann O'Donnell Team Academic Achievement Award - 2015/2016 Swim Team with cumulative team GPA of 3.408 for 2015-16.
The event was open to everyone in our community.
And to see pictures from the event go to our Flickr Page.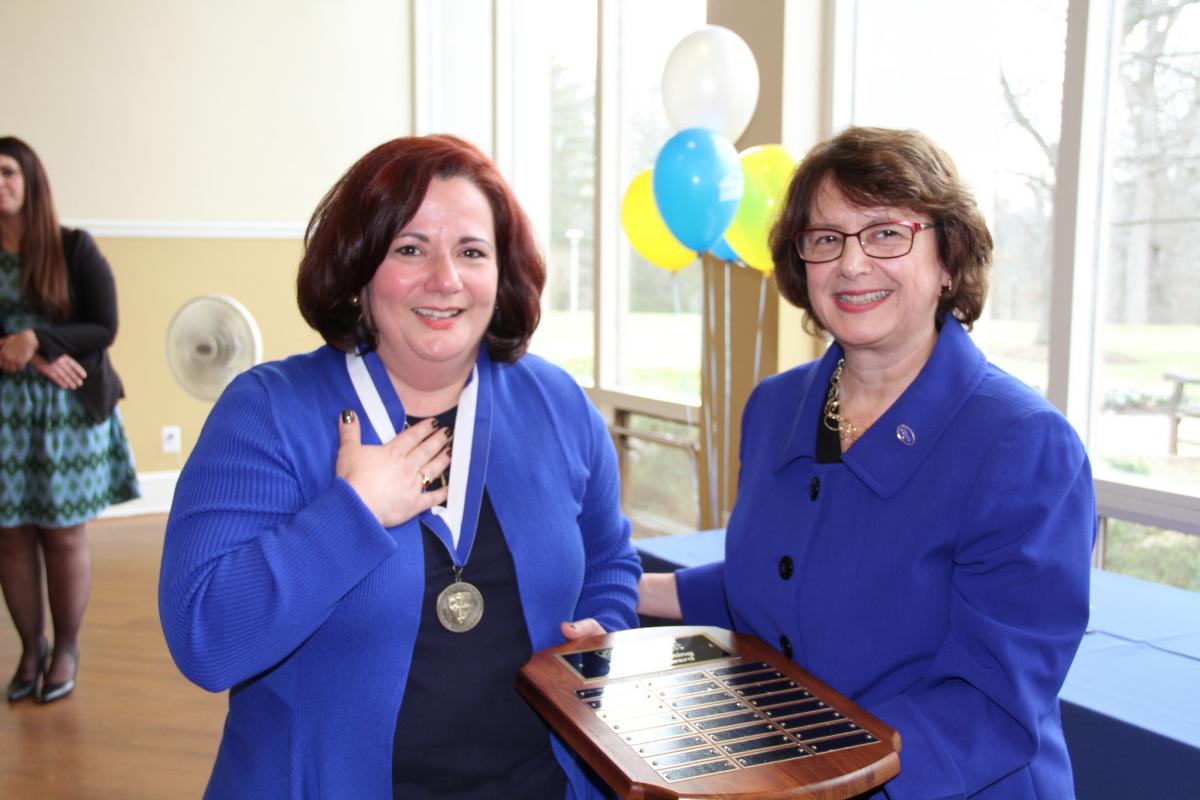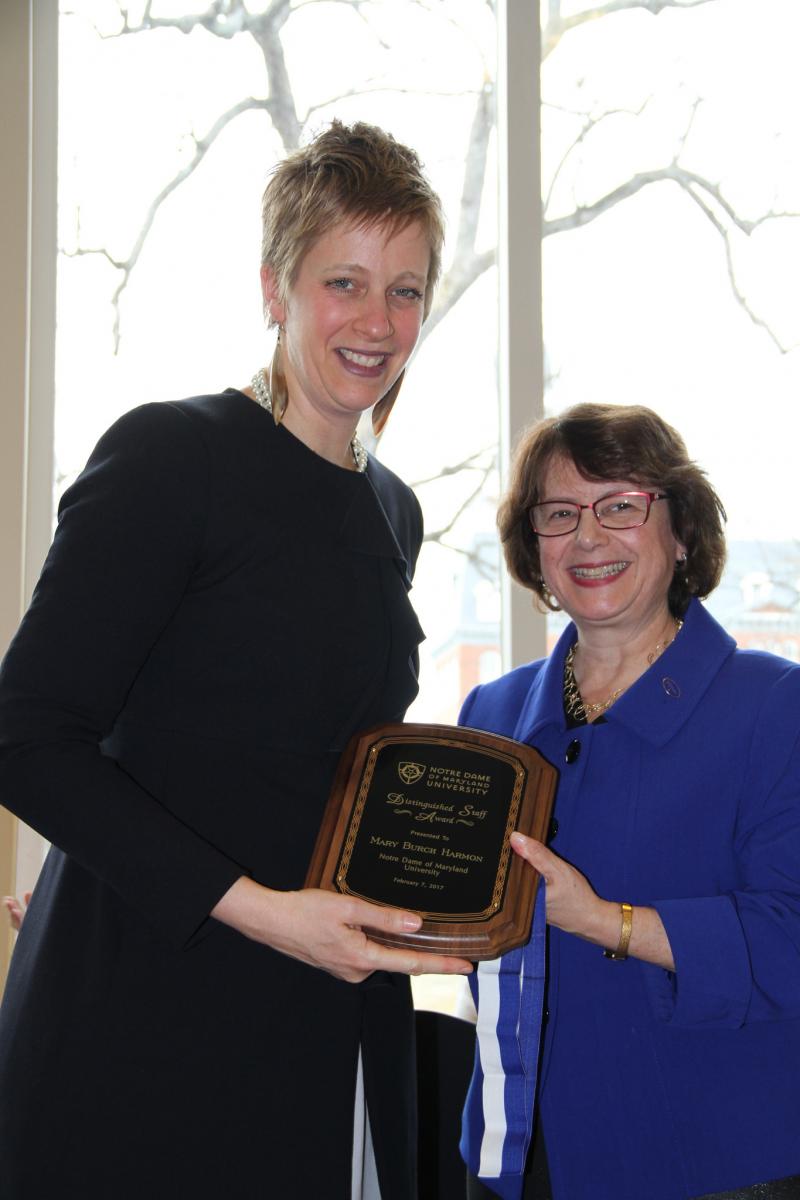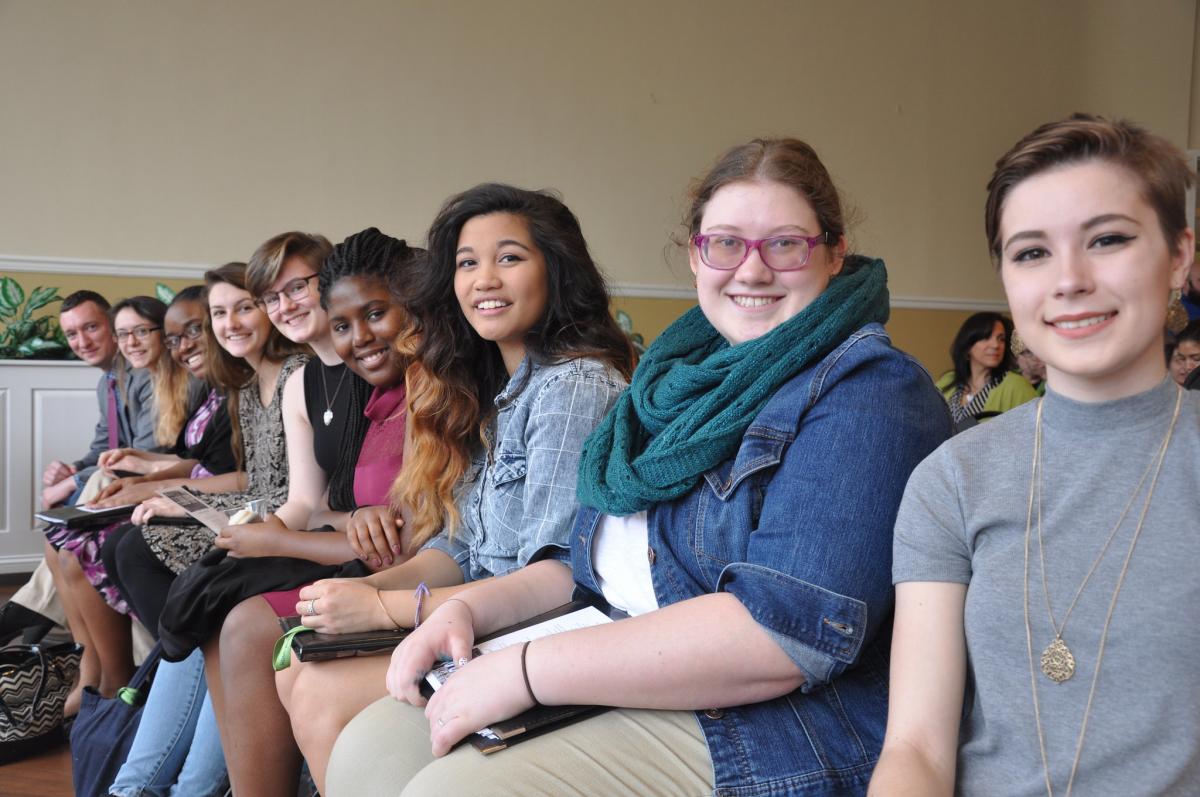 ---
Maymester Registration

We may be in the heart of the spring semester and gearing up for midterms and spring break but now is the time to start thinking about Maymester. It runs May 22 – June 9.
You have probably already begun seeing posters/flyers popping up all over campus. Many of the classes offered will fulfill general education requirements.
Among the courses already set, BIO 104, Chesapeake Bay. This natural science requirement will explore habitats, geologic history, water chemistry, and preserving and restoring the Bay with instructor, Captain Ian Robbins, MS of the Chesapeake Bay Foundation.
For more information on Maymester and registration contact the Registrar's Office.
---
ACT Alum Receives National Award
Patricia (Lane) Forster '02 ACT program has been named as the recipient the 2017 NAEA, The Council for Exceptional Children (CES) VSA Peter J. Geisser Special Needs Art Educator of the Year. This award is determined through a peer review of nominations and recognizes an NAEA member who has made significant professional contributions to art education for students with special needs. She will receive her award later this month at a ceremony to be held in New York. Currently, Forster teaches Special Education at Ridge Ruxton School in Baltimore County.
---
News by School
School of Arts, Sciences & Business
Student Accomplishments
Sarah Hasnain (undergraduate Engineering) and Ronie Stephan (graduate Data Analytics program) will be working with Professor Thomas Narock as Research Assistants on a National Science Foundation-funded grant. Sarah and Ronie are spending the Spring semester applying their skills to a data analytics problem. In July, they will travel with Professor Narock to an academic conference where they will present their results.
School of Education
Faculty Accomplishments
On February 5th Dr. Juliann Dupuis presented with several of the School of EducationMaster's in STEM Leadership graduates at the Maryland Association for Environmental and Outdoor Education.
---
Loyola Notre Dame Library News
The Collaboratory at the Library: A New Active Learning Space!
The Collaboratory at the Library is the new active learning space on the first floor of the library. Faculty are encouraged to take advantage of this resource! This space provides exciting opportunities for faculty and students to interact in a flexible environment. Moveable furniture, individual whiteboards, and innovative technologies promote group problem solving, nurture creativity and foster active class participation. Visit http://guides.lndlibrary.org/collaboratory to read more and to book the room.
Book and Media Purchase Requests Due Soon!
Please submit your library book and media purchase requests by the end of February! To make a request, fill out the online purchase request form or contact your department's library liaison.
Journal Subscription Changes for 2017
The library has an updated list of our journal subscription changes for 2017. Click here to see the full list. Please contact us if you have any questions!
"25 Great Books by Refugees in America" – New Book Display in Library Gallery
Come see the new display in the Library gallery, "25 Great Books by Refugees," inspired by this article in the New York Times. Books are available to be checked out.
---
Upcoming Events
Paths Art Show

Now - March 10, 2017
Gormley Gallery, Fourier Hall 2nd floor
Rania Hassan combines knitting and painting to weave sculptural stories about our connections to time, place, and circumstance. Paths explores the delicate threads of directions presented, journeys chosen, and the things we could have said or done before it was too late.
Gallery Talk
March 8, Noon
Gormley Gallery, Fourier Hall 2nd floor
---
SSND Prayer for Unity
March 8, 4-5 p.m., Marikle Chapel
---
International Women's Day
March 8
---
Coffee & Conversations with Dr. Yam
March 8, 5-6 p.m., Gibbons Hall - 1st Floor Lobby
---
Dinner & Conversations with Dr. Yam
March 8, 5-6 p.m., Meletia Hall - 2nd-floor lounge
---
Health Careers Information Session
March 9, 12:15-1:30 p.m., Knott 311
---
Global Solidarity Committee's UN Trip Sendoff
March 9, 12:15-1:30 p.m.
Please join members of the Global Solidarity Committee as we send off some students and faculty to participate in the UN Commission on the Status of Women and others to serve as nurses and nursing students with women and children in Jacmel, Haiti.
---
Campus Ministry Haiti Partnership Speakers' Tour
March 9, 6-9 p.m., Knott Auditorium
---
Scholarship Dinner Doyle Formal
March 11, Doyle Dining Hall
---
Commencement Extravaganza
March 11, Noon, Doyle Formal
---
PitchFit, NDMU Women's A Capella Group, Concert
March 12, 7-8:30 p.m., Knott Auditorium
---
Department of Labor Women's Bureau: Salary Equity & Conversations
March 14, Noon-1:30 p.m., Doyle Formal, or 4-6 pm., Fourier Library
---
Employer Meet and Greet: Y of Central Maryland
March 14, 11:30 a.m. - 1:30 p.m., Doyle Dining Hall
---
Women's History Month Themed Dining Stations
March 15, 11 a.m. - 1:30 p.m., Doyle Dining Hall
---
ELI End of Spring Goodbye
March 15, 3-4:30 p.m., FIC 003
---
Kappa Delta Pi Conference
March 18, 9 a.m. - 3 p.m., UAB
---
Spring Break
March 20-24
---
Employer Meet and Greet: Merrill Edge
March 28, 11:30 a.m. -1:30 p.m., Doyle Dining Hall
---
Opening night of The Rover
March 31, 8 p.m., Marian B. Copeland Theater