---
March 2018 Contents
NDMU News​​
Down Trees Update
Winter storm Riley, the bomb cyclone that caused significant damage up and down the east coast is to blame for several downed trees here at Notre Dame. A total of 11 trees came down during Friday's massive wind storm, including several that had been standing for numerous decades.
Fortunately, no injuries were reported on campus as a result of the storm. Crews are expected to begin removing the trees as early as Thursday. In the meantime, we ask that you take caution walking through campus as there may be residual debris stuck in trees that could fall.
---
Students Meet with State Leaders in Annapolis
Three Notre Dame students recently spent the day in the state capital for the Independent Higher Education Day. The event was an opportunity for Jessie Willingham, Alexis Stevenson and Ciarese Guia Marie De Torres to join President Yam in Annapolis to meet with members of the Maryland General Assembly. The main purpose of the day is to thank legislators for their support of independent higher education in Maryland and to advocate for the lawmakers continued support.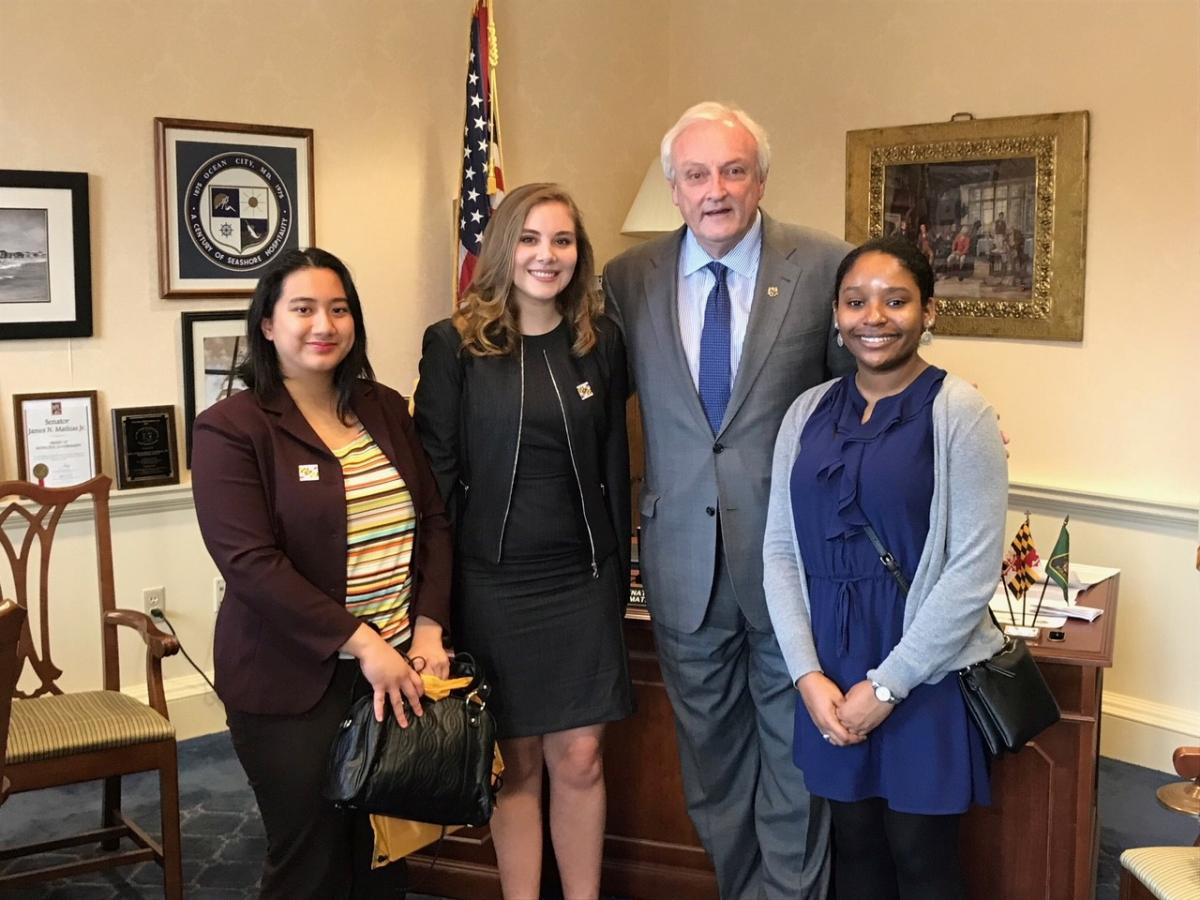 ---
100,000 Strong Americas Grant
Notre Dame recently received the 100,000 Strong in the Americas Innovation Grant for its "Aqua/Water = Vida/Life" proposal. Deriving from a joint effort between Peru and the United States, the funding acts as a bridge between cultures, supporting both country's environmental breakthroughs.​
The grant, created through a public-private sector collaboration called the Innovation Fund, will go toward new student exchange programs, training opportunities in environmental science, water resource management, science, engineering and mathematics. Notre Dame was one of 13 unique higher education programs to receive the grant, "the time and efforts in your team's grant proposal is greatly appreciated and made it stand out," said John McPhail, President & CEO of Partners of the Americas.​
Notre Dame has plans to establish a reciprocal exchange program with sister school, Universidad Femenina del Sagrado Corazón, located in Peru. The new development will allow both schools to properly educate students on water, its usage and conservation, and cross-cultural understanding. The hands-on service learning provides a multidimensional comprehension of water and life through environmental, political, and economic lenses.
---
Morrissy Students Speak at Local Conference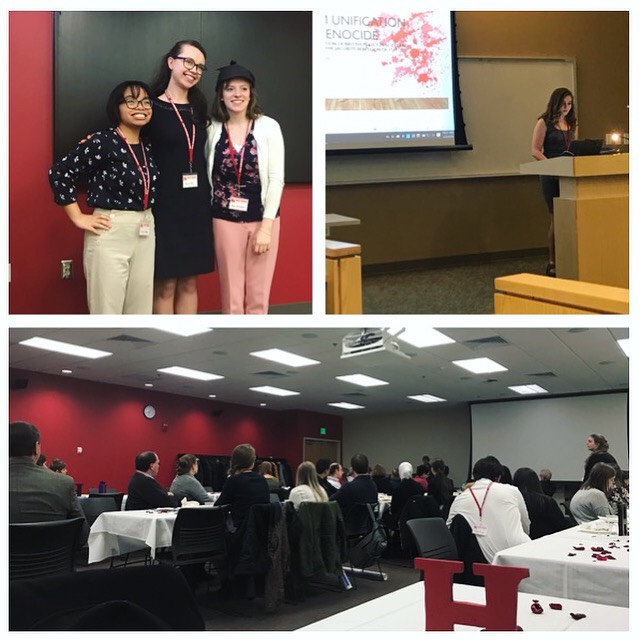 This past Friday and Saturday, four undergraduate students of NDMU's women's college proudly represented the Elizabeth Morrissy Honors Program at the Maryland Collegiate Honors Council (MCHC) in Frostburg. Jessie Willinghan, '20, Gerriza Balmes, '19, and Courtney Strength, '18, all presented their own research, while Laine Soriano, '19, acted as a moderator for the "Conflict in Action" panel.
At the conference, Courtney Strength was also nominated for the Portz Award for Outstanding Honors Student at a Four-Year Institution and Micah Castelo, '18, won Best Abstract for her proposal, "Alice: Oppressed/Oppressor in the Patriarchal Looking-Glass World."
---
Maryland First Lady Yumi Hogan to Visit NDMU
In connection with the launch of our new art therapy degree, Maryland First Lady Yumi Hogan will attend a panel discussion on March 7 at 6:00 pm in Fourier Hall 103 that will look at ways art has been used, and can be used as a coping mechanism.
Consisting of experts in the fields of Holocaust studies, art therapy, and Holocaust artwork, the panel will discuss the logistics of art making within the Holocaust, along with the driving need to create art, and how it can inform contemporary art therapy and behavioral health practices.
The list of panelists includes:
Krya Schuster - curator of the United States Holocaust Memorial Museum in D.C.
Claudia Cameron - a local art therapist whose mother and father escaped occupied Germany as young children
Elizabeth Hlavek - a local art therapist and curator of NDMU's new exhibit, Meaning Making Through Art Making: From the Holocaust to Contemporary Art Therapy Practices on display in Gormley Gallery.​
---
February Career Center News
Seven students from Notre Dame traveled by bus with students from Towson University, Loyola University and Johns Hopkins University to the 2018 BEYA Global Competiveness Conference in Washington DC on Saturday, February 10th. (Please find a photos attached) The participants were Freshmen, Sophomores and Juniors. They found the experience very rewarding and many hope to return to the conference again next year. When asked about their thoughts about their experience, one student replied that she would "highly recommend for students of STEM background; especially beneficial for upperclassmen with internship opportunities and entry-level jobs from top organizations".​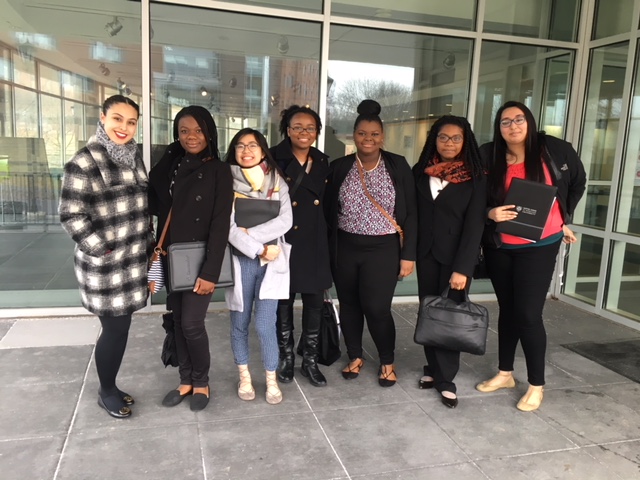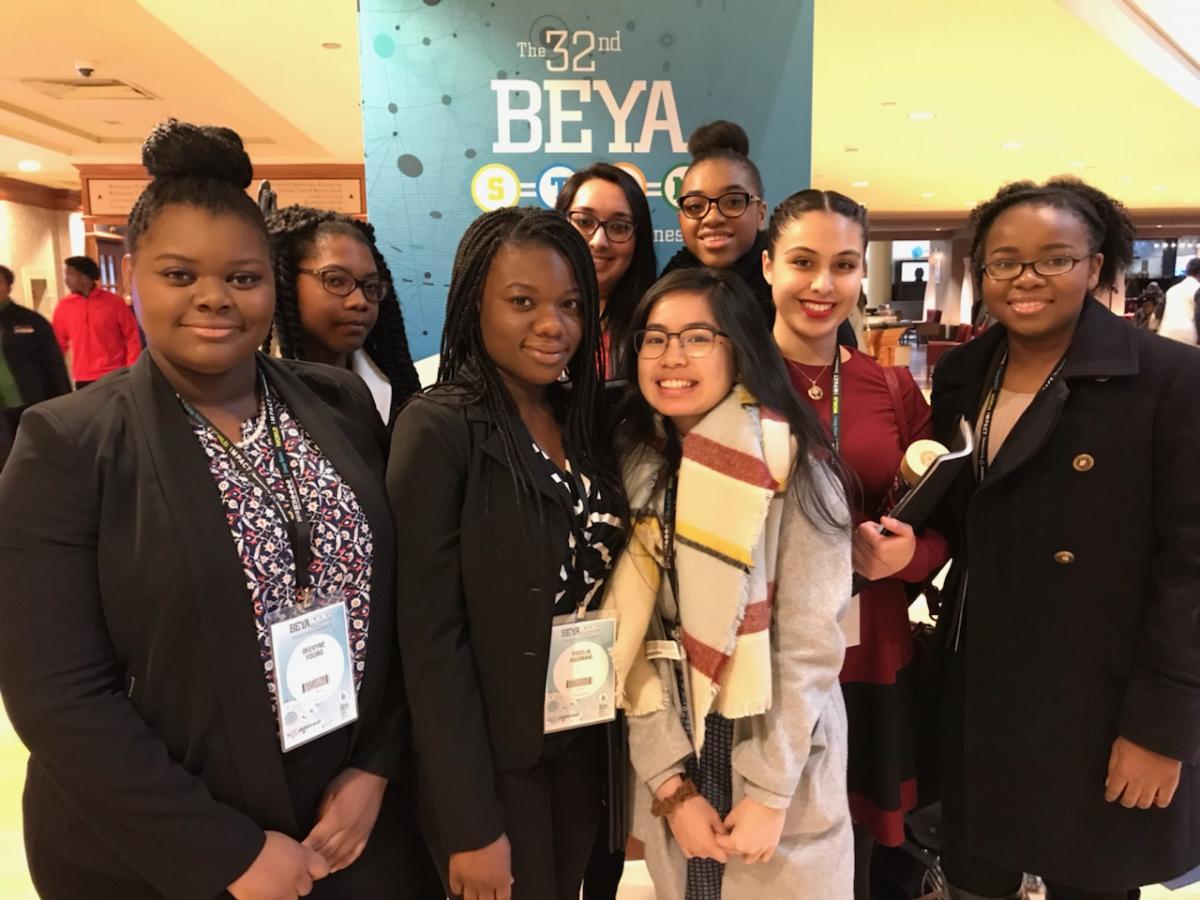 ---
Career Congrats!
Here's proof that Notre Dame brings the jobs to you. On Thursday, February 22nd, the NSA was on campus visiting classrooms, providing an Employer Meet & Greet Session, an Information Session and onsite interviews. Several students were interviewed and three were given job offers (pending security clearance)!
---
Busta Lecture Series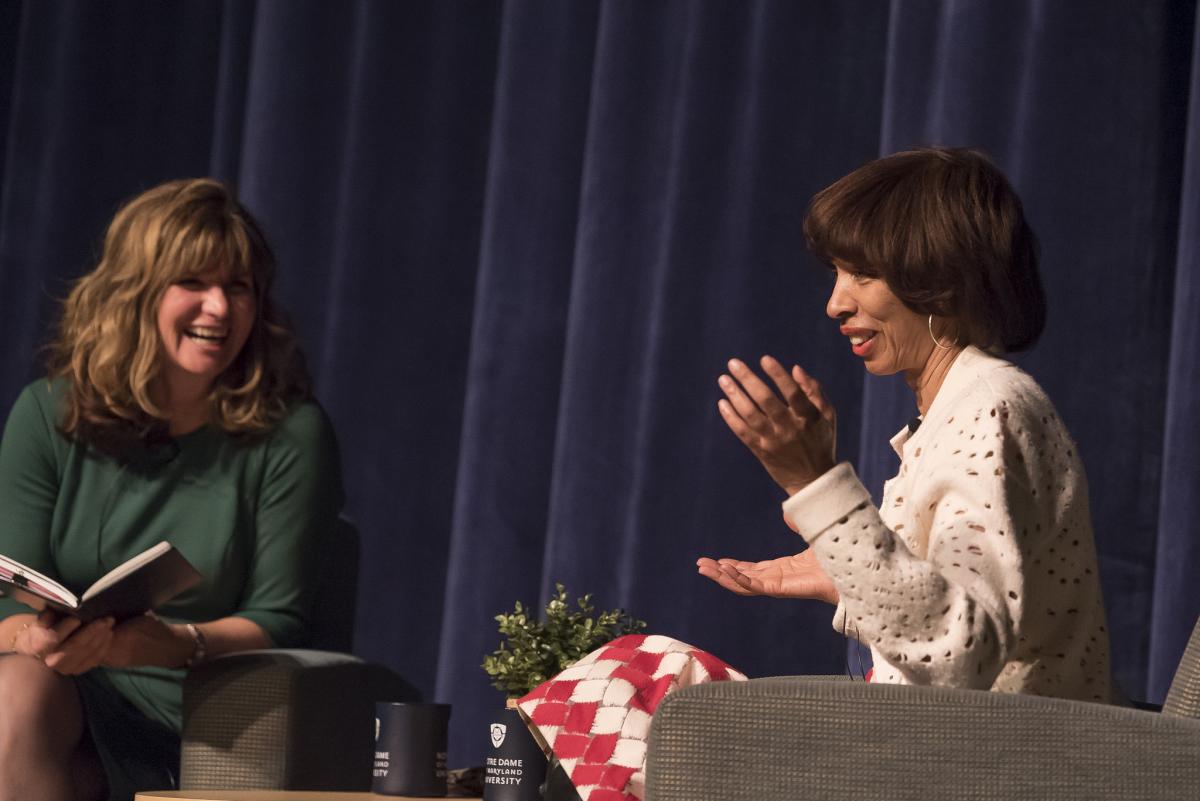 Hundreds turn out in LeClerc Auditorium for Notre Dame's annual Charles J. Busta II Lecture in Business series. The February 13 event featured Baltimore City Mayor Catherine E. Pugh. She shared leadership lessons from her personal and professional journey, including her time as a banker, business developer, editor, visionary founder, and more. Mayor Pugh also talked about her role as a politician and being the mayor of one of the largest cities in the United States.
The Busta Lecture series invites speakers who are recognized as experts in their chosen fields, who have made a real difference, overcome significant obstacles, or demonstrated dramatic success. The series serves as a platform for inspiring business leaders, especially women leaders, in order to encourage creativity and personal growth.
---
100 Nights
Every year, the graduating Women's College students gather for a reception marking the 100 nights until Commencement. This year's event was held the Murphy Gathering Space of Gibbons Hall, breaking a long-standing tradition of being held in Noyes Alumnae House. The reason? The Class of 2018 wanted to include alumnae as well graduate and doctoral students.
The occasion included a cocktail hour, followed by dinner in Doyle Formal and an exciting night out in Federal Hill.
The tradition of 100 nights was established around the 1980s, and has become a time for graduating seniors to reflect on their experiences as undergraduates at Notre Dame.​
---
Easter Candy Drive
It's time to hop on over to the Campus Ministry and Service office to help support the We Cancerve Movement, a non-profit organization founded by Grace Callwood, a 12-year-old cancer survivor. The idea is to donate individually wrapped candy for the Eggstra Special Easter basket project which provides Easter baskets for homeless, sick, and foster children in Baltimore.
Last year Notre Dame donated two boxes full of candy and contributed to the 470 baskets that were made. From now until March 19, individually wrapped candy will be accepted in the Campus Ministry and Service office, Theresa 124.
---
Career Clothing Closet
It's time to start thinking about spring cleaning and clearing out closets - finding that stuff that just doesn't fit or you just don't wear anymore. As you are going through clothes, don't forget that NDMU's Career Center can use your clothing to restock its career wear closet.
The career wear closest is part of the University's commitment to making sure our students are learning professional excellence and are prepared for the job market and potential interviews.
Last semester, the Career Center helped dozens of students be interview ready thanks to your donations. If you'd like to help, please drop off career/interview appropriate clothing to the Career Center, in Fourier 001.
Don't have any attire to donate? No worries, The Career Center also accepts monetary donations that will be used to purchase items from area thrift stores.
---
STEM Camp Registration
Registration for the 2018 STEM Summer Camp, July 16-20, is now open. For more information and to register, visit the camp's website.
If you register before April 1, you can receive an early bird discount using the coupon code "earlybird." This year, only one session is scheduled and it is expected to fill quickly, so get your registration in.
---
ELI to Host International High School Students
NDMU will host 56 students and five teachers from Kyoto Notre Dame High School on Thursday, March 8. The students will experience a taste of college life: dining in the cafeteria, visiting the bookstore and English Language Institute, touring NDMU's radio station and production facilities as well as exploring experiential learning with the Psychology Department.
---
English Language Institute
Question: What department has taught students from more than 50 countries since 1983?
Answer: The English Language Institute, located in the Feeley International Center in Meletia Hall.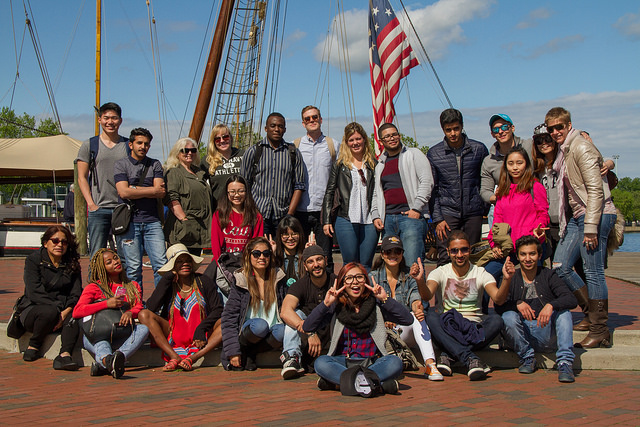 We are proud of our legacy and look forward to expanding our student base. If you know of anyone looking for a high-quality Intensive English Program, please invite them to visit us!
Spring Open House on April 7
We are still accepting applications for Spring II semester, beginning on April 3, so spread the word!
For more information, please visit our website or call us at 410-532-5566.​
---
Café Hours Changing
The Gator Grind, which proudly serves Starbucks has announced a new set of hours. The new hours will be as follows:
​​Monday to Thursday: 8 a.m. - 7 p.m.
Friday: 8 a.m. - 3:30 p.m.
---
A Child's Place Registration
A Child's Place is now accepting applications for Fall 2018, as well as for Summer Camp 2018!
A Child's Place promotes each child's emotional, social, cognitive and physical development through a holistic approach. Preschool programs for 3, 4, and 5 year olds, including a State-approved kindergarten program and early kindergarten for children with fall birthdays, offer small classes in a nurturing environment where young children play, learn, and grow.​
Preschool runs from September to June; monthly tuition for SY 2018-2019 will be $1175.
Summer camp session start on June 11th and end on august 17th; the fee for each two-week session is $560.​
A reminder, all NDMU faculty, staff, and students are eligible for a 25% discount on tuition. If you're an alum, you qualify for a 10% discount.
*EARLY BIRD SPECIALS!!!
ACP Preschool - Register by March 31, and your monthly tuition rate will be $1100!!!
ACP Summer Camp – Register by March 31, and the camp fee for each session will be $540!!!
For more information check out NDMU's website or call us at 410-532-5399.
---
Sports
Notre Dame spring sports open their seasons this month! On Saturday, March 3, the lacrosse team opened its season at Lancaster Bible, clenching a 14-6 win! On Wednesday, March 7, the Gators will host the United States Merchant Marine Academy at 4:15 p.m. on Alumnae Field in their first home game of the season.
Tennis will serve up its opener on Friday, March 9 at 3:30 p.m., hosting Colonial States Athletic Conference opponent, Clarks Summit University (weather pending).
Then on Thursday, March 15, it's time to play ball! The NDMU softball team opens its season at home against Penn State Schuylkill at 3 p.m. A reminder, all softball double-headers are played at Druid Hill Park. Check the Gators website for schedule updates and scores.
Now named Urban Vicar and Auxiliary Bishop Emeritus, Bishop Madden was ordained an Auxiliary Bishop in 2005. He oversees approximately 97 parishes and 49 schools in Baltimore City, Baltimore County and Harford County.
---
Loyola Notre Dame Library News​​
Library Technology: What Can It Do For You?
Wednesday, March 14, 2018, 5 - 7 pm
LNDL Lab B
Instructors: Youlanda Halterman and Cat Staley
Explore the various technologies available at the library as staff discuss and demonstrate their innovative uses. Get inspired by instructional implementations, collaborative and cross-departmental learning opportunities, and extracurricular creative projects. Join us to learn about the One Button Studio, 3D Printers, Equil SmartMarker and more!
---
News by School
School of Arts, Sciences, and Business
Faculty News
Associate Professor of Mathematics Dr. Kristyanna Erickson recently gave presentations on Using ALEKS in Developmental Mathematics at several Mid-Atlantic colleges. She spoke at Harrisburg Area Community College in Pennsylvania, NOVA Louden in Virginia, Wor Wic Community College in Maryland, and Gallaudet University in Washington DC.​
---
Congratulations to Religious Studies associate professor Dr. Wakoh Shannon Hickey, her work in the emerging field of Interfaith Studies and her uses of contemplative and experiential teaching methods are garnering national attention. These methods will be highlighted in a book chapter forthcoming this summer: "Meeting Others, Seeing Myself: Experiential Pedagogies in Interfaith Studies." The book, to be published by Beacon Press in August, is titled Interreligious/Interfaith Studies: Defining a New Field. The chapter is co-authored with Dr. Margarita Suárez of Meredith University. Last spring, researchers from Wofford College and the Interfaith Youth Core (IFYC) visited Notre Dame to observe these methods and interview students in Dr. Hickey's Morrissy Honors class, "Caregiving at the End of Life," co-taught with Hannah Murphy Buc, MSN, RN, Assistant Professor of Nursing. Their research project, funded by the Wabash Center for Teaching and Learning in Theology and Religion, highlights about a dozen faculty around the country who are doing innovative work in Interfaith Studies. As part of this project, Dr. Hickey will attend a special colloquium in Chicago this fall to discuss the research and new directions in this growing field. The colloquium will be hosted by IFYC, a Chicago non-profit that fosters interfaith engagement on college campuses around the country.​
---
Dr. Hickey has also been invited to contribute a chapter to a book on mindfulness, to be published next year by Routledge Press, which involves a trip to Switzerland in 2019 to confer with the other authors and editors. As for Dr. Hickey's book on the religious history of mind-body medicine, it is forthcoming from Oxford University Press, and is projected to be out sometime this year. It is titled Mind Cure: How Meditation Became Medicine, and NDMU undergraduate Gabriela Torres has provided invaluable help with research, indexing, and editorial feedback.​
---
Voice instructor and mezzo-soprano Christine Thomas-O'Meally will be performing her cabaret show, "Oh, to be a Movie Star!" along with singer/pianist Ryan Cappleman at Germano's Piattini in Little Italy on Friday, April 13, 2018.​
An avid fan of movies and movie actors since her childhood, Christine has collected songs over the years, not specifically from films but about them and their now-legendary stars. The show features familiar music by Elton John and Andrew Lloyd Webber and more obscure songs by Leiber & Stoller and Christopher Berg. Oh, to be a Movie Star! is, at turns, funny, touching, and above all, a celebration of the cinematic art. ​
Dinner service begins at 6 p.m., with the show starting at 7:30 p.m. For more information and to purchase tickets, check out the event website.​
---
Congratulations to Associate Professor of Philosophy, Dr. Desiree Melton. On March 22, she will serve as the keynote speaker for a Women's History Month event happening at Missouri State University. Dr. Melton's talk, Intersectional Persistence, at MSU is inspired by this year's National Women's History Month theme: Nevertheless She Persisted: Honoring Women who Fight all Forms of Discrimination against Women. For more information check out the event's webpage.
School of Education
Faculty Accomplishments
Sr. Mary Fitzgerald recently presented at the Fall NCEA Catholic Leadership Summit and Academy in Phoenix, AZ. Her topic, Lay Ecclesial Ministry Formation for Administrators of Catholic Schools, investigated the call of Baptism to ecclesial ministry for both cleric and lay persons. She utilized Thomas Groome'sShared Christian Praxis five step/movement approach to help participants self-assess their needs for professional development in faith and spirituality.
Sr. Mary was also asked to write the response to Lay Catholics in Schools: Witnesses to Faith, a blog written by Tom McDonald.
---
Ryan L. Schaaf, Assistant Professor of Educational Technology in the School of Education recently presented at the 38th Annual Future of Education Technology Conference in Orlando, FL. His presentation, Game On: Using Digital Games to Transform Teaching, Learning, and Assessment, explored the potential for educators to use interactive tools such as digital games with modern-day learners. The presentation was standing room only with well over 125 participants.​
---
Dr. Joan Sattler, Co-Counselor for the Phi Xi Chapter of Kappa Delta Pi at Notre Dame of Maryland University was honored at this Fall's Convocation for 20 years of service.
---
Student Accomplishments
Congratulations to our fall 2017 recipients of the Hattie Strong Scholarship. Each teacher intern will receive $5000 to help defray the cost of their college expenses. The award winners are:
Ariel Palmisano - Women's College student seeking certification in special education;
Megan Sheppard - Graduate Education Intern who hopes to be dual certified in special education and secondary social studies; and
Gustavo Coronado - College of Adult Undergraduate Studies program, seeking to be an early childhood education and special education certified teacher.
---
The Phi Xi Chapter of Kappa Delta Pi was honored for reaching the 2017 KDP Chapter Challenge for donations to the National KDP Organization​
School of Nursing
Faculty News
Doctors. Sabita Persaud, Associate Dean, Graduate Programs and Kathy Wisser, School of Nursing Dean recently attended a round table discussion with Mary Wakefield, PhD, RN, FAAN and nursing deans from Maryland, Washington, D.C., and Virginia.
Dr. Wakefield, a nurse and health care administrator, served in the Obama administration as acting United States Deputy Secretary of Health and Human Services from 2015 to 2017, and as head of the Health Resources and Services Administration from 2009 to 2015. Currently, Dr. Wakefield is at Georgetown University School of Nursing & Health Studies as a visiting Distinguished Professor in the Practice of Health Care.
Dr. Patricia Cloonan, Dean of Nursing and Health Studies at Georgetown University invited area deans to share how area nursing programs currently incorporate health policy throughout the undergraduate and graduate curriculum and in what ways health policy curriculum threads are supported by constituents on our campuses. We had an opportunity to share a few strong examples about how Notre Dame currently incorporates health policy in the nursing curriculum. It was evident to Sabita and I that coming from a mission-driven university and a nursing curriculum grounded in caring science and social responsibility provides a strong foundation for students and faculty to participate in substantial experiential learning focused on health policy. Sabita and I walked away from the discussion believing that faculty across campus offer our students a rich experience that rivals larger universities.
School of Pharmacy
Faculty Accomplishments
Publications
Dr. Jennifer Bailey, Assistant Professor, Clinical & Administrative Sciences. A review of HIV pre-exposure prophylaxis: the female perspective. Infect Dis Ther. 2017; 10.1007/s40121-017-0159.
Dr. Jennifer Bailey, Assistant Professor, Clinical & Administrative Sciences. . Chronic kidney disease: Overview. PharmacotherapyFirst: A Multimedia Learning Resource. May 2017.
Dr. Jennifer Bailey, Assistant Professor, Clinical & Administrative Sciences. Exploring the Threat of MDR-TB in the United States. Contagion Live. 2017 Nov; 2(4).
Dr. Regine Beliard, Assistant Professor, Clinical & Administrative Sciences. Evaluation of interventions in clinical pharmacist-led annual medicare wellness visits compared with usual care. Consult Pharm. 2017;32:687-99.
Dr. Heather Folz, Assistant Professor, Clinical & Administrative Sciences. Factors associated with mentor satisfaction among teaching and learning curriculum program participants. Currents in Pharmacy Teaching & Learning.
Dr. Monique Mounce, Assistant Professor, Clinical & Administrative Sciences. A Single-Center Retrospective Cohort Analysis of Maternal and Infant Outcomes in HIV-Infected Mothers Treated with Integrase Inhibitors During Pregnancy. Infect Dis Ther. 2017 http://www.medengine.com/Redeem/57FBF06046C64311
Dr. Sharon Park, Associate Professor, Clinical & Administrative Sciences. Drug Information: A guide for pharmacists, 6th edition available via AccessPharmacy (McGraw-Hill), Amazon, and Barnes and Noble.
Dr. Ray Weber, Associate Professor, Clinical & Administrative Sciences. Oncology I: Overview & Side Effect Management & Oncology II:Common Cancer Types & Treatment In: RxPrep 2018 edition.​
---
Presentations
Dr. Regine Beliard, Assistant Professor, Clinical & Administrative Sciences. "New Drug Presentation: August 2016 through September 2017." Continuing Medical Education presented at Johns Hopkins Community Physicians Annual Retreat. November 2017.
Dr. Anne Lin, Dean. "The Path Forward". Society of Hong Kong Hospital Pharmacists, 30th Anniversary Gala. Keynote Speaker November 2017.
Dr. Anne Lin, Dean. "Highlights of Pharmacy Education in the United States". China Medical University, Taiwan. November 2017.​
---
Appointments
Dr. Sharon Park is serving on the American Association of Colleges of Pharmacy Professional Affairs Committee for 2017-2018​
---
Awards
Dr. Jennifer Bailey, Preceptor of the Year Award, University of Maryland Residency and Fellowship Program, University of Maryland Health System, June 2017.​​
---
Student Accomplishments
Student Accomplishments
P2 pharmacy student, Sabari Surendran will participate in the Global Health Fellows Program II Internship as a pharmacy intern for the technical branch of the Supply Chain for Health Division, Office of HIV/AIDS, Bureau for Global Health within the United Stated Agency for International Development (USAID). In cooperation with the US Department of State's Office of the US Global AIDS Coordinator, other US Government (USG) partners, international organizations, and nongovernmental organizations, USAID provides global technical leadership on the full range of issues related to HIV/AIDS prevention, care and treatment; manages numerous research and field support programs; and monitors the impact of the Agency's HIV/AIDS programs. As a summer pharmacy intern, Sabari will participate in the following activities: (1) support two countries with the introduction of a new adult first line formulation for HIV; (2) assist in revising/updating an essential medicines strategy; (3) create a tool to monitor stock status and coordinate order placement in multi-donor funded countries.
The following students presented poster presentations at the American Society of Health System Pharmacists Midyear Clinical Meeting in December 2017.​
Janet Akinduro '18 "Evaluation of rivaroxaban prescribing patterns and patient education in an obese veteran population"​
Cesar Bejarano-Garcia '18 "Effects of vitamin D supplementation on skin cancer: A systematic review"​
Abidemi Dada '18 "Evaluation and use of docusate sodium in a community hospital"​
Alyssia Dyett '18 "Student experiences during an international service learning initiative in Puerto Penasco, Sonora, Mexico"​
Quynh Nhu Ha '18 "Utilization of Idarucizumab in a Community Hospital"​
Shannon Haar '18 "Pharmacist management of pregnancy category X medication risks in a female patient of childbearing age"​
Miaka Huynh '18 "Effects of Magnesium Supplementation on Cardiovascular Outcomes: A Systematic Review"​
Farah Louzon '18 "Assessment of time allocation in pharmacy leadership at an academic medical center"
Mayrim Millan-Barea '18 "Level of knowledge and awareness of sexually transmitted diseases among college students"
Fortunate Mwanaka '18 "Does the use of intravenous acetaminophen in orthopedic surgery patients decrease overall opiate use?"​
Chibuike Nduanya '18 "Baltimore hospitals with suboptimal ratings on the performance measures by the Center for Medicare and Medicaid Services"​
Alexander Olumese '18 "Appropriateness of initial antibiotic therapy for chronic obstructive pulmonary disease (COPD) based on GOLD 2017 guidelines"
Sonya Park '18 "Verification of renal dosing service medication in hospitalized patients"
Jieying Qiu '18 "Incidence of neutropenia despite use of colony stimulating factors"
Zainab Raza '18 "Outpatient treatment of pediatric asthma prior to hospitalization for asthma exacerbation"
Tiffany Sherod-Harris '18 "Chronic obstructive pulmonary disease incidence and reasons for hospital readmission: A chart review"
Alexander Wong '18 "Extent and role of pharmacists in expedited partner therapy in the United States"
Melody Yun '18 "Hospitalization for influenza like illness and rate of influenza vaccination"
Upcoming Events
STEM Camp
Registration for the 2018 STEM Summer Camp, is now open. The camp will run from July 16-20. For more information go to the STEM website.
---
March 7​
Career Fair Strategies Workshop
Fourier Library, 4-5 p.m.​
Information Session- Bank of America/ Merrill Edge
Fourier Library, 4:30 p.m. – 5:30 p.m.
Do not forget to bring your resume and talk to recruiters who are interested in hiring Notre Dame students!​
Meaning Making Through Art Making Panel Discussion
Fourier 103, 6-8 p.m.​
Student Research Day/ Call for Proposal Submissions
Deadline: Students, start thinking now about research you can present. Talk to your professors about how your work of past semesters can be showcased at Research Day. Work that you completed in the fall semester or work in progress this semester (graduate and undergraduate) will be eligible for this recognition.​
---
March 8
Maryland State Police
Doyle Dining Hall, 11:30 – 1:30 p.m.
Bring your resume and plan to talk to recruiters from the Maryland State Police Department who are interested in hiring Notre Dame student.
Celebrate and honor women around the world, today and everyday!
FIC 003, 12:00 p.m.- 4:00 p.m.​
Create cards of encouragement for asylee women all over the world who are living right here in Baltimore. Let's show our support for these brave women as they rebuild their lives and their spirits.
SGA/ Donuts and Deadlines with B.E.S.
Fourier Room 214, 5:30-7:00 p.m.
Coffee and donuts provided!​
Lecture: Rights of Immigrant Students in Maryland Public School
LeClerc Hall 7:00 p.m. – 8:30 p.m.
School of Education Speaker
LeClerc Auditorium, 4-9 p.m.​
---
March 9
Residence Life/ Empowerment Sleepover
Meletia 2nd floor Lounge
Come out and hang out with friends. Women's health trivia- amazing prizes at 7 p.m.
Movie: Pitch Perfect 3 at 8 p.m. and Mario Kart Competition at 10:45 p.m.
---
March 10
Girl Scouts Event
Knott Auditorium, Doyle Hall 10:00 a.m. – 3:00 p.m.
---
March 11
Busy Person's Retreat
Noyes House (All Day)
This retreat is an opportunity for students, faculty, and staff who would like to experience a weeklong retreat focusing on his/her own spiritual growth.
---
March 12
BOT Enrollment Management Committee Meeting
Bryan Board Room, 9:30-11:30 a.m.​
BOT Institutional Advancement Committee Meeting
Noyes House Living Room, 9:30-11:30 a.m.
BOT Academic Affairs/ Student Life Committees Meeting
Bryan Board Room, Noon-2:00 p.m.​
BOT Resources Meeting
UAB 105, Noon-2:00 p.m.​
BOT Meeting
Doyle Formal, 2:30-5:30 p.m.
---
March 13
Wellness Garden Meeting
Doyle Formal, 12:15-1:30 p.m.
SGA
Online voting open until March 13, 2018​
---
March 15
Employer Meet and Greet Peace Corps
Doyle Dining Hall, 11:30 a.m. – 1:30 p.m.
Learn about the programs available through the Peace Corps and submit your resume.
Community Conversation
Doyle Formal, 12:15-1:30 p.m.​
Housing Selection information sessions
Rice 102, 12:30-1:30 p.m.​
SGA/ Donuts and Deadlines with B.E.S.
Fourier Room 214, 5:30-7:00 p.m.
Coffee and donuts provided!​
---
March 19​
Career Center/ Walk- Resume Review
Fourier 001, 2-4 p.m.
American Injustice: Mercy, Humanity and Making a Difference
Bryan Stevenson, author of Just Mercy
6 p.m. Reitz Arena, Loyola University
In his lecture, "American Injustice: Mercy, Humanity and Making a Difference," Stevenson will speak about America having the largest prison population in the world – and how the criminal justice system that puts the men, women, and children in these prisons is broken. Excessive punishment and abuse are widespread, and the collateral consequences are devastating lives and communities. An inspiring and unflinchingly honest speaker, Bryan Stevenson talks about defending some of America's most rejected and marginalized people. The stories he tells are heartbreaking, yet inspiring, and motivate audiences to make a change. ​
The event is free and open to the public, but tickets are required. Attendees with a Loyola ID may pick up tickets at the Loyola Box Office during normal business hours (Monday-Friday, 11:00am-7:00pm). Neighbors and community partners may reserve up to two tickets through Eventbrite.
---
March 21
Pure Barre Fitness Class
Noon-1:00 p.m.​
Career Center/ Walk- Resume Review
Fourier 001, 2-4 p.m.​
---
March 22
Employer Meet and Greet FEMA
Doyle Dining Hall, 11:30 a.m. – 1:30 p.m.
Bring your resume and be prepared to talk to recruiters from FEMA who are interested in hiring Notre Dame students.​
School of Education Internship Seminar
Doyle Formal, 6-4 p.m.​
---
March 23
School of Pharmacy Carnival Night
Doyle Formal, 6-9 p.m.​
Hispanic Flamenco ballet
LeClerc Auditorium​
---
March 24
Maryland Photography Alliance Conference
Knott Auditorium 9:00 a.m. – 4:30 p.m.
---