The Bulletin is published every month for faculty, staff, and students.
---
November 2017 Contents
NDMU News​​
Honors Convocation
The Notre Dame community recently came together to celebrate the 81st annual Honors Convocation. The ceremony recognized the academic achievements of students from the 2016-2017 academic year. Students who earned both honors and awards were recognized at the event.​
Here is the list of the award recipients:
CRC Freshman Chemistry Award: Mai Eltabak
Philosophy Young Scholar Award: Prutha Patel
Sister Francis Regis Carton Religious Studies Award: Shannon Edwards
Sister Sharon Dei Award: Danae Mars
The Jeanne Hackley Stevenson Award in History and Political Science: Molly Wolanski
Wall Street Journal Student Achievement Award in Business: Lindsey Webb
Corinne A. Weldon Nursing Award: Nnenne Odukwa
Caritas Award: Elizabeth Brooks
Innovation in Nursing Award: Emma Durham
Educator of Promise Award: Ariel Palmisano
Rising Educator Award: Mary Claire Waterman
In addition to the awards, students were recognized for making the Dean's list, for being inducted into various honor societies, and the latest Morrissy Scholars were announced.​
To see photos from the event visit Notre Dame's Flickr page.​
---
NDMU 100 Helping Others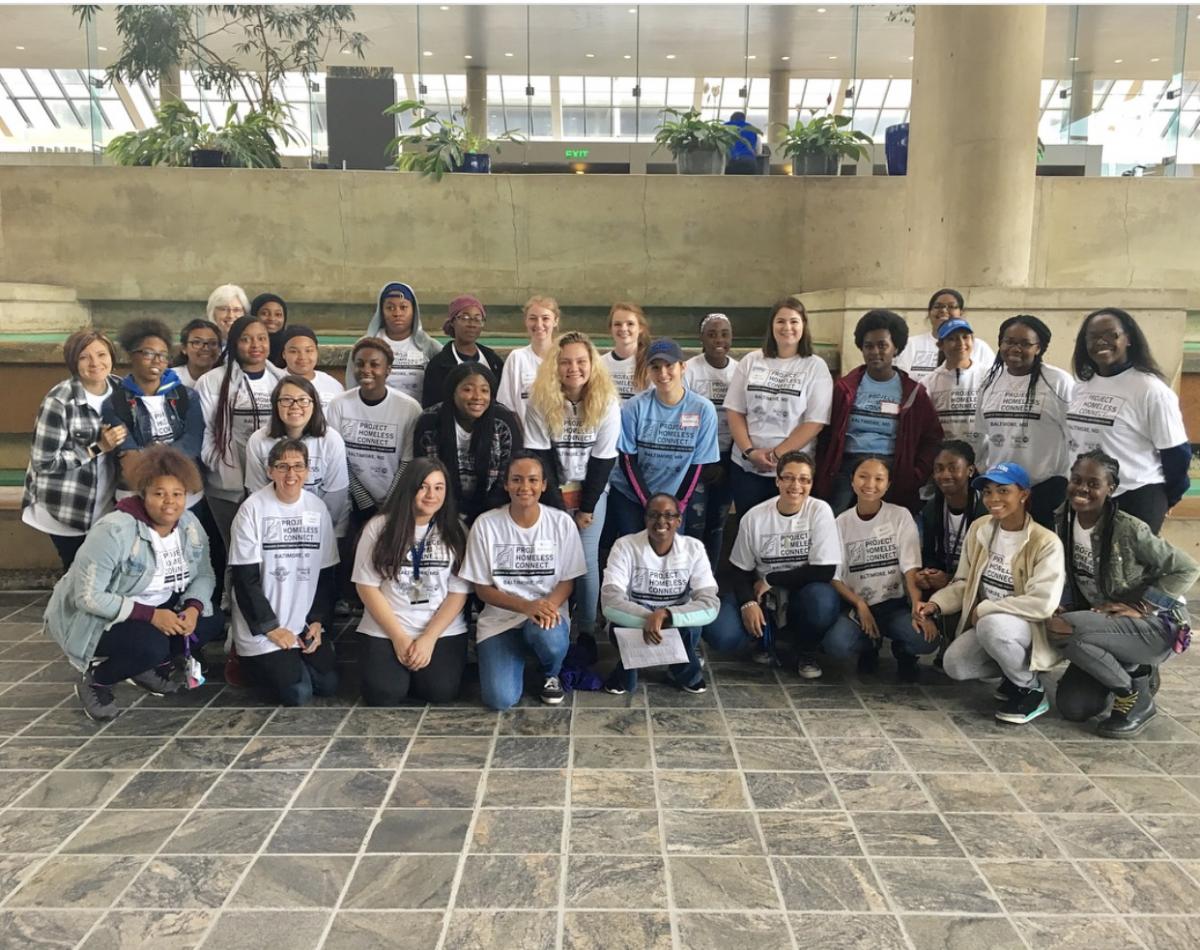 More than 150 Notre Dame students, faculty, and staff took part in this year's Project Homeless Connect. In addition to being general volunteers, our nursing, pharmacy, and psychology students provided services under the supervision of their clinical faculty. The event closely ties into the University's Mission of building inclusive communities, engaging in service to others, and it promotes social responsibility. NDMU has taken part in this event for the past few years.
In addition to the Project Homeless Connect, several NDMU 100 students chose to participate in a Homelessness Immersion Sleepout at Our Daily Bread. The event was organized by Campus Ministry.​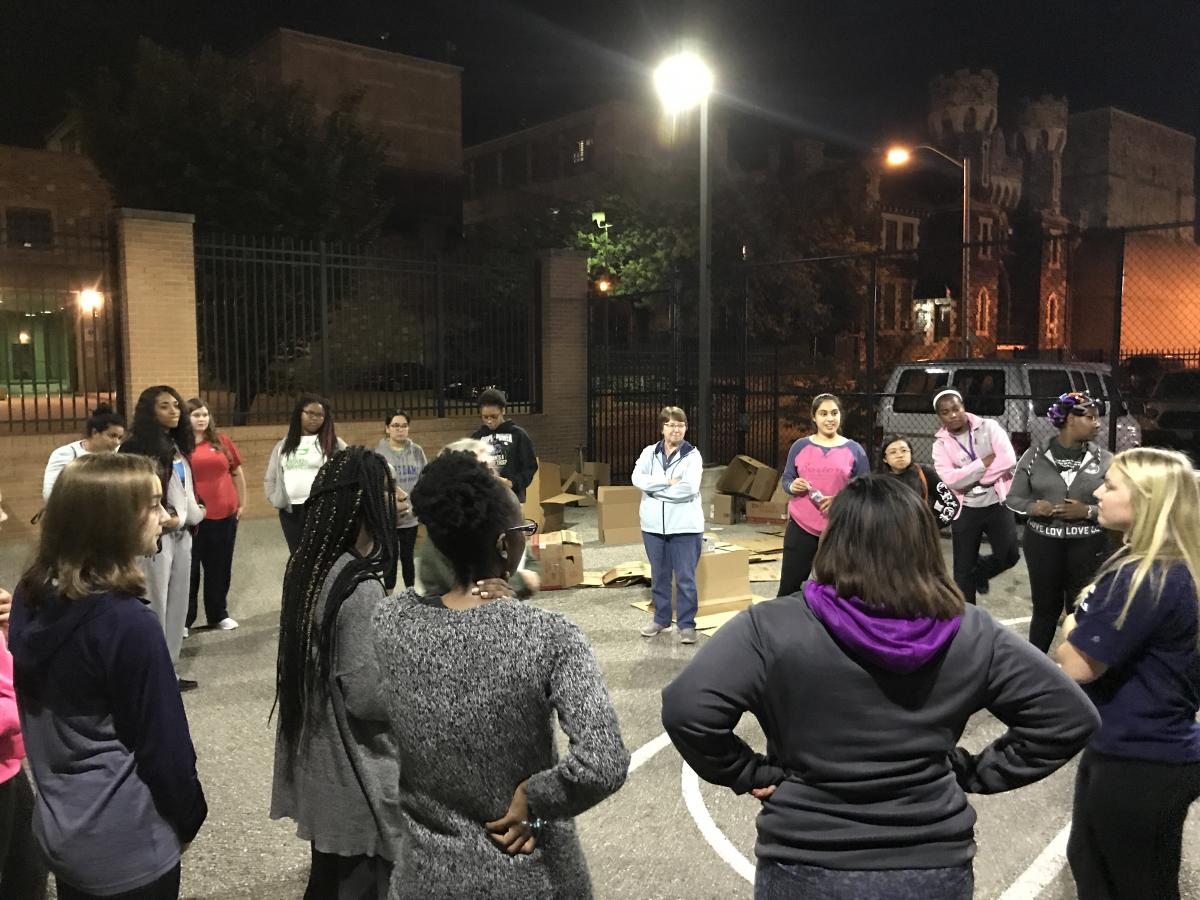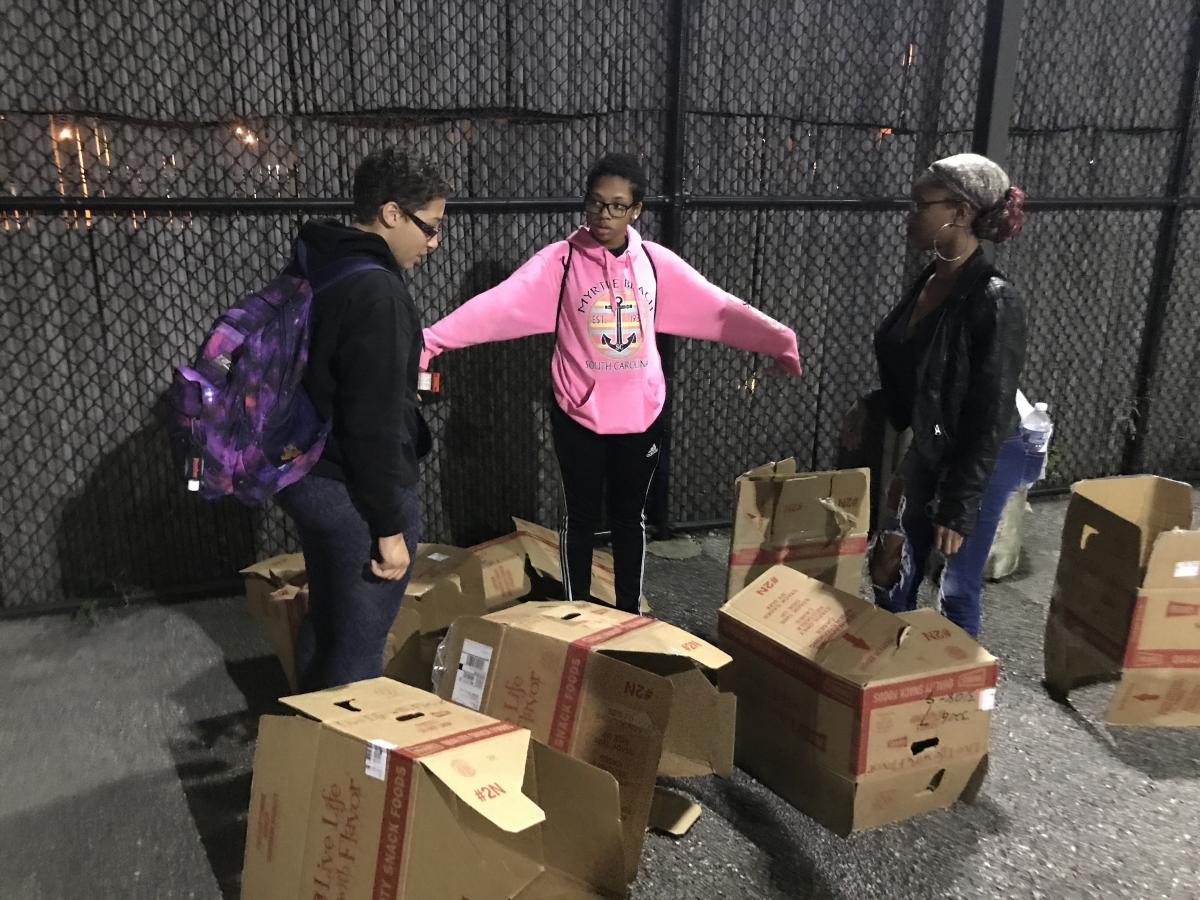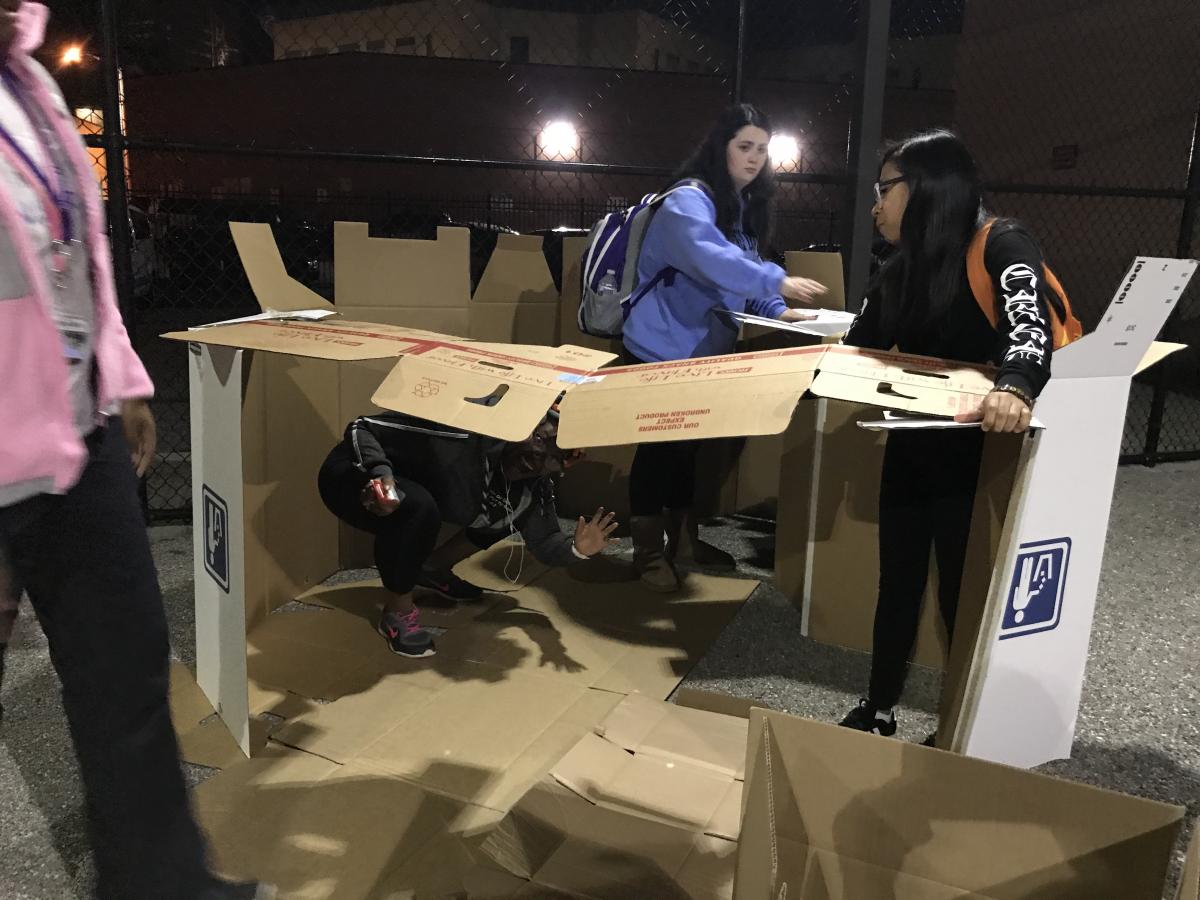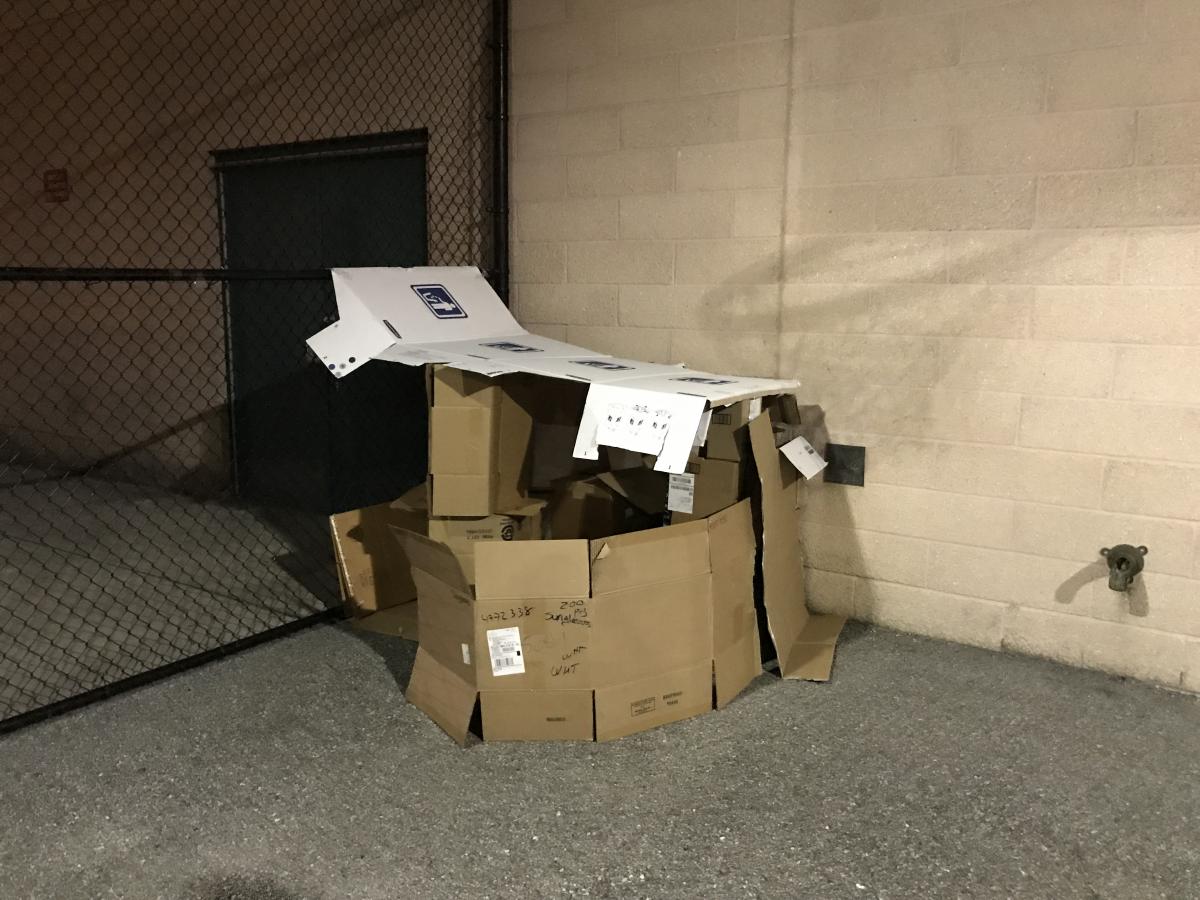 ---
WOW School Day
"Do you, be you, and be your best you! You have the opportunity to do some amazing things," that was the focus of WOW Baltimore School Day. On November 1, NDMU played host to more than 300 area high school girls. Among the speakers, Debbie Phelps – mom of Olympic Champion Michael Phelps, Kate the Chemist and 16-year-old Vegan Chef and author Haile Thomas. The students heard inspirational stories, learned that chemistry can be really fun, and they listened to someone their own age discuss how she started her own business and got the opportunity to meet and cook for President Barack Obama and First Lady, Michelle Obama. It was certainly a day to remember. WOW School Day is part of the WOW movement. The WOW Baltimore Festival, which is open to the public is scheduled for April 28, and will take place here, at NDMU.​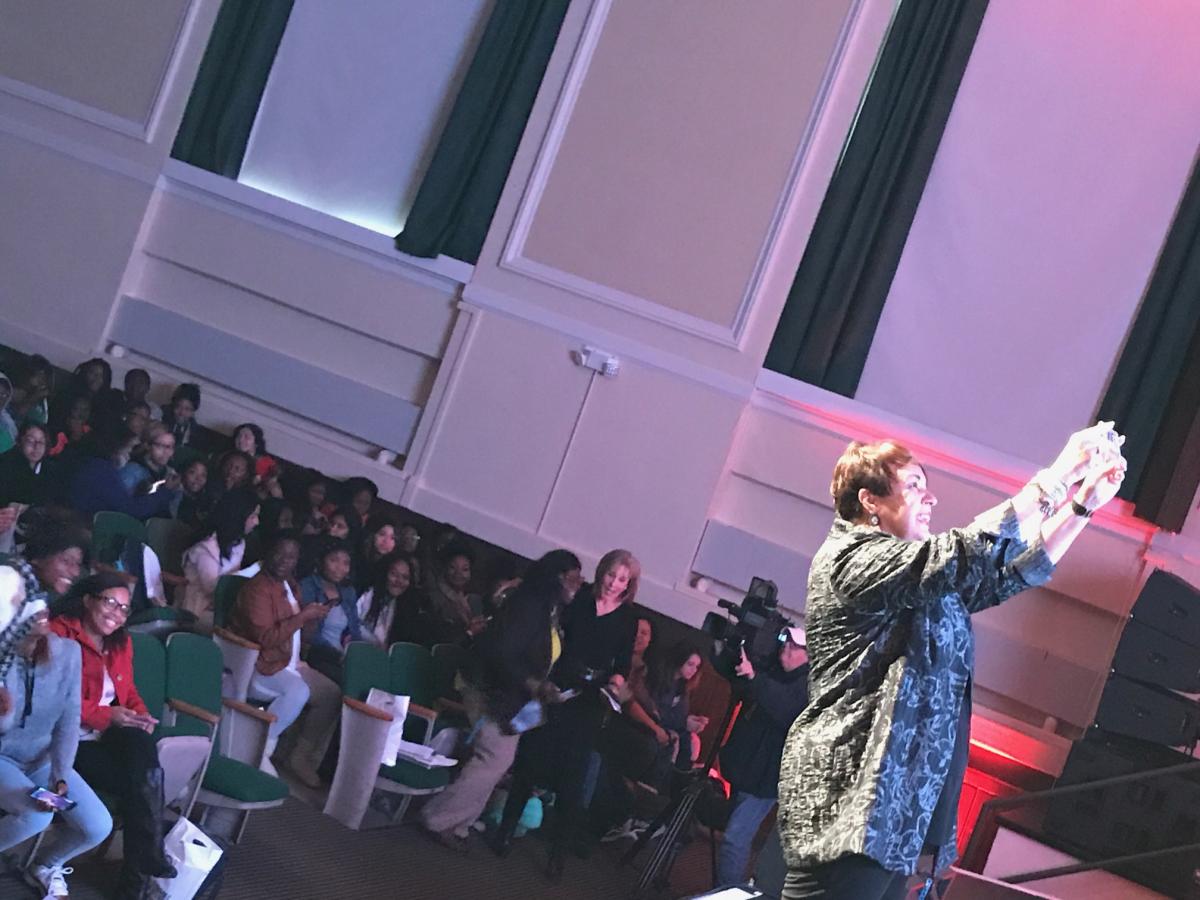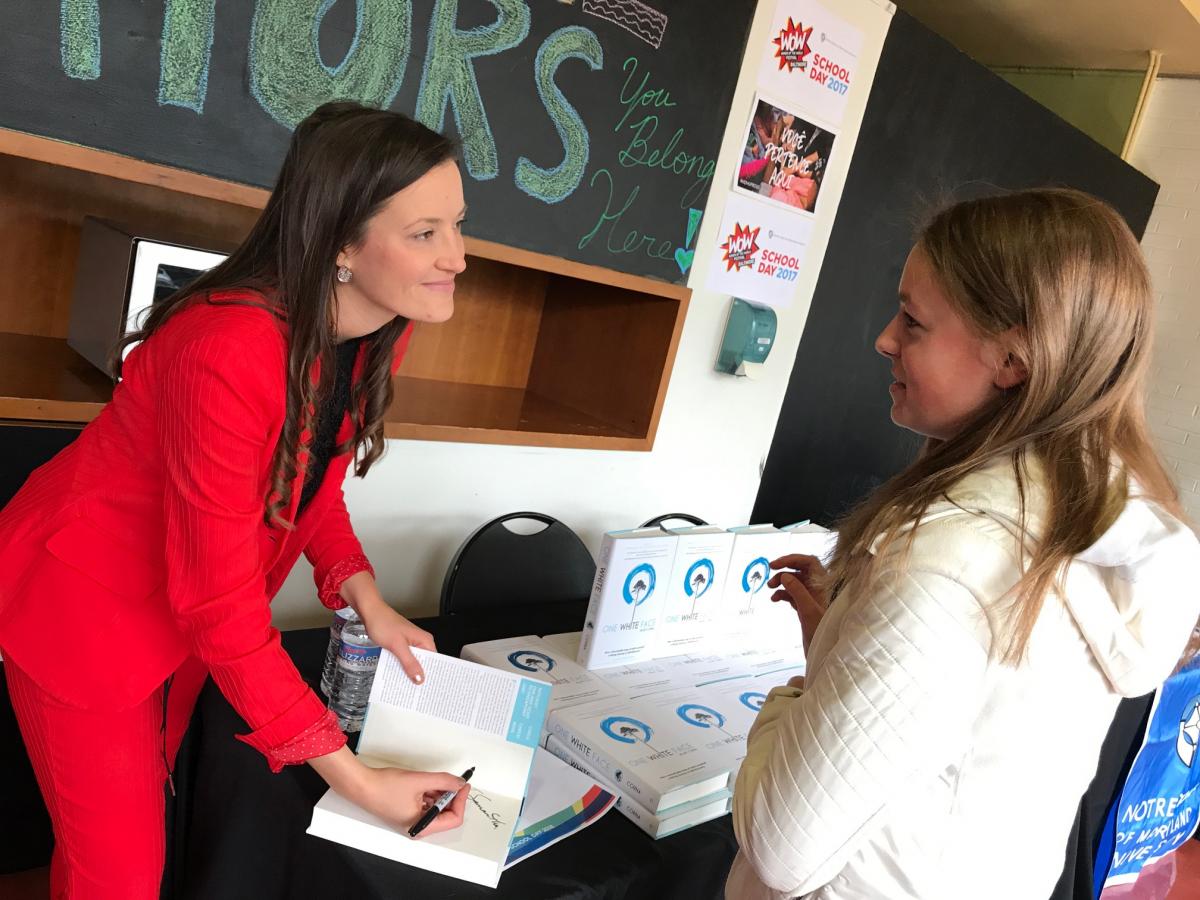 ​​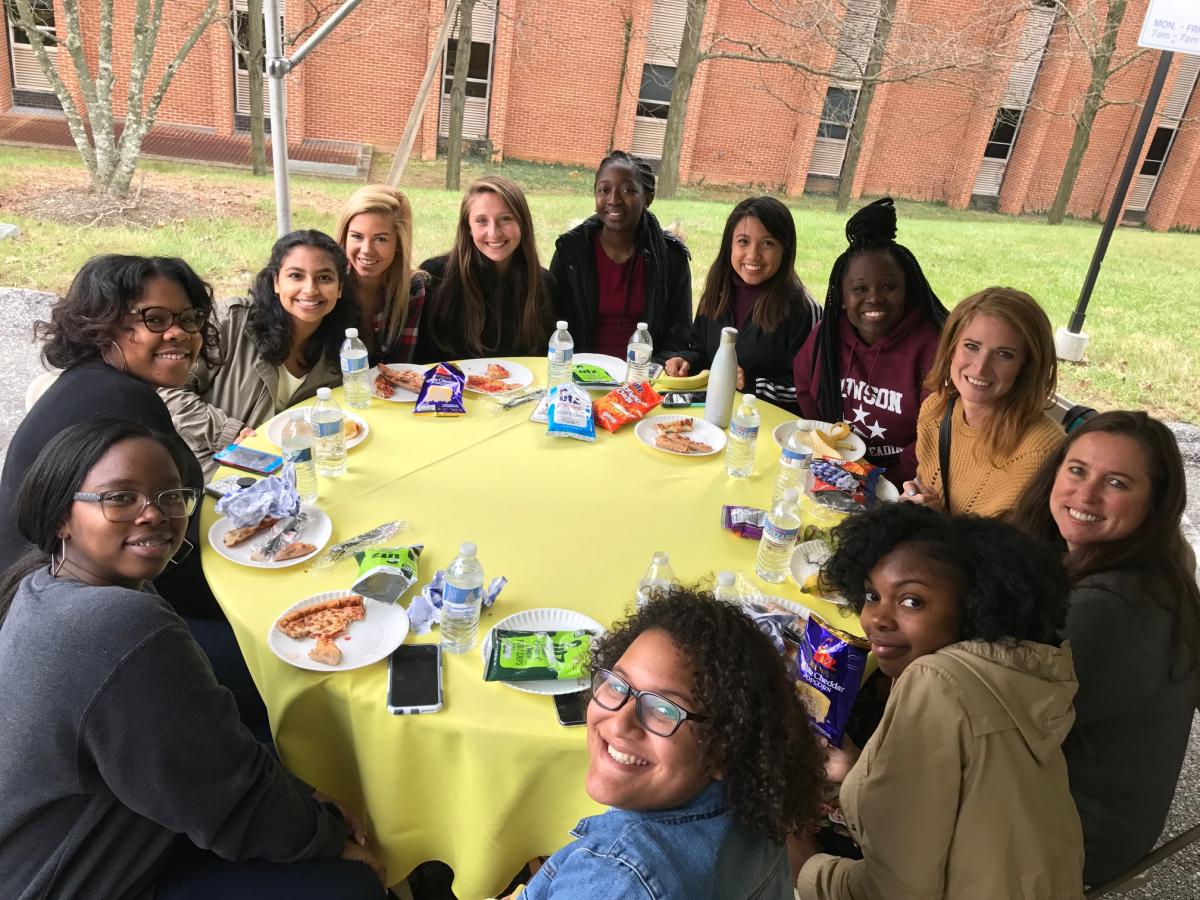 ​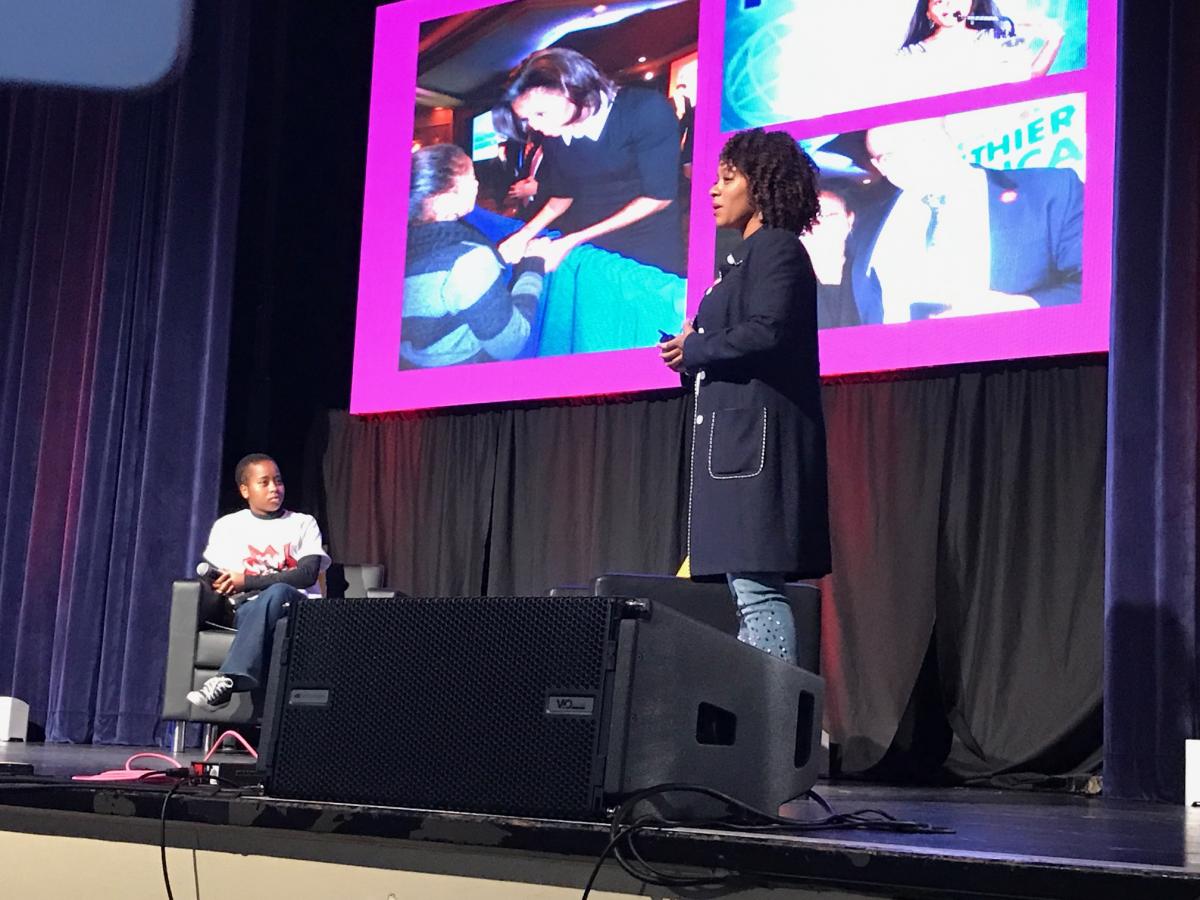 ---
Joyful Servant Award
Big congratulations go out to Sister Kathleen Feeley, President Emerita! Catholic Charities of Baltimore honored Sr. Kathleen with the Monsignor Arthur F. Valenzano Joyful Servant Award last month. The award recognizes "a person who embodies Msgr. Art's joyful life and spirit and touches the lives of thousands of Marylanders as the monsignor did over his lifetime."​
---
Gator Fest 2017
Dozens of students and community members turn out for NDMU's annual Gator Fest. The event featured all sorts of fun fall activities including pumpkin painting, a photo booth, cotton candy, popcorn, lawn games and for those over 21 a beer and wine tasting. There was even a special appearance by our own Gabby Gator.
This was the second year for Gator Fest. This year's event capped off the soccer game in which the Gators fell to conference rivals Marywood University 2-0, as well as the Fall Open House in which NDMU welcomed potential new students to campus. It was certainly a great way to bring the campus together and to show future Gators what Notre Dame has to offer. Be sure to check out the video from the day's event on the University's Facebook page.​
---
Common Read Author Comes to NDMU
On October 17 more than 400 people gathered in LeClerc Auditorium to welcome this year's common read author, Kristin Hannah. Hannah, author of The Nightingale took part in a fireside chat lead by Esme Halsey-Collins. Hannah discussed everything from writers' block, to her research on the French Resistance to why she kept the identity of the narrator secret until the end. Following the chat, she took part in a book signing. To see pictures from the event, check out the University's Flickr page.​​
---
Morrissy Students Travel to Japan
In early October 2015, five Morrissy students and the Morrissy Director took their bi-annual trip to Aoyama Gakuin Women's College in Tokyo, Japan. Gerriza Balmes, Micah Castelo, Chinwendu Nwokeabia, Lorelie Soriano, Courtney Strength, and Dr. Jeana DelRosso spent a week attending classes, giving presentations, and sightseeing in Tokyo.​
They learned Japanese calligraphy and traditional Japanese dance; participated in a traditional Japanese Tea Ceremony; visited Shinto shrines and Buddhist temples; ate sushi and sweet potato soft serve ice cream; learned the language; and experienced kabuki theatre.​
Aoyama Gakuin is a Notre Dame partner school; our exchange program also enables their students to visit us every other year.​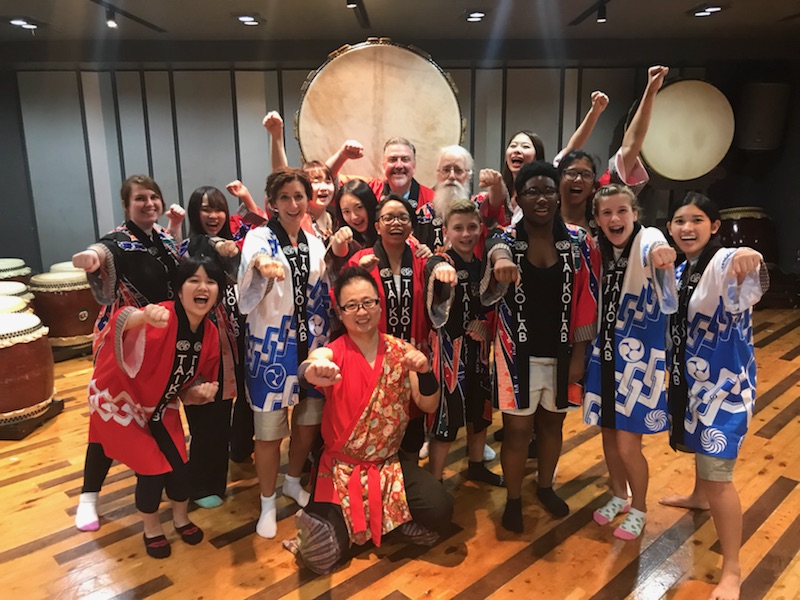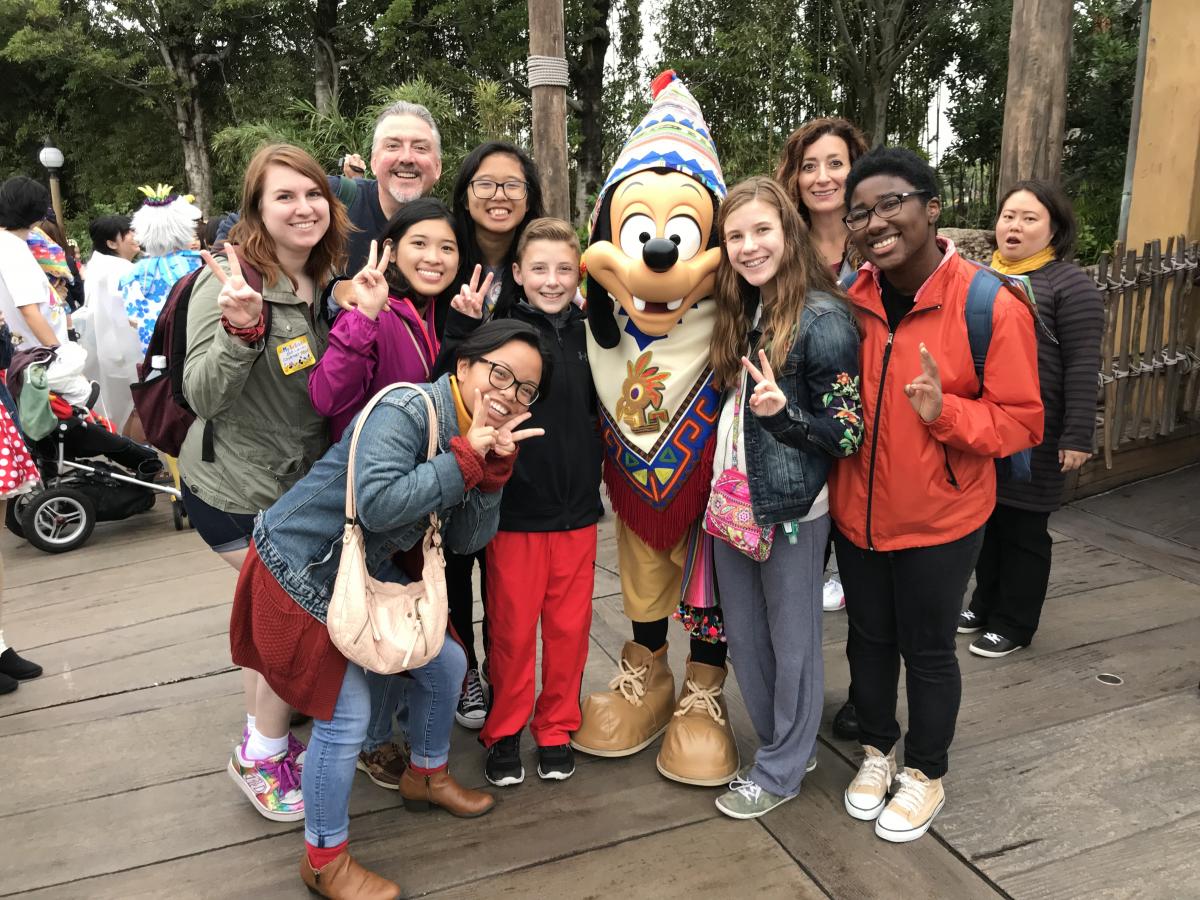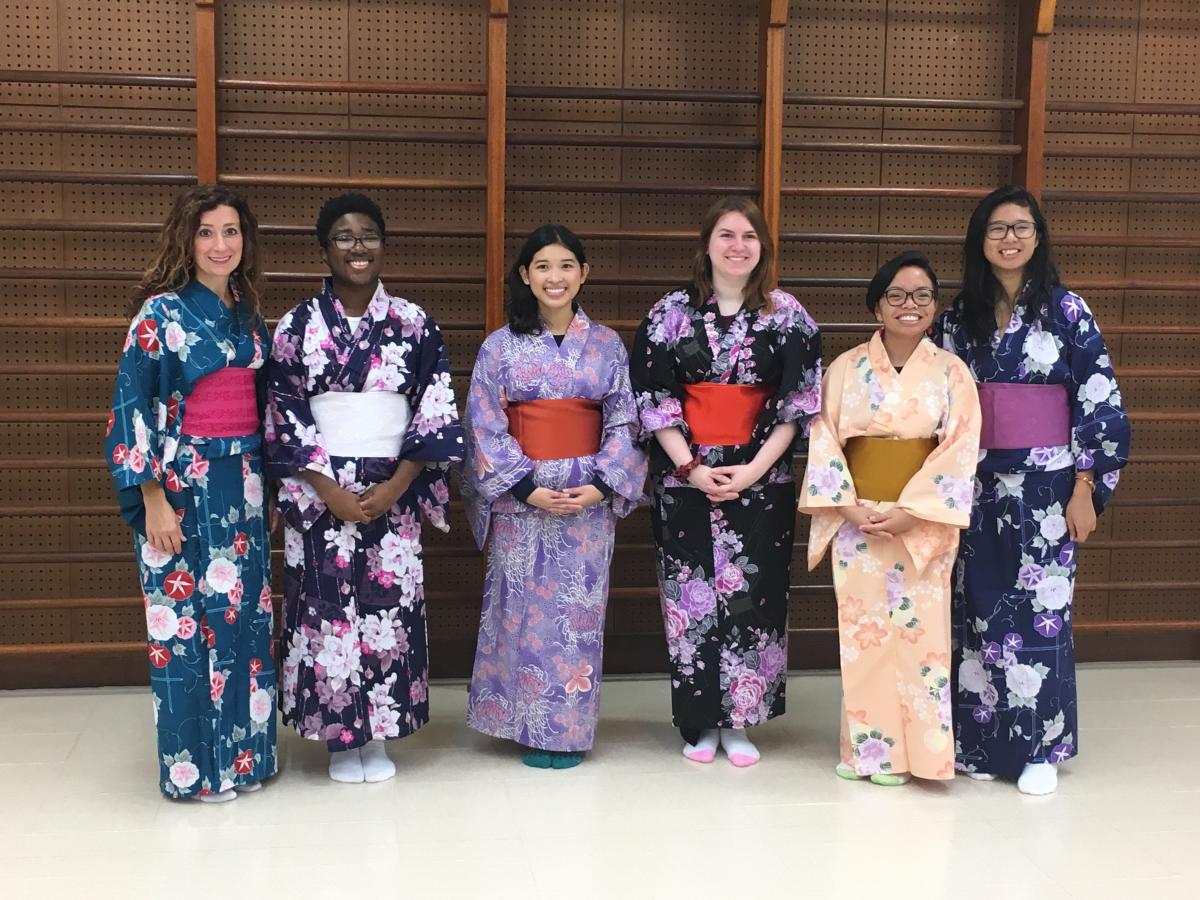 ​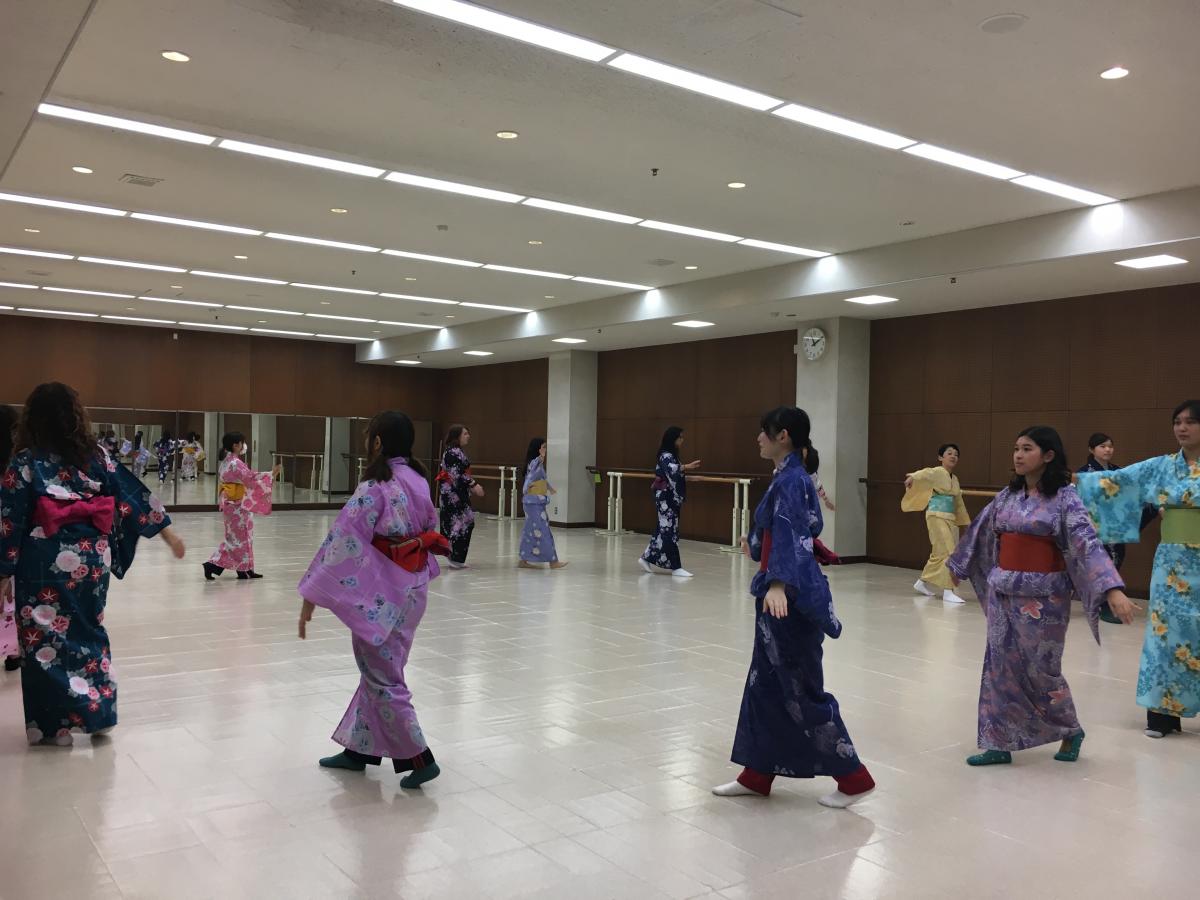 ---
Davis Projects for Peace Update
Good news for our students organizing the Davis Project for Peace Library of Hope in the Philippines. With the help of Mary Fitzgerald, SSND, Laine Soriano '17 and Micah Castelo '18 applied and received The Gospel Fund grant worth $5,000. The money will help the two continue moving the project forward. Right now they are in the process of adding bathrooms to the main unit and are working on maintenance fees (for electricity, water, etc.).​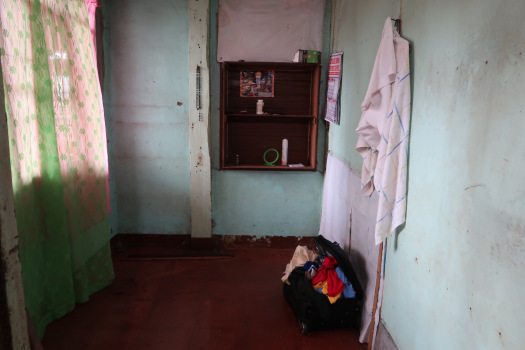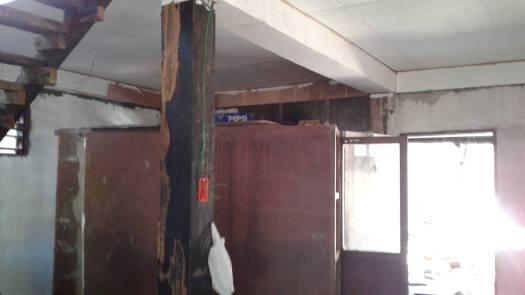 ---
Commencement 2018
Attention seniors! Here's the date you have been waiting for...mark your calendars, Commencement 2018 is set for May 20, at 11 a.m. at the Royal Farms Arena. In addition to celebrating our graduates, we will welcome back notable alumna Dr. Susan Love '70, world-renowned breast cancer surgeon and best-selling author of Dr. Susan Love's Breast Book. Dr. Love will serve as this year's Commencement Speaker.​
---
Sports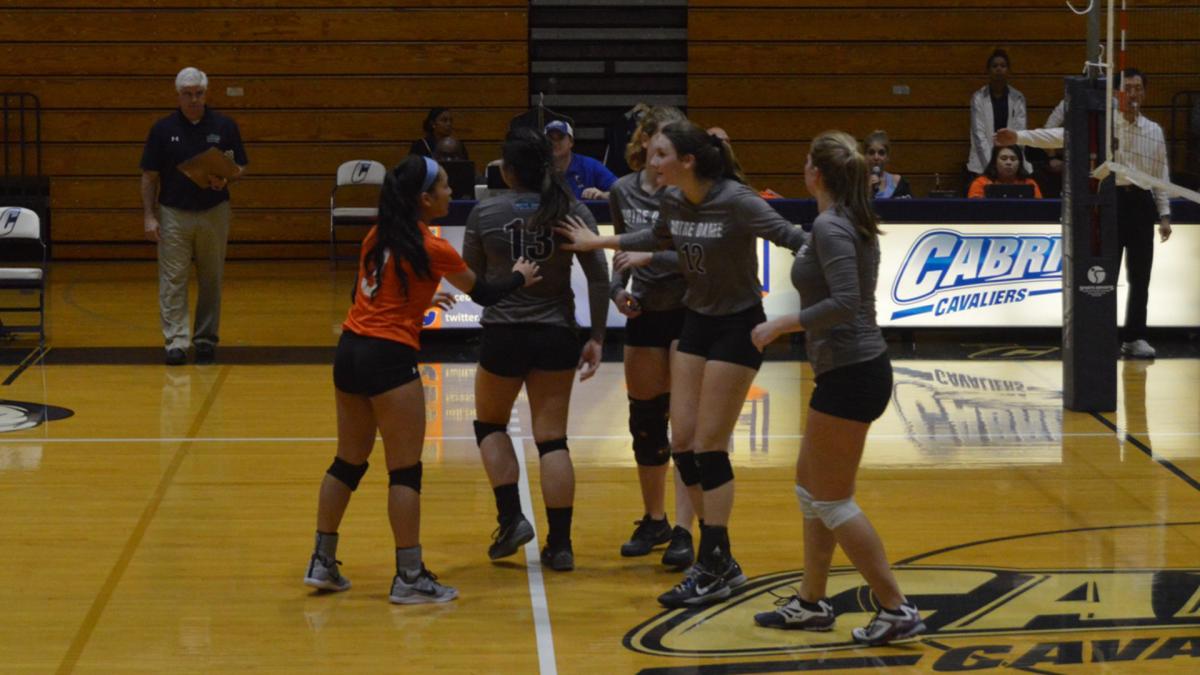 What a run by Notre Dame's volleyball team. The Gators are ranked first in the nation for aces per set. Unfortunately, the season came to a close in the second round of the Colonial States Athletics Conference playoffs. Facing rival Cabrini University, the Gators got off to a slow start in the match and eventually fell to the Cavaliers, 3-0.

Freshman Sarah Sweet posted back-to-back-to-back service aces; at the net Sweet paced the team with eight kills and three service aces. In the CSAC, Sweet is ranked first in service aces per set and is second in kills per set. She was named to the First Team All-CSAC in her rookie season. In addition, seniors Jamie Reyes and Grace Park, along with sophomore Mary Marquez finished the season ranked in the top 10 in the CSAC for aces per set.
---
Loyola Notre Dame Library News​​
New Library Makerspace
The Loyola-Notre Dame Library unveiled its new Makerspace area recently. Dozens of students attended the grand opening celebration. The Makerspace is located on the first floor of the library and serves as a hub for students to express their creativity and imagination with the technology available. The space houses two 3D printers, a 3D scanner, a one-button studio with music creation software and much more.​
Many thanks to everyone who attended the Makerspace Grand Opening event. To read more on the Makerspace and to see a Q&A with the LND Library staff check out this article.
Here are the prize winners from our drawings:​
Dr. Mark Fenster
Mr. Christian Kendzierski
Ms. Alex Perry
Dr. Clarenda Phillips
Dr. Gary Thrift
Ms. Anne Wozniak
Individuals who were not available for the drawing and have not yet received their prize should contact Youlanda Halterman at 410.617.6862 to select a prize and arrange pick up!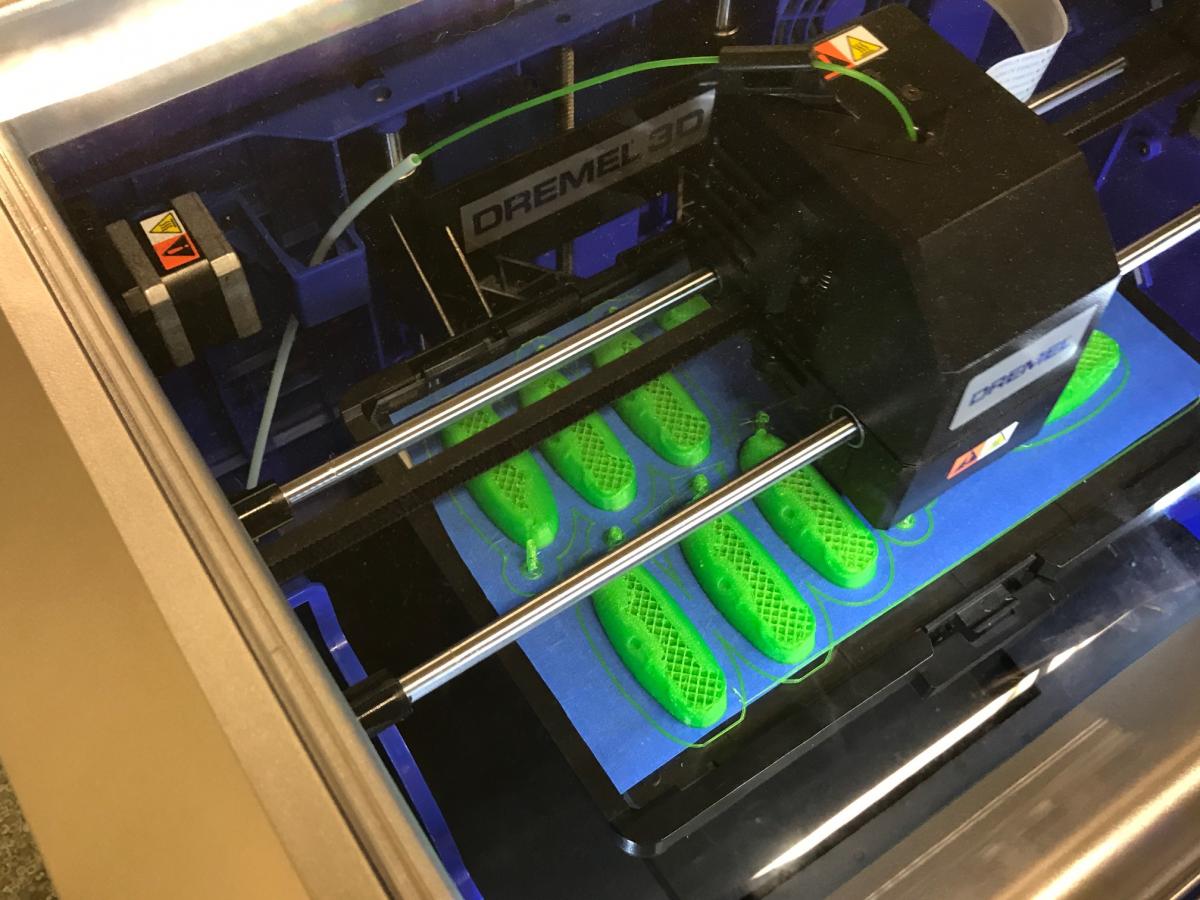 ​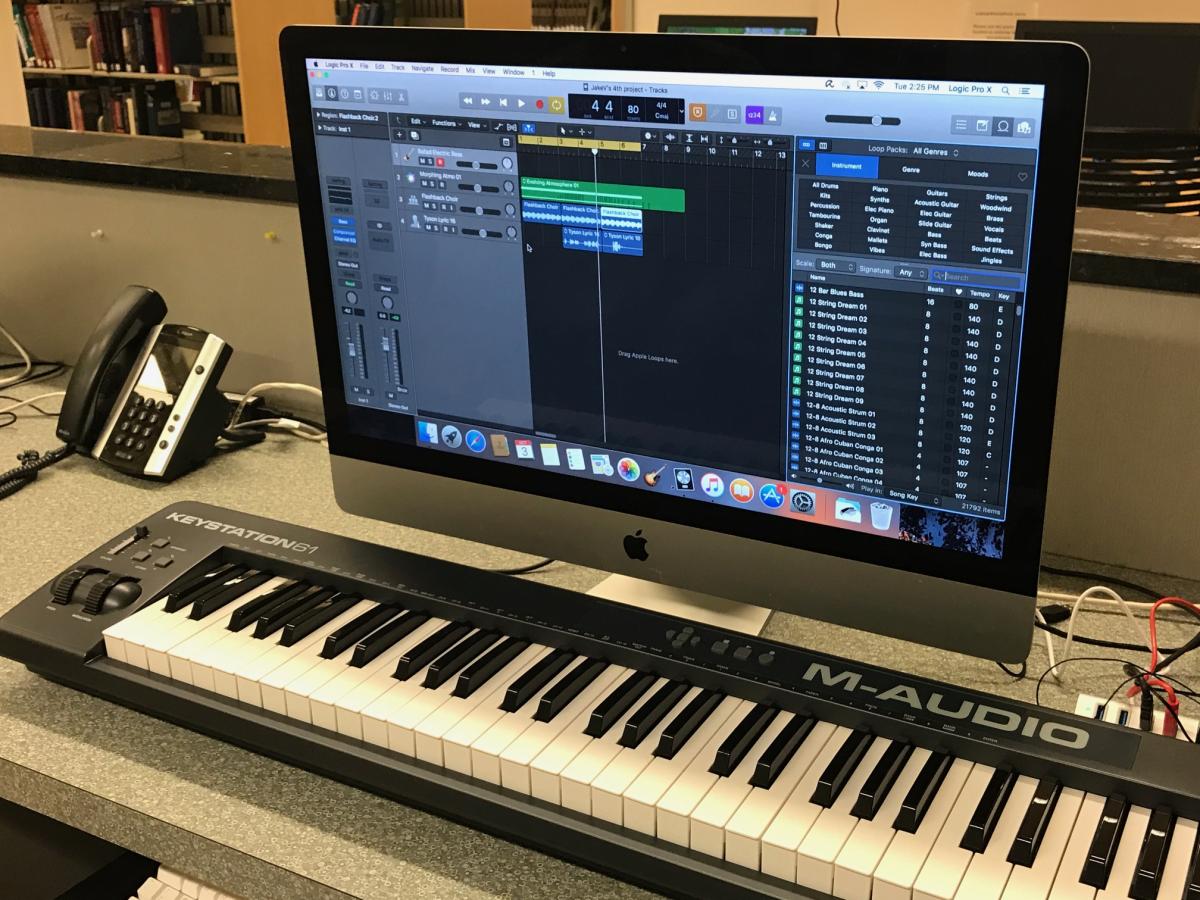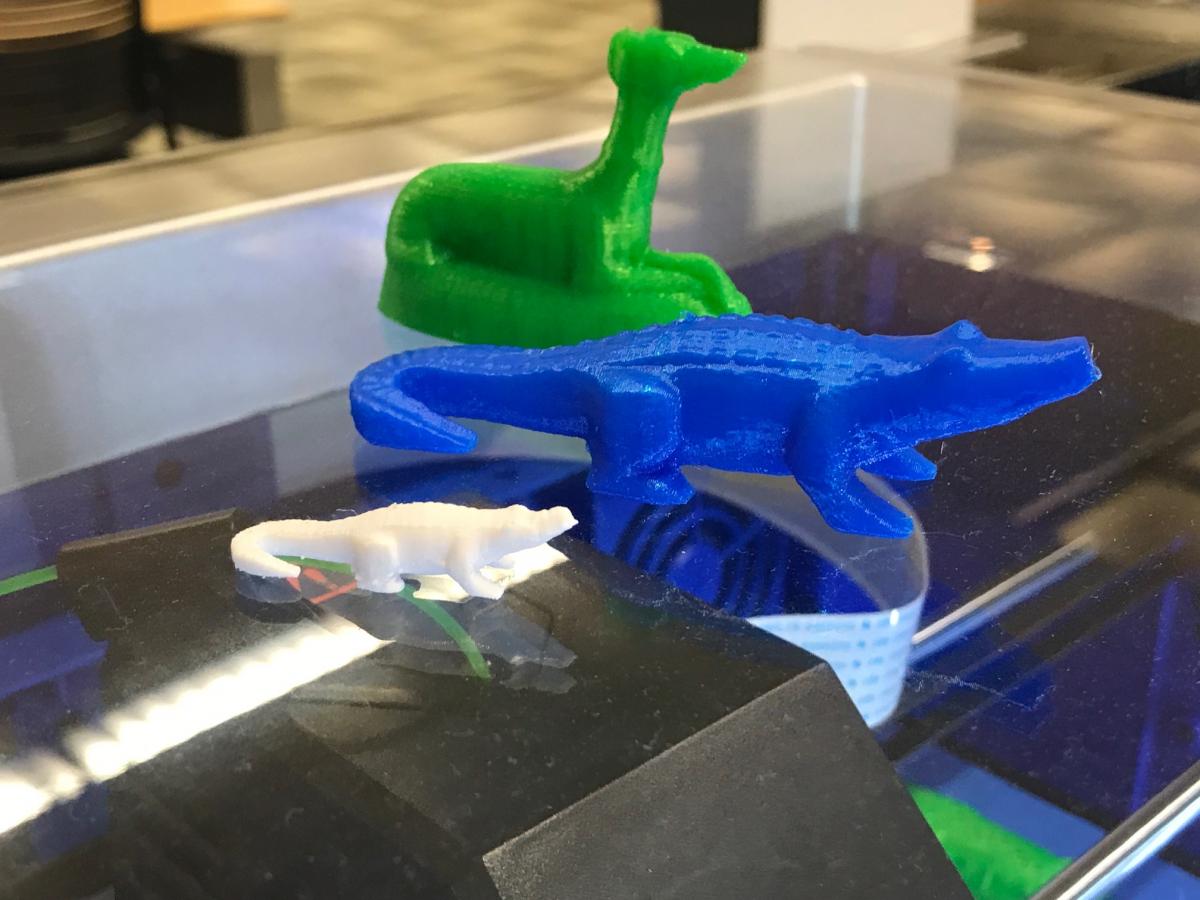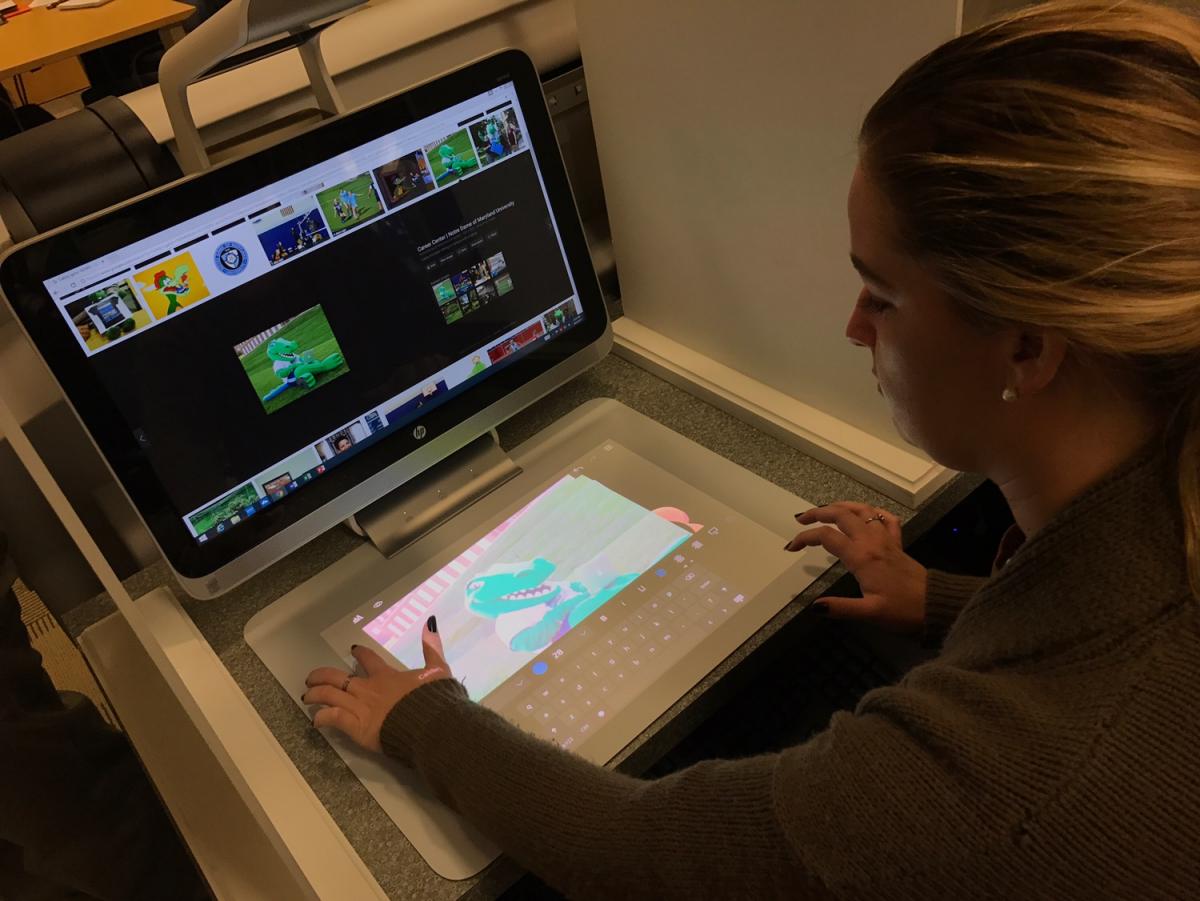 Arduino Blink Challenge (November 15th)
Yanko Kranov
Location: Loyola Engineering
The "Arduino Blink Challenge" lesson explores how computer and software engineers work to solve the challenges of a society, such as providing systems for turning lights on and off automatically. Students work in teams to set up and program an Arduino board to turn a light on and off at a 5 second on and 2 second off interval. Teams build their system, program and test it, reflect on the challenge, and present their experiences to their class.
Upcoming Exhibit
The Marion and Henry J. Knott Collection of Fore-Edge Paintings
December 7th, 2017- January 31, 2018
Loyola Notre Dame Library Gallery​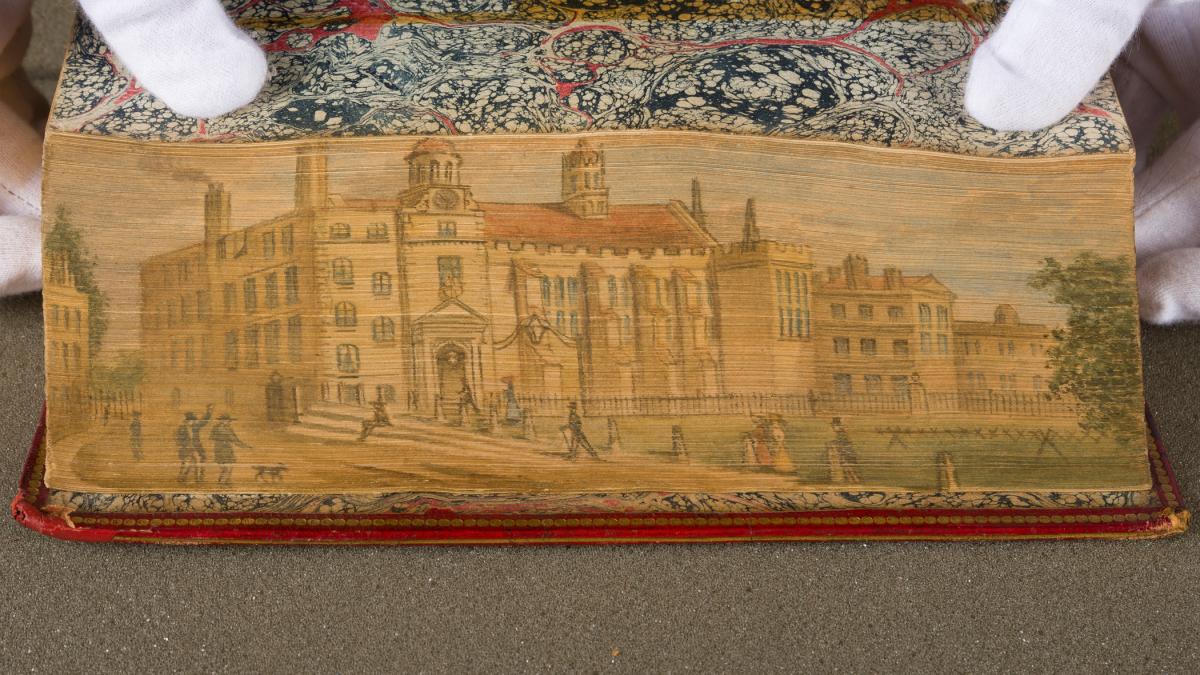 The Marion and Henry J. Knott Collection of Fore-edge Paintings consists of over 300 volumes dating from the 16th–20th century with the bulk of the collection dating to the 19th century. At the time of its donation, the collection was the second largest of its kind in the country.​
Henry Knott's interest in collecting fore-edge paintings started at the suggestion of the late Mr. Joseph Ruzicka, the noted bookbinder. Fore-edge painting is done usually in watercolors on the inner edges of a book while the pages are fanned open. Once the book is closed, the painting becomes invisible underneath the decorated gilt edges. The art form seems to have originated in England during the 17th century and stands as an intriguing facet of the books arts that deserves more extensive research and wider recognition.
This exhibition marks a special opportunity to view a selection of the rarely-exhibited works. The Archives & Special Collections is indebted to the Knott Family for their generous donation of the collection and to The Johns Hopkins University Department of Conservation & Preservation for manufacturing custom book mounts to safely display these unique works of art.
---
News by School
School of Arts, Sciences, and Business
School News
The School of Arts, Sciences and Business is offering a new major. Students can now major in Leadership in Hospitality and Event Management. Classes are available now. The program is headed up by Professor Gemma Wenner. Wenner is originally from the Caribbean and speaks three languages: French, Spanish and English. In addition to her duties at NDMU, she is currently pursuing her doctorate in Management at the University of Maryland, University College. Welcome and congratulations Professor Wenner.
Faculty Accomplishments
Congratulations are in order for Associate Professor of Religious Studies, Rev. Henrietta L. Wiley, Ph. D. This month the Society of Biblical Literature released Sacrifice, Cult, and Atonement in Early Judaism and Christianity: Constituents and Critique edited by Henrietta L. Wiley & Christian A. Eberhart. Dr. Wiley is Associate Professor of Sacred Scripture in the Religious Studies department. She would like to offer particular thanks to the CFR&D for their support of this mammoth project.
Drama professor Kate Bossert will give a pre-show lecture on Saturday, Nov. 18 for Baltimore Shakespeare Factory. The lecture will be held prior to a performance of Fletcher and Massinger's The Sea Voyage.
School of Nursing
Faculty News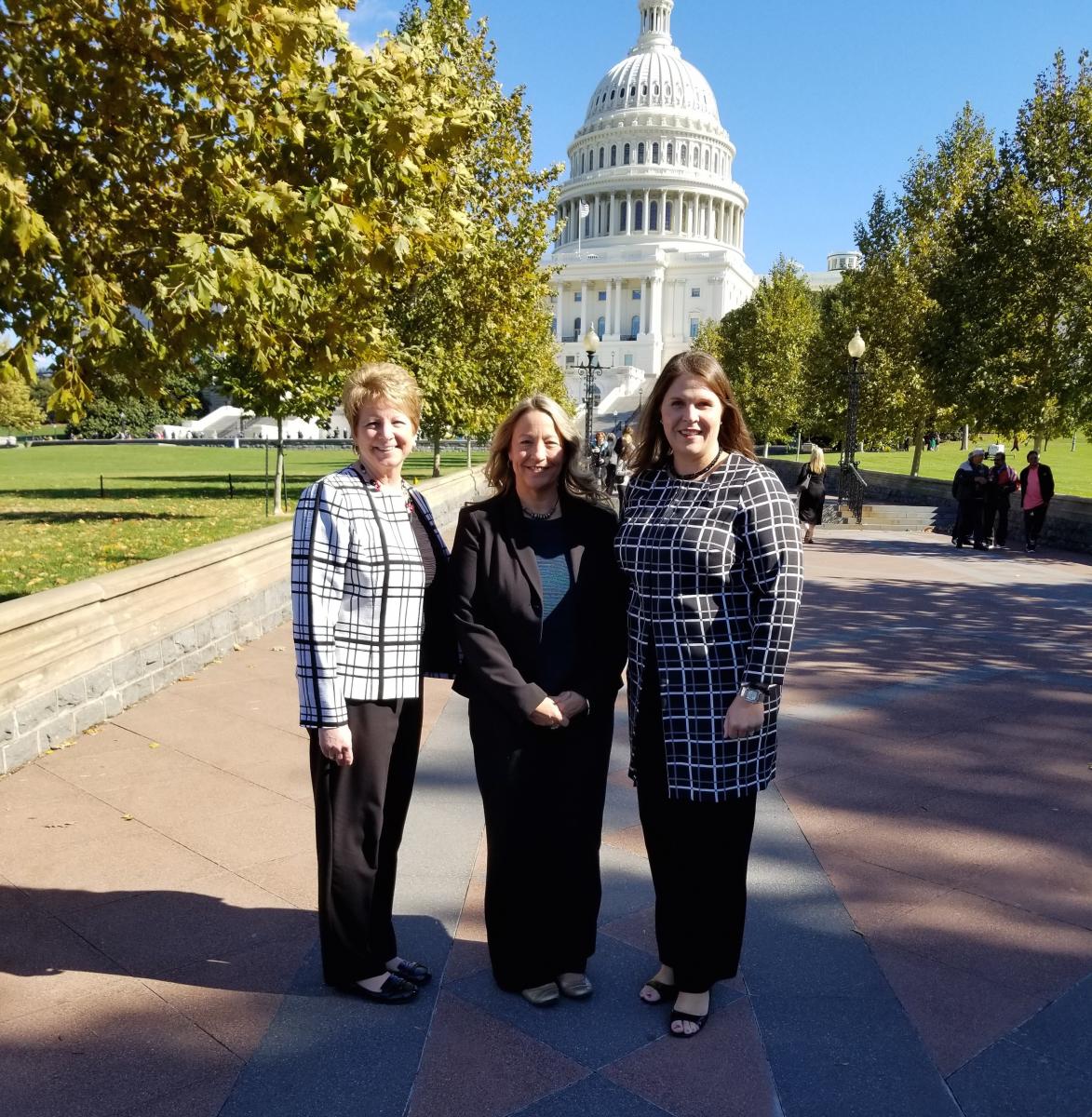 School of Nursing Dean, Kathleen Wisser just returned from the American Association of Colleges of Nursing (AACN) where she and two colleagues from University of Maryland School of Nursing, met with members of Maryland's congressional delagation. She met with the Health Policy Advisor and Legislative Correspondent in Senator Ben Cardin's office, Congressman Dutch Ruppersberger's Deputy of Staff and Congressman Elijah Cummings' Policy Advisor.
Dean Wisser was one of more than 270 deans and associate deans from all 50 states and the District of Columbia meeting with Congressional offices. The American Association of Colleges of Nursing's (AACN) Fall 2017 Advocacy Day, part of AACN's Academic Nursing Leadership Conference in Washington, D.C., had members meet with their federal legislators to connect on pressing national priorities impacting patients' health and nursing education.
School of Pharmacy
Student News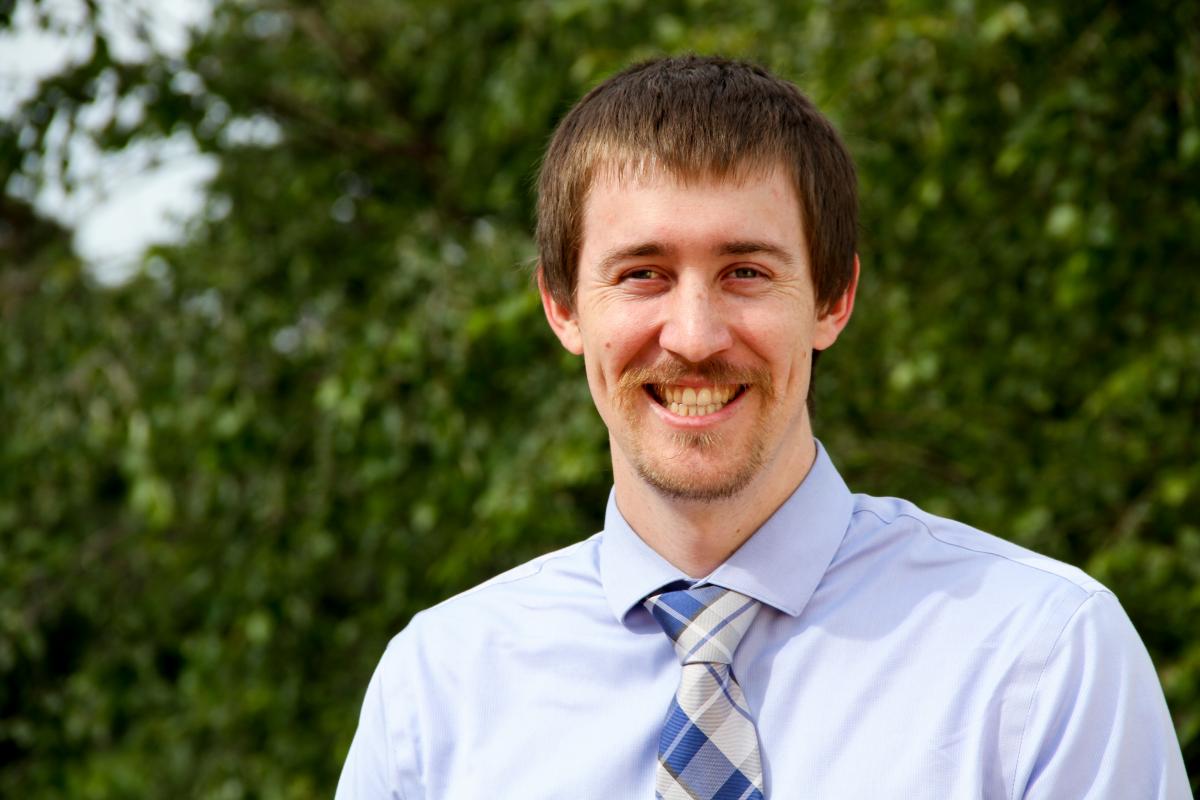 Kyle Gundlach – is the recipient of the National Community Pharmacists Association Foundation Presidential Scholarship. As a recipient of this scholarship, Kyle demonstrated a strong interest in independent pharmacy practice, leadership qualities and accomplishments, involvement in extracurricular activities and academic achievement. The scholarship will be awarded during the annual conference in October.
---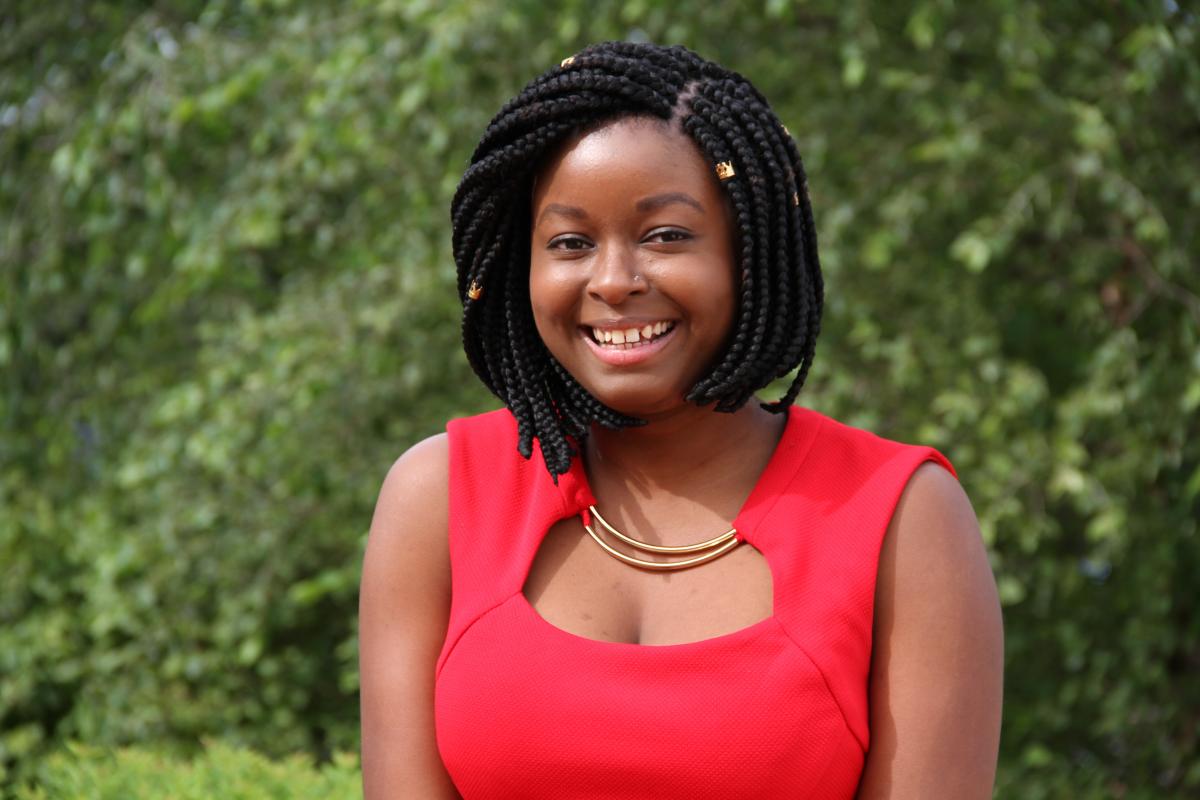 Michtta Andre – was selected as one of only nine Senior COSTEP trainee by the Public Health Service from across the country. She will be commissioned now as an Ensign while she is a student. Upon graduation, she will be a commissioned officer and has been assigned to the Federal Bureau of Prisons.
Upcoming Events
November 9
Under Armour Meet and Greet
Doyle Dining Hall 11:30 a.m. -1:30 p.m.​​
Open Enrollment Health & Wellness Fair
Lunchtime Lecture - Laura Garofalo- Re-Imagining the Ruins: Archaeological Excavations at Pompeii
Fourier 206, 12:15 p.m. -1:30 p.m.​
Embracing Diversity: Immigration Refugee Issues
LeClerc Auditorium, 7 p.m.
Class of 2020 Bingo Night
Gator Alley 8-10 p.m., Bingo Cards cost $2 each
November 10
Christmas Cards for Jacob
Gator Alley 7 p.m.​
Jacob is a nine year old boy with Neuroblastoma. He isn't expected to make it past Christmas. As his last wish, he asked for everyone to make him Christmas cards. Supplies will be provided.
Anime Night
FIC (Feely International Center) 003 7-10 p.m.​
Showing Castle in the Sky​
November 11
STEM Family Fun Fair
Doyle Formal, 9 a.m. - Noon
CAB New York Trip
All Day, less than 35 tickets remain, $10/ticket
November 14
University of Maryland Francis King Carey School of Law Information meeting
12:30 - 1:30 p.m.
November 15
Culture Day 2017
November 16
Employer Meet & Greet - The Baltimore Marriott Waterfront
Doyle Dining Hall, 11:30 a.m. -1:30 p.m.
Bethel Campus Fellowship Marvelous Encounter
Peace Pole Prayer: International Day for Tolerance
Peace Pole in front of Doyle Hall, 4:30 p.m.
November 17
Anime Night
FIC 003 7-10 p.m., Showing FoodWars & Wakake-zake (Show Graphic Content)
November 21
Student Association of Nurses Fundraiser
Chipotle, 6314 York Road, 4-8 p.m.
November 28
Hunger Banquet
Doyle Formal, 5:30 - 7:30 p.m.

The Hunger Banquet is an interactive event that illustrates and educates attendees on issues of food insecurity, hunger, and famine crises happening around the world. It involves inviting residents to a "banquet" where each guest is randomly assigned to play a role of a person at a high, medium, or low-income level. The Hunger Banquet brings these issues to life and promotes a deeper awareness and encourages engagement to change unjust laws and practices that keep people trapped in poverty. Free admission for students, guests are asked to make a $5 donation.
November 29
Understanding Credit and Borrowing
Doyle Formal, Noon -1 p.m.
Join us for a presentation on "Understanding Credit and Borrowing" by First National Bank. Pizza will be served!
November 30
Get Your Zen On
Meletia Interfaith Space, 4:15-5:15 p.m.​​, hosted by Rev. Wakoh Shannon Hickey​
Ongoing Events
Now - November 30
House of Ruth Donations ends! Drop off donations at Doyle 148
Emond Praybe Emanations
Gormley Gallery, Fourier Hall 2nd Floor
Meditation Series hosted by Campus Ministry and Service
November 9, 13, 16
Self Compassion
Doyle Meditation Chapel 4:30-5:30pm
November 14, 21, 28
Bethel Campus Fellowship Bible Study