The Bulletin is published every month for faculty, staff, and students.
---
October 2019 Contents
NDMU News
NDMU Awarded Largest Grant in Its History
NDMU received a Title III grant award for $2,101,310 from the U.S. Department of Education's Strengthening Institutions Program (SIP). NDMU's program, entitled Specialized Technology to Advance and Renew Teaching and Learning (START-L), will serve to enhance retention, academic programs, faculty and student learning resources and support, and integrated technology and advising systems. This is the largest federal grant that NDMU has received in its now more than 125-year history.
Over five years, the START-L program will expand academic enrichment resources to serve all of NDMU's Women's College, enhance academic support with new advising technology, and also provide professional development opportunities for faculty and staff in working with diverse populations and first-generation students.
NDMU shares support for the program of 9% of the total project value, or $214,080, over the life of the grant. The U.S. Department of Education supports 91% of the total project. The total START-L programs reflects $2,315,390 in federal and non-federal support.
President Yam Featured as a "CEO you Should Know"

iHeart Radio interviewed NDMU President Marylou Yam on its "CEO's You Should Know" feature. During the interview President Yam discussed the value of a well-rounded education, the need for a Women's College in today's world and how NDMU is responsive to its community and workforce demands while staying true to its mission.
Opioid Crisis in Baltimore Featured in New Gormely Gallery Exhibit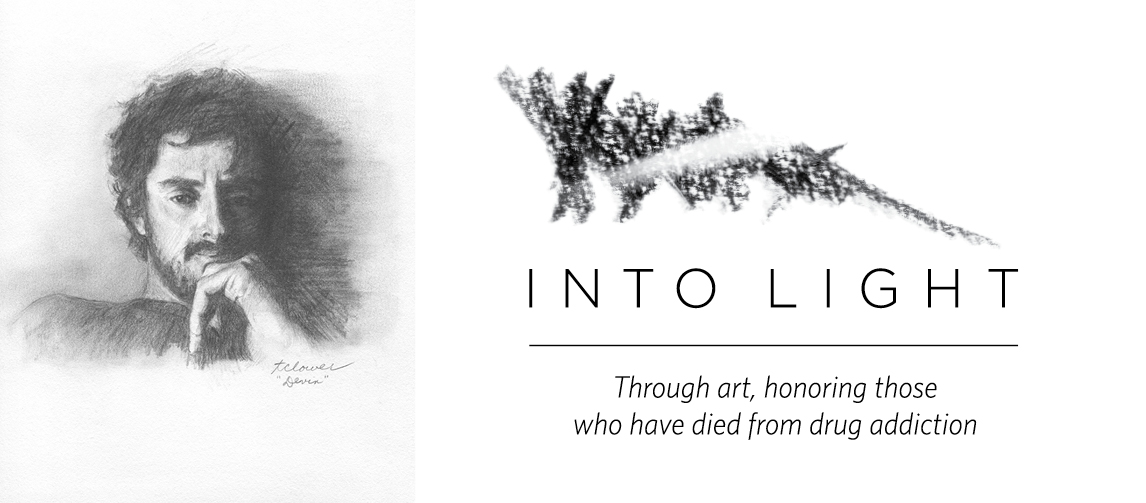 INTO LIGHT, the latest exhibition in the Gormley Gallery (in NDMU's Fourier Hall) documents through personal portraits the tragic loss of human life caused by the drug addiction crisis in Baltimore. The exhibition features the work of artist Theresa Clower, who lost her own son to an opioid overdose, and who is using art to ease her pain and connect others who have experienced similar loss. Clower has created graphite portraits of 40 Marylanders lost to drug addiction. Through art, INTO LIGHT honors and celebrates those individuals, bringing light to their lives, rather than the darkness surrounding their deaths.
The exhibit is open now through November 22 with a free and open reception on November 2, 4-6:00 p.m. in the gallery.
What Issues Are Important to Women? To you? Come to the next WOW Think-in and share!
NDMU is once again presenting WOW-Women of the World Festival Baltimore which will take place on March 7, 2020. In the meantime, the NDMU team, headed up by Maricka Oglesby, director of WLIB, needs your input on festival programming. Come share your thoughts at our NDMU Think-in on November 16, beginning at 10:00 a.m. to 12:00 p.m. This comprehensive brainstorming session is open to the public and will serve as an opportunity to talk about what topics, people, or issues should be featured at WOW Baltimore 2020.
Contact Maricka for more details: moglesby@ndm.edu.
NDMU's Copeland Theater Takes on a Musical
This fall, NDMU features racing hearts, sweaty palms, fluttery stomachs and lots of laughs as the Copeland Theater presents the Broadway hit, The 25th Annual Putnam County Spelling Bee. Performances run November 1 – 3. We caught up with Director Ann Turiano and got the inside scoop:
Student Athletes at NDMU Excel
Four more student-athletes were named to the Colonial States Athletic Conference (CSAC) Weekly Honor Roll on October 21, which brings the 2019 fall season count of honorees up to 35. The Gators have received a weekly honor in all eight weeks of the fall season, with two weeks left to play in the regular season. With the count now up to 35, Notre Dame has surpassed their record-breaking 2018 fall season by 10. On a week-to-week basis, the Gators are averaging over four honorees a week including eight CSAC Player of the Week and six CSAC Defensive Player of the Week recognitions. The field hockey, soccer, and volleyball teams are all in playoff contention with a couple conference games remaining in the regular season.
NCAA Recognizes Great Work by NDMU Athletics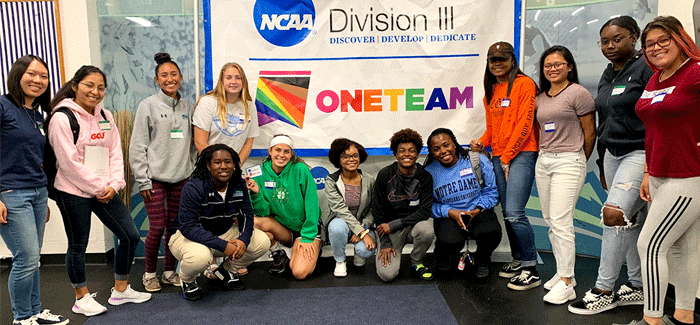 Notre Dame of Maryland University (NDMU) Department of Athletics was selected as the September Division III Diversity Spotlight Initiative. NDMU received this recognition from the NCAA after their successful OneTeam Week was celebrated on campus.
Full Story: NCAA Diversity Spotlight
---
Loyola Notre Dame Library News
What is going on at the LND Library? A lot!
LNDL Online Copyright Workshops
The Loyola Notre Dame Library will offer a series of online copyright workshops throughout the fall semester.
Copyright or Copyleft? Making Sense of Creative Commons: Wednesday, October 30, 3-4:00 pm
Author's Rights and Publication Contracts: What to Know Before You Sign: Wednesday, November 13, 3-4:15 pm
For more information or to register visit the Copyright Information Center.
LNDL Fall 2020 Pop-Up Class Series
The following pop-up classes are open to the Notre Dame community. If you have any questions, ideas for potential pop-up classes, or would like to teach a future class, contact Matthew Treskon at mtreskon@loyola.edu.
Metal Art Welding
Date: Wednesday, Nov. 4-8, 2019, 5:00-8:00 p.m.
Location: DS 0403
Instructor: TBD
Have you ever seen a metal sculpture while walking around town and wondered how it was made, or wanted to make one yourself? You can learn! The Engineering department of Loyola offers Welding Pop-up Training in Art Metals (metals Sculpture)!
Creating 360 Degree Videos for Teaching
Date: Thursday, Dec. 5, 2019, 6:00-7:00 p.m.
Location: LNDL IdeaSpace/Innovation Station
Instructor: Zulma Jimenez
Participants will learn some examples of how people have used 360o videos in education, how to create and stitch 360o videos, how to upload them in YouTube, and how to watch them using the Oculus Rift or Google Cardboard. This class is for beginners only. The goal of the class is for the participant to gain ideas on how to use 360o videos in their teaching.
News by School
School of Arts, Sciences, and Business
Biology Students Receive National Award at Research Conference
Sarah Sweet '21, received the John Pless Best Student Presentation at the recent National Association of Medical Examiner's Annual Meeting in Kansas City, MO. Sarah is studying biology and has been working on research this semester with Dr. Russell Alexander, a forensic pathologist at the Office of the Chief Medical Examiner for Maryland. They are focusing on the effects the death of Freddie Gray had on homicides and drug-related deaths in Maryland. She uses a geographic information system to map and interpret deaths in the context of Freddie Gray and the associated uprisings. The research includes collaboration with the Baltimore City Police Department and agents at the Drug Enforcement Administration.
Keira Mull '20 won the first prize in the Biological Sciences category at the Undergraduate Student Research Symposium held at UMBC this fall. Keira is studying biology. Uloaku Onwumelu '20 also presented her research. Both students studied abroad for biological research at Yeungnam University in South Korea last summer.
Art Therapy Celebrates
The American Art Therapy Association (AATA) is celebrating their 50th Anniversary this year! Art Therapy Program Director, Cathy Goucher, and NDMU Graduate Art Therapy Associate Faculty, Julia Andersen, will be representing the Program within the Coalition of Art Therapy Educators. NDMU Art Therapy Graduate Program Associate Faculty, Elizabeth Hlavek, Peggy Kolodny, and Amanda Bechtel will be presenting a paper, workshop, and advanced practice course respectively at this year's conference in Kansas City, October 30 through November 2. AATA Board Member, Professor Hlavek will also preside as Speaker of the Assembly of Chapters meeting at the conference
The Art Therapy Program is growing! We are thrilled to be educating 13 art therapy graduate students now and to have 11 in the Women's College major! We are also pleased to continue building a robust network of practicum/internship sites across the region, including special education sites, medical and mental health facilities, hospice and elder care facilities, and community-based organizations meeting the needs of individuals experiencing homelessness, addiction, and trauma.
Faculty Accomplishments Make Us #NDMUProud
Dr. Charles Yoe, Department of Business and Economics, SOASB was placed on the Fulbright Specialist Roster for a tenure of three years by the U.S. Department of State's Bureau of Educational and Cultural Affairs (ECA) and World Learning, effective October 11, 2019.
Dr. Charles Buehrle, associate professor of mathematics has two research articles accepted for publication. They include, "Cycles in the burnt pancake graph" in Discrete Applied Mathematics (with Saúl Blanco and Akshay Patidar) and "On the number of pancake stacks requiring four flips to be sorted" in Discrete Mathematics & Theoretical Computer Science (with Saúl Blanco and Akshay Patidar).
Dr. Jennifer Wester, assistant professor of art history presented at the Southeastern College Art Conference in Chattanooga, TN, on October 18. Her paper, "Yves Klein's (Im)materiality," is part of the session Material Obsessions in Postwar Art, chaired by Roja Najafi, Curator of the Oklahoma City Museum of Art.
School of Education
School News
Dr. Katherine Beauchat's class EDU-303/EDU-510 Elementary Reading Materials has partnered with Tunbridge Charter School and Hannah Cook, AmeriCorps VISTA & YES Program Coordinator here at NDMU to develop a lending library for its Pre-K class. The partnership is named "Book Buddies."
Each NDMU student in the Elementary Reading Materials class created a "Book Buddies Bag" that contains a children's book along with supplementary literacy materials and activities for the children to take home every week to complete with their families. The Pre-K students will have a new book bag to take home every week. The bulk donation of bags will take place on October 25.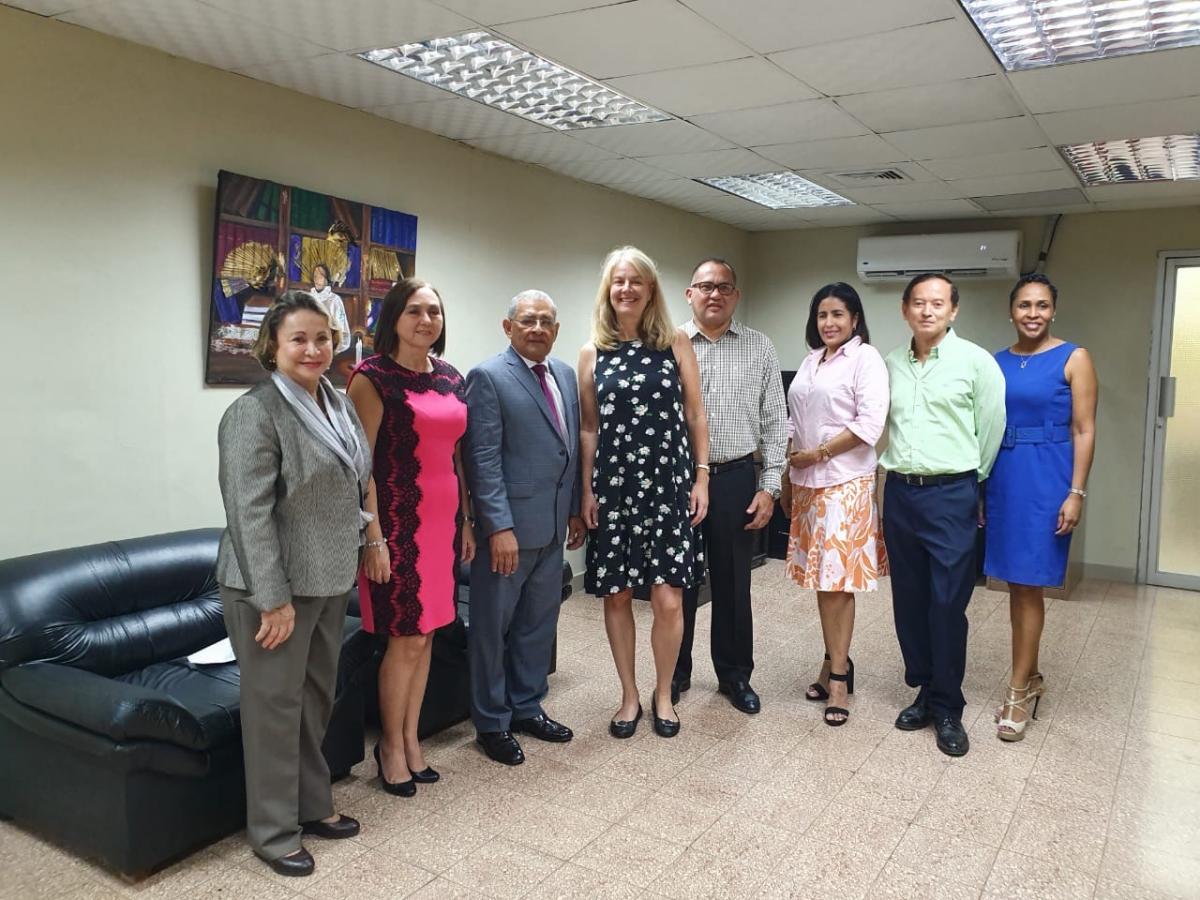 In September, Dr. Christa deKleine gave an invited talk to the English faculty at the University of Panama titled: "Applying L2 acquisition theory in English language teaching at the university level in Panama: Challenges". In addition, Dr. deKleine presented with Dr. Ricardo Acosta, "Second language acquisition theory and its implementation at Panamanian universities" at the Annual TESOL Congress in Panama City, Panama. Both talks were the result of a CFRD-funded research project that investigated the knowledge and beliefs regarding second language learning and teaching of faculty on English Departments at various universities in Panama, including perceived challenges unique to the Panamanian setting.
Faculty Accomplishments
At the National Council for Teachers of Mathematics Regional Conference held in Nashville, TN this month, Dr. Angela Snyder and Dr. Lisa Pallett delivered a seminar called, Supporting Teacher Candidates on Math Task 4 of the edTPA. Dr. Pallett also conducted a second session called, Adding More to Subtraction: Supporting a Variety of Addition and Subtraction Problem Structures.
Dr. Christa deKleine has been invited to serve as a linguistic diversity specialist on a featured panel at the Conference on Acceleration in Developmental Education (CADE): 2019 Mid-Atlantic Teaching & Learning Summit to be held at CCBC on Nov. 8. She will also be presenting a paper co-authored with Dr. Rachele Lawton that is part of a larger project that investigates the attitudes and practices of community college instructors regarding linguistic diversity.
Dr. Katherine Beauchat attended the recent Reading League Conference in Syracuse, NY, where she presented Word Walk Plus: Investigating the Effectiveness of Explicit Vocabulary Instruction in Primary Grade Read Alouds to classroom teachers, reading specialists, literacy coaches, academic coaches, and literacy researchers from around the globe who participated in this conference.
Angelo Letizia's proposal "Drawing Citizenship: Using the Comics Medium for Academic Research on Citizenship" has been approved for inclusion in the Comics and Comic Art Area of the Pop Culture Association's (PCA) annual National conference. This year the conference will be held in April in Philadelphia. Letizia will explore how faculty can use the comics medium to present facets of their research, especially faculty whose research focuses on citizenship concerns.
School of Nursing
Advocacy to Action: AACN Legislative Priorities for Capitol Hill Visits
Kathy Wisser, Dean of the School of Nursing recently attended the American Association of Colleges of Nursing (AACN) annual academic leadership meeting. More than 800 Deans and Associate Deans from AACN member schools of nursing come together each year in Washington, DC to discuss organizational and legislative priorities as well as opportunities impacting nursing education. Built into the conference agenda is an opportunity to visit state senators and representatives. AACN staff, in collaboration with Stephanie White, at the University of Maryland arranged visits with legislative staffers for Senators Ben Cardin and Chris Van Hollen Jr. and Representatives Dutch Ruppersberger (D-MD-02), Elijah Cummings (D-MD-07), and John Sarbanes (D-MD-03). The visits culminated in a reception where Lauren Underwood, House Representative 14th District of Illinois and past intern at AACN read a statement that will be added into congressional record for AACN's 50th Anniversary.
The picture shows Congresswoman Underwood along with (L-R) Tracey Murray, Dean, School of Nursing, Coppin State University; Kathleen Wisser, Dean, School of Nursing, Notre Dame of Maryland University; Jeffrey Willey, Director, School of Nursing, Salisbury University; and Mary Etta Mills, Interim Dean, UMSON. Representative Underwood is a registered nurse who worked at Johns Hopkins University and was appointed by former President Obama to serve as senior advisor at the U.S. Department of Health and Human Services. She is the first woman, person of color, and millennial to represent Illinois' 14th Congressional District.
School of Pharmacy
Student Accomplishments
Adam Diallo '21 was named recipient of the Pharmacy Quality Alliance - CVS Health Foundation Scholars for 2019-2020. This is the 4th year of this program which supports a Doctor of Pharmacy student to complete a quality improvement project with a faculty mentor during the academic year. Adam is one of only nine recipients nationally.
Kofi Andoh '21 was invited to the prestigious Accreditation Council for Graduate Medical Education (ACGME) headquarters in Chicago for a spring 2020 storytelling forum sponsored by the National Academy of Medicine (NAM). He was 1 of 5 selected participants and the only pharmacy student in the nation who was invited.
Faculty Accomplishments
Dr. Christine Skibinski, a faculty member in the Department of Pharmaceutical Sciences received a patent based on work from her post-doctoral fellowship, "Acid Stable Liposomal Compositions and Methods of Producing the Same."
Events
October 29
Responsive Art-Making Workshop
12:15 – 1:30 p.m., Fourier 207
Offered in conjunction with the exhibition INTO LIGHT at Gormley Gallery | Led by Art Therapy majors
---
October 30
Visiting Ambassador Lecture: H.E. Hunaina Sultan Al Mughairy
1-2:00 p.m., Knott Auditorium
Hear H.E. Hunaina Sultan Al Mughairy discuss Oman-US Relations and the Oman-US Free Trade Agreement. Following the lecture, there will be a reception in Noyes House from 2:00-2:30 p.m.
---
October 31
Phantom Jobs Workshop
4-5:00 p.m., MBK Seminar Room
Postings for supposed job openings are sometimes not what they seem. They can be a source of ongoing frustration for many job seekers, and there are various reasons why they exist. Join us as we discuss how to avoid these postings and dedicate your time wisely to real job opportunities. Register on Handshake.
---
November 2
STEM Family Fun Fair
9:00 a.m. – 12:00 p.m., Fourier Hall
Bring the whole family for a series of fun-filled drop-in events that give kids (Pre-K through 12) an opportunity to collaborate with one another to solve engineering and design tasks. This event is sponsored by NDMU's School of Education and is run by the Leadership in Teaching: STEM program's faculty and students. It is part of the annual Maryland STEM Festival.
---
November3
Twilight Retreat: Deepening Our Spiritual Lives
9 – 11:00 p.m., Meditation Chapel
Dr. Mari Rapella Heidt will be facilitating the topic: "Finding our Mentors." Snacks will be provided.
---
November 4
Elevator Pitches & Business Cards
4:30 – 6:30 p.m., Rice Lab 102
Learn how to make a quick impression where Career Center staff will help students practice their elevator pitch and print business cards. Register on Handshake.
---
November 12
Oh, the Places You'll Go; What Can I Do with My Major Workshop
4 – 5:00 p.m., MBK Seminar Room
Whether you're exploring majors or searching for information about your chosen field, this workshop will help you connect majors to careers!
---
November 13
The Opioid Crisis and Paths to Healing: A Panel Discussion on Drug Addiction
6:30-8:00 p.m., Gormley Gallery
A panel discussion with opioid experts offered in conjunction with the exhibition INTO LIGHT at Gormley Gallery. It is free and open to the public.
---
November 20
Culture Day Celebration
3:30-5:30 p.m., Gator Alley
Hosted by ELI, take a "tour around the world" and enjoy the sights, sounds, and tastes from more than 20 different countries! There will be prizes, refreshments, music, and more! All are welcome.
Naloxone Training
4:30-6:00 p.m., Fourier 103
This training is offered in conjunction with the exhibition INTO LIGHT at Gormley Gallery and is free and open to the public. RSVP is required. Contact gormleygallery@ndm.edu to reserve a spot.
---
November 22
Tour a Business: PepsiCo
10:00 a.m.
Student join the NDMU Career Center as we tour PepsiCo. We will see how an automated shipping and logistics center for beverages that are beginning their journey to merchandisers works. The bus departs campus at 10:00 a.m. Register on Handshake.
---
December 7
Mindful Mending
1-3:00 p.m., Fourier Hall
The NDMU Art Therapy Program is sponsoring a fibers-based workshop "Mindful Mending" in Fourier Hall. It is open to all students, faculty, and staff. It will be led by Virginia art therapist and George Washington University Art Therapy Program faculty, Jennifer Baldwin, MA, ATR-BC, LCPAT. See more information.
---
Now through December
Learn How to Use the NDMU Multimedia Center
Mondays, through December 9:00 a.m. – 2:00 p.m.
Drop - In Sessions: In the new NDMU Multimedia Studio! These one-on-one introductory sessions occur in 30-minute blocks, on the half hour. You have the opportunity to drop-in and get assistance with various technology tools available to you, assistance in enhancing education with technology, you can also pick up tips and tricks to create effective educational multimedia.
Features one-on-one training: Joule Course Clean-up, Multimedia for Education, Use the Multimedia Studio and Video Light Board, Create Animated Videos (the easy way), and much more
Dates/Times: Drop in to University Academic Building 121 on Monday between 9am and 2 pm
Keep an eye on the Multimedia Studio Calendar, for any schedule changes.
---
March 7, 2020
WOW – Women of the World Festival Baltimore
NDMU will once again present WOW – Women of the World Festival Baltimore. The festival celebrating women will take place at Baltimore's Columbus Center and feature workshops, panel discussions, interactive learning opportunities, entertainment and more.