The Bulletin is published every month for faculty, staff, and students.
---
September 2018 Contents
NDMU News
Welcome to the 2018-2019 School Year
Watch out NDMU the class of 2022 has officially arrived, and it's the largest in school history! This year NDMU is proud to welcome 251 new students.
On August 23, many of those students moved onto campus. Following move-in, new students attended the Cap and Gown Investiture Ceremony in Le Clerc auditorium during which all new students take the Honor Pledge and make a commitment to uphold the standards of being a Notre Dame woman.
However, this was only the beginning of the itinerary for new students. Among the orientation events, new students went through round robin sessions to learn everything from respecting new classmates' backgrounds to workshops that discuss the dangers of unhealthy relationships.
In addition, new Gators took part in the Amazing NDMU Race - a scavenger hunt, which allowed students to learn their way around campus. It was followed by an ice cream social under the gazebo.
On August 25, the campus welcomed returning students for the official start of the "Welcome Week" festivities. There was a Glow in the Dark Back to School Bash, complete with carnival food; and, because of the heat, there was also a water balloon fight and a slip n' slide. For those looking to relax before classes started, there was morning yoga under the NDMU arch and for those looking to get off campus they took in an Orioles/Yankees game at Camden Yards.
After a week of game nights and movie showing, "Welcome Week" concluded with a block party that featured dessert food trucks on campus!
To relive the memories, check out our Facebook page for pictures of move-in day, the Cap and Gown Investiture and a video of both events.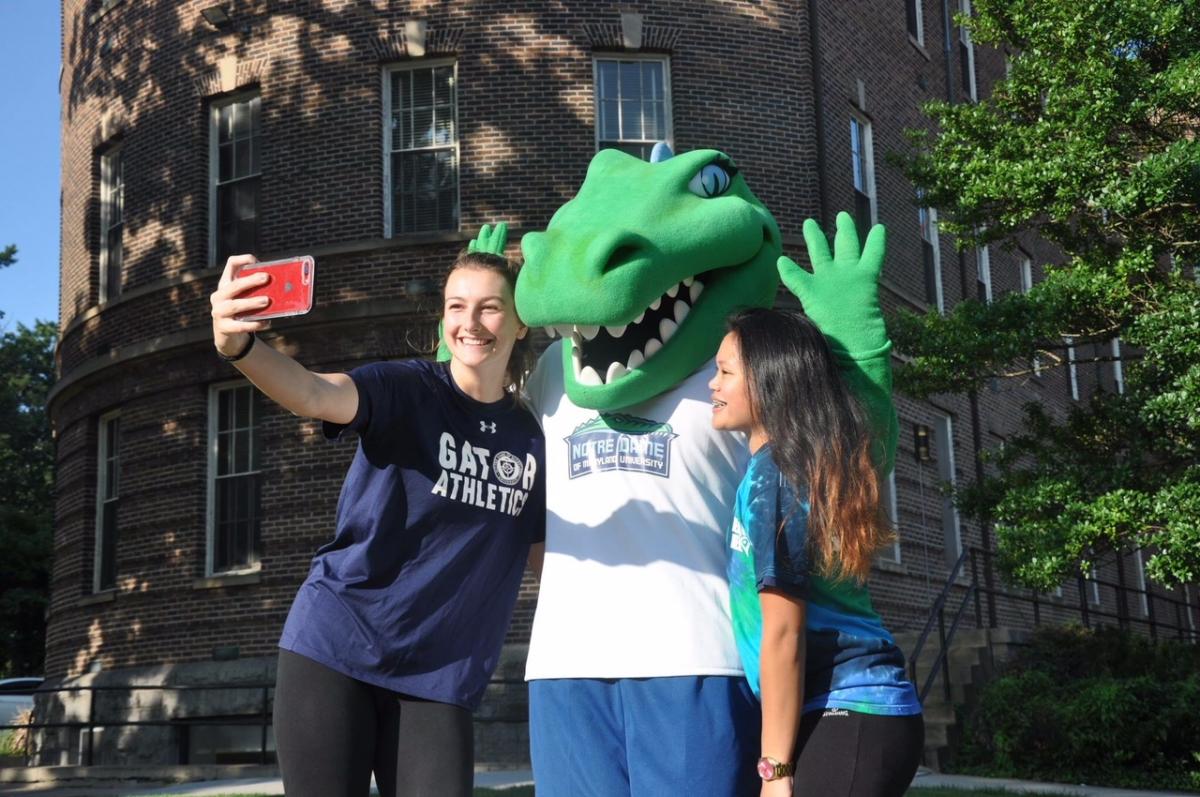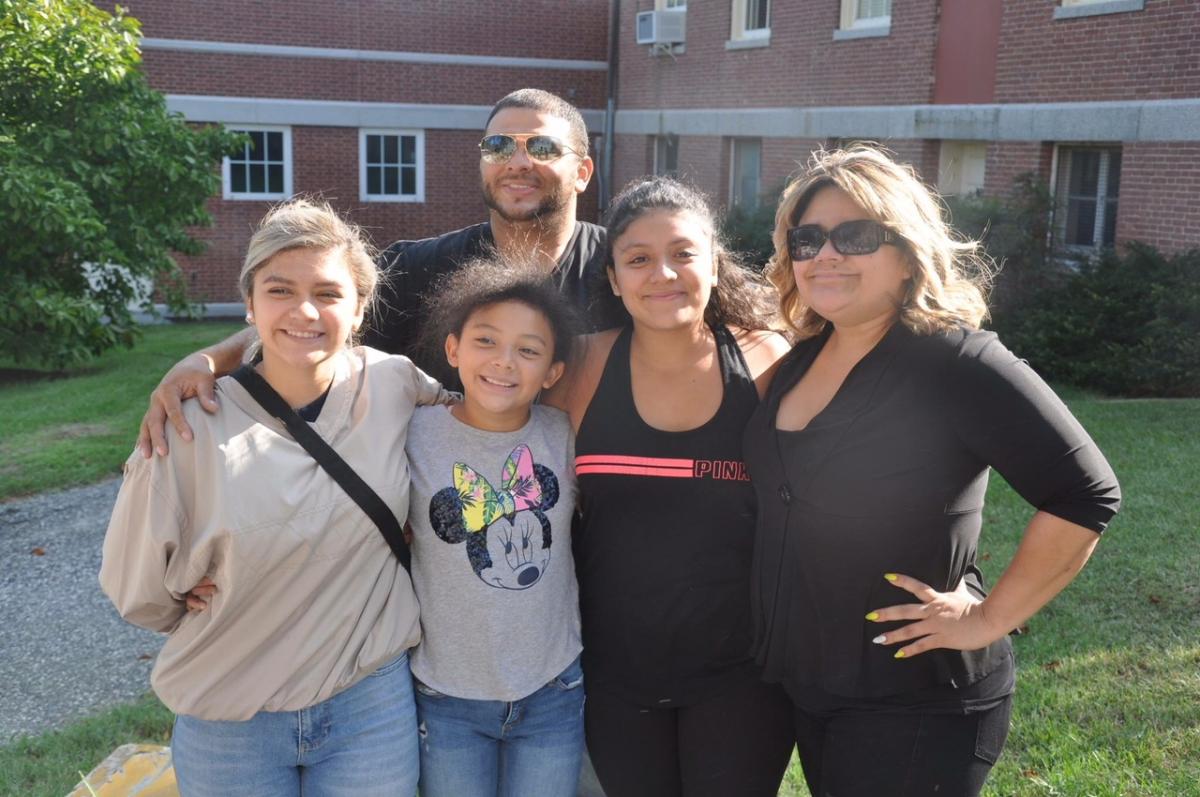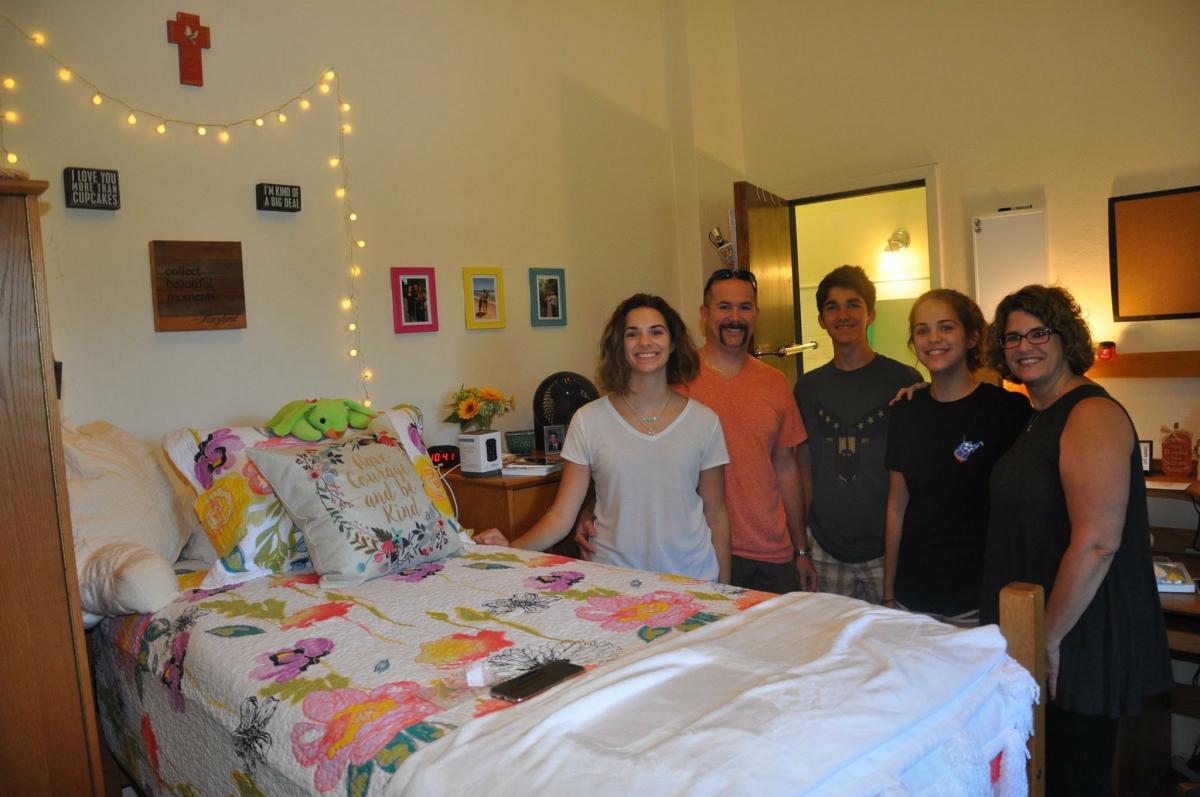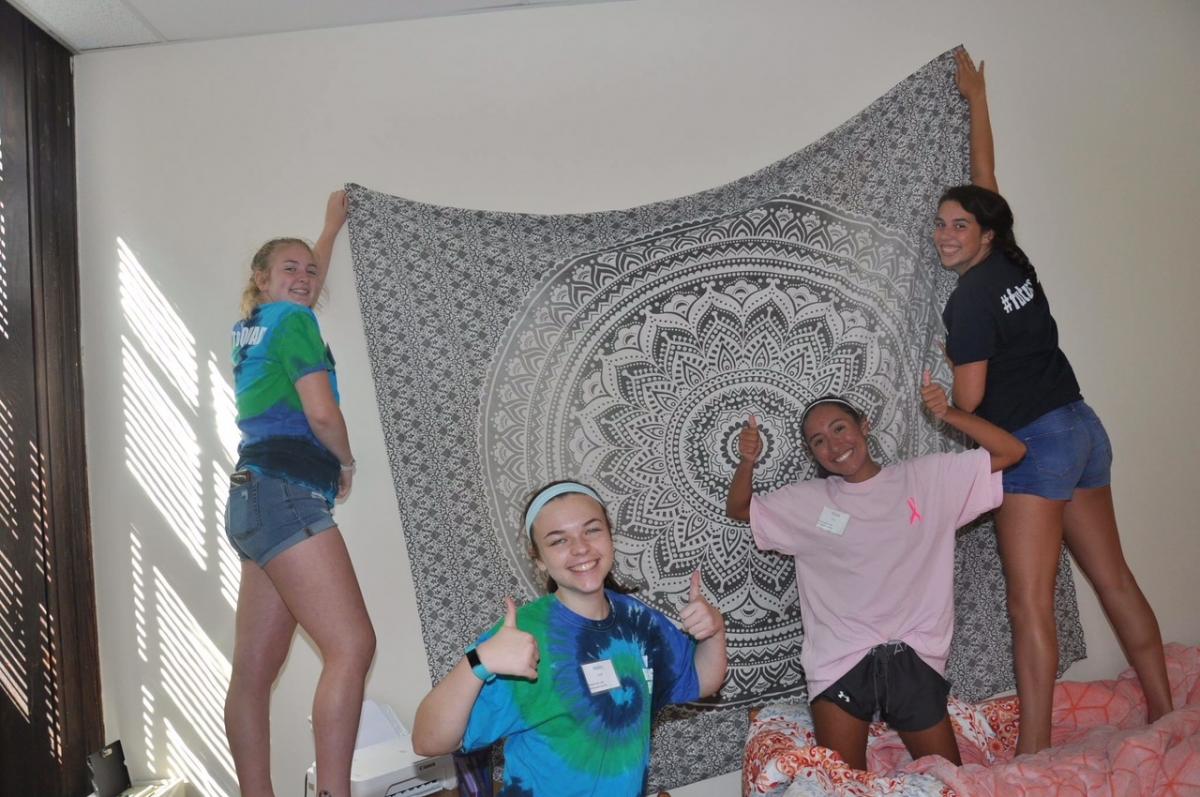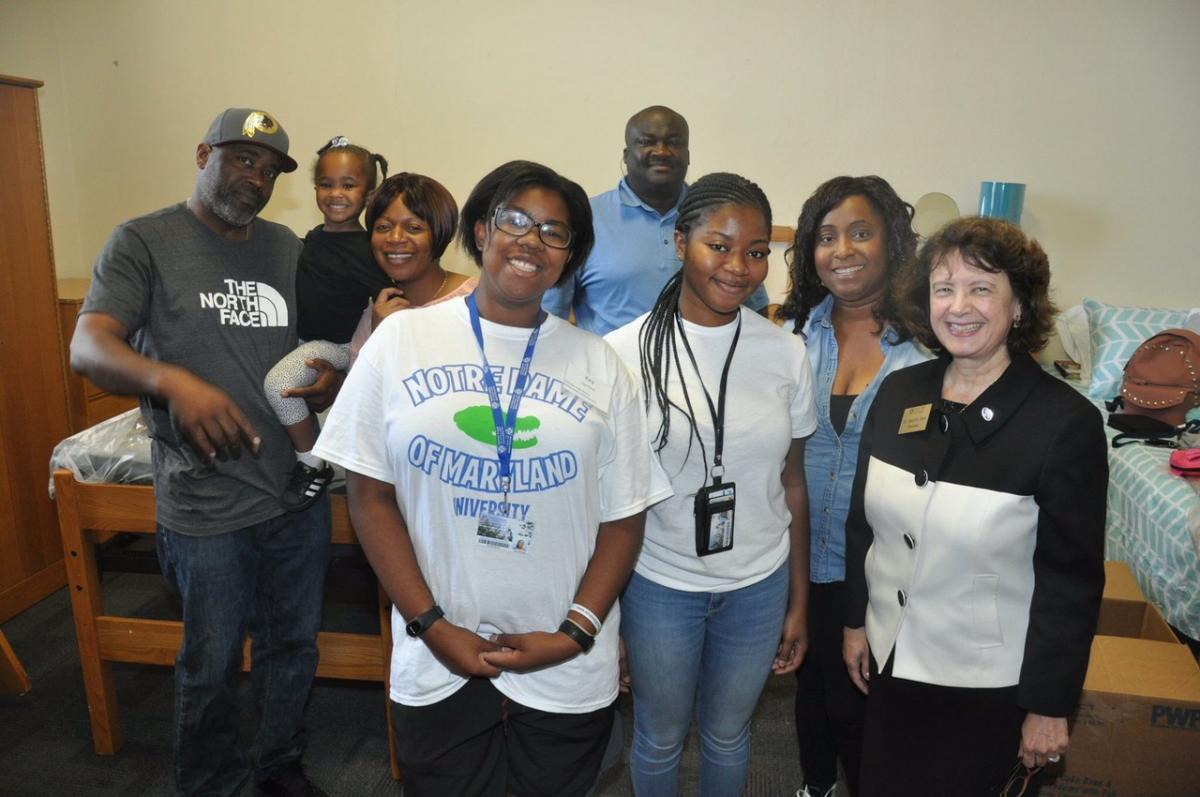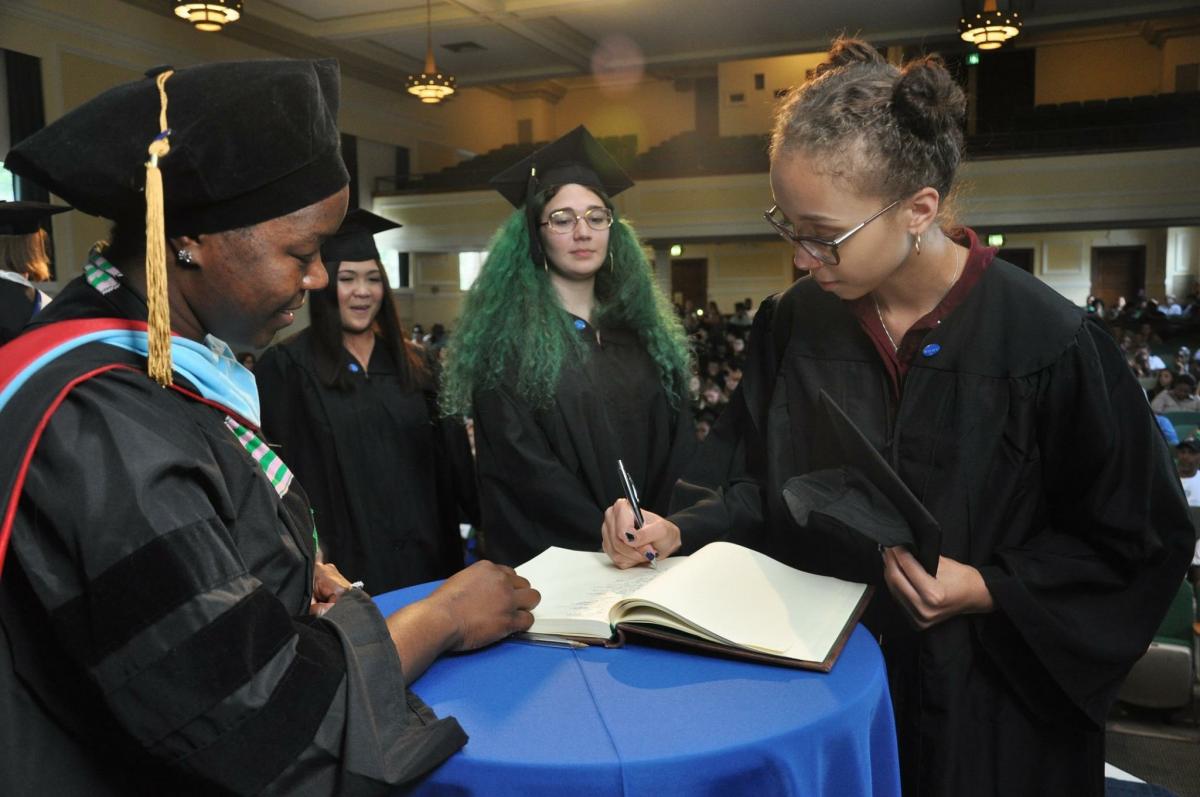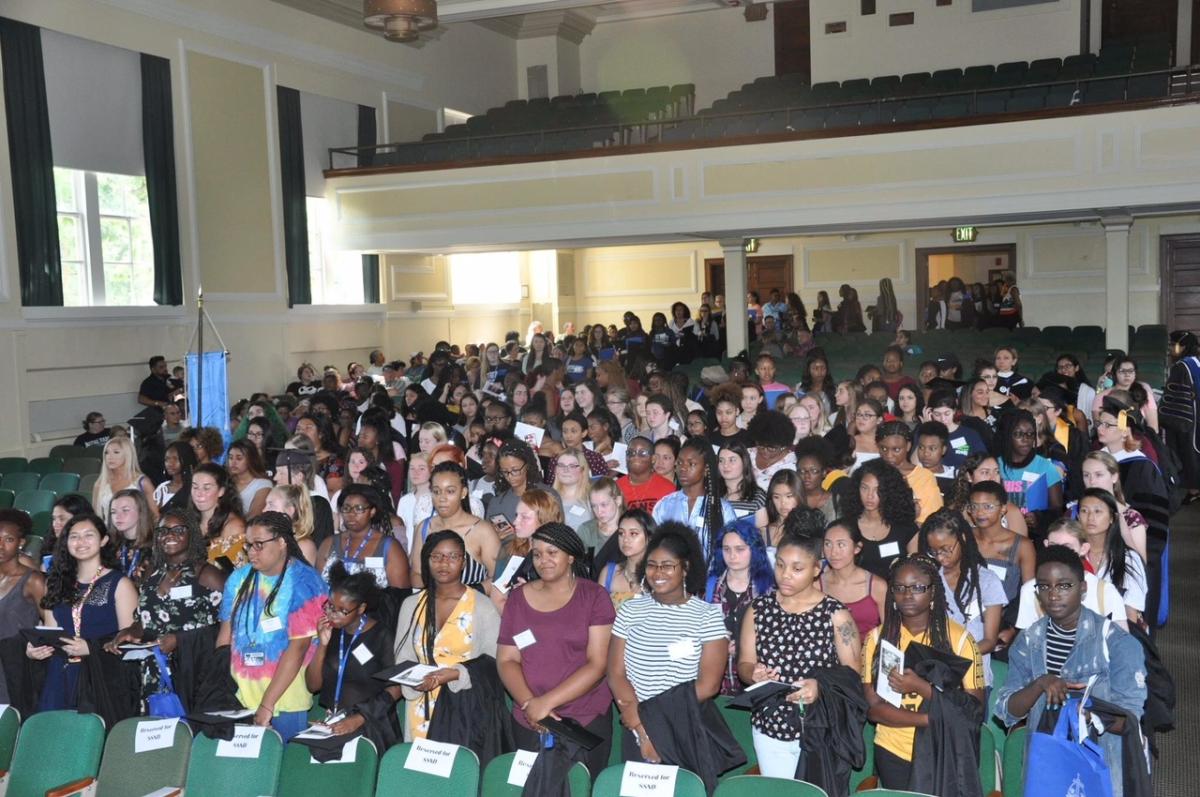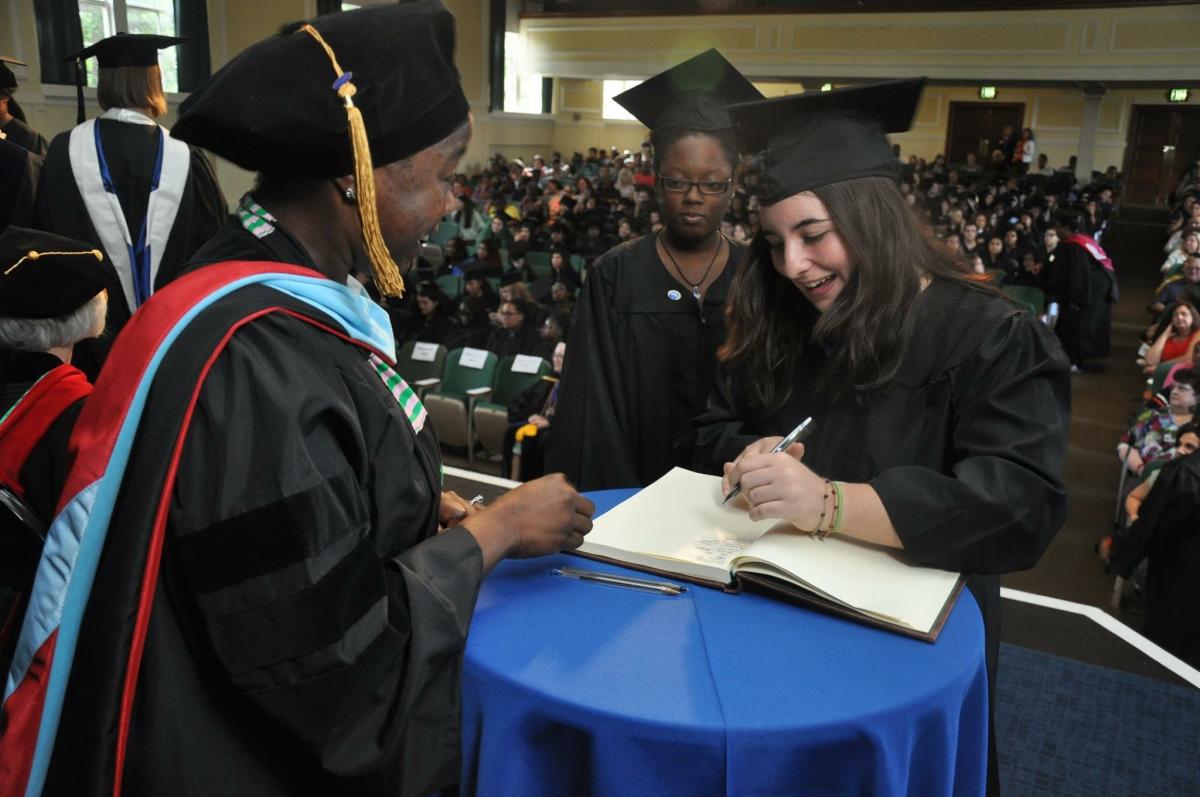 ---
Gator Fest 2018
Students and community members are expected to turn out for the third annual Gator Fest, being held September 29. The event will feature all sorts of fun fall activities including pumpkin painting, a photo booth, lawn games and for those over 21 a beer and wine tasting. The event is sure to be a lot of fun and we've even heard that Gabby Gator may stop by.
For more information check out the events section of Bulletin or go to the Gator Fest website.
---
Gator Grind
The Gator Grind is up and running. The cafe, which proudly serves Starbucks coffee began operations for the 2018-2019 school year at the end of August.
As for this semester's hours, Gator Grind will begin be open:
​​Monday and Fridays - 8 a.m. - 3 p.m.
Tuesday through Thursday: 8 a.m. - 6 p.m.​​
---
Common Read Selection Available Now in Bookstore
The 2018-2019 common read selection is Girls Like Us, written by Rachel Lloyd is now available in the bookstore.
Every year, the University selects a novel for the entire NDMU community to read. Girls Like Us was chosen because it aligns with the Missions' of the University and the School Sisters of Notre Dame to promote the advancement of women and promote social responsibility. The "Common Read," as it's deemed, creates a unifying and enlightening experience for all—especially our first-year Women's College students in their introductory seminar, NDMU 100.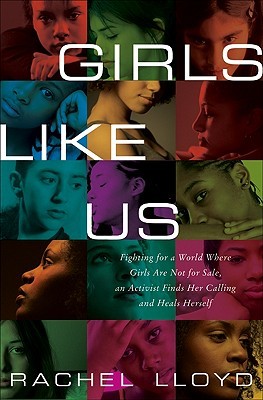 The book chronicles Lloyd's own escape from the commercial sex industry and her resulting formation of New York City's GEMS, Girls Education and Mentoring Service. Girls Like Us is Lloyd's first publication, and it is an awe-inspiring intercultural read for students, faculty, staff, and alumnae and alumni.
In addition, Ms. Lloyd will take part in a discussion with our community on November 7, in LeClerc Auditorium. She will discuss everything from her own experiences, her efforts to stop sex trafficking to her appearances and statements to the United States Senate Judiciary Subcommittee on Human Rights and the Law in order to combat child sex trafficking and prostitution.
---
Trailblazers, Paving the Way
This academic year, the University welcomed nearly 160 first-generation students – meaning neither of their parents have a 4-year degree. Each student is eligible for the Trailblazers Scholars Program.
In an effort to provide further support outside of existing Trailblazers programming, the I'm First Initiative was launched last month. The campus wide initiative allows first generation faculty and staff to self-identify and volunteer to put an "I'm First" poster in their office and wear a button.
The initiative does not require any additional training but will allow students to have another point of contact for resources and support on campus. Each faculty/staff member will have the opportunity to connect and interact with the Trailblazers via programming throughout the academic year. Please consider wearing your pin during campus event to let our community of scholars know that they have your support.
To request a pin and poster, or for more information, contact the Director of the Trailblazers Program, Tiffany Lathan Smith.
---
Sports
Volleyball Digs in for the 2018 Season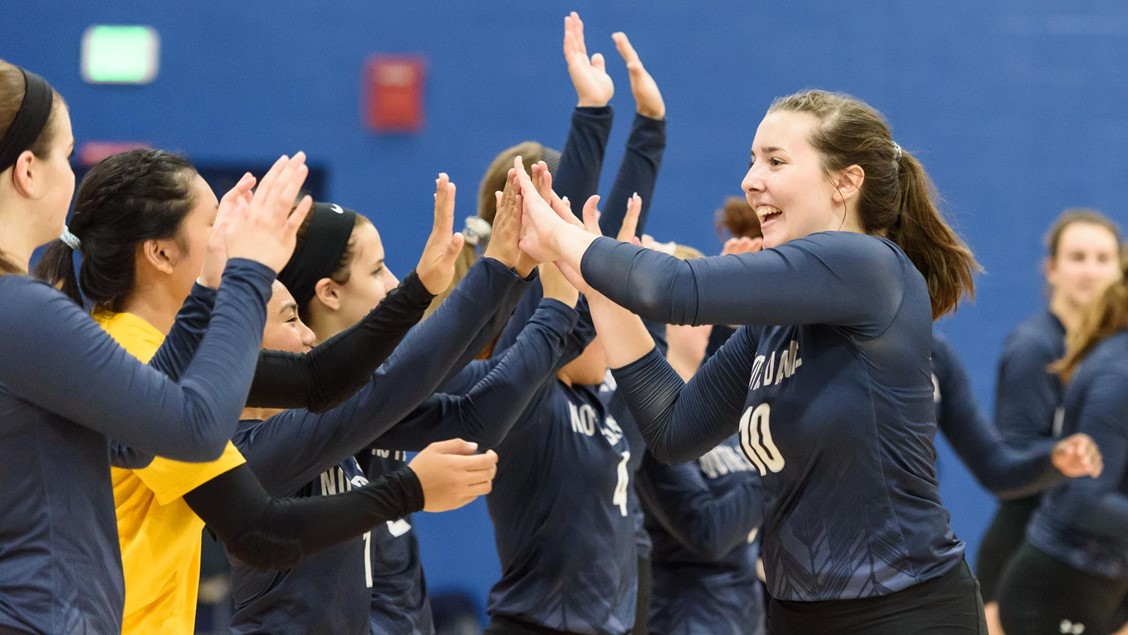 Good news for NDMU's volleyball team. Our Gators have started the season 7-0. Right now, the team is currently ranked No. 1 in the CSAC standings.
Coming into the season, the Gators were ranked No. 2 in the CSAC preseason coaches' poll behind Keystone College. This is the highest ranking since joining the conference in 2007. With seven returning players and six new players, the Gators have their sights set on a Conference win. They play their first CSAC game away against Centenary University on Sept. 22.
In addition to volleyball, our Gator soccer team has kicked its way to a 2-1 record. As for field hockey and cross country, both are trying to pick up their first wins.
Game times and schedules for all sports can be found at the Gators website.
---
Loyola Notre Dame Library News
Library Open House on September 26, 2-4 p.m.
The Library is holding an Open House on Wednesday, September 26, from 2-4 p.m. on the main level. Check out the new Makerspace technologies (including virtual reality), group study rooms, new furniture, and more. If you're wondering who the library staff are, and how they can help, this is the time to find out. Library staff will be on hand to walk you through services and resources. Come enjoy demos, games, prizes, refreshments…there will be something for everyone! Click here to RSVP.
Please contact Lorena Dion at ldion@ndm.edu or 410.617.6814 with any questions.
New Library Databases
The Library is pleased to offer several new databases this fall, including:
Computer Science eBook Collection
Gun Regulation and Legislation in America
Mergent Intellect (Note: Mergent Intellect also includes all data currently available through Hoovers. Hoovers will be sunset by the vendor in December 2018.)
ProQuest Historical Newspapers
Slavery in America and the World: History, Culture & Law
Click on any of the links above to access the databases. From off-campus, you'll need to log in with your Notre Dame campus credentials.
Copyright Workshops
The following copyright workshops are being offered during the Fall 2018 semester. For more information and to register, visit the link for each workshop.
Copyright Crash Course - September 21, 3:00-4:30 pm
Fair Use in Depth - October 5, 3:00-4:30 pm
Copyright or Copyleft?: Making Sense of Creative Commons - October 26, 3:00-4:00 pm
Author's Rights and Publication Contracts: What to Know Before You Sign, November 9, 3:00-4:30 pm
To request a workshop or in-class instruction, contact Danielle Whren Johnson at dwhren@loyola.edu.
---
News by School
School of Arts, Sciences, and Business
Faculty Accomplishments
This summer, Associate Professor of Mathematics Dr. Kristyanna Erickson gave presentations and training seminars on Using ALEKS in Developmental Mathematics at Gallaudet University in Washington, D.C.
School of Education
Faculty Accomplishments
Dr. Katherine Beauchat has produced a new manuscript, 5 Tips for Powerful Word Instruction; it was just accepted for publication by the New Teacher Advocate journal. It's slated for the Fall 2019 issue.
In addition, Dr. Beauchat, was recently accepted to present at two conferences: the New York State Reading Association Conference in October 2018, and the National Reading Recovery & K-6 Literacy Conference in February 2019. She was also requested to write for the National Reading Recovery's blog which she will do in preparation for the conference as well as a follow-up post-conference. Her presentation is entitled "The Word Walk Strategy: Developing Young Children's Vocabulary through Rich Discussion and Extension Activities."
Carol Rabin recently received a $38,000 IDEA Discretionary Grant award from the Maryland State Department of Education, Division of Special Education and /Early Intervening Services. The title of the project is Building Capacity of General Educators to Improve Outcomes for Students with Disabilities in Diverse and Inclusive Schools. Carol will be sharing more about this award during the next SOE faculty meeting; i.e., to describe the project and ways interested faculty could contribute to its success/impact.
Sr. Mary Fitzgerald will present to the Superintendents of Catholic Schools across the nation at the Catholic Leadership Summit in Jacksonville, Florida next month. The event is sponsored by the National Catholic Educational Association, her presentation topic will be: Catholic Social Teaching: a Guide for Policy, Protocol, and Practice.
Dr. Angelo Letizia was asked to be a program chair for the Assessment and Measurement Group (known as SIG 64), for the 2019 AERA conference,. In this role he will help coordinate and oversee all the submissions to the group. All summer he was busy working with other leaders of the SIG and have been helping to get things ready for the 2019 meeting in April, in Toronto. In addition, Dr. Letizia participated in PDS training and in a Social Studies SPA webinar. He will be assuming responsibilities as a PDS liaison and for the SPA (which Dr. Spratt has managed for many years).
Juliann Dupuis will be presenting at the North American Association for Environmental Education conference in Spokane Washington in October with Dawn Martin, Kelly Bull and a former student Kim Chrystal. Their respective presentations are: More Than a Metaphor: Human Impact, Drowned Cities, and Social Justice (Juliann and Kelly) and Making EE Accessible for All Students: A Special Education Investigation (Juliann, Dawn and Kim).
School of Nursing
Student Accomplishments
Here is proof that Notre Dame prepares our students for the working world. Congratulations to the following students for receiving and accepting placement in area hospitals:
Elizabeth Brooks - OR, Franklin Square Hospital
Valentina Canchanya – Labor & Delivery, Johns Hopkins Hospital
Kirsten Chrest - Labor & Delivery, Mercy Hospital
Madalyn Dewling - ED, Children's Healthcare of Atlanta, GA
Karla Medrano - Labor & Delivery, MedStar Harbor Hospital
Ellysia Mohammed - PACU, MedStar Union Hospital
Keisha Moss - MICU Stepdown, Franklin Square Hospital
Alondra Paz - Labor & Delivery, Holy Cross Hospital
Alexis Thompson – PICU, Johns Hopkins Children's Center
School of Pharmacy
School Award
Baltimore County Department of Aging presented the Legacy Partner Award to the School of Pharmacy for its sustained commitment and service to geriatric clients in Baltimore County. The award was presented at its annual luncheon on May 17, 2018.
Faculty Publications
Dr. Jennifer Bailey, Assistant Professor of Clinical & Administrative Sciencespublished "New Initiatives for HIV Taking Off This Year"
Faculty awards
Dr. Lindsey Crist, Assistant Professor of Clinical & Administrative Sciences, was selected as the 2017-2018 Teacher of the Year after nomination by students and peer review. She will be honored at the Teacher of the Year luncheon along with winners from all schools of pharmacy in the U.S. at the American Association of Colleges of Pharmacy in July 2018.
Dr. Nicole Culhane, Assistant Dean for Experiential Education & Professor of Clinical & Administrative Sciences will the Excellence in Experiential Education Award from the Experiential Education Section of the American Association of Colleges of Pharmacy in July 2018.
Dr. Ashley Moody, Assistant Professor of Clinical & Administrative Sciences was presented with the American Pharmacist Association Immunization Certificate of Recognition by the Immunizing Pharmacists SIG at its annual conference in March 2018.
Dr. Ray Weber, Associate Professor of Clinical & Administrative Sciences was presented with the Mentor of the Year Award by the Class of 2018 at the graduation banquet on May 18, 2018.
Faculty Activities
Dr. Anne Lin, Dean & Professor of Clinical & Administrative Sciences was installed as a Trustee for the 2018-2019 Board of Directors of the Maryland Pharmacists Association on July 1, 2018. This is Dr. Lin's second year of service on the Board.
Student Accomplishments
The following Class 2018 students matched to PGY-1 residencies:
Cesar Bejaraono-Garica '18 – Meritus Medical Center – Hagerstown, MD
Alyssia Dyett '18 – University of North Carolina Chapel Hill/Walgreens (community pharmacy residency), Chapel Hill, NC
Nahed Elias '18 – Virginia Commonwealth University Medical Center (community pharmacy residency)– Richmond, VA
Kyle Gundlach '18 – Desert Regional Medical Center – Palm Springs, CA
Quynh-Nhu Ha '18 – Sinai Hospital – Baltimore, MD
Shannon Haar '18 – Virtua Health – Mt. Holly, NJ
Miaka Huynh '18 – Indian Health Service Residency, Public Health Service
David Lewis '18 – Shady Grove Medical Center -Adventist Health Care – Rockville, MD
Mayrim Millan- Barea '18 – Johns Hopkins Hospital – Baltimore, MD (combined PGY1/PGY-2 & MS in Health System Administration)
Binh Nguyen '18 – Mercy Medical Center – Mason City, IA
Raza Zeinab '18 – Howard County General Hospital – Columbia, MD
Tiffany Sherrod Harris '18 – Wake Forest Baptist Health (community pharmacy residency) – Winston-Salem, NC
The following Class 2017 Alumni matched to the following PGY-2 residencies after completing a PGY-1 residency:
Vala Behbahani '17 – Mount Sinai Hospital - New York, NY (Solid Organ Transplant)
Rachel Dewberry '17 – MedStar Health – Columbia, MD (Health System Pharmacy Administration)
Shayne Wharton '17 - Pittsburgh Veterans Administration Medical Center – Pittsburgh, PA (psychiatry)
Upcoming Events
September 11
Cofe con Pan con Hermana Linda
9 a.m. - 11 a.m., Feeley 015
Latina Trailblazers - A new initiative led by Sr. Linda and the Latina Trailblasers has come to the Notre Dame Community!
Trailblazers: Time management workshop
3:00 p.m. to 4:00 p.m., FIC 003
---
September 13
Cross Country Tailgate
Doyle Dining Hall
---
September 17
Trailblazers: Financial Management workshop
7:00 p.m. to 8:30 p.m., Meletia 2nd floor
---
September 18
Trailblazers: T-Shirt Day and First-generation Faculty and Staff Panel
3:00 p.m. to 4:30 p.m., Doyle Formal
The Black Diaspora: What it means to be Black
6:00 p.m. - 7:30 p.m., Gator Alley
Brought to you by the Black Student Union, for more information email Esme Halsey-Collins.
---
September 21
Soccer tournament (collaborative Fundraiser)
6:00 p.m. to 8:00 p.m., Practice soccer field
Open to all faculty, staff and students of NDMU. Please be sure to sign-up.
---
September 24 - 28
CAB Spirit Week
---
September 25
Guest Speaker Corshia Williams
10:45 a.m. to 12:00 p.m., LeClerc Auditorium
From West Baltimore to MIT. Guest speaker Corshai Williams will speak to the NDMU 100 classes about her amazing journey of poerty to success.
---
September 27
Fall Majors Expo
12:15 p.m. to 1:30 p.m., Doyle Formal
Meet with faculty representatives from academic departments to learn about majors, minors, course requirements, and career options.
---
September 28
CAB's Netflix and Chill
7:00 p.m. to 10:00 p.m., Meletia 2nd Floor
---
September 29
NDMU Gator Fest
Notre Dame of Maryland University has planned a series of events that will appeal to participants of all ages including the highly anticipated Gator Fest featuring fall-themed foods, beverages, and activities.
Field Hockey vs Keystone College
1:00 p.m., Alumnae Field
Volleyball vs Clarks Summit University
3:00 p.m., MBK Gymnasium
Soccer vs Cedar Crest College
4:00 p.m., Alumnae Field
Gabby the Gator Meet & Greet
3:30 p.m.
Festival
3:00 to 5:00 p.m., Gator Patio and Knott Lawn
NDMU community members, families, and friends are invited to participate in Gator Fest 2018. Fun, free crafts and activities will be available for all ages. Activities include:
Henna Artists
Face Painting
Wine & Beer Tasting (Must be 21 or older to participate and must present a state-issued license to verify age. Cash payment required to participate in the tasting.)
Fall Foods (pumpkin ice cream, caramel apples, etc.)
Pumpkin Painting
Lawn Games & Inflatable
Photo Booth
Music
Dinner
5-6 p.m., Doyle Dining Hall
---
October 5-7
Reunion Weekend
For more on the festivities and to register check out the website.
---
Commencement 2019
May 19, 2019, Royal Farms Arena
---