---
Contents
NDMU News
Marylou Yam Participates in MICUA Presidents' Workshop
President Yam recently took part in the Maryland Independent College and University Association (MICUA) Presidents' Workshop. The workshop was held at the Maryland Inn – Historic Inns of Annapolis. Among those in attendance, Maryland Governor Larry Hogan as well as the presidents of Maryland's 13 private, non-profit colleges and universities.
The purpose of the Presidents' Workshop is to discuss topics of interest to the presidents…and to discuss state and national policy issues impacting higher education.

- MICUA President Tina Bjarekull.
She continued by saying that MICUA and its colleges and universities would support the Governor's goals for higher education and economic development.
---
One Day left for Adopt-A-Family
The Notre Dame Student-Athlete Advisory Committee (SAAC) and Society of Women Engineers is once again hosting its annual Adopt-A-Family event. For more than a decade, the SAAC has collected gifts for families in need at Christmas. This year, the SAAC and Society of Women Engineers have partnered and adopted three families through the House of Ruth - a Maryland group that supports women and children who are victims of domestic violence.
To take part, stop by the MBK lobby and pick out one or more ornaments. Each ornament has a gift listed for a specific person in the adopted family. Gift cards and cash can be donated to the cause and will be used to purchase any remaining gifts. Unwrapped gifts can be delivered to the Athletics Department on or before December 6th. The gifts will be delivered by the SAAC, Society of Women Engineers, and Campus Ministry.
Last year, the SAAC received 247 donated gifts, $350 in monetary donations, and $160 in gift cards. Let's try to make this year even more successful.
Learn More About House of Ruth
---
Student-Athletes Team Up With A Child's Place
For two days a week, Notre Dame of Maryland University student-athletes have been holding a skills clinic for the children of A Child's Place (ACP). A fun activity for both the children of ACP and the student-athletes, the clinic has brought together the two groups for a learning experience for all ages.
For the past three years, the possibility of running an ACP clinic has been a topic of discussion. This year, the Athletics Department and A Child's Place were able to come together to make the ACP clinic a reality. For the fall semester, ACP and Athletics developed a six-week program that would see the three to five-year-olds in the gym two days a week.
In place of their regularly scheduled physical activity either in the gym or on the playground, the children of ACP came to the gym for 20 minutes and spent time working one-on-one with Notre Dame's student-athletes. The student-athletes work on motor skills, hand/eye coordination, and sharing with the children. So far, the student-athletes have set up basketball, soccer, obstacle courses, and more for the children of ACP. With several student-athletes enrolled in the School of Education, this was a great opportunity for them to get first-hand experience teaching the children on skills that they have dedicated their time to at Notre Dame.
The skills clinic is held in the gym on Tuesdays and Thursdays from 10-11 a.m. and will continue for two more weeks. In the spring, there are hopes to continue the program for four to six weeks outside.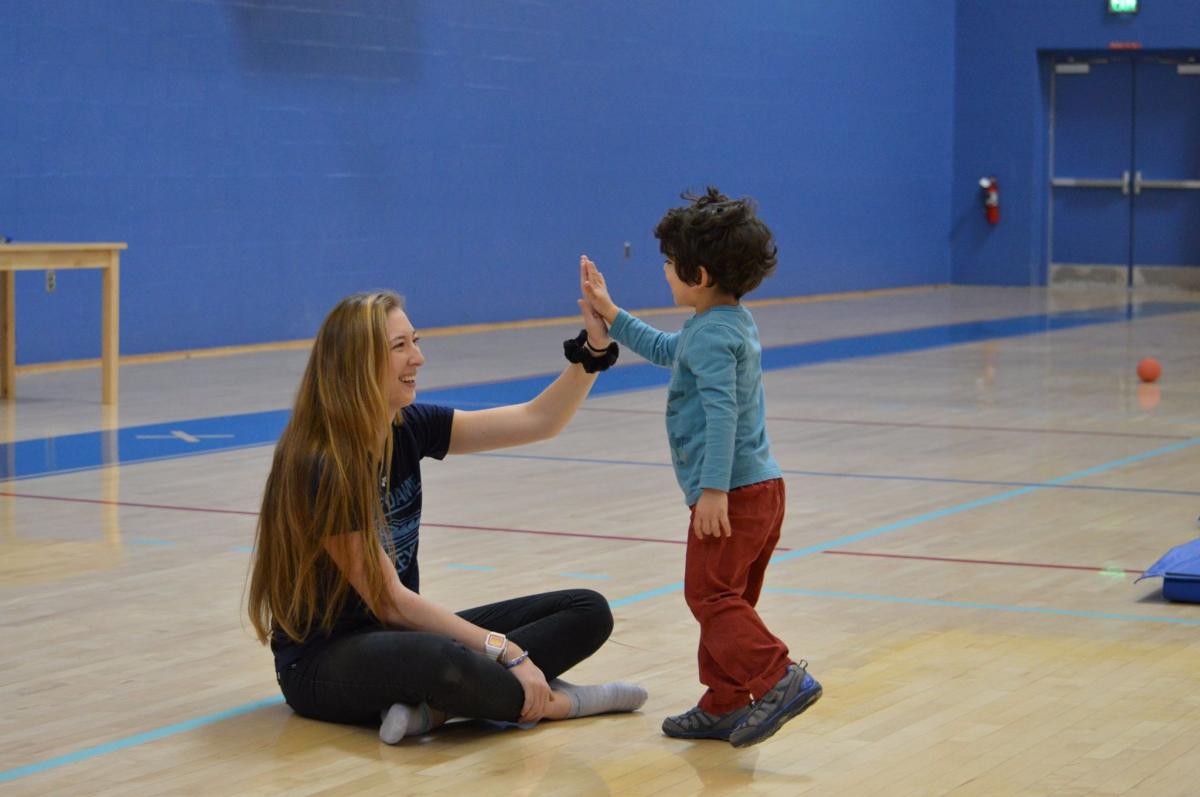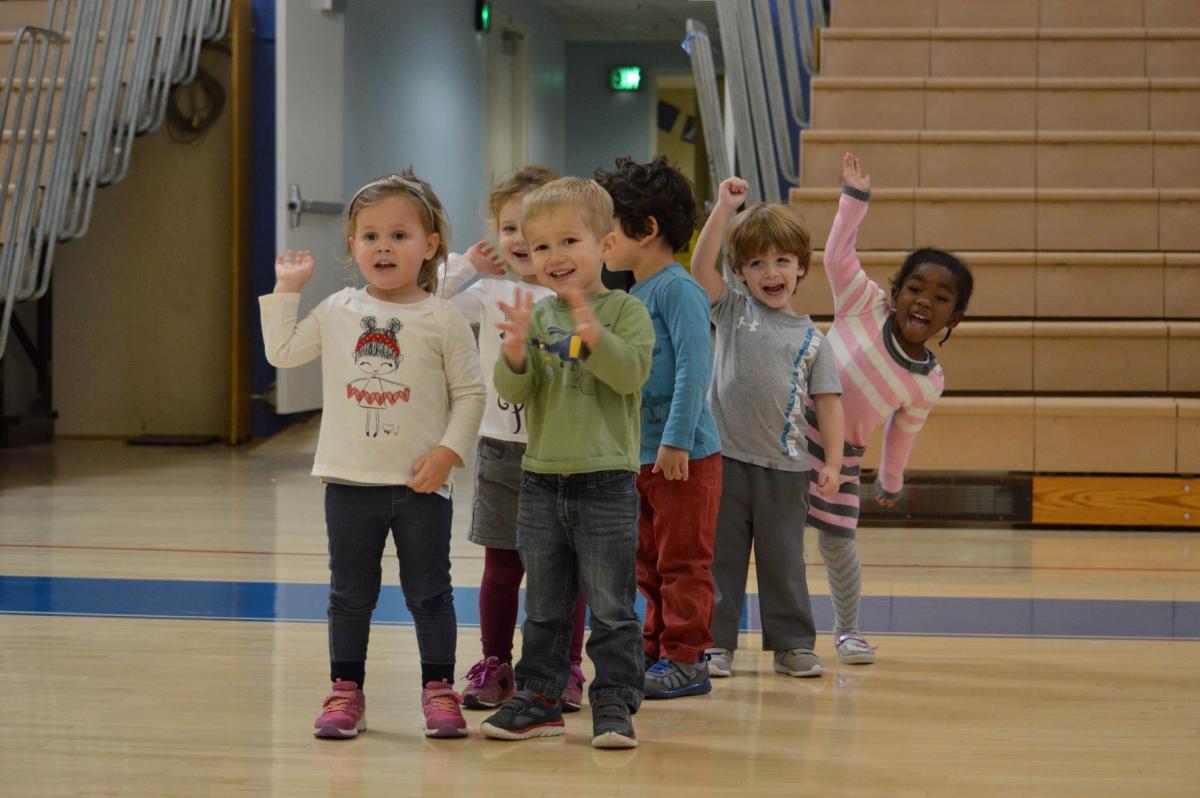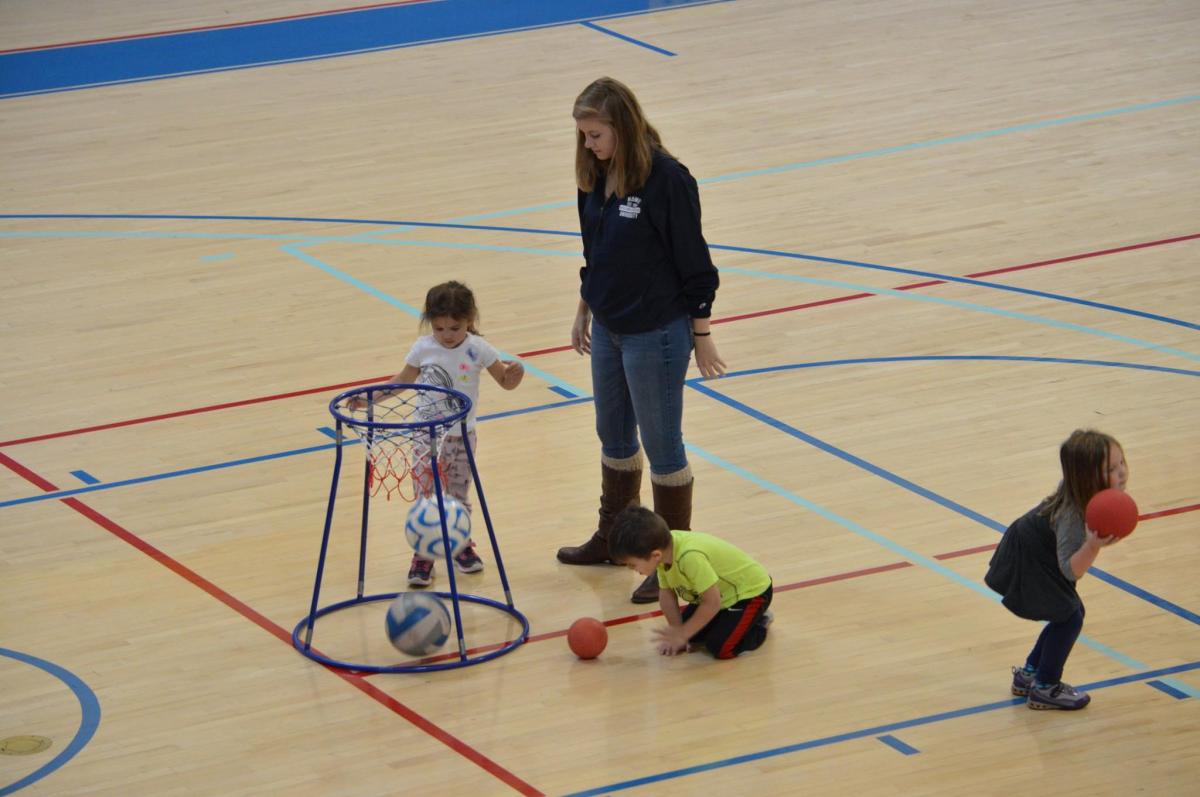 ---
STEM Family Fun Festival
The School of Education recently hosted the STEM Family Fun Festival. Juliann Dupuis and Kathy Corley Murray co-chaired the festival. Graduate students from EDST503 created and hosted a variety of engineering challenges that engaged more than 50 students and parents in "hands-on" fun. Stations featured straw rockets, paper airplanes, a tsunami simulator, catapults, newspaper tables, index-card towers, circuits, and insect viewing with Roberta Engel of the Biology Department. Our festival was one of 400+ held statewide as part of the 2016 Maryland STEM Week Celebration.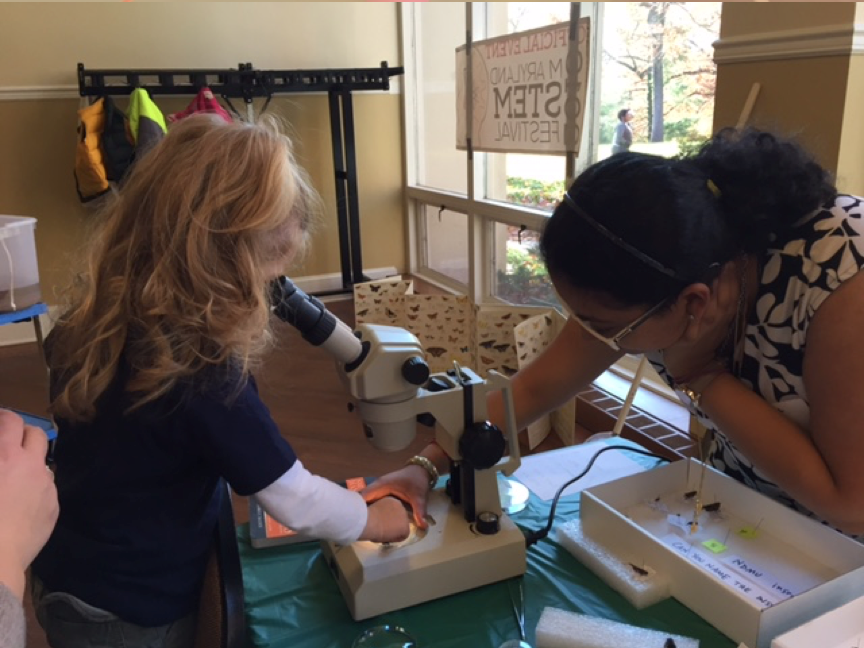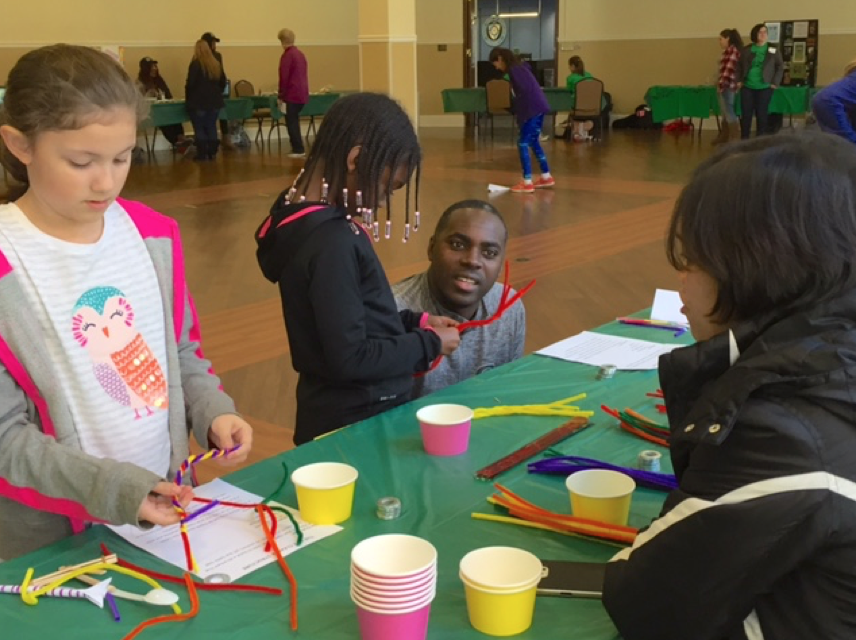 ---
Delta Epsilon Sigma Induction
On Sunday, December 4 several of our students will be inducted into Delta Epsilon Sigma, National Honor Society for students and faculty of Catholic Colleges and Universities. Maggie Linz, '16, recipient of the Davis Projects for Peace Prize, will speak on the experience of our students in Peru last summer. The program will begin at 12:30 in Doyle Formal Lounge and is open to all.
Please congratulate the following students, who were elected by the faculty to membership in Delta Epsilon Sigma:
Erin Alford
Sarah Arafat
Micah Castelo
Rebecca Corun
Erika Deppenschmidt
Lillian Doyle
Rezvaneh Goodarzi
Roselyn Jones
Trista Keller
Jane Laughlin Lebherz
Madeline Jayne Minor Mask
Margaret Pedersen
Sania Saeed
Salome Svanidze
Elizabeth B. Tran
Megan E. Wood
Catherine Znamirowski
---
STEM Camp News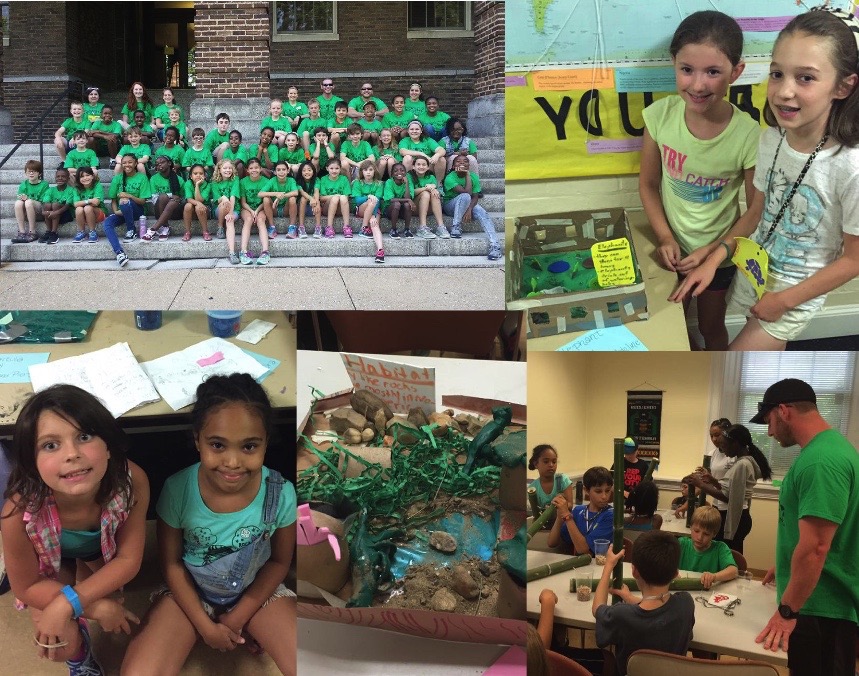 The topics and dates for the 2017 STEM Camp have been announced.
Week one will run from June 26-30, and the theme will be "Engineering Around the World." Week two will go from July 17-21, and the theme will be "Under the Sea."
New this year! The University will offer a week of STEM camp for children entering Kindergarten, first or second grade during the second session. Registration will begin early next year.
---
News by School
School of Arts, Sciences, and Business
Faculty Accomplishments
Paul Weldon, Professor of Biology, published a new theoretical scheme for mimicry, including intersexual mimicry, in the Biological Bulletin of the Linnean Society, where the construct of mimicry was first proposed in 1862. For more information go to http://onlinelibrary.wiley.com/doi/10.1111/bij.12905/full.
Student Accomplishments
Kudos to psychology major Sarah Hawkins, '18 who recently raised money for Haiti Relief. Hawkins brought Pets on Wheels to campus on Friday, November 4. Each student, who wanted to spend time petting the puppies made a $2.00 contribution to benefit the victimes of hurricane Matthew in Haiti. Sarah did this as her service project for her Justice and Peace class. As a result of Sarah's good planning and a generous contribution from one of NDMU's staff, Haiti Relief received $180.00.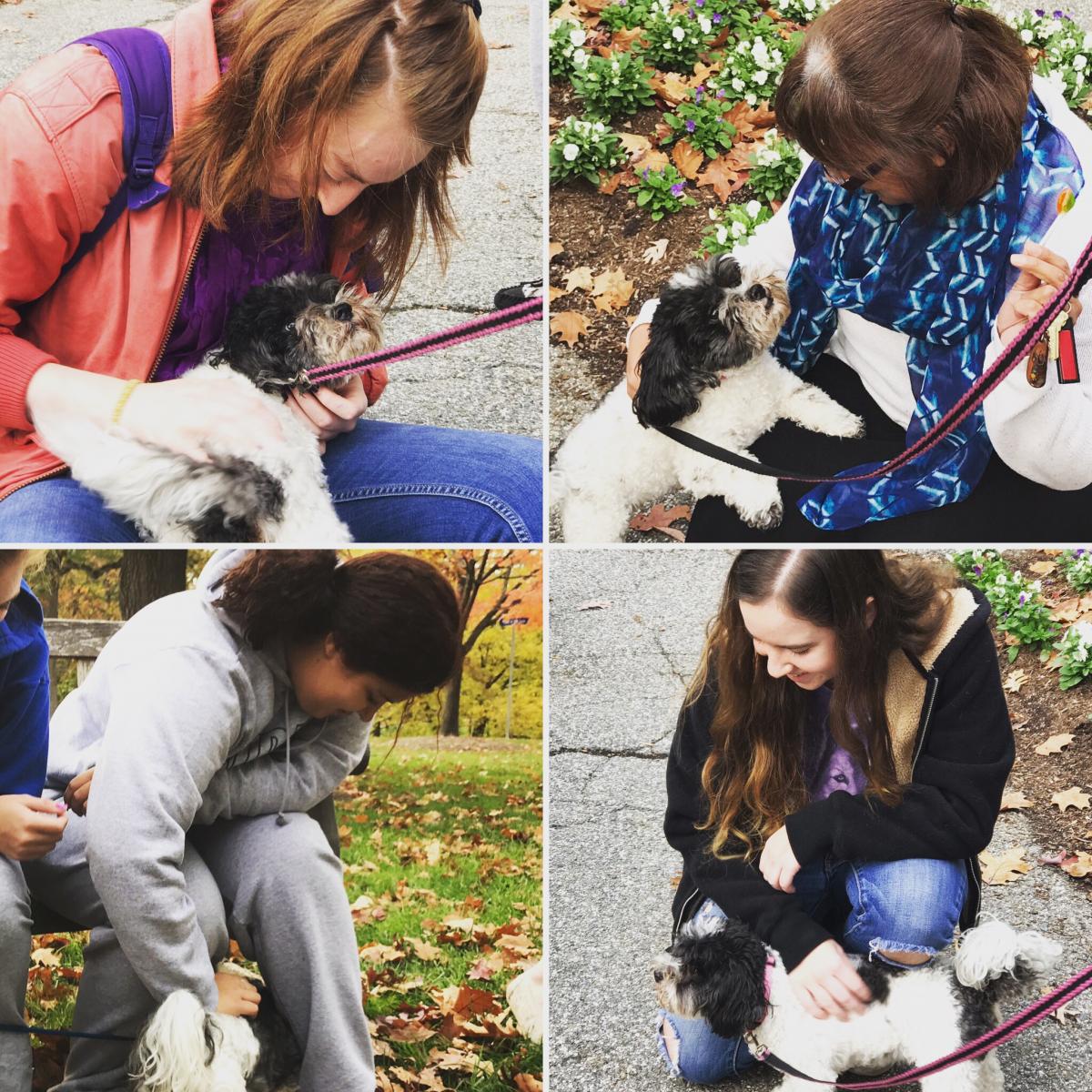 Faculty, staff, and students from throughout NDMU were greeted with enthusiastic research presentations from junior and senior Women's college students (Summara Abaid, Kristina Gray, Celine Mathijsen Greenwood, Amy Meledez, Sania Saeed, and Sarishma Thapa) on November 30th. Dr. Jennifer Kerr, Assistant Professor in the Biology Department, tasks students in her upper level microbiology class (BIO340) to create a self-designed, semester-long independent research project.
At the end of the study, students are typically asked to present their research projects to professors, staff, and students in their area (Biology, Chemistry); however, Dr. Kerr also challenged them to explain their science to people outside their field (Physics, Computer Information Systems, Mathematics). In some cases, very far outside the Biology field (Business, Religious Studies, Classical Studies, Foreign Languages). A number of additional guests came by to view their exceptional posters, including a special visit from President Yam.
Students were eager to get the word out about their projects that ranged from testing the anti-fungal/bacterial effectiveness of essentials oils derived from thyme and cinnamon, to determining how salinity impacted various over-the-counter acne medications, to finally trying to solve the ever growing problem of identifying new antibiotics as antibiotic resistance continues to rise.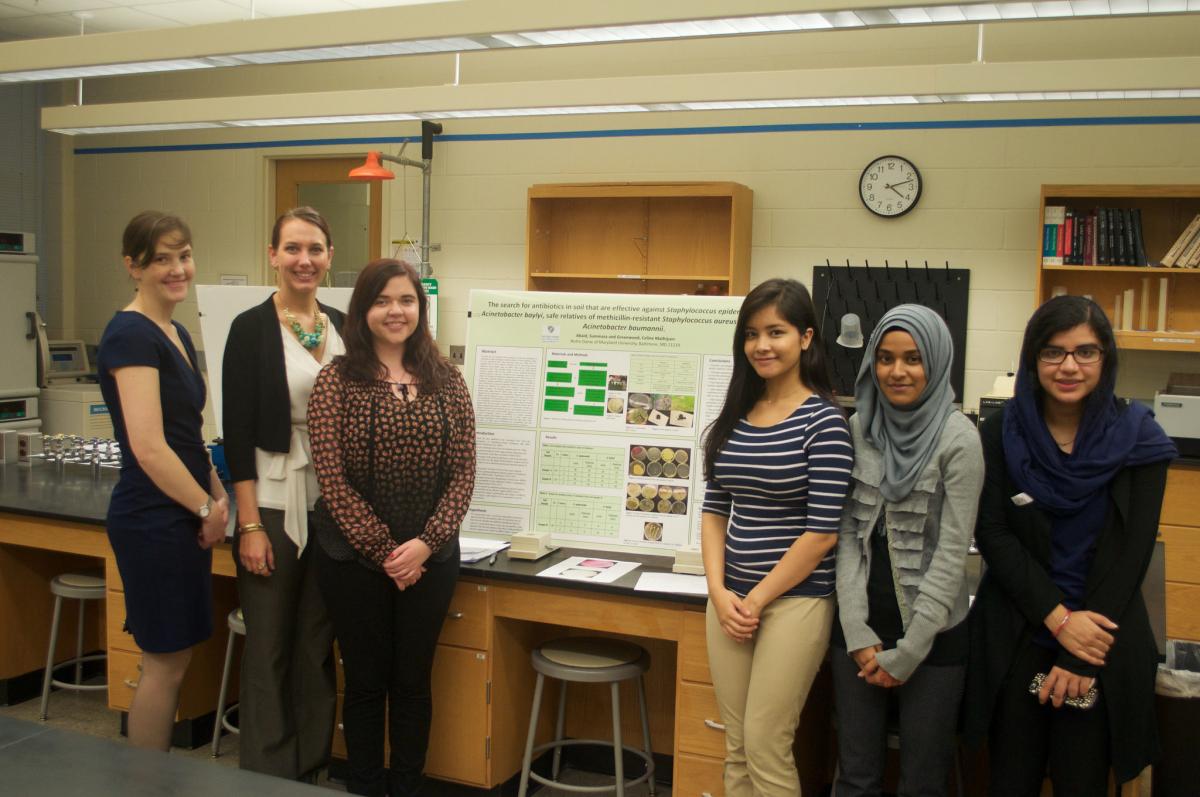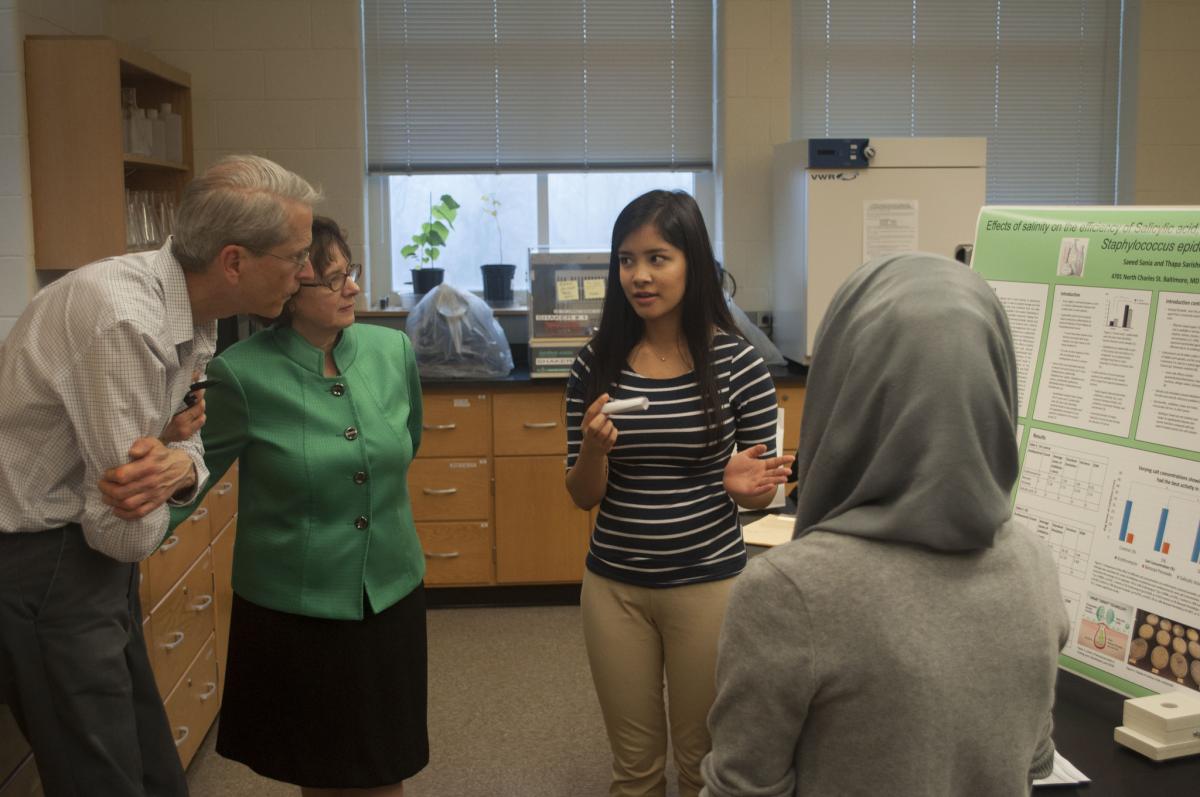 Big thanks to the following Faculty and Staff that volunteered their time to judge the poster session:
Sister Theresa Lamy
Heather Carpenter
Brian Christy
Henrietta Wiley
Kyongil Yoon
Angela Sherman
Becky Zordan
Pat Bell
Hangkyo Lim
School of Education
Faculty Accomplishments
Dr. Christa deKleine presented "Understanding and Working with Generation 1.5 Students" (with students Rachele Lawton & Minah Woo) at the MD TESOL conference. Many of our MA TESOL students attended the conference with Dr. deKleine.
Dr. deKleine also gave a talk at the Third Annual Culturally Responsive Teaching Conference at CCBC, titled "Linguistically Responsive Instruction in the Courageous Classroom" (with student Rachele Lawton).
Dr. Keri Guilbault, Assistant Professor of Gifted and Talented Education, presented as part of a Presidential session panel at the National Association for Gifted Children annual convention in Orlando, Florida on parental influences on the whole gifted child. Dr. Guilbault was also an invited speaker at the Maryland Mensa November meeting where she spoke about how parents can work with schools to determine if academic acceleration is right for their child.
NDMU alum and associate faculty member, Dr. Theresa Alban of Frederick County Public Schools was named Maryland Superintendent of the Year. Dr. Alban will now compete for the national title.
On November 6, 2016, faculty members from the School of Education, Dr. Evelyn Spratt and Dr. Andrew Moore and two Ph.D. students, Amy Rosenkrans and Carolyn Razon-Fernandez presented at the History of Education Society Conference in Providence, RI. The panel was entitled, Web of Women: How women used networks to achieve educational experiences for the marginalized in late nineteenth-century America.
On December 3, 2016, 3 faculty members from the School of Education, Dr. Kelly Bull, Dr. Andrew Moore and Dr. Evelyn Spratt along with award-winning author Dana Walrath presented at the National Council for Social Studies Conference in Washington, D.C. Their panel focused on Walrath's novel, Like Water on Stone, social justice topics and the use of literature in the Social Studies classroom.
AERA conference has selected these NDMU dissertators for its 2017 conference! Each work surrounds the theme of unequal education opportunity.
Elizabeth Fair: Exactly When and How Do the Disparities in Education for Black Children Manifest Themselves?
April Umile: Rainbow Sight Word Program Intervention: Increasing Grade 1 Students' Fountas & Pinnell Reading Benchmark Levels
Crystel Farina: Concept-Based Simulation Increases Student confidence
Diane L. Stulz: Achievement Gaps in a Rural School System: An Analysis of PARCC and i-Ready Data
Julian Dupuis
Student Accomplishments
Future Educator Margaret Pedersen was named to the CSAC volleyball All-Sportsmanship team this season. Pedersen played in 14 matches and 28 sets this season. She was named a captain of the volleyball team in her senior season. Pedersen, this season has tallied 15 digs and seven aces and has 41 for her career. A three sport athlete, Pedersen was also named to the All-Sportsmanship team for softball.
Rob Shank and Ed Svec are bringing their STEM Practicum course to life in the classroom. The two are part of Notre Dame's Leadership in Teaching STEM Master's Program. Both have been incorporating STEM into physical education classes in the Harford County Public School system, Rob at the elementary level and Ed at the high school level. In addition, the two have helped with NDMU's STEM Camp and have supervised activities at the recent NDME STEM Family Fun Festival.
School of Pharmacy
Faculty Accomplishments
Dr. Kelly Harbourt, Assistant Professor of Clinical & Administrative Sciences, will be presenting a continuing education seminar "Optimizing Management of Hyperkalemia: An Update for Health-System Pharmacists" on Wednesday, December 7th at the American Society of Health-Systems Pharmacists Midyear Clinical Meeting.
Student Accomplishments
The following students will be presenting poster presentations at the American Society of Health-Systems Pharmacists Midyear Clinical Conference on Dec. 6, 2016:
Bryan Ahlstrand '17, Elizabeth Alvarez '17, David Lewis '17 - "Adherence to Guidelines for Transition Patients between Anticoagulants"
Janet Akinduro '18, Nahed Elias '18, – "Development and Implementation of a Pilot Pharmacy Home Care Service with Second and Fourth Year Pharmacy Students in Older Adults"
Cesar Bejarano '18 – "PGY-2 Residency Roundtable to Expose Pharmacy Students to Various Residency Opportunities"
Val Behbahani '17, Rhiannon Marselli '17 - 'Improving Communication About Medication HCAHPS Scores: A Collaboration of Pharmacists and Nurses on Patient Education at a Community Teaching Hospital"
Megan Cook '17, Rafael Otero-Santiago '17 - "Utilization of Validated Opioid Over-Dose Knowledge and Attitudes Scale to Assess Education on Opioid Overdose Training for Pharmacists"
Rachel Dewberry '17, Naveen Samuel '17 - "Implementation of a Simulated Hospital Medication Reconciliation Policy to Teach Medication Reconciliation Upon Admission in a Pharmacist Care Laboratory"
Jermae Jerlin Dizon '17 - "Implementing Antimicrobial Stewardship Program in a Community Hospital"
Hann Fenta '17 - "Probiotic Protocol Utilization in an Inpatient Geriatrics Unit
Reine Lienou '17, Shayne Wharton '17 - "Use of Topiramate for the Treatment of Substance Abuse: A Systematic Review"
Erica Moran '17 - "Appropriateness of Initial Antibiotic Therapy for Community- Acquired Pneumonia in a Small, Community Hospital"
Amanda Nguyen '17 - "Observational Survey-Based Study of Healthcare Access Following the Maryland Health Progress Act of 2013 in Homeless Women of My Sister's Place"
Barbara Obot '17 – "Appropriateness of Initial Antibiotic Therapy for Urinary Tract Infection in a Small, Community Hospital"
Tejas Patel '17 – "Assessing the Impact of Substance Abuse Education on Student Pharmacist's Perspective of Addiction"
Alexandra Phan '17 – "Evaluation of the Appropriateness of Initial Antibiotic Therapy in Sepsis"
Olivia Weiss '17 – "Incidence and Trends in Anticoagulants Used in a Small, Community Hospital"
Kyle Gundlach '18, Elliot Ho '18, Kelly Ward '19 have been appointed as School of Pharmacy student representatives to the Maryland Pharmacy Coalition. Kyle is also serving as co-chair of the Coalition for the 2016-2017 academic year.
Shayne Wharton '17, Megan Cook '17 winners of the School of Pharmacy Clinical Skills Competition will be competing at the national Clinical Skills Competition on Sunday, December 4, 2016 at the American Society of Health-Systems Pharmacists Midyear Clinical Meeting.
---
Loyola Notre Dame Library News
Introducing the Collaboratory at the Library, the library's new active learning space on the first floor of the library. This space provides exciting opportunities for faculty and students to interact in a flexible environment. Moveable furniture, individual whiteboards, and innovative technologies promote group problem solving, nurture creativity, and foster active class participation. Visit http://guides.lndlibrary.org/collaboratory to read more and to book the room.
There will be an opening reception for faculty on Monday, December 12 from 2-4pm. RSVP Here.
---
Upcoming Events
Pennies Project - SSND Haiti Initiative Fundraiser
Now through December 8
Kappa Delta Pi is sponsoring a fundraiser for the SSND/Beyond Borders Haiti Initiative. The group is selling raffle tickets for the chance to win a $50 gift card to Panera Bread. Sales will run through December 8. Tickets are $2.00 for one and $5.00 for three.
Please contact Joan Sattler (ext. 5147) or Jeanette Quinn (ext. 5149) to purchase tickets.
In addition, Molly Wolanski is running a "Pennies Project" to raise money for Relief for Haiti. You will see collection jars throughout campus. Every penny raised will go to Haiti relief.
---
A Child's Place Registration
Happening Now. NDMU's website or call us at 410-532-5399.
A Child's Place is now accepting applications for Fall 2017, as well as for Summer Camp 2017!
A Child's Place promotes each child's emotional, social, cognitive and physical development through a holistic approach. Preschool programs for 3, 4, and 5 year olds, including a State-approved kindergarten program and early kindergarten for children with fall birthdays, offer small classes in a nurturing environment where young children play, learn, and grow.
Preschool runs from September to June, while summer camp is June through mid-August.
A reminder, all NDMU faculty, staff, and students are eligible for a 25% discount on tuition. If you're an alum, you qualify for a 10% discount.
---
Archaeological Tour of Greece
Please consider joining Sister Therese Marie Dougherty and Sister Theresa Lamy for a summer experience in Greece. Enjoy modern Greece as you explore its early history. Climb the acropolis in Athens for a close-up view of the Parthenon. Consult the oracle of Apollo at Delphi, Run a race in the stadium at Olympia, birthplace of the Olympic Games. Experience the perfect acoustics of the Theatre at Epidaurus. Be overwhelmed by the awe-inspiring monasteries at Meteora. Complete your visit by sailing to Crete to visit the Palace of Minos, home of the mythical Minotaur. Deposit of $600 is due with your registration form. For further information contact Sister Therese at tdougherty@ndm.edu or 410-532-5559.
---
Anchorage Holiday Celebration
December 6, 7-9 p.m. Doyle Formal
---
Late Night Breakfast
December 7, 8-10 p.m. Doyle Dining Hall
---
BSU Clothing Swap
December 7, 6-9 p.m. Doyle Formal
---
Art Student Exhibition Opening Reception
December 8, 4:30-6:30 p.m. Gormley Gallery
Come see what NDMU's artists have been up to this semester
---
The Solemnity of the Immaculate Conception
December 8, 11 a.m. Marikle Chapel of the Annunciation
Join us for a Mass to celebrate the Feast of the Immaculate Conception
---
Therapy Dogs
December 12, 2-4 p.m. Loyole Notre Dame Library
---
Collaboratory at the Library
December 12, 2-4 p.m.
Notre Dame Faculty is invited to the opening reception of the new active learning space on Monday, December 12 from 2-4pm. RSVP Here.
---
Faculty & Staff Christmas Luncheon
December 15, 10:45 - A Child's Place Carolin, Marikle Chapel of the Annunciation
11 a.m. - Mass, Marikle Chapel
Noon - Luncheon, Doyle Dining Hall
Please RSVP by December 8, see your email for more details.