The Renaissance Institute is an active group of men and women over the age of 50 engaged in lifelong learning and intellectual growth.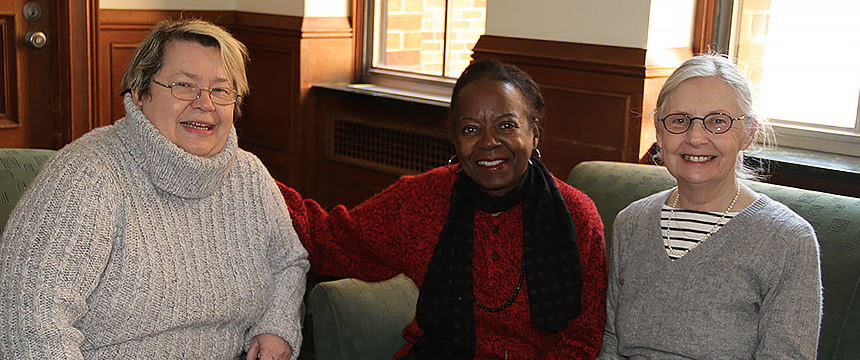 Founded in 1989 by NDMU's Sr. Kathleen Feeley, community members sign up to take Renaissance Institute courses for the pure pleasure of learning!
Each year more than 100 non-credit courses, workshops and studio opportunities are designed and led by Renaissance members in two 13-week semesters. Working with a campus-based director, the members plan, lead and enroll in a series of courses held on Tuesdays and Thursdays each spring and fall semester.
The success of the program rests on member participation. Members create the curriculum, design and lead courses and serve on one or more committees. Renaissance members are committed to active involvement and informed discussion.
Membership Opportunities
Enrollment in as many Renaissance courses as you wish every fall and spring (no tests or required papers)
Forge new friendships among the 300+ members
Invitation to the "Winter in the City" and "Summer in the City" social and cultural trips and activities
Permission to audit one course per academic year at NDMU
Full privileges at the NDMU/Loyola library
Access to water aerobics programs and select open swim times in the NDMU pool
A copy of Reflections, the literary arts journal created and published by Renaissance members
Register for Classes
Spring courses begin on February 4, 2020. Registration begins November 12, 2019. Annual membership is $400, or $215 per semester.
View the course catalog to browse the courses offered and to fill out a registration from.
Fall 2020 Course Proposal Form
Share the catalog with a friend and remember to "like" Renaissance Institute on Facebook!
Contact Us
Linda Kuehn
Program Coordinator
lkuehn@ndm.edu
410-532-5351
Amazon Affiliate Program
Visit Amazon.com and help raise money for the Renaissance Institute. For every purchase you make after clicking the link to Amazon, Renaissance Institute will earn money back.
Please help support the Renaissance Institute!