---
October 2018 Contents
NDMU News
Graduation Applications
Attention Class of 2019! This is a reminder that all students must file a graduation application to initiate the graduation process, whether planning to participate in the commencement ceremony or not. Graduation applications are due to the Registrar's office via WebAdvisor no later than October 15th.
If you are unsure about graduation and whether you are eligible to graduate in Spring 2019, you are advised to submit the application. The Registrar's Office can move your graduation application to the next term. However, late applications will NOT be accepted.
Wondering what is the difference between graduation and commencement? Graduation is when a student completes all of their degree requirements, while commencement is the ceremony where students celebrate their academic achievements with friends and family.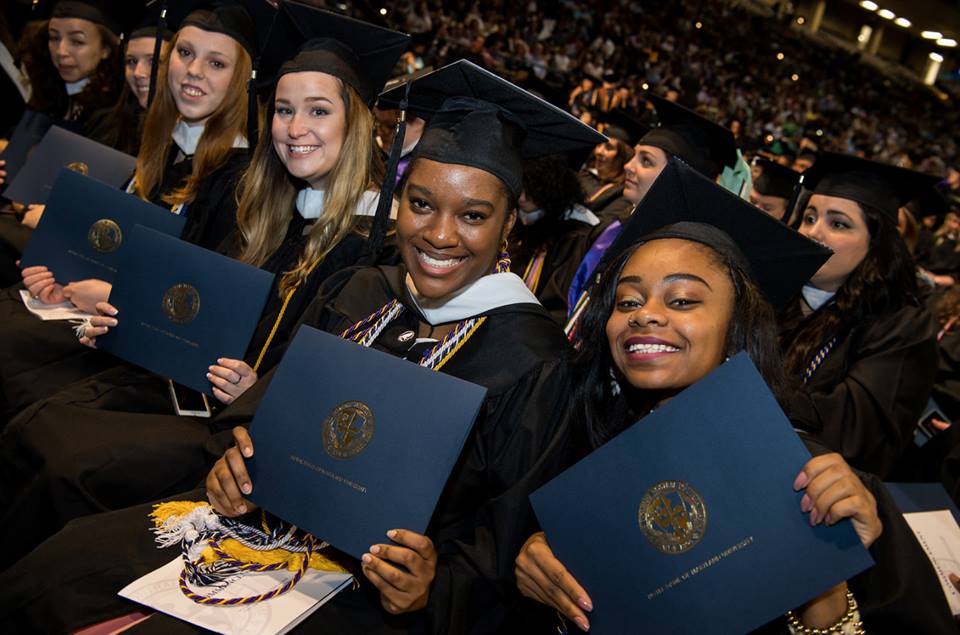 Walking in a commencement ceremony does not confirm your graduation. Students are required to turn in a graduation application even if they do not plan on taking part in the commencement ceremony. Even if a student meets their degree requirements, NDMU does not automatically graduate them.
For more information check out the Graduation website.
---
Reunion 2018
Reunion 2018 was a huge success! More than 250 alums and friends spent time on campus to celebrate the weekend—including milestone years ending "3" and "8". Alumnae and alumni traveled from the local neighborhood and as far away as California and Israel.​
Reunion is a time when we practice tradition and initiate new opportunities. Alums bonded over the annual Reunion Luncheon, and enjoyed new activities with faculty and staff like Classy Connections, held on Friday night of Reunion Weekend.
Huge thanks to the Reunion Committee who, through hard work and crowd sourcing, broke through their fundraising goal of $125,000. Together they raised over $131,000!
Planning is already underway for next year's reunion and the first committee meeting will be held on Saturday, October 27. Reunion is for everyone and next year we will place specific emphasis on class years ending in "4" and "9."​ Next year's Reunion will also kick off the University's 125th anniversary celebration. You don't want to miss it: September 6-8, 2019.
---
Corshai Williams – From Homeless to MIT
NDMU's first-year students recently welcomed Corshai Williams to campus to tell her amazing story of overcoming homelessness to working her way on the path of obtaining her Ph.D.
Williams' presentation is part of the first-year student course, NDMU 100. It is designed to help students acclimate to college life and to better connect with the University's Mission. Among the topics discussed in the class is overcoming adversity, something that Williams knows all too well.
Born and raised in Baltimore, Williams found herself homeless at the age of 12. She began living with friends, extended family and even at her teachers' houses at times. She says school and education was her one constant.
Today, she is a college graduate and is working on her Ph.D. at the Massachusetts Institute of Technology (MIT). She talked with students about everything from the obstacles she overcame, to advice on applying for graduate school, to building relationships and finding a purpose. To hear her discussion go to NDMU's Facebook page, and to read more about Williams check out our news section.
---
Sim Baby, Baby Shower
The Center for Caring with Technology in the School of Nursing celebrated the second annual Healthcare Simulation Week from September 17-21, 2018.
The week kicked off with a Facebook Live tour of the facilities that included demonstrations of all of the high fidelity technology in the lab. The video is still viewable on the NDMU School of Nursing Facebook page.
On Tuesday, the lab welcomed their newest high-fidelity manikin, SimBaby, and hosted a baby shower that included a contest to name their newest family member. The winning name was Simantha.
The week wrapped up with a day of moulage showing visitors how medical makeup is applied to actors and manikins to create medical injuries for the use of simulation. It was a great week celebrating how simulation is improving patient safety and nursing education!
---
Growth. Connections. Access.
The Women's Leadership Institute of Baltimore will host the Charles J. Busta III Lecture in Business later this this month. It will take place in LeClerc Auditorium and feature four outstanding women in various phases of their personal and professional lives.
The panelists taking part include: India Gary-Martin - CEO of Leadership for Life, Kate Bowers - Vice President of Public Relations Client Services at Weinberg Harris & Associates, Janese Murray -Vice President of Diversity and Inclusion, Exelon Corporation (Ret.)and Linda Singh -Major General of the Maryland Army National Guard.
---
Homecoming & Gator Fest 2018
Dozens of students and community members turn out for NDMU's annual Gator Fest. The event featured all sorts of fun fall activities including pumpkin painting, a photo booth, cotton candy, popcorn, lawn games and for those over 21 a beer and wine tasting. There was even a special appearance by our own Gabby Gator.
This was the third year for Gator Fest. This year's event capped off with the volleyball, soccer and field hockey team playing in conference action.
---
Nursing's Lighting of the Lamp
The Lighting of the Lamp Ceremony was held on Thursday, September 21st in the Marikle Chapel.
This ceremony is held each year for the junior class of traditional BSN nursing students. This milestone event marks the beginning of the students' journeys through nursing school and is meant to welcome them all into the nursing community.
During the ceremony, students receive a NDMU pin from their nursing Big Sisters. Students "Light the lamp" by lighting a votive candle during the ceremony symbolizing the beginning of their nursing journeys. The ceremony concludes with faculty/staff and students all reciting the School of Nursing's Philosophy statement.
Family, friends and nursing faculty and staff were there to witness this beautiful ceremony that invites students into the culture of nursing. The keynote speakers included Laura Backhaus '15, a graduate of our BSN program and Rodnita Davis, MSN, RN, a current nursing faculty member. To see more pictures check out the Facebook album.
---
ELI Welcomes New Students
The English Language Institute is off to a great start to the school year.
Our community of English language learners is truly global. This semester, the ELI welcomed students from Haiti, Germany, China, Saudi Arabia, Peru, Japan, South Korea, Colombia, Venezuela, Congo, Mali, Taiwan and Israel.
Many of our current students are already quite accomplished in their fields, including an Israeli journalist, a retired judge from Switzerland, a Chinese seminarian, a Peruvian researcher, and a Japanese Paralympic swimmer.
---
ELI's Gold Medal Student
The ELI continues to cheer on Japanese Paralympian swimmer, Keiichi Kimura. Keiichi recently won four gold medals at the Pan Pacific Para Swimming Championship in Cairns, Australia. In addition to these medals he won three silver and two bronze at the 2016 Paralympic games in Rio and at the 2012 Paralympic games in London he won a silver and bronze. He is currently training for the 2020 Paralympic games to be held in Tokyo, Japan. For more information on Keiichi, check out the news section.
---
ELI Student Ambassadors
The ELI is proud to introduce its Student Ambassadors for the Fall Semester. They are Aissata Timbine (Mali), Ying-Tzu Tseng (Taiwan), and Carolina Llaguno (Venezuela). The Student Ambassadors will be involved in both ELI and campus wide events so please make sure to greet them if you see them!
---
A Child's Place at NDMU
There are still a few spaces available at A Child's Place Preschool and Early Learning Lab School for the 2018-2019 school year.
Preschool programs for 3 and 4 year-olds offer small classes in a nurturing environment where young children play, learn, and grow.​ A Child's Place promotes each child's emotional, social, cognitive and physical development through a holistic approach.
Preschool runs from September to June; monthly tuition for SY 2018-2019 is $1175.
A Reminder – All NDMU faculty, staff, and students are eligible for a 25% discount on tuition. If you're an alum, you qualify for a 10% discount.
For more information check out NDMU's website or call us at 410-532-5399.
---
Sports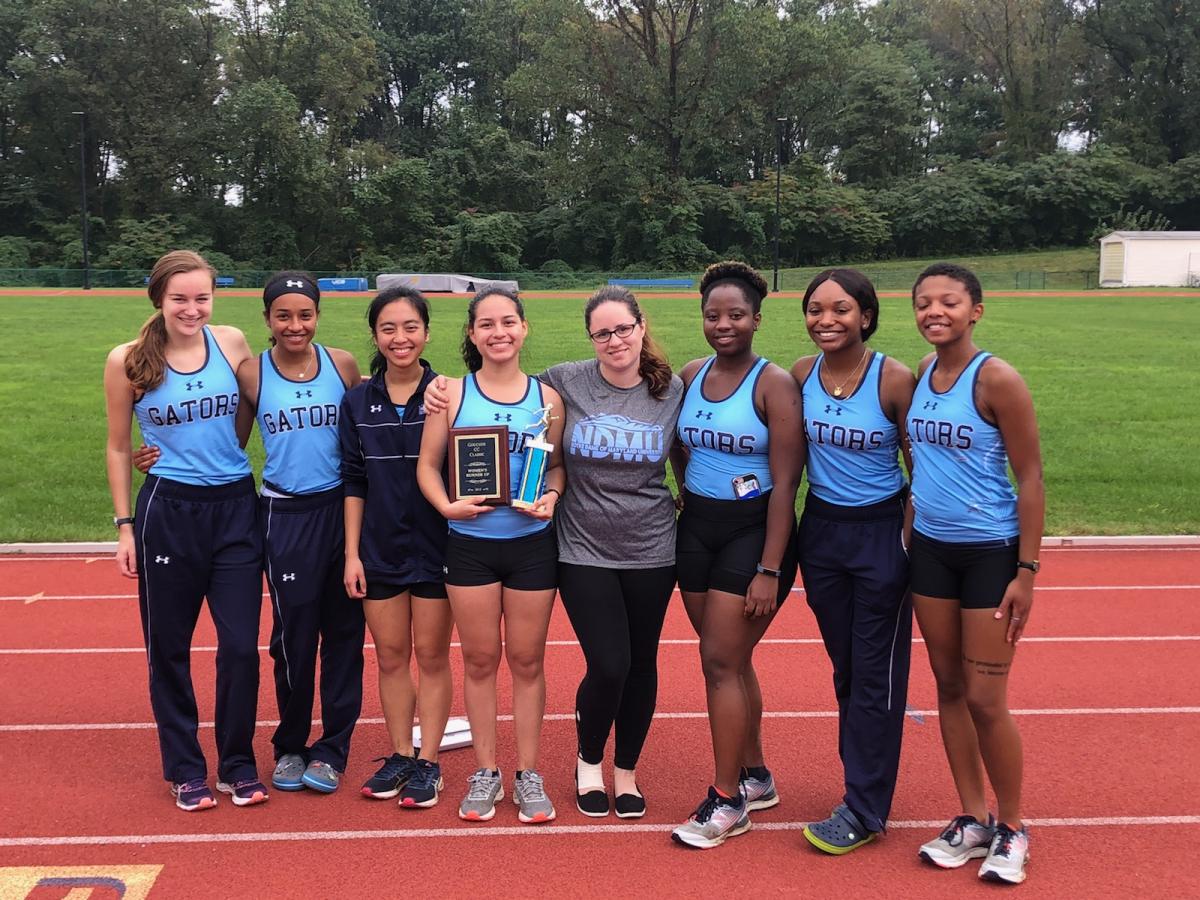 Notre Dame fall sports are in their second month of competition. Things are looking up for the field hockey team. It posted its first shutout victory of the season against Lancaster Bible College 9-0. The team also picked up victories against both Sweet Briar College and Hood College. Currently field hockey is 3-7 this season.
Notre Dame cross country recently traveled to Goucher College to compete in the Goucher Invitational. In their fourth race of the season, the Gators posted a second place finish just behind the hosting Gophers. This is the first team plaque for the Gators in program history. Freshman Christy Canjura placed first for the Gators and eighth in the 6k race in 31:08.63. Her top 10 finish is also a program first. This weekend, Notre Dame will race at the Hood Invitational.
Notre Dame volleyball secured two more conference wins. However, the team did fall to St. Mary's in five sets of non-conference paly. NDMU moves to 5-0 in the Colonial States Athletic Conference and is 16-4 overall.
Finally, the Notre Dame soccer team celebrated senior day the first Saturday of October. Prior to the start of the game, seniors Meghan Conner and Lilly Gordon were honored for their achievements over their past four season. Facing Bryn Athyn, the Gators fell 4-2, with Conner and junior Loren Pardoe both recording scores in the game.
You can now follow the Gators live online. Tune in and cheer them on.
---
Loyola Notre Dame Library News
Library Roadshows for Faculty in Fall 2019
Faculty are invited to join librarians to experience active learning technologies and spaces, learn about consults on copyright, and to hear faculty-librarian partnership success stories in the Collaboratory. RSVP or drop-by on Wednesday, October 17 4:00 p.m. – 4:45 p.m.; Tuesday, October 23, 4:00 p.m. – 4:45 p.m.; or Thursday, November 1, 9:30 a.m. – 10:15 a.m. Hope to see you there!
New eBook Database Trial with USMAI: October 1 - November 16
This Comprehensive eBook Collection combines the EBSCO Academic, Business, Engineering, History and Religion eBook Collections allowing discovery to over 200,000 eBooks. This database trial runs October 1st through November 16th, thanks to our partnership with USMAI. Share your thoughts on EBSCO's Comprehensive eBook Collection by filling out this short survey!
Copyright Workshop: Fair Use In-Depth
Date: October 5
Time: 3:00pm - 4:30pm
Location: Loyola Notre Dame Library Collaboratory

In this copyright workshop, you'll take an in-depth look at the fair use provision in copyright law by examining fair use court case decisions and how you can apply them to help make your own fair use analyses.
LNDL Pop-Up Classes
These Pop-Up classes are open to Notre Dame students. For more information, contact Matthew Treskon.
Art Welding Training with Loyola University's Engineering Department
Wednesdays, October 10, 17, and 24, 2018, 5 - 7 p.m.
Donnelly Science Center at Loyola University, Room 043
Instructor: Yanko Kranov

Have you ever seen a metal sculpture while walking around town and wondered how it was made, or wanted to make one yourself? You can learn! The Engineering department of Loyola University Maryland offers Welding Pop-up Training in Art Metals (Metals Sculpture)! All Notre Dame faculty, students, and staff are enthusiastically invited to attend. Pop-Up classes are co-sponsored by the Library. Please R.S.V.P. here.
Wearable Electronics
Wednesday, Oct. 17, 2018, 5-6:30 p.m.
LNDL Ideaspace
Instructors: David Hoe
We'll work with a microcontroller so tiny it can be sewn right onto the fabric of your clothes. You'll learn how to connect it to multi-colored LEDs to add some pizzazz to your Halloween costume. No prior experience with electronics or computer programming required.
For more information, please contact Dr. David Hoe.
Indoor Drone Racing
Saturday, October 27, 2018, 11 a.m.
LOY Eng (Donnelly Halls)
Instructor: David Opitz
Come meet and talk to pilots who race "Tiny Whoop" class drones. Learn about FPV (First Person Visual) drone flying where pilots use goggles to view the video from a camera mounted on their drone as it races through gates to complete a course.
---
News by School
School of Arts, Sciences and Business
Student Accomplishments
Biology major Hajlyn Davis won second prize in the J. Howard Brown Undergraduate Poster competition at the American Society for Microbiology Maryland Research Symposium. Notably, Hajlyn was commended by several researchers on the quality of her research during her first year as an undergraduate. Hajlyn's project was entitled 'Identification of Novel Antibiotic Compounds Using a Live Infection Model ' (Research Advisor: Dr. Jennifer Kerr). Co-authors on the poster were NDMU students Ashley Huerta and Rose Sebastian.
School of Education
Faculty Accomplishments
Dr. Christa de Kleine will take part in the Maryland TESOL 38th Annual Fall Conference happening November 10 here at NDMU.
For the 2019 AERA conference, Dr. Angelo Letizia was asked to be a program chair for the Assessment and Measurement Group. In this role he will help coordinate and oversee all the submissions to the group, assign reviewers and help to decide on submissions. Recently he has been busy working with other leaders of the SIG and has been helping prep for the 2019 meeting in April, in Toronto.
Ryan Schaff and Keri Engel published a free Learning with Digital Games white paper. It contains instructions on what successes teachers and students are having with Digital Games, how they can be, and are, integrated in curriculum, and compare and contrast the various platforms digital games are played on and their potential for individual, small-group, or large-scale digital game based learning implementation.
Dr. Molly Dunn's latest article, "Case Study Research: Of Artists, Athletes, and Engineers," has been accepted for publication in the refereed International Journal of Teaching and Case Studies.
Upcoming Events
October 11
CAB's Gator Live! Music Bingo
7 – 9 p.m., Gator Alley
Join CAB for its bi-weekly Gator Live! event in Gator Alley for a special Bingo! night. No sign ups required! This Bingo night will be a special hip-hop music themed.
---
October 12 – 13
Sleep-out at our Daily Bread
Oct 12 bus leaves from MBK at 6:00 p.m.
Oct 13 bus returns to MBK at approximately 7:30 a.m.
Open to students, faculty and staff. (Bring a sleeping bag and a few toiletries). Learn more about homelessness in Baltimore.
Listen to the stories of homeless people who are being rehabilitated through the Christopher Program.
Learn about the myths and facts of homelessness.
Experience a budget simulation for people who are at risk for becoming homeless.
Experience what it is like to build a shelter out of cardboard, and participate in service activities.
Participate in a service activity.
Have breakfast with some of the men from Christopher Place.
Please contact Sr. Mary Kerber at mkerber@ndm.edu for more information.
October 13 – December 8 (Saturdays)
TOEFL iBT Exam Preparation course
9 a.m. – 1 p.m., Feeley International Center
Each Saturday through December 8, take part in the TOEFL iBT Exam Preparation course
---
October 13
Fall Open House
9:30 a.m. – 1 p.m., Knott Science Center Lobby
The Fall Open House is a great opportunity to experience NDMU while learning more about our academics, student life, financial aid, and the admissions process.
ELI Information Session & Fall Open House
11 a.m., Feeley International Center
If you have any friends or colleagues who are looking for English language classes, please encourage them to register for this event. We will be happy to share the details about our wonderful program and answer questions about registration and immigration issues.
---
October 15
Graduation Application Deadline
For more information check out the news section.
---
October 16
Psychology Club Movie Night
6 – 9 p.m., Knott Auditorium
---
October 17
African Caribbean Student Association:Movie Night
6:30 – 9 p.m., Knott Auditorium
---
October 19
Karaoke Night
6 – 8 p.m., Gator Alley
The Asian American Student Association presents a night of fun-filled karaoke.
---
October 20
Collegetown Shuttle Update
Due to the Baltimore Running Festival there will be delayed service. Check out Collegetown's websitefor more information. (https://baltimorecollegetown.org/shuttle/index.html)
---
October 22
Halloween Make Up Tutorial
7 – 8:45 p.m., MBK
From zombies, to cats, to amine, the make-up club will show you how to recreate the best looks for Halloween.
---
October 23 – 31
Track & Field Club Halloween Fundraiser
Doyle Dining Hall
---
October 23
Honors Convocation
LeClerc Auditorium
Game Night
6:30 – 8:30 p.m., Gator Alley
---
October 25
Trivia Night
7 – 9 p.m., Gator Alley
---
October 27
Maryland STEM Festival
9 – Noon, Doyle Formal
Bring your family as NDMU's School of Education, in partnership with the Leadership in Teaching: STEM program faculty and students invite you to take part in a series of fun-filled drop-in events that give kids an opportunity to collaborate with one another to solve engineering and design tasks. For more information contact Dr. Juliann Dupuis.
---
October 30
Day of the Dead
6:30 – 9:30 p.m., FIC 003
Grease Move Night
8 – 10:30 p.m., FIC 003
Charles J. Busta III Lecture in Business
8 – 9 p.m., LeClerc Auditorium
Join panelists India Gary-Martin - CEO of Leadership for Life, Kate Bowers - Vice President of Public Relations Client Services at Weinberg Harris & Associates, Janese Murray -Vice President of Diversity and Inclusion, Exelon Corporation (Ret.)and Linda Singh -Major General of the Maryland Army National Guardas they discuss the various phases of their personal and professional lives.