October 2, 2018
Be Inspired by an Amazing Story: Going From Homeless to Getting Your Ph.D.
Our first-year students welcome Corshai Williams to campus as part of their NDMU 100 class. Williams' story is one of resilience and determination, and it proves that nothing is impossible. Born and raised in Baltimore, she found herself homeless at a young age, but her commitment to school and education led her to college and now a Ph.D. program at the Massachusetts Institute of Technology (MIT).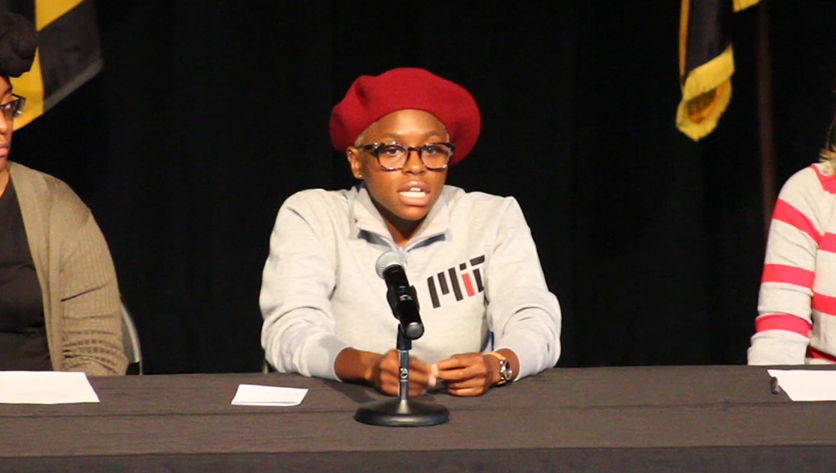 Notre Dame of Maryland University (NDMU) first-year students welcome Corshai Williams to campus to tell her amazing story of overcoming homelessness to working her way on the path of obtaining her Ph.D.
Williams, born and raised in Baltimore, found herself homeless at the age of 12. She began living with friends, extended family and even at her teachers' houses at times. She says school and education was her one constant, "[it] was more-so an escape and liberated me from everything that was going on in my personal life" says Williams. Today, she is a college graduate and is working on her Ph.D. at the Massachusetts Institute of Technology (MIT).
Her presentation is part of the first-year student course, NDMU 100. It is designed to help students acclimate to college life and to better connect with the University's Mission. Professors discuss, teach and address everything from time management, to team building, to learning how to adapt and overcome adversity.
"Corshai is an inspiration for our students," says Jessie Sell, assistant dean, academic support & enrichment programs. "She has overcome so much and has an amazing attitude. She is making a difference and is an example for both women and men. Her story is full of grit and proof that it doesn't matter who you are, or where you come from, you can achieve anything if you put your mind to it."
With the help of a middle school guidance counselor, who was also her god-mother, Williams applied and attended Western High School, an all-girls public school in Baltimore City. She calls the experience empowering, saying the school holds students to "extremely high standards of academic excellence and sisterhood," and that is what she needed.
"Growing up in Baltimore was very interesting for me," says Williams. Because of her situation she says she learned to be a survivor, and that she wanted something better in life. Thanks to Western High's belief in their students and her god-mother's belief that not attending college wasn't an option, Williams believed in herself.She says "college served as my one-way ticket out of every situation I have experienced."
So far, she is achieving her goals. She graduated from Western High, was accepted to Virginia Union University, and in May 2018, graduated with a degree in chemistry. Williams worked diligently, and made the most of her college experience, participating in every internship possible and it is now paying off. This fall she was accepted and enrolled at MIT on a full scholarship to earn her Ph.D. in organic chemistry, a program that is expected to take five to six years to complete.
When asked what advice she would give to her past self, it is clear that it is meant for anyone, "Never give up on the belief that you are worth more than any adversity you have ever experienced. Believe that there is a promise on your life that you have not yet tapped into...[and] only look back to see how far you've come."
Williams has faced many hardships, but continues to succeed. One day she hopes to conduct government-based research or potentially become a professor.