October 8, 2018
Japanese Paralympian Calls NDMU Home While Training in Baltimore
Swimmers from around the globe have been known to travel to Baltimore for training. The most recent is Japanese gold medal Paralympian Keiichi Kimura. When he's not training, he calls Notre Dame home and attends classes as part of the University's English Language Institute.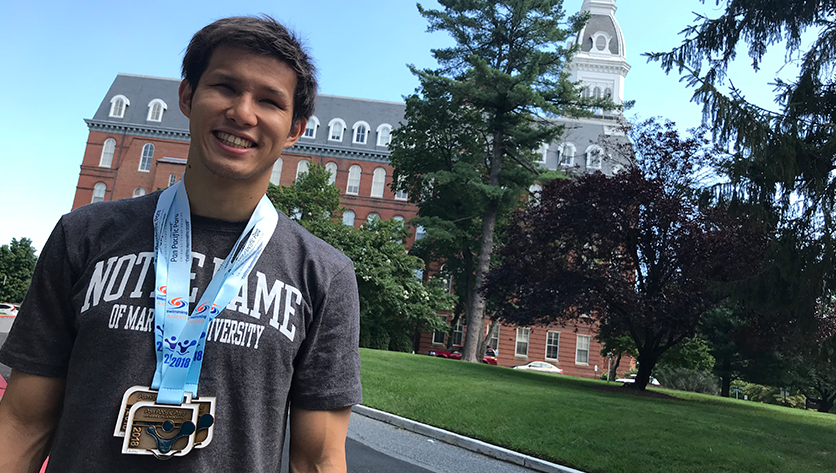 Baltimore has a special connection to the sport of swimming thanks to 28-time Olympic medalist Michael Phelps, who grew up and trained just miles from Notre Dame of Maryland University (NDMU). As a result, swimmers from around the globe have been known to travel to the area for training. The most recent is Japanese Paralympian Keiichi Kimura, who moved to the region to prepare and train for the 2020 games that will take place in his native Tokyo, Japan.
Blind since the age of two, Kimura, who is now 27-years-old is a three-time Paralympian. He won multiple silver and bronze medals at the 2012 and 2016 games in London and Rio. Today, he calls NDMU's Doyle Hall home and is enrolled at the University's English Language Institute (ELI).
Kimura moved to Baltimore earlier this year to train at a nearby pool. When he's not swimming or working out, he's in class at Notre Dame, working on his English and fluency of the language. "I'm taking an English-speaking class and I'm feeling more comfortable talking to people. I feel my English is getting better."
When he first arrived, Kimura had a translator, but in May when he began his studies at NDMU, he was suddenly on his own and was forced to really learn and hone in on his English. Kimura says he's learned a lot about himself in the short time he's been on campus. He credits his swimming career with helping him prepare for this journey, "It's very tough for me and I have to make an effort to improve my life and challenge myself."
"Keiichi has grown so much in the short time he's been in our program," says Mary Burch-Harmon, director of ELI. "I remember when he first arrived and was somewhat shy, but as time has gone by, he has really opened up and become a part of the Notre Dame community. He's very welcoming to others and committed to his journey ahead."
Learning English has been essential for his training because both his coach, Brian Loeffler and training partner, Bradley Snyder are American. Snyder is the reason Kimura is in the United States. He is a Gold Medal Paralympian and the man who Kimura is chasing in the pool and hoping to overtake as champion at the 2020 Tokyo Paralympics. Kimura connected with Snyder via Facebook and when the opportunity arose to travel to Baltimore and train with him, Kimura took it.
Kimura is loving his time at NDMU and is very happy. He says everyone from his fellow students, to his professors/teachers have been so helpful. He says his favorite part about being in the U.S. is that "the people are so kind."
While he is loving his time in Baltimore and at NDMU, there are some things that have made him a little homesick – he misses true Japanese food, most notably noodles and rice, and he misses his mother and two sisters – but says they do get to watch him compete on TV and that is exciting for him.
When asked about Olympic swimming champion Michael Phelps, Kimura says he has never met him, but hopes to one day. He appreciates Phelps' work ethic and when he talks about his favorite part of the sport, he takes a cue from the swimming legend saying, ""Winning and doing the best. Swimming is my way to get a victory."
Kimura continues to improve on his number of medals and victories. At this summer's 2018 Pan Pacific Para Swimming Championships in Cairns, Australia, he clenched four gold medals.
This year, NDMU's English Language Institute celebrates its 35th anniversary. Since 1983, the ELI has provided a quality, intensive English language program for non-native speakers that meets the diverse learning needs of students who plan to study in American colleges and universities or are studying for career enrichment.