The Bulletin is published every month for faculty, staff, and students.
---
September 2019 Contents
NDMU News
NDMU Rises in National Rankings

U.S. News & World Report Best Colleges Rankings were released for 2020 and NDMU jumped to higher positions in Regional Universities North and ranked highest in Maryland in a new classification. Read more: U.S. News 2020 Rankings
125th Kicks off with Reunion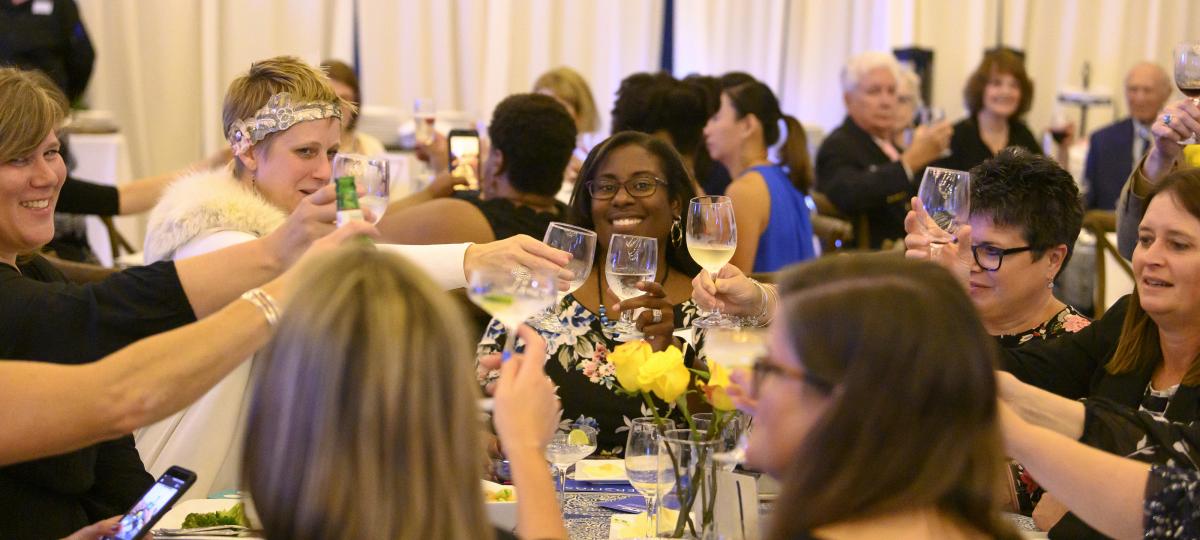 Alumnae and alumni gathered the first weekend of September to celebrate Reunion 2019. The event marked the official kick-off to NDMU's 125th Anniversary Celebration. Festivities began with the Anniversary Gala on Friday, Sept. 6. in MBK Gymnasium. In addition to a formal dinner there was a band and a lot of dancing!
We welcomed back a record number of alumnae and alumni and attendees. This year's reunion recognized graduates in years ending in "4" and "9." Alums had the opportunity to gather for many events on Saturday and Sunday morning. There was even a chance to spend some time with current students as part of a Reverse Mentoring learning session.
To see more and to relive the fun times, check out the video on NDMU's 125 Anniversary website.
A huge "thank you" goes out to the NDMU Reunion Committee for all their hard work. Planning is already underway for next year's reunion which will be held the weekend of September 25, 2020. Reunion is for everyone and next year we will place specific emphasis on class years ending in "5" and "0." ​
2018-2019 School Year is Underway
Watch out NDMU, the class of 2023 has officially arrived.
First year students moved onto campus. Following move-in, new students attended the Cap and Gown Investiture Ceremony in Le Clerc auditorium during which all new students take the Honor Pledge and make a commitment to uphold the standards of being a Notre Dame woman.
A few days after our new Gators arrives, the campus welcomed returning students for the official start of the "Welcome Week" festivities and classes.
To relive the memories, check out our Facebook page for pictures.
On Campus Now
The latest issue of Universitas can now be found all around campus. This special issue commemorates NDMU's 125th Anniversary. You can read about our long-standing history and how NDMU has been a "University of Firsts" from the very beginning as the first Catholic college for women in the nation to award baccalaureate degrees to women.
There is also an article on how NDMU has played such a key role in the lives of some of our alumnae and alumni - in fact one student is a third-generation student.
In addition, you can catch up on alumnae news in the "Class Notes" section as well as updates on Gator Athletics, and there is news from each of our schools. So, be sure to pick up a copy.
Common Read Available Now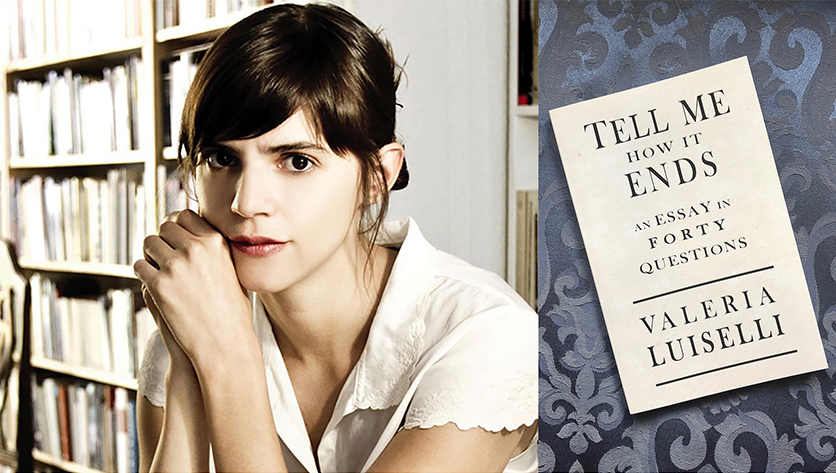 The 2019-2020 Common Read selection Tell Me How It Ends, written by Dr. Valeria Luiselli is now available in the bookstore.
Every year, the University selects a novel for the entire NDMU community to read. Tell Me How It Ends was chosen because it aligns with the Missions' of the University and the School Sisters of Notre Dame to promote the advancement of women and promote social responsibility. The "Common Read," as it's deemed, creates a unifying and enlightening experience for all—especially our first-year Women's College students in their introductory seminar, NDMU 100.
In addition, Dr. Luiselli will take part in a discussion with our community on October 3, from 6:00-8:00 p.m. in LeClerc Auditorium. The event is free and open to the public.
New VP for Enrollment Management and Marketing
You may have noticed a new face around campus. This summer NDMU welcomed Scott Briell as Vice President for Enrollment Management and Marketing.
In his new role, Briell will oversee all aspects of the admissions and financial aid operations. In addition, he will serve as a part of President Yam's senior leadership team.
Prior to NDMU, Briell served as Vice President for Enrollment Management at Graceland University in Iowa. For more on Briell and his role with the University check out the news section, and be sure to say hello and welcome him when you see him around campus.
Gator Grind Serving Up the Best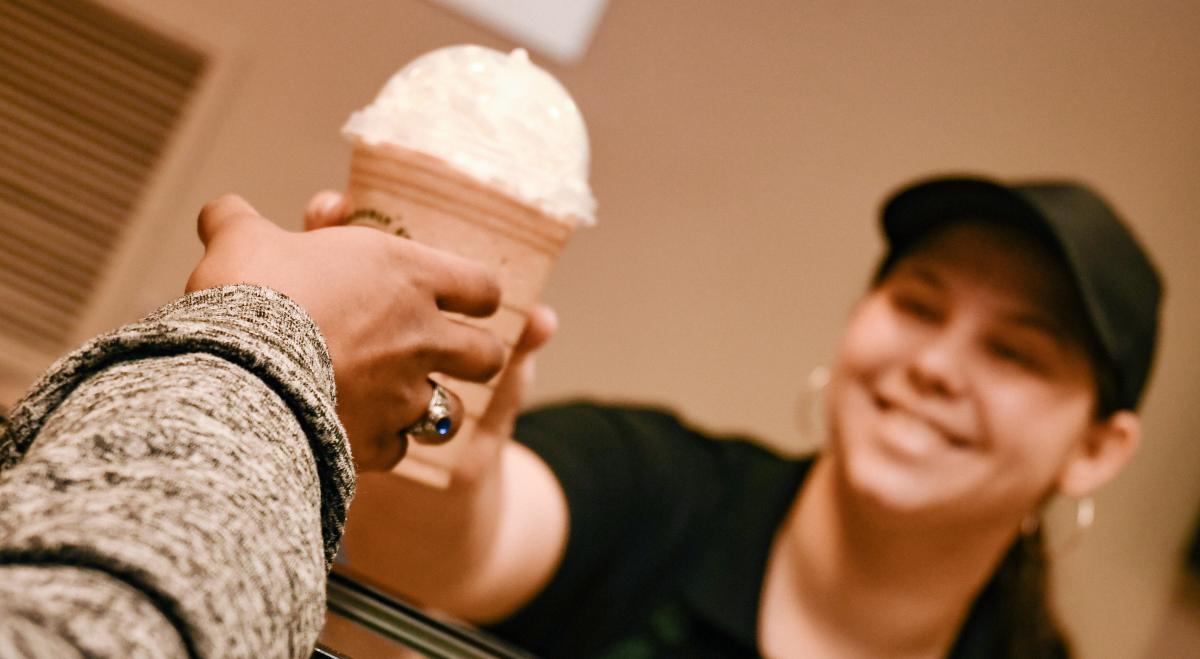 Gator Grind is up and running for the new school year. The cafe, which proudly serves Starbucks coffee began operations for the 2018-2019 school year at the end of August.
As for this semester's hours, Gator Grind will begin be open:
​​Monday and Fridays - 8:00 a.m. - 3:00 p.m.
Tuesday through Thursday: 8:00 a.m. - 6:00 p.m.​​
Italy Archeological Tour
Ever wanted to travel to Italy and enjoy the modern delights while also examining the archeological and literary foundations? Now is your chance.
Sister Therese Marie Dougherty and Dr. Maria Mouratidis are leading a trip on January 5-16. Highlights will include the Roman Forum, Colosseum, Pantheon, Ara Pacis, and other monuments and museums in Rome; the amphitheater and gladiator museum in Capua, the remains of the cities destroyed by the eruption of Vesuvius, including Pompeii, Herculaneum and Oplontis; and a tour of ancient Ostia, the port city of Rome.
The cost is $2950. It includes two pre-trip orientation sessions; roundtrip airfare from BWI; hotel accommodations, double occupancy; all breakfasts and some dinners; local transportation in Italy; admission to sites and museums.
Registration is going on now with the final payment due October 30.
For more information email Sister Therese Dougherty or contact her via phone at 410-532-5559.
Career Center
The Career Center has new tools for helping students learn about careers and how to get hired. Resources contain:
Videos of working professionals from specific fields offering advice for students
Interviewing skills practice designed for general use or specific occupations
Resume building: Find a variety of templates and several examples of text
The Career Center staff can also do classroom presentations on different subjects.
---
Loyola Notre Dame Library News
New Door Procedures at LNDL
New entry rules for the LND Library. Everyone is now required to carry and show their school ID to enter the building, no matter the time. After 9:30 p.m., doors will be locked and entrance to building will be through swipe, tap, or buzzer only.

Before 9:30pm:
Show ID to the attendant.
After 9:30pm:
Interior doors will lock.
Notre Dame patrons swipe ID to gain entrance.
Community members and patrons without an ID will ring the buzzer. After being buzzed in, these patrons must proceed to the security desk to be signed in.
It is important that after 9:30 p.m. each patron enter the door as described.
Please do not open the door for others - all patrons must provide a photo ID.
LNDL Online Copyright Workshops
The Loyola Notre Dame Library will offer a series of online copyright workshops throughout the fall semester.
Copyright Crash Course: Wednesday, September 25, 3-4:15 pm
Fair Use in Depth: Wednesday, October 9, 3-4:15 pm
Copyright or Copyleft? Making Sense of Creative Commons: Wednesday, October 30, 3-4:00 pm
Author's Rights and Publication Contracts: What to Know Before You Sign: Wednesday, November 13, 3-4:15 pm
For more information or to register visit the Copyright Information Center.
Join the Library Student Advisory Board!
Looking for a leadership opportunity to put on your resume? Join the Library Student Advisory Board! Membership requires a minimal time commitment (approx. 4 hours per semester) and is a great way to make your voice heard on campus. For more information or to apply.
LNDL Fall 2020 Pop-Up Class Series
The following pop-up classes are open to the Notre Dame community. If you have any questions, ideas for potential pop-up classes, or would like to teach a future class, contact Matthew Treskon at mtreskon@loyola.edu.
Drones, 3D modeling, and 3D printing
Date: Thursday, Sept. 19, 2019, 6:00 p.m.
Location: LNDL IdeaSpace/Innovation Station
Instructors: Dave Opitz & Matthew Treskon
Mr. Treskon and Mr. Opitz used a DJI drone to take photos of the exterior of the LND Library. Those photos were fed into 3D modeling software to compute a virtual model of the library. The model was input into one of the Library's 3D printers to create an exact duplicate of the building. Mr. Treskon and Opitz will discuss the challenges, lessons learned, and most importantly opportunities for students to recreate this work on other buildings.
VR Cheap and Easy: Google Cardboard and Classroom Applications
Date: Friday, Sept. 20, 2019, 12:30 p.m.
Location: LNDL IdeaSpace/Innovation Station
Instructor: Marianna Carlucci
Heard about Google Cardboard but haven't tried it? Learn about this low-cost VR technology and various ways it can be applied. This popup will walk you through innovative classroom uses, immersive 3D video experiences, and more! We'll have a Cardboard available for use for each participant. Have a 3D video you'd like to share? Let us know and we'll see if we can include it in this popup.
Adobe Creative Cloud I
Date: Monday, Sept. 23, 2019, 5:00-6:30 p.m.
Location: LNDL IdeaSpace/Innovation Station
Instructor: Jay Dunmore
Health Making
Date: Tuesday, Sept. 24, 2019, 6:00-7:30 p.m.
Location: LNDL IdeaSpace/Innovation Station
Instructor: Sean Keehan
Learn about the latest trends in health care innovation. Some of the concepts covered include innovations such as robotic surgery, proton-beam cancer therapy, and health uses for 3-D printers. In addition, there will be discussion of jobs and graduate programs in health care innovation plus a display of the latest in health care wearable technology. This class is suitable for anyone interested in the health care sector, especially those who might have an interest in working in the health care industry using innovative strategies and techniques.
Wild Fermentations: The Art of Making Bread
Date: Wednesday, Oct. 9, 2019, 5:00 p.m.
Location: TBD
Instructor: Andrew Schoeffield
Good bread warms both the heart and the soul. This beginners class shows you just how easy it is to make your own bread. It also explores why it is probably a good idea to make our own bread, rather than purchasing the bread-like products available at the store.
Lego Mindstorms
Date: Tuesday, Oct. 22, 2019, 5:00 p.m.
Location: LNDL IdeaSpace/Innovation Station
Instructor: TBD
Learn about how Lego Mindstorms can be applied in various contexts: the classroom, camp, after school activities such as scouts, and of course play. We'll also work through a lesson plan (autonomous robots, cnc drawing, or sorting machine) to be chosen by popular vote!
Adobe Creative Cloud II
Date: Wednesday, Oct. 23, 2019, 5:00-6:30 p.m.
Location: LNDL IdeaSpace/Innovation Station
Instructor: Jay Dunmore
Metal Art Welding
Date: Wednesday, Nov. 4-8, 2019, 5:00-8:00 p.m.
Location: DS 0403
Instructor: TBD
Have you ever seen a metal sculpture while walking around town and wondered how it was made, or wanted to make one yourself? You can learn! The Engineering department of Loyola offers Welding Pop-up Training in Art Metals (metals Sculpture)!
Creating 360 Degree Videos for Teaching
Date: Thursday, Dec. 5, 2019, 6:00-7:00 p.m.
Location: LNDL IdeaSpace/Innovation Station
Instructor: Zulma Jimenez
Participants will learn some examples of how people have used 360o videos in education, how to create and stitch 360o videos, how to upload them in YouTube, and how to watch them using the Oculus Rift or Google Cardboard. This class is for beginners only. The goal of the class is for the participant to gain ideas on how to use 360o videos in their teaching.
Schedule a Research Consultation with LNDL Librarians
Need help developing a research question, determining the scope of your research, or identifying tools and search strategies? Schedule a virtual or in-person consultation to meet with a Librarian!
News by School
School of Arts, Sciences, and Business
Faculty Accomplishments
Associate Professor of Mathematics Dr. Kristyanna Erickson recently gave a presentation and training seminar on Using ALEKS in Developmental Mathematics at Western Connecticut State University and Southern Connecticut State University.
This summer, Business & Economics Chair Heather Carpenter presented two papers at the Nonprofit Academic Centers Council bi-annual conference in London, England.
Student Accomplishments
Senior business major, Jessie Willingham '20 was awarded the Delta Mu Delta ACBSP Region 2 Sponsored Award. The award is presented each year to an outstanding student of business. This is the first time an NDMU student has received the honor. In addition to having her picture, name and school listed on the Delta Mu Delta Business Honor Society website, as well as Linked-In and Twitter, Jessie received a check to offset a portion of her educational expenses. Only ACBSP accredited institutions can have a Delta Mu Delta honor society on their campus and only accredited schools can submit student applications for the award.
School of Education
Faculty News
Big honors for Dr. Kristine E. Larson. She is helping to plan an Education Summit at Saint Louis University on October 19, called The Future of Education: Rethinking Literacies and Learning for the Fourth Industrial Revolution. Associate Professor Ryan Schaaf has been invited to be one of the Summit's two keynote speakers. This Education Summit will bring together a group of thought leaders representing different disciplines.
In August, Sr. Mary Fitzgerald, SSND, Th.D. presented a workshop to the faculty and staff of Totino-Grace High School in Fridley, MN. The title of the workshop was "Rooted in love; united in mission." Fitzgerald focused on Blessed Theresa as an educational leader and how the SSND charism can guide direction, planning, and decision making in schools today. Totino-Grace High School was founded by the School Sisters of Notre Dame and the La Sallian Christian Brothers. They alternate the focus from year to year: one year it's John Baptist de La Salle; the next it's Blessed Theresa.
School of Nursing
School News
The School of Nursing welcomed the first cohort of Accelerated Second-Degree BSN (ABSN) students in June 2019. The ABSN is designed for students who have completed a bachelor's degree in a non-nursing field and want to change career direction. The ABSN program is 15 months in length. The first cohort graduates in August 2020 and will be eligible to take the National Council Licensure Examination (NCLEX-RN) to become licensed to practice as a registered nurse.
Faculty News
Dr. Jane Balkam, Associate Professor, School of Nursing, was the featured speaker at the June meeting of the Healthiest Maryland Businesses organization in Columbia, MD, speaking on the topic of "Support for Breastfeeding Women in the Workplace." In addition, Dr. Balkam, represented the Maryland Breastfeeding Coalition on a Panel Discussion concerning "Support for Families to Breastfeed in Workplaces and in the Community" at the Building Healthy Communities Globally: Supporting Breastfeeding Families Conference in Washington, DC.
Kathryn Handy completed a year-long leadership program, Nurse Leadership Institute (NLI) in August. Deborah Naccarini was accepted as the fifth cohort of 35 Fellows on Sept. 1 In 2015, Maryland's Health Services Cost Review Commission approved a $2.5 million, multiyear grant to build the state's nurse leadership capacity.
Mary O'Connor attained the CENP certification. The Certified in Executive Nursing Practice (CENP) is geared to nurse leaders who are engaged in executive nursing practice. Attaining certification involves experience as a nurse executive and a successful on a 125-item examination. The CENP is an indication of mastery of a well-defined body of knowledge in executive nursing leadership.
Sabita Persaud has been named as the Editor of the Maryland Nurse. The Maryland Nurse is the official publication of the Maryland Nurses Association.
School of Pharmacy
New Strategic Partnership
The School of Pharmacy recently partnered with the University del Sagrado Corazon (USC) in Puerto Rico to provide motivated high school students an educational pathway to earn a Bachelor of Science and Doctor of Pharmacy in seven, v.s. the traditional eight years. After three years at USC the student will earn his or her BS after their first year of pharmacy school at NDMU is complete. From there, they will continue on their path at NDMU to earn their Doctor of Pharmacy degree.
Student Accomplishments
In July, at the Student National Pharmaceutical Association (SNPhA) Convention, School of Pharmacy student Chinyere Onyirimba was appointed to serve as the 2019-2020 National Bridging the Gap Chair for SNPhA. Pharmacy leaders gathered at this year's convention to promote unity across pharmaceutical fields through networking and relationship building.
SNPhA is an educational service association of pharmacy students who plan, organize, coordinate, and execute programs geared toward the improvement of the health, educational, and social environment of minority communities.
In her new role, Chinyere will be responsible for developing programming for over 5,000 student members to encourage professional development, mentoring and solidifying a seamless transition between SNPhA and the National Pharmaceutical Association (NPhA). "I have the opportunity to plan and organize the yearlong Pharmacy Student Mentorship Program (PSMP)," says Chinyere, who served as Notre Dame's SNPHA Chapter President for two years.
Events
Now through October 11
Alumnae Exhibition
Gormley Gallery
In celebration of Notre Dame's 125th anniversary, Gormley Gallery is highlighting the strength and centrality of the arts in the University's history by featuring the work of more than 40 alumnae artists.
---
September 19
Biology Seminar – The Biology of Milk and the Evolution of Lactation
12:15 – 1:00 p.m., Knott 311
Join Michael L. Power from the Smithsonian Conservation Biology Institute as he gives a brief review of the last 300,000,000 years of how lactation has evolved.
---
September 23
World of Workshops: Handshake & LinkedIn Profiles
4:30-6:30 p.m., Rice Lab 102
Join us in Rice Lab for a workshop on how LinkedIn can be a powerful tool for recruiters to find the talent they need.
Gator Live!
6:30-10:00 p.m., Gator Alley
---
October 4
Common Read Discussion with author Dr. Valeria Luiselli
6:00-8:00 p.m., LeClerc Auditorium
---
October 17
Eichner Women Writers Series
7:00-8:00 p.m., LeClerc Auditorium
Join in a reading and discussion as NDMU welcomes author Sandra Cisneros for the second annual Eichner Women Writers Series, hosted by the S. Maura Eichner Endowed Professorship of English. Cisneros is best known for her book, "The House on Mango Street."