October 6, 2017
Beginning Transformational Learning through Service
Notre Dame of Maryland University partnered with Baltimore City school Govans Elementary, to offer third, fourth and fifth graders some basic tools to begin the school year. The University, with support from faculty and staff, collected funds to purchase backpacks and school supplies. Each backpack was filled by Notre Dame first-year students with pencils, rulers, crayons, notebooks, personalized flash cards and hand written notes wishing the Govans' students well.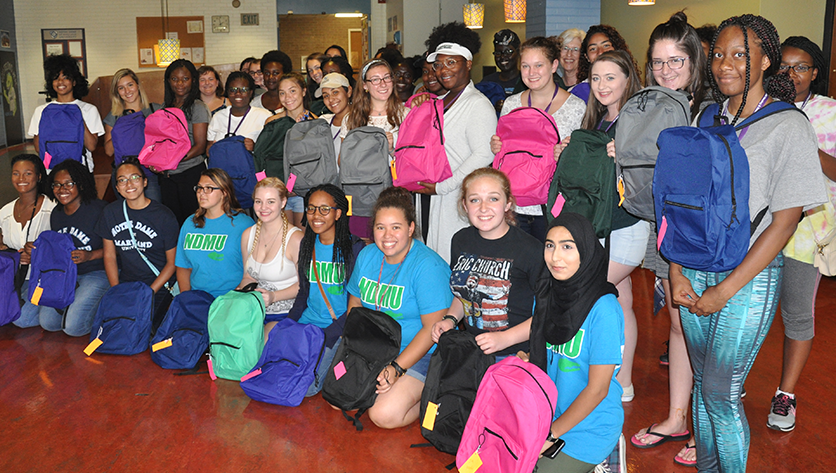 This program is part of Notre Dame's first-year students' introduction to service, something that is a core component of the University's Mission of transforming leaders through service. During the first semester orientation course, NDMU 100, students learn about and enter into active service learning. The program is the beginning of the University process where service not only recognizes and helps meet the needs of external communities but also offers a mutually transformative experience.
Notre Dame students are required to experience, reflect and act as part of their service-related experience. "We hope that through these three steps our students will focus on how the experience is transforming them, what they are learning about the situation and the people involved, and how they plan to respond, to make a positive impact," says Mary Kerber, SSND director of Campus Ministry and Service.
This program is just part of the University's overall commitment to service. Valuable interaction with diverse groups and problem-solving for complex real world issues provide rich learning opportunities when coupled with guided reflection, class discussion, and skilled analysis relating to course content. Last year, Notre Dame students volunteered more than 10,000 hours of community service through other programs located in its School of Arts, Sciences, and Business, School of Education, School of Nursing and School of Pharmacy.