July 30, 2018
NDMU Students Spend Summer Conducting Research in South Korea
This summer two NDMU students are bringing the classroom to life in South Korea. The two are spending 10 weeks conducting biological research, working with graduate students looking at environmental DNA and its effects on freshwater fish.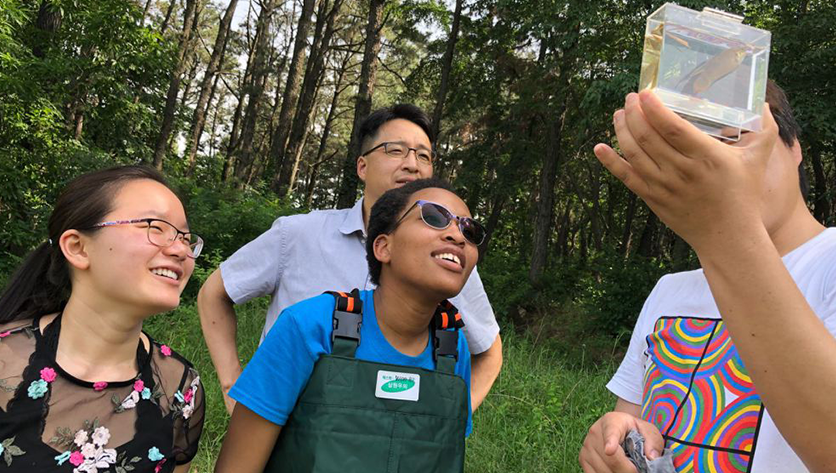 From our nursing students to our future teachers and our future scientists, Notre Dame of Maryland University (NDMU) students consistently say they've been able to adapt what they have learned in the classroom and bring it to life in the real-world.
That is no different for rising juniors Keira Mull and Uloaku Onwumelu, who are both Biology majors. This summer they are bringing the classroom to life at Yeungnam University in South Korea. The two are spending 10 weeks conducting biological research. Keira and Uloaku arrived in early June and are working with graduate students researching environmental DNA and its effects on freshwater fish."
"As their professor, my goal was to not only provide them with a graduate school level research opportunity, but a cross-cultural experience. This is quite an independent and challenging experience because they are spending ten weeks on their own," says Dr. Hang Kyo Lim, NDMU assistant biology professor.
Keira and Oloaku are excited about the opportunity to study abroad in South Korea while working on a global research team. "It was really interesting. We are in biology and it's recommended that we do research and we study abroad," says Keira. Plus, adds Uloaku, "it just seemed like a really cool experience."
Professor Lim says the experience will be life changing and it will help them when they return to NDMU. "They [will] learn more advanced skills, including kinetics, lab skills, and research skills from grad students they will be working with on a daily basis."
Both women say Notre Dame has helped prepare them for this journey. Uloaku says "teamwork is important. We've taken classes where we've had to learn to cohesively work with other people and I think that is a skill that will help us interact with people that have more or different experiences than us." As for Keira, she says communication is key, "Notre Dame does a good job in preparing us to be effective communicators. All of our classes have some sort of presentation requirement that I think helps us talk about ourselves and our work as we meet researchers and professionals in our field."
As for what they are most excited for? Both agree experiencing the food and the culture of South Korea are at the top of the list. "I'm excited about learning new skills and reaching out to other people from other countries and learning the culture," says Keira.
Now, nearly eight weeks into their study abroad experience, the food and culture aren't disappointing our students. They have learned some valuable lessons both in and out of the lab, including that it doesn't matter if you are at NDMU or in a South Korean science lab, experiments don't always go the way you expect. After several tests with bad results, a professor worked with Keira and Uloaku to discover the water being used was contaminated. Uloaku immediately said it reminded her of an experiment from her first year at NDMU when a culture test continuously failed because of a mold contamination. "It just reminds me that even if we are the most careful, sometimes science does not want to play along. It reminds me that research is not meant to be easy. More often than not, there are failures and contaminations, it's all part of science."
While our students are gaining some invaluable experience conducting research, they have some interesting observations, and it is not all about learning in the lab. "[at Yeungnam University] everyone is dressed in at least jeans or better…It's interesting to witness another culture (student life) within South Korea because it represents the larger culture.... I guess I will take the hint from South Korean culture and dress better in America (you never know who you might meet and first impressions are lasting)," says Keira.
"This trip has made me a more well-rounded person than I was before and I am so grateful that I had this opportunity," says Uloaku. "I know who I am more, I know my faults a little better, and I am more organized and better prepared to face my junior year [at NDMU]."
If you would like to read more about Keira and Uloaku's journey check out their blog.