September 20, 2018
NDMU Welcomes Largest-ever Incoming Class
For the second straight year, Notre Dame of Maryland University has made enrollment history, by welcoming its largest incoming class into its Women's College.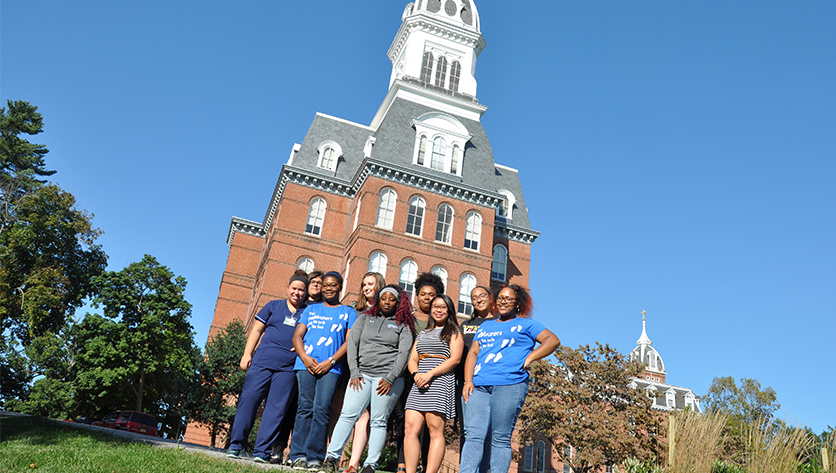 Historic enrollment records were broken this year as Notre Dame of Maryland University (NDMU) welcomed its largest incoming class into its Women's College. With 225 first-year and 23 new transfer students NDMU tops its historic record with 248 new students. This historic increase in enrollment also marks the highest overall enrollment of 538 students in the University's Women's College since 2006.
"These are exciting times at Notre Dame," says NDMU President, Marylou Yam. "This new class of students represents a building momentum at Notre Dame. This is the second year in a row enrollment in the Women's College has increased both first-year and total new students and this is a very important indication of the strong value of our educational experience."
The University, with 27 majors in the Women's College, 13 graduate programs, three Ph.D. level degrees, eight certificate programs and seven coeducational opportunities in our college of adult undergraduate studies is entering its 124th academic year.
This Women's College incoming class also marks an impressive achievement that reflects the University's goal of making higher education accessible. More than 50% of the incoming class are first-generation college students.
"Since neither of my parents went to college, I know they are extremely proud of me," says Katelyn Shields '22. "Without their support and the support of Notre Dame, I don't know if this dream would have been a reality."
This incoming class reflects a diverse population of students mostly from the Mid-Atlantic region but also from states including Pennsylvania, North Carolina, South Carolina, Texas and New York. NDMU also welcomed students from five countries - England, Republic of Korea, Taiwan, Japan and Argentina.
Nursing has emerged as this year's most popular major for the incoming class, followed by biology and psychology.
"Having the ability to take my passion for the sciences while helping others, made nursing an obvious choice for me," says Marley Brettschneider '22. "From the moment I first arrived at Notre Dame I felt comfortable. It's where I saw myself."
NDMU is a comprehensive co-educational university offering tradition undergraduate programs, accelerated adult programs, graduate, Ph.D. level and certificate programs. It is located in Baltimore and is the only university in Maryland with a Women's College.