Chemistry
Major/Minor
The Chemistry program offers a solid foundation in chemical principles and introduces the techniques and practices of modern chemistry through hands-on laboratory experience. Opportunities for original student research and creative experimentation facilitated by faculty are encouraged.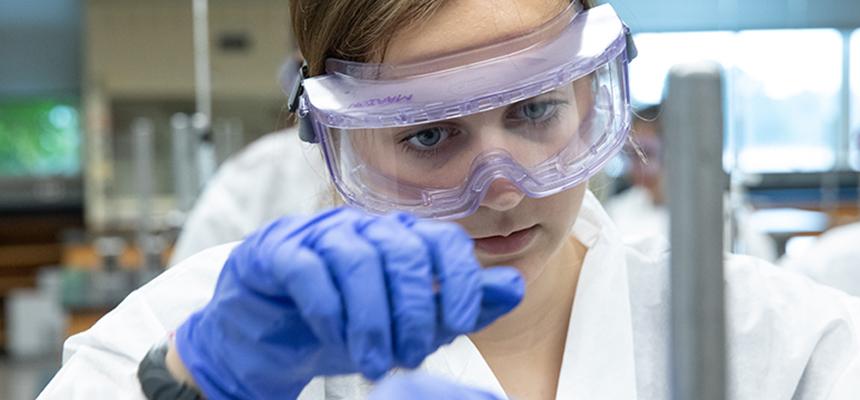 Program Locations
Available Majors
Available Minors
Additional Study Options
Faculty
Assistant Professor

Associate Professor and Chair

Professor
Four-Year Plan
Sample program of study for the chemistry major. Students should select courses with the assistance of a faculty advisor.
See course descriptions for a list of required courses and description of course and program options.
Fall
Spring

First Year

NDMU-100 Perspectives in Education

4

ENG-101 College Writing

3

BIO-111 Fundamentals of Biology
(recommended for certain programs)

4

RST-201 Introduction to Biblical Studies

3

CHM-110 General Chemistry

4

CHM-111 General Chemistry II

4

MAT-211 Calculus I

4

MAT-212 Calculus II

4

[15 credits]

[14 credits]

Second Year

CHM-210 Organic Chemistry

4

CHM-211 Organic Chemistry II

4

PHY-101 Physics I

4

PHY-102 Physics II

4

COM-106 Fundamentals of Oral Communication

3

Religious Studies (300/400)

3

History

3

Philosophy (200)

3

Foreign Language

3

Physical Education

1

[17 credits]

[15 credits]

Third Year

CHM-301 Physical Chemistry I

4

CHM-302 Physical Chemistry II

4

CHM-350 Chemical Literature

1

CHM-401/408/426 Advanced Topics/Research/Biochemistry II

4

CHM-407/425 Research/Biochemistry I

4

Literature

3

Philosophy (300/400)

3

Fine Arts

3

General Education/Electives

6

General Education/Electives

3

[18 credits]

[17 credits]

Fourth Year

CHM-303 Analytical Chemistry

4

CHM-305 Instrumental Analysis

4

MAT-213/315, PHY-201 or CST-295

3

CHM-450 Chemistry Seminar

2

Social Science

3

Electives/Internship

9

General Education/Electives

6

[15 credits]

[16 credits]
What to Expect Studying at Notre Dame of Maryland University
Small classes, lectures and seminars explore current trends and provide a climate for individualized learning.
Toggle between the photo and the story
Experience through Campus Organizations
Alum, NDMU Class of 2019
Chemistry
Read story
Research & Internship Opportunities
As a chemistry major, you are encouraged to pursue pursue internships, contribute to professional conferences and symposia, attend meetings of the Maryland Section of the American Chemical Society (held on campus and locally), and participate in chemistry department seminars and other events.
Opportunities to present your work include Notre Dame's annual research symposium in April, Nancy Kreiter Student Research Day, and at local and national meetings featuring undergraduate research.
Examples of Research Opportunities
Faculty-Student Collaborations
Jocelyn McKeon and Khara Karpouzie, "Affinity Capillary Electrophoresis: Quantitative Interaction between Flavonoids and Serum Albumin" poster presentation, 2016 Nancy Kreiter Research Day
Jocelyn McKeon and Angela Buonaugurio, "Micellar Liquid Chromatography: Affinity Measurements between Sulfonamides and Biomimetic Membranes" poster presentation, St. Joseph University Sigma Xi Research Symposium
Jocelyn McKeon and Jessica Sexton, "Ion Chromatography for the Quantitation of Inorganic Ions in Drinking Fountain Water" poster presentation, (University of Maryland, Baltimore County Undergraduate Research Symposium)
We also have special opportunities to work as student lab assistants and in the department's prep and stockrooms.
Chemistry Careers
We prepare you for employment opportunities in research laboratories, medical and government facilities, pharmaceutical companies and other industries.
Possible Career Opportunities
Research
Pharmaceutical Sciences
Biotechnology
Medicine
Engineering
Education
Interdisciplinary and entrepreneurial opportunities may be created by using the chemistry degree in the context of other fields.