June 27, 2017
NDMU Awarded Accreditation for its Business Programs
Notre Dame of Maryland University's business programs were awarded accreditation by the Accreditation Council for Business Schools and Programs (ACBSP) Baccalaureate/Graduate Degree Board of Commissioners.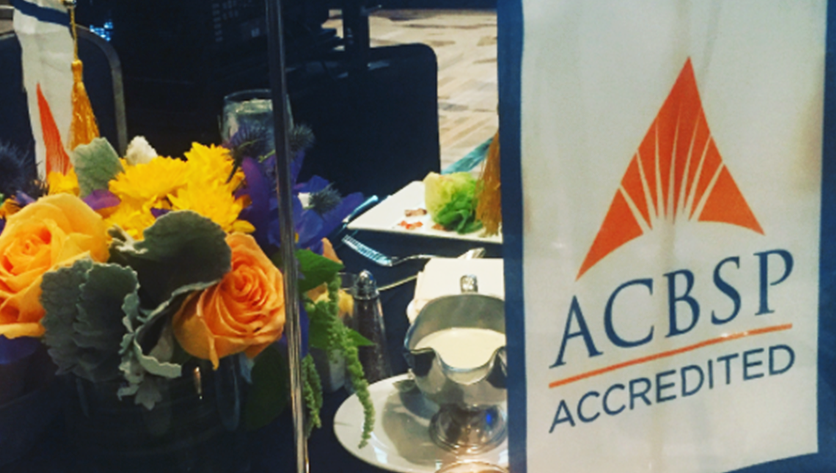 "Notre Dame of Maryland University has shown their commitment to teaching excellence and to the process of quality improvement by participating in the accreditation process," said ACBSP Chief Accreditation Officer Dr. Steve Parscale. "This accreditation is evidence that NDMU is committed to providing the highest quality business education for their students."
The NDMU Department of Business and Economics offers degrees in Business, International Business, Marketing Communications (in partnership with the Communication Arts Department). The Department also offers graduate level certificates and degrees in Leadership and Management and Nonprofit Management.
"Receiving accreditation for our business programs is great news and testament to our dedicated and well- respected faculty who focus on the needs of our students," said President Marylou Yam. "The ACBSP accreditation ensures our students who are enrolled in our Business and Economics Department programs gain the right skills from their educational investment."
The ACBSP accreditation process involves a full self-study, campus visits by the accreditation team and faculty and student interviews. Deborah Calhoun, chair of the Business and Economics Department said "our self-study report received high praise from the visiting accreditation team. Similarly, the accreditation team indicated that they were impressed with the respect and the quality of the relationships that exists between the department faculty and students in the Women's College, CAUS and Graduate programs."
Established in 1988, ACBSP is the only organization offering specialized business accreditation for all degree levels, from associate to baccalaureate to doctoral degree programs. ACBSP accreditation certifies that the teaching and learning processes within the undergraduate and graduate business programs offered through the School of Arts, Sciences & Business meet the rigorous educational standards established by ACBSP.
Based on the Baldridge Education Criteria for Performance Excellence, ACBSP accreditation evaluates aspects of leadership, strategic planning, relationships with stakeholders, quality of academic programs, faculty credentials, and educational support to determine whether or not the business programs offer a rigorous educational experience and demonstrate continuous quality improvement.
Notre Dame of Maryland University was presented the Certificate of Accreditation at ACBSP Conference 2017 in Anaheim, California.
NDMU also offers minors in business, economics and entrepreneurship and a professional certificate in Risk Management.