The Bulletin is published every month for faculty, staff, and students.
---
April 2020 Contents
NDMU News
#NDMUTogether
Although we continue to learn and work away from campus, we remind our campus community that we are indeed still deeply connected. Our NDMU Community supports all of our students, faculty, staff, and family as we remain focused on our educational experience to be our best and to transform the world. As we proceed working remotely in the weeks to come, we encourage our community to continue to share your pictures, videos, and screenshots using the hashtag #NDMUTogether. Be sure to tag us, so we can share.
You can also continue to upload your #NDMUTogether pictures, videos, or screenshots to NDMU Communications.
NDMU Wishes You a Safe and Joyus Easter!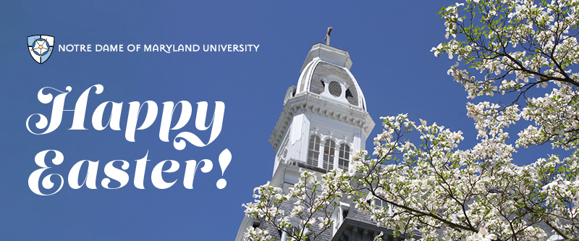 Please read this message from President Marylou Yam
COVID-19 Updates
As reminder to our campus community, all Coronavirus updates are published on the university Coronavirus Information page as they become available. The page includes resources for employees and students and is updated daily.
Due to the ongoing uncertainty COVID-19 has presented and the current Maryland Stay-at-Home directive, the University postponed Commencement 2020 originally scheduled for May 17. The University is looking forward to celebrating this great accomplishment and is presently looking to confirm a date at Royal Farms Arena in Baltimore, likely to happen toward the end of summer 2020.
For those completing degrees this spring, upon successful completion of courses and degree requirements will still finish on schedule and officially be a May, 2020 graduate as planned.
Remote Learning with Associate Professor Ryan Schaaf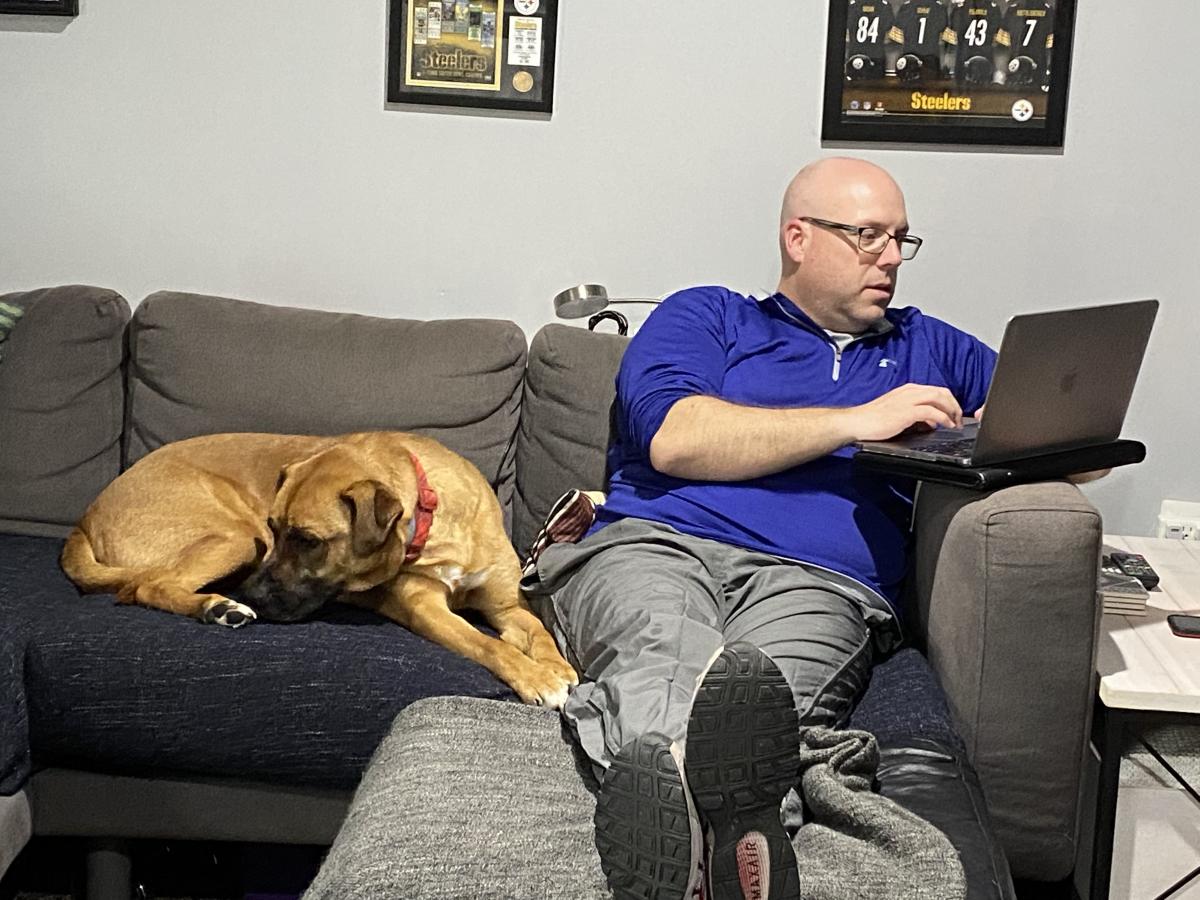 Schaaf as he shares his thoughts on how to navigate the "new normal". From dealing with digital distractions to ways to stay organized, Ryan answers some pressing questions to help us navigate the months ahead.
Where do you see some challenges, people are facing when transitioning 100% online?
If working, learning, or teaching remotely is not "your" normal experience, then the change can be very jarring. A higher education campus can be very social – dorms, common areas, the dining hall, hallways, offices, the library, they are all places where people can connect with the community and its members. Although there is social media and communication technology, people do prefer the "real" experiences.
#NDMUProud
NDMU's Washington Model Organization of American States (OAS)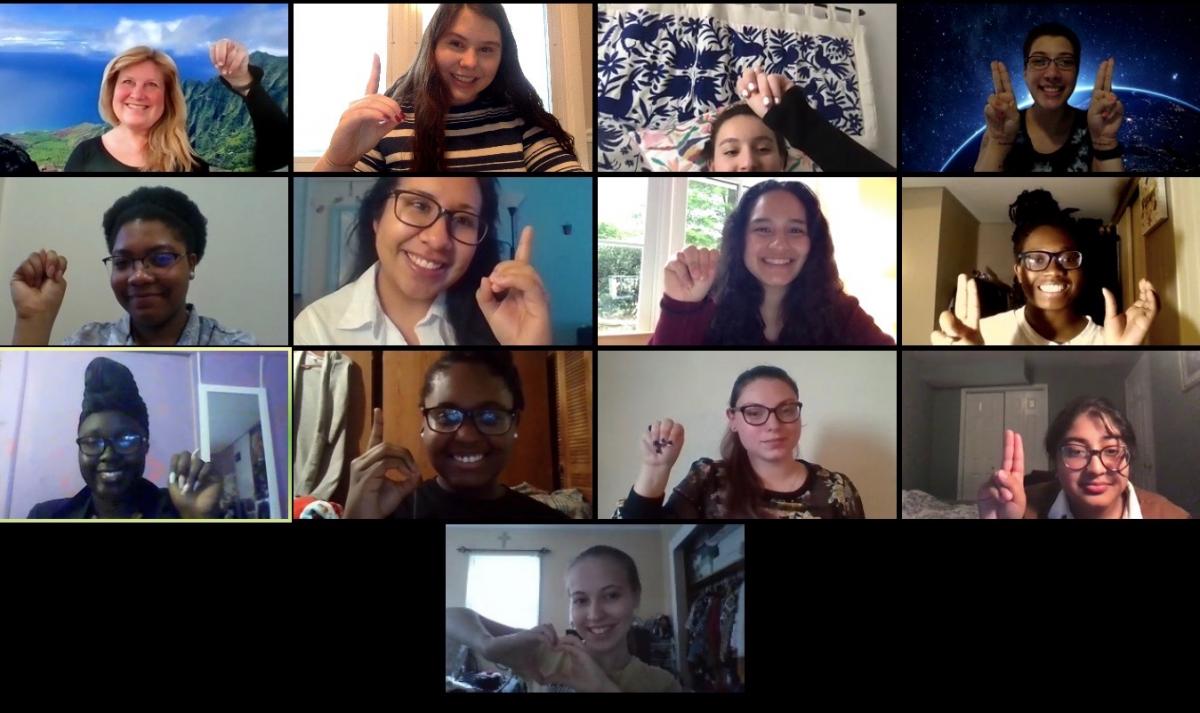 Due to the pandemic, representing the delegation of Grenada, NDMU's Model OAS is engaged in virtual Model from April 6th-10th. Sydney Miller, the Public Information Officer for NDMU's OAS, reports all of NDMU's resolutions were approved for the Electronic Packet for the Model.
General Committee:

Head delegate: Katherine Martinez, Class of 2020
Alt. Head delegate: Jolisse Gray, Class of 2023

First Committee:

Delegate: Christy Canjura, Class of 2022
Delegate: Galilea Escobedo, Class of 2022

Second Committee:

Delegate: Chelsea Boyd, Class of 2021
Delegate: Eden Lewis, Class of 2022

Third Committee:

Delegate: Chavonne Bowen, Class of 2020
Delegate: Rochelle Thompson, Class of 2022

Special Committee:

Delegate: Katie Cardinal, Class of 2020
Delegate: Zohra Ahmed, Class of 2023

Public Information Officer: Sydney Miller, Class of 2022
Secretary General: Ludiya Abdalla, Class of 2021
A Letter from Sophomore Maia Gafies: Way to Share Your Support Virtually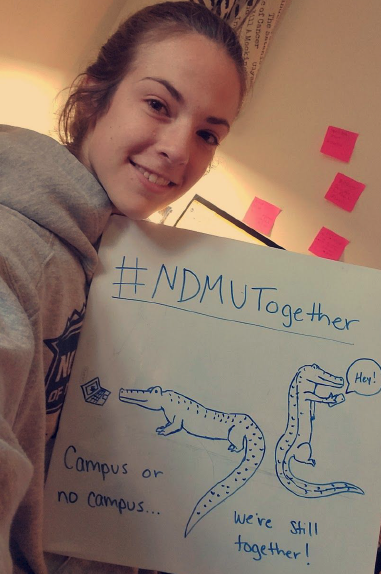 Dear Notre Dame of Maryland Community,
Some of you may know me, some of you may not. I'm a transfer student who came to NDMU and found a family. I'm reaching out to you to provide support and some comfort during these unprecedented times. As you know, NDMU is a community of family--which I quickly found out when I moved here. I found people here who welcomed everyone with open arms, who were the quickest of anyone to help someone in need, and who cared about others unconditionally. Although I am at home now, as many of you are as well, I continue to see acts of kindness and love from our community because we are apart physically but always together mentally.
In the past, the students and faculty of our university have been known for their strength, perseverance, kindness, and leadership. All of these characteristics define us still today. As our global community continues to fight against COVID-19, there are so many ways we can help.
Many of us either are, or know somebody who is, on the front lines of this fight. NDMU have both a history and a future filled with strong, intelligent healthcare workers. Therefore, it's our privilege to help these men and women in the hospitals and beyond who need our help and it is our opportunity to share our university's love with the world. So many are facing burnout because they care for the patients who many of us only see on the news. As a Criminology major myself, I see the world in a different light, but the way that our community's doctors and nurses are fighting to keep us safe can't be missed by anyone and we should be doing everything in our power to lend a hand.
Some of the best action we can take is the simplest.
It goes a long way to stay home. Even if you yourself aren't at high risk, we all know somebody who is, so help keep them safe too.
We can support and thank our nurses, doctors, first responders, and others who are making the fight against COVID-19 possible. We can make signs and put them in our windows, take to social media to show our support, and reach out to those we know personally to thank them for all that they are doing in these uncertain times.
Many shelters and food banks are experiencing strain in their endeavors to help those in our community who need it most and even a small donation goes a long way.
While cloth masks aren't recommended as a first line of defense against the virus, they help to preserve what few resources hospitals and others have. With some sewing experience, you can help to make layered cloth masks to donate to those in your area.
Finally, bulletin is asking students to submit videos describing what they miss about our campus and what they're excited to get back to doing. What do you miss most and can't wait to get back to? I can't wait to see everyone again!
We are a much smaller group than the global community at large, but together, we can make a difference.
Sincerely,
Maia Giafes '22
Zoom Background Downloads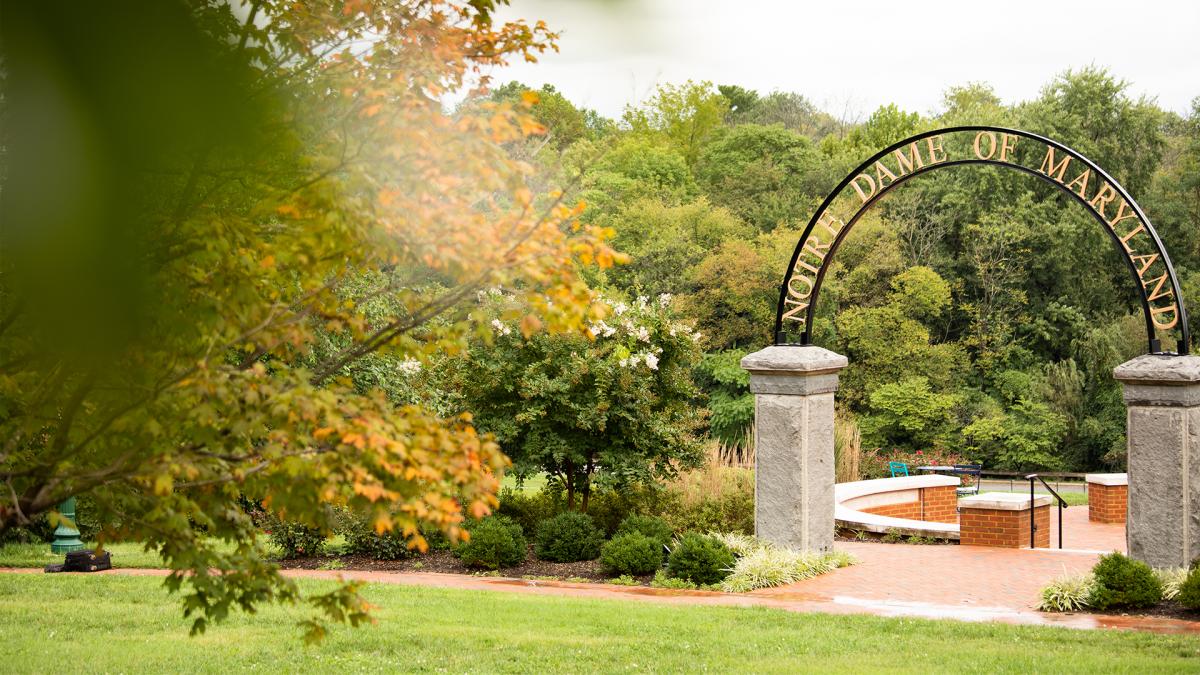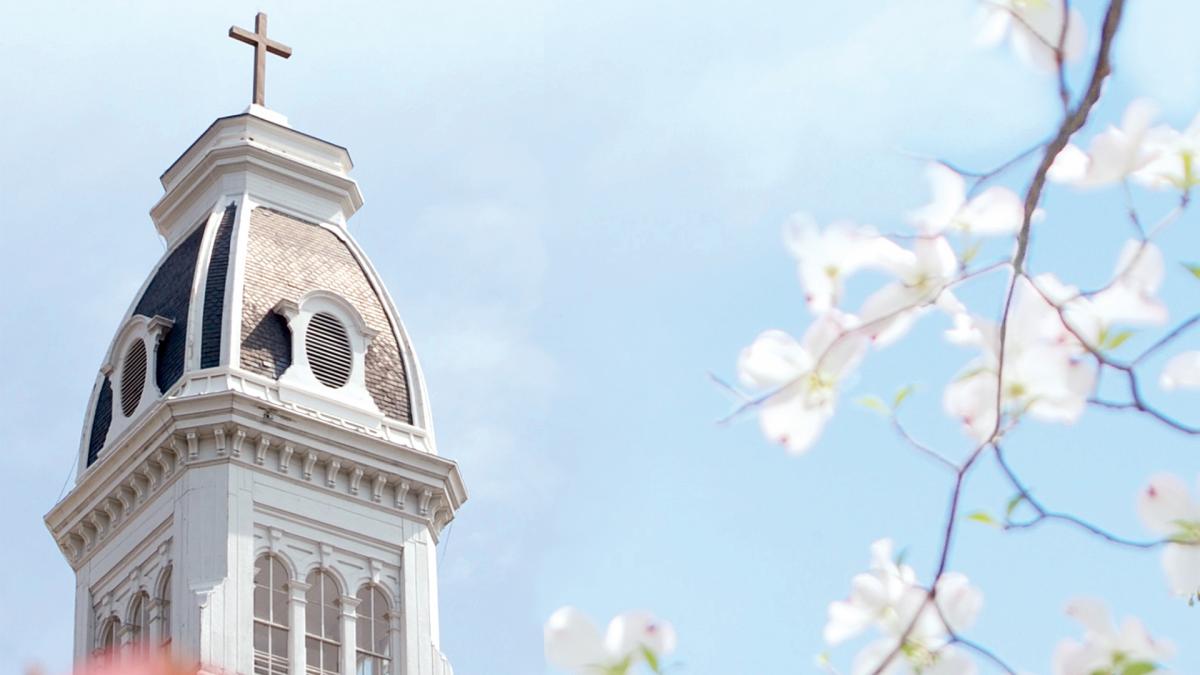 Need to mix up your background? Hiding your messy room or office? Now available for download are a selection of NDMU Zoom backgrounds for your next meeting or class. Additional images are available online.
What NDMU Students, Faculty, & Staff are Doing While Learning Remotely
We sent out a survey to all of our students to find out how stay-at-home was going for them and what they were up to. Thank you to all that participated this month! We've shared some of our favorite questions and answers:
When you get a break from homework/work, what do you do for entertainment (besides eat)?
Meditate, movie, exercise, nap
Yoga, painting/drawing/crafting, watch YouTube/Netflix
Take my dog (or just myself) on a walk around the neighborhood. I do it so I can eat more.
I think it's important to create structure when I have some time away from homework/work because it will allow me to see what my priorities are and what I need to do more/less of. I enjoy reading and researching, checking up on my friends and family members, and thinking of new programs and ideas to implement at NDMU for the next academic year.
What are your favorite quarantine snacks?
Hershey kisses
Fruit or bagels
It's Lent, so I'm on a no snack fast. But I'm enjoying my apples and a handful of mixed nuts, when it all really gets to me. On Sunday (they don't count as a Lent fasting day!!), my daughter and I baked French macaroons. They were extra yummie.
My son and I keep baking cookies to entertain ourselves, and I keep eating them...
Goldfish, Cheetos, Popcorn
What are you doing to stay mentally and physically healthy? (Example: Work outs, meditation, yoga, walks, bike)
I walk my dogs for about an hour each day with my mom.
Lots and lots of yoga
I like to paint! I have also been trying to do yoga every morning and, when I have time, walk around my backyard.
I've been trying to stay on a daily routine. I wake up early for class and while the rest of the house is still asleep, my morning is usually marked by playing with my dog and cats, a great start to the day. Along with playing a video game while running in place, I try and get in some more activity in the afternoon and have actually found some heavy lifting in cleaning!
This is a great question! I do this stuff regardless, but due to the quarantine I have been able to do more of things such as meditation, checking in with others more, and overall practice a lot more introspection. I have a list of five things that I hold myself to every day which are: to practice mindful breathing, express gratitude to someone or even myself, to set my intentions for the day, to smile for no reason, but most importantly to be compassionate and gentle with myself and to forgive myself for yesterday's mistakes.
Daily mass and prayer
How are you staying in touch with your friends and family?
Google hangout happy hour, playing Drawful with my brother and sister. Facetime with my parents.
Facetime and text
My old summer camp has been leading sing-a-longs every Saturday night reminiscent of sing-a-longs we would have as kids around the bonfire. Lots of camp alumni (and their children who are current campers) are joining in--it's been fun!
Although there is no replacement for in person communication, I've been staying in contact with friends from campus via video chat on Snapchat. We've even found a way to play cards online!
Phone calls, Skype, Zoom hangouts, Marco Polo videos, Instagram/Facebook, lots of texting
What quotes or song lyrics inspire you right now?
"A leader is a dealer in hope"
Brand New Day from The Wiz! Can't wait to sing it out loud and outside after quarantine!
You are mine by David Haas
Wendell Berry's poem, The Peace of Wild Things
There is more to see than with my eyes / But fear sometimes can leave me paralyzed / I realize that I'm not in control / Yet, it is well with my soul
Nada te turbe, nada tespante, quien a Dios tiene nada le falta - Teresa of Avila
"Keep your face always towards the sunshine, and shadows will fall behind you"
---
Career Center
The economic consequences of COVID-19 are impacting internships and job searches as employers re-evaluate their hiring plans. Also, many students that are employed in service industries are experiencing layoffs. The Career Center is available to help. Resume reviews and interviewing practice can be facilitated in a Zoom meeting. Students can use online resources to evaluate their documents and to practice interviewing skills. The Career Center's website offers many resources.
Video interview platforms are the new medium by which employers are conducting interviews during this period of remote work. For many companies, they won't go back after the crisis abates. This adaptation to recruiting will forever change employee selection as the artificial intelligence features in these platforms will increasingly conduct candidate review during early recruitment stages. These recruiting tools are often one-way interview systems, and they offer many efficiencies (e.g., better capability to hire for performance and diversity). The Career Center can prepare individuals for this new interface. It requires candidates to have a performance orientation not just formulated answers to typical questions. Refer your students for assistance. They can email the Career Center at career@ndm.edu or ajones17@ndm.edu.
---
Auxiliary & Conference Services
SAGE Dining
SAGE recipes for staying at home: easy, delicious recipes to prepare at home to our SAGE at Home video showcase.
Planning a campus event for later this year, but not entirely sure how to approach your catering needs or menu planning? Fill out the new catering request form on our website to get hands-on support from a SAGE team member!
Camp Notre Dame
Camp Notre Dame is thinking of you and your families right now! The team has compiled some activities for families stuck in the house together to try – let us know what you think by tagging Camp Notre Dame on social media!
Box Road – Flatten out a box and draw a road in marker. Add blocks, trucks and other toys for kids to build a city.
Toy-Washing Bin – Let your kids wash their plastic toys. Add tear-free bubbles, sponges, towels and other supplies.
Trash Art – Find some recycled materials and let your kids paint them. Kids love painting random objects and making beautiful creations from them.
Sticky Match-Up – Draw shapes, letters, numbers, words or math problems on sticky notes and hide them around the house for your child to find. Then have the child match them up on a "key" that hangs on the wall.
Other fun ideas: go camping in the living room; dress up in your best clothes and have a fancy family dinner; practice origami or the art of paper folding; create a nature scavenger hunt in your backyard; make a time capsule as a family
Bookstore
FREE eBOOK ACCESS! The NDMU bookstore is currently closed, but for the remainder of the Spring 2020 term, they are offering free access to eTextbooks through their partnership with VitalSource.
---
Library
Kudos
Matthew Treskon, Technology Services Librarian at LNDL, has taken the Library's 3D printers home while the building is closed and is actively printing face shield components for healthcare workers and first responders as part of an initiative started by Baltimore's OpenWorks! He is carefully following all build specifications and sanitation procedures.
Updates
Open & Free Resources for Classes
Do you need online resources and readings for class? This guide will direct you to newly open and free databases and collections, in addition to LNDL's continuing resources. (https://guides.lndlibrary.org/COVID19OnlineResources)
Need online materials not owned by the Loyola Notre Dame Library?
Request online materials through Interlibrary Loan! Interlibrary Loan is a service available to current Loyola University Maryland and Notre Dame of Maryland University students, faculty and staff where you can obtain PDFs of articles and book chapters not available at Loyola Notre Dame Library. (https://www.lndl.org/help/borrowing)
Read Current News
Search, browse, and explore current and archival news from newspapers including the New York Times, the Baltimore Sun, the Wall Street Journal, the Washington Post and the Christian Science Monitor. (http://guides.lndlibrary.org/az.php?t=32993)
---
Athletics
An Open Letter to NCAA Student-Athletes from the members of the NCAA Division I, II and III Student-Athlete Advisory Committees (SAAC)
We are living in an uncertain and emotional time. Thousands of student-athletes feel heartbroken, sad, angry, confused and many more emotions. Everyone is experiencing unforeseen challenges and trying to navigate uncharted territory while facing major, life-changing and imperative sacrifices. While the cancellation of a senior season or a year of eligibility is monumental, as student-athletes, we are doing our part to be responsible citizens in the setting of a widespread COVID-19 outbreak in the United States and throughout the world.
Student-Athlete Senior Spotlights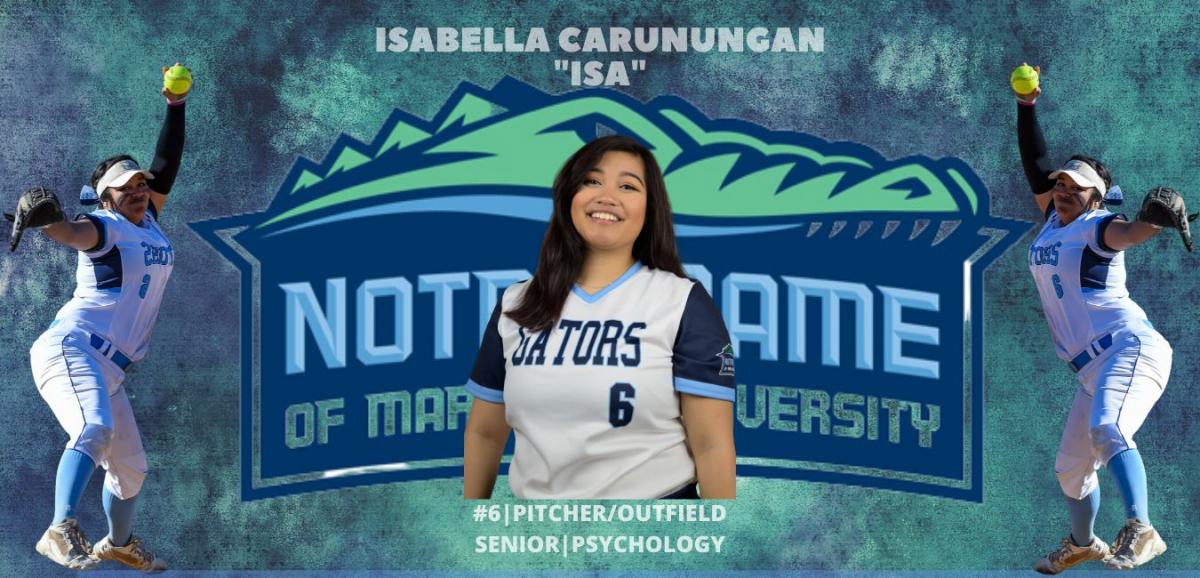 After the cancellation of the spring season, NDMU Athletics introduced a new Senior Spotlight Feature. Throughout the spring, NDMU Athletics will be highlighting seniors student-athletes and all of their remarkable accomplishments. Follow along every week as they introduce you to their senior-student athletes.
Student-Athlete Spotlights Through April 8
---
News by School
School of Arts, Sciences, and Business
School News
Dr. Heather Carpenter's book Teaching Nonprofit Management [co-edited with Karabi Bezboruah] will be released on April 24th. The peer-reviewed edited volume provides strategies and practices for teaching nonprofit management theories and concepts in the context of the undergraduate, graduate, and online classroom environments.
The publisher Edward Elgar has provided three open access chapters to support faculty who are transitioning to remote learning.
Fatima Karkoub was awarded the Pre-Medical Leadership in Education Award by the American Medical Women's Association on 28th of April on a virtual conference held by the AMWA. Awarded a position in Neuroscience undergraduate research at the Johns Hopkins Medical Center.
School of Education
School News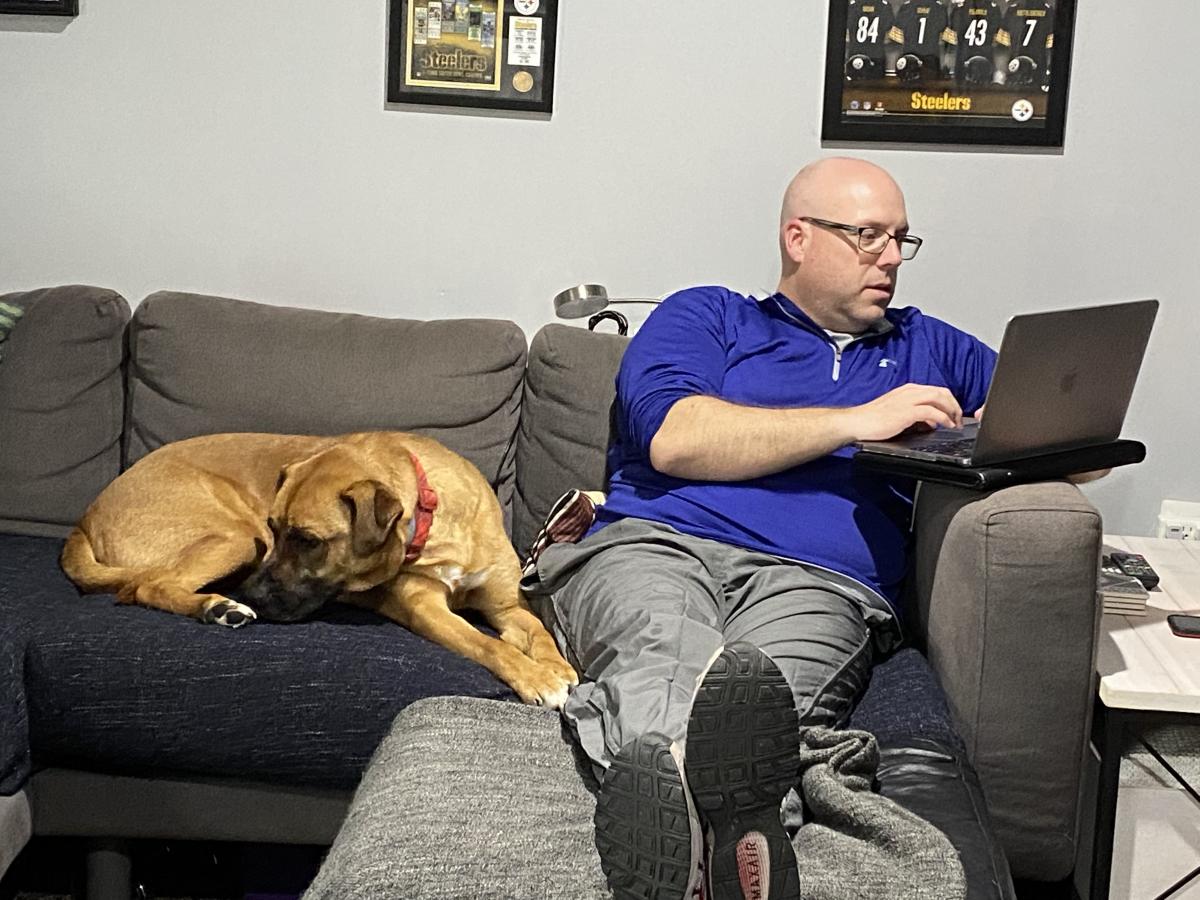 Ryan Schaaf, Associate Professor of Educational Technology, answered some top questions about online learning and working from home.
School of Nursing
School News
Last week, Director of Alumnae and Alumni Relations Aliza Ross, spoke with Naomi Cross '15, '17, a nurse educator on the front lines of COVID-19. We thank all who continue to serve our community day in and day out during these difficult times. See the interview and share your support!
Events
March 28-April 11
Campus Activities Board (CAB) Virtual #PJWRLD2K20 TikTok Challenge
CAB is challenging YOU to show us your BEST moves at the world's biggest virtual pajama party
Make a TikTok in your PJs & use #PJWRLD2K20 for a chance to WIN a $25 GIFT CARD ( 4 WINNERS ) (TikTok is a public third party platform, so anything you post can be viewed by the public and not just NDMU!)
---
---
April 15
How Do You Fix Your Coffee?
Office of Alumnae and Alumni Relations
Our next chat will feature Sr. Kathleen Feeley, NDMU President Emerita and SSND!
Additional Virtual Programming and Resources
9-9:30 am
Contact aross@ndm.edu for zoom link
---
---
April 15
Ethics Discussion
Alpha Phi Sigma and the Women for Justice Club present a discussion on social, philosophical, and moral issues surrounding the COVID-19 pandemic. Join us for a discussion on issues surrounding social distancing, racial and ethnic disparities, societal changes, and more.
4:30-6 pm
---
---
April 23
Preparing for a Career in Medicine
The Biology Dept and Pre-Professional Committee Present: Preparing for a Career in Medicine: Dr. Quezada provides a glimpse of the admissions process and curriculum at the University of Maryland Medical School
You are invited to the University of Maryland School of Medicine Admissions presentation via Zoom!
After registering, you will receive a confirmation email containing information about joining the meeting.